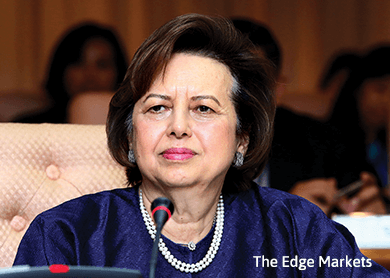 TAN Sri Zeti Akhtar Aziz, who is in her 16th year as governor of Bank Negara Malaysia, welcomed a packed room of local and international media representatives with a laugh: "This is the best turnout ever for a GDP announcement. I hope we live up to your expectations."
It was perhaps her way of easing the tension in the room that morning on Aug 13, at about the same time the People's Bank of China held a rare briefing in Beijing on its surprise move to devalue the yuan.
The larger-than-usual turnout was in itself telling.
Not only had the ringgit just breached a 17-year low of 4.00 to the US dollar on renewed speculation about capital controls but domestic tension was high due to heightened political uncertainties over investigations into state-owned and debt-laden 1Malaysia Development Bhd. There was also speculation over the state of Zeti's health and if she would be the second of the four members in the (since disbanded) special task force investigating 1MDB to be prematurely replaced.
The seasoned central banker came well prepared to field all these queries and more for a good hour and a half, telling reporters to hold "other questions" until all questions on the economy and the ringgit had been dealt with.
That Malaysia's second-quarter gross domestic product (GDP) grew a better-than-expected 4.9% was a surprise positive. Consensus was for growth to moderate to 4.5% on weaker consumption following the introduction of the Goods and Services Tax (GST) on April 1.
With the economy growing 5.6% in the first quarter, the second-quarter numbers put Malaysia's GDP growth at 5.25% in the first half of this year — still within the 4% to 6% the central bank deems as "a steady growth path". It is also near the top range of the official forecast of 4.5% to 5.5% growth for 2015.
Incidentally, the ringgit ended higher after the briefing, stemming 10 straight days of declines that wiped out 4.69% of its value against the greenback. Alas, the ringgit resumed its slide the next day, waving a red flag on the "confidence crisis" the country is currently faced with.
Over the last two weeks, the ringgit has depreciated about 6% to 4.02 against the US dollar and has been hovering at levels last seen in the wake of the 1997/98 Asian financial crisis before capital controls and a 3.80 peg to the US dollar were put in place on Sept 2, 1998, to halt further declines. At the time, a sharp drop in the Thai baht sent its regional peers tumbling even as talk of currency attacks swirled around.
Another reason for the talk about capital controls was the fact that Bank Negara's international reserves had fallen 26.8% to US$96.7 billion as at end-July from US$132 billion in August 2014.
"We don't think capital controls are likely but we can no longer rule out the risk despite assurances from the officials, including [Bank Negara] governor Zeti," says Chua Hak Bin, Bank of America Merrill Lynch's Asean economist, in a recent note to clients. "This political crisis is probably the worst in Malaysia's history with no resolution in sight over the 1MDB scandal … Malaysia's vulnerability is also heightened by higher leverage — household, quasi-public and external — than during the 1997/98 Asian financial crisis."
According to Chua, capital controls enacted in September 1998 "allowed Bank Negara Malaysia to rebuild foreign reserves quickly"; reserves rose by US$13 billion to US$32.6 billion in a year. Still, he admits, "many argue that the controls were imposed at a later stage, when the economy was already recovering".
Zeti repeated her assurance that capital controls were not on the cards and that Malaysia would continue with its current flexible exchange rate regime because the latter allows the country to adjust to external developments accordingly.
"We are not introducing capital controls. We've moved on from that because we have a more developed financial system (now), financial markets that are larger and able to absorb this kind of volatility. We have also strengthened our financial intermediaries and they are better able to cope with it," she said, adding that the current situation was not one that demanded capital control-type of extreme measures.
This means the country has to brace for more ringgit volatility even as investors try to find their footing in the financial markets on the expectation of interest rate normalisation in the US. According to MIDF Research, total outflow from the Malaysian equity market was already at RM11.7 billion for the year as at July 25, surpassing the RM6.9 billion outflow for the whole of 2014.
It does not help Malaysia's case that crude oil prices have slid below US$50 per barrel on expectations of excess supply in the market but Zeti said the headwinds facing Malaysia were not that much different from what other emerging markets were seeing.
"[Other currencies] are all facing the same challenge. For us, there may be more because we have domestic issues that have generated uncertainty and there are efforts by several quarters to reduce this uncertainty. Once this uncertainty is removed or reduced, then I believe we will be [on] similar [footing] with others," she said. "Certainly on our part, every effort needs to be made to bring a resolution to the issues that are confronting us on the domestic front."
Debt-laden 1MDB, whose RM42 billion debt as at March 31, 2014, is around 3% of Malaysia's GDP, has attracted international attention in recent months.
Among other hotly debated issues is the RM2.6 billion that, as The Wall Street Journal alleged, found its way into Prime Minister Datuk Seri Najib Razak's personal bank account. Najib has threatened to sue WSJ but has yet to do so.
As exasperating as the situation may seem, Zeti gave the assurance that the country has built up enough reserves and a solid financial system to withstand such volatility.
"We have built our reserves to levels that can assist in absorbing shocks," she said of Bank Negara's reserves that had fallen to US$96.7 billion as at end-July, below the psychological level of US$100 billion for the first time since August 2010.
Zeti highlighted the fact that the country had emerged stronger from the Asian financial crisis when the reserves had plunged as low as US$21.7 billion as at December 1997.
"We are not in that kind of extreme circumstances now. And the point is, if we did suffer any setbacks, yes, we will be affected. We're not immune to external developments. But we have demonstrated time and again that we are able to rebound from setbacks.
"I believe that once the external environment improves and when we have sorted out all the domestic issues, the currency will better reflect its fundamentals."
Growth going forward
The local economy was already expected to face challenging times this year due to the impact of GST even as major economies experienced patchy growth.
Consumer and business sentiments have been weak this year: the MIER Consumer Sentiment Index fell to 71.7 points in 2Q2015 while the MIER Business Conditions Index declined to 95.4 points from 101 in the previous quarter.
"According to the MIER survey, business operating costs have escalated dramatically on the back of a new minimum wage, power tariff hikes and GST," says TA Research in a report.
Nevertheless, Zeti believes the economy will continue to grow steadily for the rest of the year, backed by private-sector consumption and investment.
"The factors affecting consumption, for example, are income and job security. So far, we have not seen retrenchment increasing while income has been rising. Therefore, these are positive factors. The fact is that demand for houses has increased significantly, resulting in the consumption of items related to the purchases. Besides that, declining oil prices have benefitted consumers as purchasing power has increased. So, all these factors support sustained consumption demand," she said.
Private investment growth in 2Q2015 fell to 3.9% compared with 11.6% a year ago due to a slowdown in spending on machinery and equipment, especially in the transport segment. TA Research opines that part of the slowdown is also a reason for the erosion of confidence in the economy. This, apart from political headwinds, has caused investors to wait on the sidelines.
Zeti pointed to the number of foreign direct investment (FDI) approvals in 1Q2015 — up significantly to around RM35 billion. Therefore, she anticipates investments to recover from current levels.
However, RHB Research Institute says that if investments in Malaysia's Pengerang oil and gas project are stripped out of Malaysian Investment Development Authority's investment approvals for 1Q2015, the FDI approvals actually drop 51.5% year on year to RM8.3 billion.
"Petronas has announced a decision to cut its capital expenditure by 15% and operating expenditure by 25% in 2015 and delayed the start-up of its RAPID refining and petrochemical complex in Johor until mid-2019 as the slide in oil prices over the past year forced Petronas to review and re-bid some of its engineering, procurement and construction contracts."
RHB Research sees domestic demand easing to 5.1% in 2015 compared with 5.9% a year earlier. It has a full-year GDP growth forecast of 4.5% to 4.8%, within the lower end of the official forecast of 4.5% to 5.5% growth.
The research house expects lower crude oil prices and oil and gas-related investments to constrain growth in domestic demand in the second half of 2015. Cooling measures adopted to curb household debt and property speculation could continue to reduce domestic demand, a situation that could be compounded by the weak ringgit.
"Looking ahead, Malaysia's three-legged growth model of commodities, manufactured exports and the public-sector economy continues to face pressure. Export momentum has been subdued and we are awaiting a turnaround in the global economy to provide some export tailwind … With oil and gas revenue constituting 27.9% of government revenue, a fall in oil prices could further restrain fiscal policy as policymakers try to keep the fiscal deficit under check," Morgan Stanley economists write in a recent note.
Zeti opens up on retirement and 1MDB
Asked to what degree the market has been affected by "domestic issues", the governor replied: "The market is very complex and therefore, there are many factors that affect it. Whenever there is uncertainty, where people don't know what the outcome will be, that affects the markets."
"You know, when there is uncertainty on the domestic front and I don't need to innumerate what is generating uncertainty — everyone is highlighting that. If you have a highly leveraged company that creates uncertainty, once a solution is provided for that uncertainty, then conditions stabilise. That's how it works," she added.
Understanding the interest and sensitivities surrounding 1MDB, Zeti, who turns 68 later this month, allowed time for all sorts of questions but made no effort to hide the fact that some standard answers had been prepared for areas she was not allowed to comment on by law.
Among the morning's top takeaways in the ongoing 1MDB saga was the fact that the central bank had been informally investigating 1MDB for several years now due to its highly leveraged position and had written several reports highlighting its concerns to the relevant parties. A formal investigation was launched this year and findings of its probe had been submitted to the new Attorney General with recommended enforcement action.
Nonetheless, Zeti gave straight answers when asked about the allegations made against her and the central bank online. "There is no truth to it. And these allegations are made by anonymous parties and we will seek to identify who they are and take further legal action on them … We have some idea of who they are and have followed up on leads but they have remained anonymous."
She dispelled rumours of her ill health, which started shortly after the July 28 Cabinet reshuffle that saw Datuk Seri Ahmad Zahid Hamidi taking over as deputy prime minister from Tan Sri Muhyiddin Yassin.
Other than a cough, "doctors have found nothing wrong with me — yet," she said, eliciting laugher from the floor. (Tan Sri Abdul Gani Patail's tenure as attorney general was ended on July 27 for health reasons.)
Zeti also said she was not stepping down just yet but hinted at a possible retirement when her term ends in April next year. "Sixteen years is a very long period and I've been very privileged to have been given this opportunity to make a contribution to the country."
The only question to which Zeti did not give a straight answer was if she would stay on if asked to. "Let us reach that bridge, then we will cross it at the time. But right now, I have great aspirations to write a book before it fades in my memory."
Whatever the case, there are strong candidates to take over as central bank governor. "I have full confidence that (the central bank) will continue to do as well and stand up for the rights and respect that has been accorded us by the people of the country," Zeti concluded. When the time comes, the market will need to be as convinced as she sounds.
This article first appeared in digitaledgeWeekly, on August 17 - 23, 2015.