This article first appeared in The Edge Malaysia Weekly, on July 23, 2018 - July 29, 2018.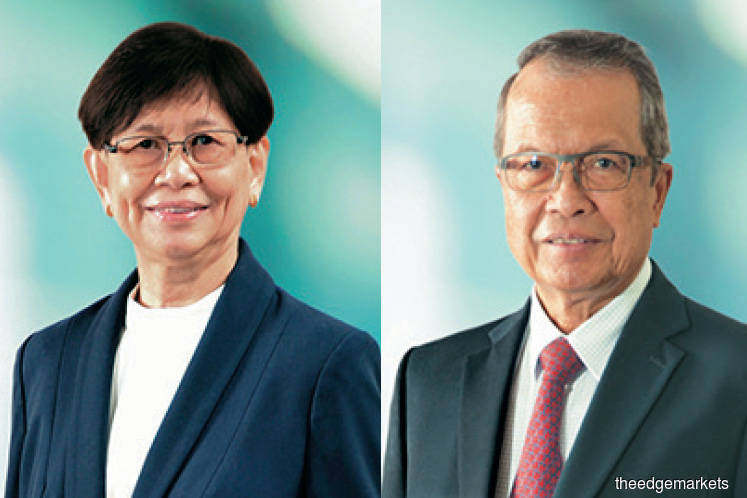 SAPURA Energy Bhd chairman and non-independent non-executive director Datuk Hamzah Bakar, who doubles as the chairman of the board remuneration committee, and independent non-executive director Gee Siew Yong, who is the chairman of the board audit committee, sat down with The Edge to discuss the events at the company's annual general meeting last Wednesday. At the AGM, some shareholders questioned the board on several issues, including president and CEO Tan Sri Shahril Shamsuddin's pay package of RM71.92 million in FY2018 and an additional RM43.4 million he took home from an intellectual property rights payment.
Here is an excerpt from the interview.
The Edge: Were you surprised by the eventful AGM?
Datuk Hamzah Bakar: They chose to ignore some points … for example the fact that when we pay a bonus, the board wants to make sure that the result is indisputable; we take the decision on the bonus after we approve the audited accounts.
Therefore, the bonus for performance in FY2017 (ended Jan 31, 2017) was paid in April 2017. We can't put it in the FY2017 accounts, so we put it in the FY2018 accounts. But unluckily for us, we suffered a loss in 2018. So it looks like we paid a bonus when we made losses.
It just so happens that in 2017, we made profits. It (the bonus) is not just (based on) financial (results). We have business development, we have cost savings, strategy, restructuring, business opportunities, new contracts won and so forth. All those count … so, it's unfortunate.
The other element that nobody wants to acknowledge, although we have told them, is the long-term incentive plan. Say for 2017, we paid 50% of the allocated amount, the rest is in the following two years. If the following two years are loss-making, you still have to pay. The rationale for deferring is so that he (Shahril) stays.
Gee Siew Yong: The whole purpose of an LTIP (long-term incentive plan) is to make sure that staff, not just Tan Sri (Shahril) but all those who are eligible, have a longer-term view of the company. They earn it, they get granted, according to the criteria that are set, but they don't even receive it until over three years.
But because of this rollover — I wouldn't even call it unfortunate — we have tried to explain this but if (shareholders) choose not to understand, what can we do?
These are the facts we have articulated when queried, so it's not like you (shareholders) were told yesterday. They have raised it, and we just said 'noted' and did nothing. That is not quite an accurate picture.
Are these explanations done on a regular basis?
Hamzah: Last year, they (the EPF) raised this issue at the AGM and we explained. We made it a point to explain clearly.
The other point is that when we go to the banks, they look at the company. We spend a lot of money buying assets to expand the business, and they recognise this company (Sapura Energy) right from the beginning, it is moved by an entrepreneur … so I think they believe that if the entrepreneur is not there, they may not get their money back, as the company may go under.
So they (the banks) insist that the CEO, the mover, give his personal undertaking not to run away, basically, not to give up his management position. The other part is not to sell his shares to below 10%, and he has to remain a director of the company.
So, without these, the loan would be breached.
If it was me, I wouldn't (take such a risk) … Shahril doesn't have 51% (of Sapura Energy), he has only 17%, so to give an undertaking for the benefit of the rest of the shareholders is a bit much to ask.
So the alternative, if he (Shahril) doesn't want (to give a personal undertaking), is for a company to get a bank guarantee; if you look around, the lowest may be 1% basis, so imagine our loan of RM16 billion; 1% is RM160 million and that is for every year the loan is outstanding.
But the cost to him (Shahril), when he made that commitment, the price of Sapura Energy's shares was about RM4 plus. Let's say RM4, so he couldn't sell 10% for RM4; 10% is 600 million shares. Let's say we take a price a few months ago, before one of the institutional shareholders started selling the shares, say at RM1, so he lost RM3 per share, multiplied by 600 million, it is RM1.8 billion.
So, we have to take that into consideration.
One of the issues brought up is that you are not an independent director...
Hamzah: It's technical … when Sapura bought Crest Petroleum a long time ago, I became the nominee of Sapura on the board, and the chairman. Because I was a nominee of a major shareholder, I cannot be independent.
So, you believe Tan Sri Shahril's salary and remuneration are fair?
Hamzah: They are fair, given all the factors we have to take into account.
Why are the covenant and his (Shahril's) guarantee of the debts not recorded in the annual report?
Hamzah: The covenant is supposed to be confidential. But we explained it to the institutional investors, we explained it last year at the AGM, we explained it at the meeting with institutional shareholders.
They (institutional investors) say it (covenant) is normal (laughs). How could it be normal? I wouldn't do it.
It's easy to look at the profits of the company and just jump to conclusions: oh, the company is not making profits, so his salary is exorbitant … but there are other KPIs.
But then, how much salary would he (Shahril) draw when the times are good? This, we hear, was brought up by some shareholders. They asked, if I'm not mistaken, if it would be RM200 million to RM300 million...
Gee: We — I speak as an independent director — have our own fiduciary duties, and we have a structure within Sapura Energy that respects that, so even if he is going to be paid RM200 million to RM300 million, it has got to go through the due process. We have a remuneration committee, we have independent directors on the board, we all have to be convinced first. It's not like when the oil price goes up, it's automatic (he gets higher pay).
In the corporate environment, the rules and regulations are quite strict. There are many things we can't say in the annual report for it would be (tantamount to) forecasting but there are things we, the board monitor and we as a board, know, and the board consists of mostly independent directors. We know our fiduciary duties, we know our limitations, we abide by the rules of the exchange. We didn't just pluck the figure — RM55 million. There was a basis (at arriving at the figure) and that went through our corporate governance process.
Hamzah: The board did not pluck the number from thin air.
Gee: In 2014, which is FY2015, oil remained at US$100 until October. That year we made a profit after tax of RM1.4 billion, and Tan Sri was not paid a lot more. It didn't triple to RM200 million to RM300 million.
The EPF had board representation on Sapura Energy. Does it mean the EPF has also approved the remuneration package?
Gee: He retired at the end of the financial year but he was there during the deliberation, all deliberated and voted for. The quorum was made up of those who were not executive directors, Tan Sri and also his brother. In this case, there were seven directors: all together, the chairman, all the independents you have, Tunku Ali Zakri (who represents the EPF), and all deliberated for, no one abstained and no one voted against.
Some noise was made but there were other shareholders while the MSWG (Minority Shareholders Watch Group) says it represents the minority shareholders. We, the independent directors, represent all shareholders. We put our own reputations on the line.
Hamzah: A lot of the investors were more worried about the company making profits and paying dividends; no violent reactions to compensation. They understood that an entrepreneur running the business gets paid ... just bring in the profits and pay dividends.
How does it work? His pay was above RM80 million from 2014 to 2017. In FY2018, it fell to about RM71 million. So, why the drop?
Gee: The KPIs. We had a lost-time injury; that was a percentage of the KPIs. The board sets the KPIs up front and there are lots of categories. You have KPIs for stakeholder management, KPIs for health and safety, KPIs for the P&L … it is a weightage of all the categories and there are lots and lots of them.
Would you say that Tan Sri has achieved his KPIs in a satisfactory manner over the past five years?
Gee: Yes. We have a methodology that is transparent and quite rigorous. And it is consistently applied.
Is it an issue that there are no dividends?
Gee: They (the shareholders) understand…
Some feel that maybe he should not get such a high salary but suffer with the other shareholders...
Gee: What do you mean by suffer?
The share price being battered and no dividends paid…
Gee: No dividends is across the board, and we can understand. But this company, at this time, cannot pay a dividend, but when we can, we try to. When we look at our results, we go through them with management … one of the items on the agenda is, are we paying a dividend? And the explanations come … it's not like we ignore the shareholders and don't think of dividends.
Hamzah: It is prudent financial management. Over the past few years, all the growth trajectory, the acquisitions, were made without any cash call to the shareholders. There is no dilution, which is how the company was built. We built the business without taking money from the shareholders.
Gee: All the bank borrowings have been put into the company for real physical assets.
Over the past 10 months, it seems as though there have been unpleasant surprises to shareholders one after another. The massive impairment, then another round … the share price falls off the cliff, then at the AGM, you had the issue of high salaries. These have made shareholders unhappy...
Hamzah: We have to mark to market. Impairing the assets allows us to recalibrate the depreciation charges, which is a component of the day rate. So, it is to the advantage of the company to do it … also, it is something that accounting standards require.
If we were not responsible, management can come out with a thousand reasons not to impair, and we won't have the losses and we would look good … but it's not good for the company, but good for the CEO. If and when things improve, the asset value will increase, and it will be time for us to write back.
Some wonder if there is a huge hole covered by all these impairments?
Gee: We have audited accounts, we have due process, we have quarterly results, we did impairments twice because it is our process, but think of our total assets, look at our balance sheet, and this RM2 billion relates to our rigs.
For all segments, our revenue is still higher than our costs, so we are still bringing in cash. We only show a loss because of paper depreciation …. we have always been Ebitda-positive, every single year in every single segment.
Could you elaborate on the intellectual property payments?
Gee: There is always an annual review of benefits and services rendered, albeit, the bundle of services would repeat. Brand Finance and PwC looked at the intellectual property but PwC, from a tax perspective. But both did not come out with the same figure as they have different methodologies of calculating. But we used the lower of the two.
The intellectual property fees were presented and approved. How it works is that if Sapura Energy does not want to pay annual fees, they can pay a one-off US$230 million to take the band off Sapura.
Save by subscribing to us for your print and/or digital copy.
P/S: The Edge is also available on Apple's AppStore and Androids' Google Play.