This article first appeared in Personal Wealth, The Edge Malaysia Weekly, on August 26, 2019 - September 01, 2019.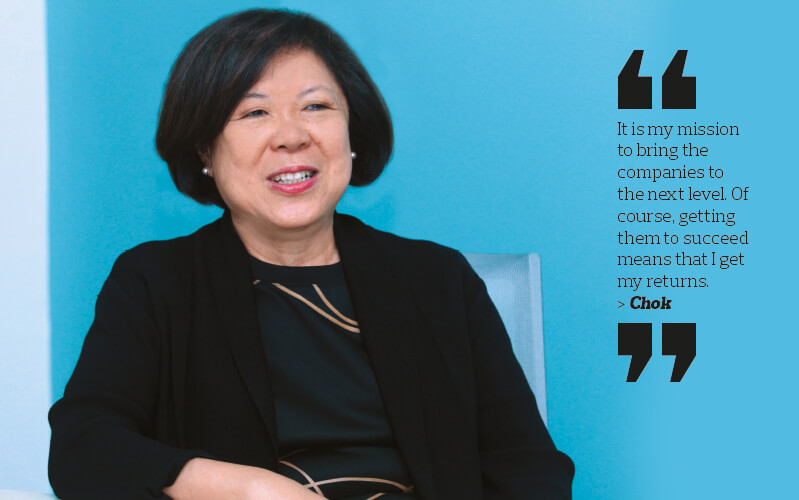 In the early 2000s, Chok Kwee Bee left investment banking, where she had spent more than two decades, to become a venture capitalist (VC) and delve into the world of private markets. She has invested in some of the country's most renowned entrepreneurs and has successfully exited companies such as JobStreet Corp Bhd, Aemulus Holdings Bhd, GroupsMore and Says.com.
"It was the turn of the millenium. Everyone was looking for a change. The venture capital firm I joined had always wanted me to work with them and approached me many years before. After I had lunch with the firm's chairman, I decided it was a good opportunity and a good time [to make the switch]. Also, I had always wanted to work with entrepreneurs. So, I took up the offer," says Chok.
Although she has made a name for herself as a well-known VC in the country, she admits that she struggled when she started out. The firm she worked for, Walden International, had been operating for 12 years when she joined. The San Francisco-based firm had offices in more than 10 countries, including Malaysia.
"Prior to that role, I was head of corporate finance at AmInvestment Bank Bhd, where I helped more than 100 companies go for listing. I thought I would know what to do when I joined the firm. Instead, I was thrown in at the deep end. Fellow Malaysian Tan Lip-Bu, founder and chairman of Walden, told me I needed at least three years to learn about venture capital investing. So, if I had to make mistakes, I had better make them fast," says Chok.
She had to pick up a lot of things to make good investment decisions. When she started out, she thought all companies that had innovative technologies were good. However, over time, she found out that the only way to tell whether a company was worth her investment was by spending time with the founders.
"To me, the most important quality in a founder is integrity — they have to be honest. It cannot be helped if money was lost due to bad decisions made by these founders. But I would be very unhappy if I lost money because I was cheated by the founders. This quality can only be determined if I spend time meeting up and chatting with them. So, I make this a priority," says Chok.
Although she lacked venture capital experience at the time, she had two decades worth of corporate finance expertise under her belt — she knew what successful companies looked like, corporate structure-wise. Equipped with this skill, she was more than qualified to consult with and advise entrepreneurs. That is why she does not work with entrepreneurs who are egotistical, self-absorbed or lacking in passion.
One of the entrepreneurs Chok invested in was Khailee Ng, currently managing partner of early-stage venture fund and seed accelerator 500 Startups. She met him at the HSBC Young Entrepreneur Awards in Hong Kong in 2005, where she was one of the judges.
"The Khailee I met back then — the one with the fuzzy hair — was very different from the man he is now. It really surprised me when he sat next to me and asked a lot of questions about building a successful business. I found myself giving him and his business partner Joel Neoh advice for the next nine months," says Chok.
"One day, he asked me whether they should work with a public-listed company that would give them very little money in exchange for a majority stake. I told them to go ahead if they wanted to be employees. But if they wanted to be entrepreneurs, they should not do it because the public company would dictate terms. On the spur of the moment — I think because of the chemistry I felt with the duo — I offered to invest in their business."  
Despite her support, the duo struggled to come up with a sustainable business plan. Initially, they wanted to champion youth empowerment and thought organising events was the way to go. However, the high overhead costs turned it into a loss-making business, says Chok.
"I decided to step in and tell them to go into an online-based business instead. I had invested in JobStreet prior to that, so I was convinced that online services were the future — I wanted to get all of my companies online. After some time, we agreed on a new business model and the duo started [bulk-buying deal site] GroupsMore.
"Less than six months later, we got an offer from Groupon to buy GroupsMore. We made very good returns — I gave them RM1 million in seed money, and Groupon offered to buy it for a few million US dollars."
After that, she focused on building and eventually exited Says.com, a digital news agency founded by Ng and Neoh. It would cost them a lot of money to buy the domain name, but she gave the duo the green light. Later, it merged with Catcha Media in a US$20 million deal to form Rev Asia Bhd.
In August 2017, Rev Asia was acquired by Media Prima for RM105 million. That was when Chok completely exited her investments with Ng.
"Along the way, Khailee said he wanted to join 500 Startups, a Silicon Valley-based global seed fund and startup accelerator. I told him to go ahead. I like to invest in young entrepreneurs, but we cannot expect them to do one thing for the rest of their lives. I also told him, 'If you want to do that full-time, you had better give me an exit'. So, he did. I was very happy that I decided to work with him," she says.
Positioning for an exit
Today, Chok is managing director of Teak Capital Sdn Bhd, a venture capital management company she started in 2007 after Walden International closed its office in Malaysia. She is also principal of Intres Capital Partners Sdn Bhd, a venture capital firm formed through a partnership between Teak Capital, Malaysia Venture Capital Management Bhd (Mavcap) and QuestMark Capital Management Sdn Bhd.
On top of that, she is chairman of test equipment manufacturer Aemulus Holdings, an independent non-executive director of Hong Leong Bank Bhd and a director of several private companies. Previously, she held posts such as a member of the Securities Commission Capital Market Advisory Council and chairman of the Malaysian Venture Capital and Private Equity Association, among others.
Chok enjoys being a VC as it is a very exciting role. She says there is nothing more satisfying than seeing a company succeed. "It is my mission to bring the companies to the next level. Of course, getting them to succeed means that I get my returns. That is why I spend my time mentoring, judging and consulting with entrepreneurs," she says.
Chok places a great deal of importance on positioning her investee companies for an exit. She points out that a lot of VCs are stuck with companies they cannot exit because they did not think that they would have to work to find ways to exit those companies. They thought either a buyer would simply come into the picture or the company would go public when the time came.
"The aim is to get my money back with returns. That is why I spend a lot of time with the companies and do a lot of mentoring. In fact, I meet the companies almost every other week and I am always open for discussions. Things move very fast in the start-up world. That is why I tell them it does not matter if the news is good or bad — just tell me," says Chok.
Her successful exits include Web Bytes, a retail management solutions company that was sold to GD Express Sdn Bhd, and Xentral Methods, the company behind e-bookstore E-Sentral that was sold to a company under the Ministry of Education.
"I always position my investee companies for an exit. For example, I knew that Says.com's content could not purely be in the English language. So [during our time at Rev Asia], we bought Malay language platforms such as social entertainment platform OhBulan! This made the company very attractive to buyers," says Chok.
"Another example is digital advertising company Agenda, in which I invested under Walden. The company was sold to WPP, the world's No 1 advertiser, because they wanted to have a good presence in China and Agenda already had a good footprint in Hong Kong, Taiwan and China. We managed to position the company to be attractive to buyers."
Investing in early-stage start-ups is very challenging, especially with the constant change of business plans that is needed in a start-up landscape, she says. Also, competitors pop up almost every single day.
"JobStreet, for example, copied from [US-based employment portal] Monster.com. After that, there were almost 10 platforms copying us. We had to do our best to stand apart from the crowd," says Chok.
"When it comes to online companies, you have to be the biggest or second biggest to succeed. If you are No 3 or 4, forget it — you will not survive.
"That is why Grab thrives. Most people do not know of any other platform even though there are more than a dozen out there. This is something I learnt when I invested in JobStreet. When we were in India, we were the second or third biggest job-seeking platform and we could not survive. Smaller companies can only succeed if they are serving a niche market."
For example, she once met a couple at an event who wanted to sell safe, natural and organic baby products. She told them that she would only invest in the company if they started their own brand and ran an online business. This would not only save them a lot of money, as they would not need to own a physical store, but also secure a niche market.
"They started their own brand called Applecrumby & Fish. Their focus was safe, natural and organic, so I told them that whatever they did, they needed to make sure they stuck to that focus so that people looking for these products would come to them. Now, they are doing very well and their products are available in several countries outside Malaysia. They are meeting with a few distributors to expand their presence even further," says Chok.
It has not been a walk in the park and she is candid about the fact that not all of her investments have been successful. For instance, a company she invested under the Teak Ventures fund eventually had to be liquidated. The company, which was in the LED lighting business, lost out to China-based companies that were selling the products at a fraction of its price.
"We lost some money, but it is okay as we make it up from the rest of the companies. As a VC, it is common for three out of 10 companies not to do well. We have to be prepared for that and learn to pick winners in the future," says Chok.
Growing the next unicorn
Chok is currently occupied in her role at Intres Capital Partners, where she is the manager of the Axiata Digital Innovation Fund (ADIF), a technology venture fund formed by Axiata Bhd in collaboration with Mavcap and Johor Corp. The fund's target sectors include e-commerce, location-based services, big data analytics, the Internet of Things, traditional-to-cloud services and financial technology (fintech).
Intres has invested in 16 companies thus far under the fund. This includes drone-as-a-service company Aerodyne, connected cars technology provider Katsana, online florist Happy Bunch and cleaner booking platform Maideasy.
"We have quite a mix of companies in our portfolio and I dare say we have done pretty well in making the investment decisions. The ADIF fund has a 70% bumiputera charter. While we honestly felt that was a challenge, it is not an impossible task," says Chok.
She wants to help build more Malaysian technology unicorns, having been involved in growing the country's first billion-ringgit tech company, JobStreet. However, the probability of doing so is tough as being a tech unicorn is not something a company can achieve overnight, she says.
"As a VC, we are all about returns. While we do want to help entrepreneurs build unicorns, we cannot stay around for too long. Our funds have expiration dates and we have to provide returns to our partners. Sometimes, it takes more than 10 years for the companies to reach the billion-ringgit mark," says Chok.
"For example, I was with JobStreet from the very beginning. Walden had already invested in them before I joined, but I increased the stake afterwards. We helped them list on the Mesdaq and subsequently on the Main Board. The day of the initial public offering, the share price almost doubled from 54 sen apiece. It took more than 15 years for the company to be sold to SEEK Ltd."
Looking at the current venture capital investment landscape, she says there has been a noticeable number of foreign VCs setting up shop in Southeast Asia to deploy their investments in countries such as Malaysia, Indonesia and Vietnam. Instead of thinking about it as increased competition, she welcomes the move and thinks that more VCs are needed to enable the Malaysian start-up ecosystem to thrive.
"We need more VCs in Malaysia. Today, Mavcap is the biggest venture capital firm in the country. Before that, it was Walden. When Walden was operating in Malaysia, it trained so many VCs," says Chok.
"Now, we are not seeing a lot of good VCs anymore. Due to this, the ecosystem's growth has slowed. Less funding leads to less capital support for start-ups, which means there are fewer deals to go around."
She says good returns can still be made in this part of the world, so investors who want to dip their toes into venture capital investing should do so. However, they would have to go through the education process she experienced in the early days to make good investment decisions.
"Once, someone came up to me and asked if he could become a VC at the age of 50. I laughed and told him I only started when I was in my early forties. But as a VC, you have to do the due diligence yourself. You have to meet entrepreneurs and tap your own network to make sure that you are doing it right. It is a lot of work, but I think it is worth it," says Chok.
A lot of companies fail because they do not have a clear business direction, she adds. So, it is the VC's job to brainstorm with the investee companies to come up with a sustainable business plan, strategies to increase revenue and project the company's growth trajectory, among others.
Looking back at her past investments, Chok says she was very fortunate to be involved in growing many successful companies. She does not discount the fact that more of these companies will pop up in the future. So, newer VCs have to keep their eyes open and ears to the ground.