This article first appeared in Digital Edge, The Edge Malaysia Weekly, on June 13, 2022 - June 19, 2022.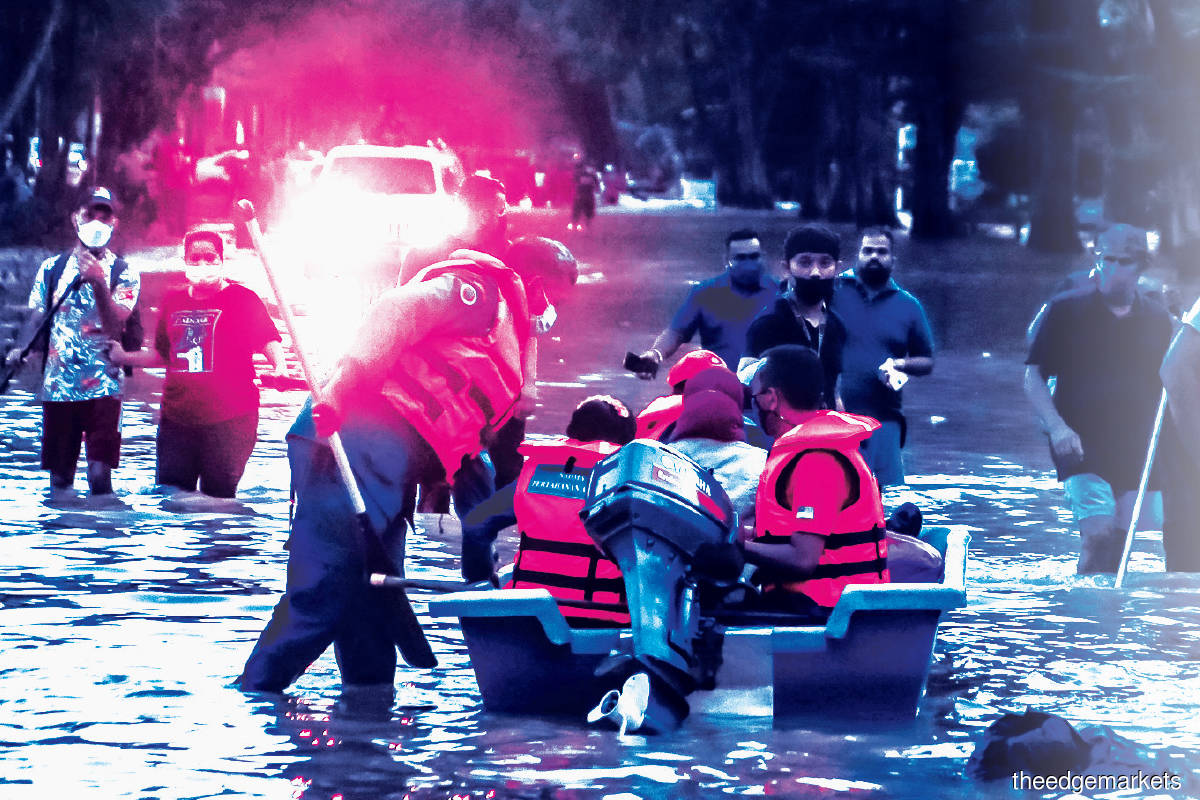 Torrential rains and the floods that follow during the monsoon season are natural hazards that Malaysians have learnt to accept as being part of life in the tropics.
But when flood waters rose as high as 2m in highly developed Selangor and surrounding Kuala Lumpur last December — causing RM3 billion in damages and leaving 54 dead — questions were raised as to whether there would be a better way to address the problem that displaces tens of thousands every year and stretches the capacity of our cities.
The floods, which were attributed to a record level of rainfall that occurred only once in 100 years, not only affected people on the east coast of Malaysia but also the entire peninsula, plunging the country's wealthiest states into chaos.
With a fifth of the nation's population deemed at risk from floods, coming up with a technological approach to flood management is a crucial step, as rapid urban growth and land-use change have increased the severity of floods over the past decade.
"The most important thing is forecasting. If you can give alerts six hours ahead [of the weather event], it is accurate because people still have a window of time to take the necessary steps," says Datuk Professor Dr Azizan Abu Samah, director of the National Antarctic Research Centre.
"In any disaster, forecasting is better than trying to react after the flooding. I think efforts should be made [to improve the warning system] on when the flood is going to occur."
Alerts are an indispensable cog during floods, providing time-sensitive information to key stakeholders. Government agencies provide alerts as part of an early warning system to the general public, agency partners as well as affected communities, with the frequency naturally increasing during the flood season.
Based on the UN Climate Technology Centre and Network, a flood warning system detects threatening events well in advance, which enables the general public to be alerted and appropriate actions to be taken to minimise the impact of the floods.
With this in mind, the Ministry of Environment and Water announced the implementation of the National Flood Forecasting and Warning Centre's warning system. It will be fully operational nationwide by end-2022, along with 120 closed-circuit television cameras that convey real-time information to the public, according to reports in the local media.
The national flood forecasting system can alert authorities 48 hours before a flood and can forecast flooding a week in advance, according to UK-based engineering and environmental hydraulics company HR Wallingford. It is working on developing the system's core for Malaysia and has been involved in the design of flood management schemes globally for more than 70 years.
"The impact of flooding has been made worse over the past decade by rapid urban growth and land-use change, as these developments have modified the rivers' flow regimes and flooding mechanisms," HR Wallingford states on its website.
"Malaysia's humid tropical climate brings an average of 2.5m of rainfall per year to the peninsula, while in some parts of East Malaysia, on the island of Borneo, totals have been known to exceed 4m. What is more, the majority of the rain falls during the northeast monsoon, typically between November and March, and has its biggest impact on the peninsula's east coast and East Malaysia.
"Meanwhile, the inter-monsoon period brings thunderstorms and flash floods to the west coast, notably the capital city Kuala Lumpur. Here, the urban population of eight million is densely packed, and the stormwater drainage channels often cannot cope with the rainfall intensities, so the impacts can be huge."
The National Flood Forecasting and Warning System (NaFFWS) that HR Wallingford is developing for the Department of Irrigation and Drainage (DID) uses a three-stage process.
According to the company, its engineers set up the system by gathering historical rainfall and flow data as well as creating models of the runoff, river channels and floodplains. Next, the data is combined with weather forecasts and on-the-ground measurements to predict water levels. And finally, the system is set to run operationally and continuously, with forecasts and warnings automatically generated.
"The system is the result of many decades of installing a network of over 700 observation gauges across tricky terrain, including dense rainforest. Already successfully trialled in three catchments in Malaysia, the scheme has now been broadened to 11 more river basins in the northwest of the country and 11 further catchments on the east coast," it adds.
With the rollout of the NaFFWS, warnings will be sent to a national control centre at the DID for immediate action to be taken, with direct flood warnings to the public also possible, explains HR Wallingford.
At press time, the DID had yet to respond to queries by Digital Edge.
A case for digital mapping
Timely forecasting aside, flood relief operators require accurate information to better understand the impact of the weather conditions and to be more equipped to make life-saving decisions. This is where tools such as geographic information systems (GIS), for flood preparedness and evacuation, should be seriously taken into consideration.
Via GIS, the data is collected and connected to a map where location data is merged with descriptive information. This provides a foundation for mapping and analysis, which proves useful in a variety of areas, including disaster aversion.
"When we talk about GIS, and when we bring data information into it, we are mapping the real-world scenario," says Joanne Loh, chief technology strategist at Esri Malaysia. The company supports organisations in the design, development and implementation of GIS.
"GIS is a platform where you bring location data into and start running a scenario, such as if the water rises 10m, which locations would be affected and so on. In a broader view, it is a specific system to generate information out of location elements," she explains.
With real-time situational awareness, the GIS technology corroborates geographic science with tools that are able to perform forecasting, monitor change, and manage and respond to events by communicating solutions through the language of mapping. The GIS is able to pinpoint the location where flood relief operators would need to allocate their resources, by looking at a map that shows the affected areas and the severity of the impact.
ArcGIS, Esri's mapping and spatial analytics software, provides a variety of solutions through location-based analytics. One such solution is the ArcGIS Flood Impact Analysis, which can be utilised to develop flooding scenarios that aid in the visualisation of the aftermath of the location affected by floods. This is done through an assessment of the impact on infrastructure and the affected communities.
Essentially, the Flood Impact Analysis is a set of tasks that creates an impact area through flooding scenarios to identify impacted routes and the severity of damage to infrastructure, which allows flood relief operators to effectively respond.
"To perform the impact analysis, we need to know all the features, such as where all the buildings, roads, infrastructure and so on are, using deep learning tools and satellite or drone imagery. We will then use an elevation model to generate different flood scenarios," says Loh.
Through the impact analysis, flood relief operators can determine the evacuation route they need to take as well as determine the severity of the floods in the area they are headed to, allowing them to be better prepared for the situation as well as to assist those affected.
To create location intelligence is to be aware of the location in which a weather event is taking place, while the intelligence aspect points to the flood-prone and high-risk areas, or the areas that would suffer great economic losses if a flood occurs.
"Location intelligence is getting information together and asking questions such as how much of the population and how many properties will be affected by the flood or which areas will need more resources," says Loh.
Software such as ArcGIS being deployed nationwide could play a huge role in flood prediction as well as evacuation. Flood relief personnel should be able to employ the mapping capabilities without much difficulty.
"The mapping capabilities of ArcGIS are fairly simple. There are a lot of ready tools and we provide a simple training programme," she says.
Furthermore, Esri runs the Disaster Response Programme for non-governmental organisations through which the responders receive GIS support that comes with data, software and technical support to enable them to respond better during crises.
"During the programme, we provide technical support and create some of the tools for them to use," says Loh.
Time for alerts
Government agencies that send out alerts such as the National Disaster Management Agency or the DID are responsible for informing the public, and finding a difficult balance between not oversharing and running the risk of not providing sufficient advanced warning in preparation for a disaster.
"The Malaysian Meteorological Department (MMD) has a warning system for the general public that we can look at periodically on its website," says Professor Datuk Dr Ahmad Faizal Mohd Perdaus, president of Mercy Malaysia.
"During an active flood season, the MMD also takes the initiative to send out warnings, either through SMS or WhatsApp. Those are the common tools that are currently being used, whereas [warnings via] traditional mainstream media such as television and radio are still delivered," he adds.
"Public dissemination of forecasts and warnings enables the relevant response by government agencies to advise concerned communities on how to prepare for an impending flood," says Dr Sheeba Chenoli, a senior lecturer at the University of Malaya's Department of Geography.
But despite the many efforts in issuing warnings and alerts, flood-related catastrophes continue to rise due to rapid urbanisation and more frequent turbulent weather conditions influenced by the onset of climate change.
"Perhaps we could look at a more seamless and continuous partnership in terms of information sharing, with alerts given on a more regular basis, so that we are always on our toes and always in the loop in case of a disaster," says Dr Ahmad.
"It is critical to ensure public awareness of the appropriate response actions from the various related authorities. Even with the availability of forecasts, we need simple information dissemination by all available media to reach the public, with immediate response from rescue agencies in case of impending disasters," says Sheeba.
The DID has improved and upgraded the flood information system through the Public Infobanjir website, with informative display as well as early dissemination of information, and flood forecasting information being disseminated as early as two days before the occurrence of floods in certain locations.
Looking to the future
Data sharing among the different stakeholders is essential to streamline communication, better improve flood relief efforts and lessen the damage and severity of the floods when they occur.
"I think we have to work on data sharing and collaboration. Data is one thing, but we have to share this information so that more people can provide help and relief," says Loh.
The data made available needs to undergo a process of quality control, to relay accurate and proper information.
"In the US, any data collected by taxpayers is made available, and the data is quality controlled," says NARC's Azizan.
With climate change, catastrophic heavy rainfall and the torrents of problems that come with it, long-term strategies that are both practical and feasible need to be quickly administered to provide a much-needed boost.
"A long-term solution is when you mitigate to stop the floods, but that involves investment. To build flood retention or flood water diversion is a major civil engineering job that needs to be done well before the flood occurs," says Azizan.
Malaysia has been relatively protected from natural disasters — until now. But of course, things are changing, says Dr Ahmad. "The experience of the last decade, especially the last six or seven years, and what happened last December, show us that climate change and other factors are making disasters more frequent, more severe and more unpredictable."

An ideal to strive towards
Unless there is a marked effort to streamline communication and promote active discussion among the relevant agencies and affected communities, our flood response leaves much to be desired.
Malaysia could study the flood mitigation strategies and processes of other countries to come up with its own framework. Hong Kong's Rainstorm Warning System, for instance, is a notable example of the flood preparation process.
"The Rainstorm Warning System is designed to alert the public of heavy rain that is likely to bring about major disruptions and ensure readiness in the essential services to deal with emergencies," says Dr Sheeba Chenoli, a senior lecturer at the University of Malaya's Department of Geography.
With heavy rains in Hong Kong in May and June, due to the rainy season from April to September, the city could face major floods if such weather conditions persist.
Hong Kong's Rainwater Warning System uses a three-level system to alert the public about the occurrence of torrential downpours, which may cause disruptions such as traffic congestion.
"These warnings are colour-coded with three warning levels such as amber, red and black. Each warning level is associated with an action plan for everyone," says Sheeba.
The colour-coded warning system signals the increasingly distressing levels of rain and the amount of rain that is expected to fall, with citizens being able to take the necessary precautions based on the warning received.
A collective effort of implementing such a protocol in urban areas would greatly improve the collaborative efforts in being able to withstand and overcome heavy or sudden flooding, with the general public having a clear direction and understanding of the actions that need to be undertaken, as per the warnings provided.
'Declare a climate emergency'
The declaration of a climate emergency allows environmentalists, private institutions and civil society to use it as an accountability tool to ensure that there are concerted efforts being made to address the impact of climate change.
Singapore and Bangladesh are among the few countries in the world that have already declared a climate emergency. Singapore is planning a stronger climate action strategy while Bangladesh is focused on climate justice by demanding high polluting countries take more responsibility for reducing greenhouse gas emissions.
Aidil Iman Aidid, an environmentalist, believes that such a declaration is necessary in Malaysia as it is teetering on the brink of irreversible change to its environment.
"Kuala Lumpur has faced three cases of flooding in five months, which shows that extreme weather patterns are becoming more [serious]," he points out.
"Malaysia is focused on climate mitigation. However, we are lacking climate adaptation, which is about building resilience to flooding, droughts and heat waves, and adapting to climate change. Adaptation means better evacuation systems, better warning systems, more retention ponds that protect communities from flooding, and more sponge cities."
One way to tackle flooding is to implement "sponge cities". This nature-based solution strengthens ecological infrastructure and drainage systems, not by pushing floodwaters away, but by letting the water flow through biodiversity within lush vegetation using the wetland ecosystem concept, says Aidil.
With the foreseeable future seemingly bleak, heavy rainfall and the torrents of problems that come with it, long-term strategies that are both practical and feasible need to be administered quickly.
The need for community spaces in flood relief
Whether seasonal or flash floods, they affect the communities on the ground, putting their homes and livelihoods under duress. Organisations such as Klima Action Malaysia (KAMY) work with vulnerable communities through their disaster response initiatives to provide funds and deliver food to those who would need it.
Due to the socioeconomic background of rural communities, if reparations are not made in a timely manner, it could lead to a spiral of poverty. The floods present a huge threat to these communities, especially if the traditional arable land on which they cultivate crops and their infrastructure are affected, as it impacts their livelihoods.
KAMY organises capacity building for the communities to mitigate and adapt to the situation by helping them understand why floods occur. "They understand floods are happening, but sometimes they do not link it to the climate, the intense rainfall, the changing seasonal patterns and the extreme weather events that are happening more frequently," says its chairperson Ili Nadiah Dzulfakar.
KAMY empowers affected communities to react to flood occurrences instead of waiting for aid because of how long it would take for help to arrive.
"So, they come up with plans. For example, if a flood happens, where do they go first? People are smart. When they know something is going to happen, they will plan and prepare for it. These kinds of initiatives are missing across communities that are most vulnerable and that is sad to hear," says Ili.
She reflects on how a bridge in one of the communities in Kelantan collapses every time it floods.
"To rebuild a bridge every time it is damaged costs a lot of money, so we have to raise funds. This is part of the governance efforts that we are asking for," she says. "Are there any mitigation and adaptation efforts that could happen, like having better bridges built by the government, and not bridges built by the communities themselves?"
Affected communities should be engaged, as they are dealing with the effects of the floods head-on. Ili cites an example. "There is this indigenous woman who lives in a low-lying area near a river. Every time it floods, she loses many things."
That is why communities need to be able to make educated decisions on what is going to affect them, and they need a safe space to express their thoughts and concerns, says Ili. She insists that communities must be represented as stakeholders when forming a national adaptation plan, as it is the people who need to implement it.
"The government agencies provide capacity building and funding, but it is the community who has to implement these. I say this because when you include community stakeholders, they will appreciate it more, as they understand that it is their livelihoods they're protecting, which makes the process more sustainable," she adds.
To achieve this and tackle climate change, Ili believes transparency is much needed. Otherwise, there is the risk of exacerbating existing social issues or causing new conflicts.
"We want justice for people that would mean a safe environment and a habitable planet for our generation and future generations," she says.