This article first appeared in Digital Edge, The Edge Malaysia Weekly, on May 24, 2021 - May 30, 2021.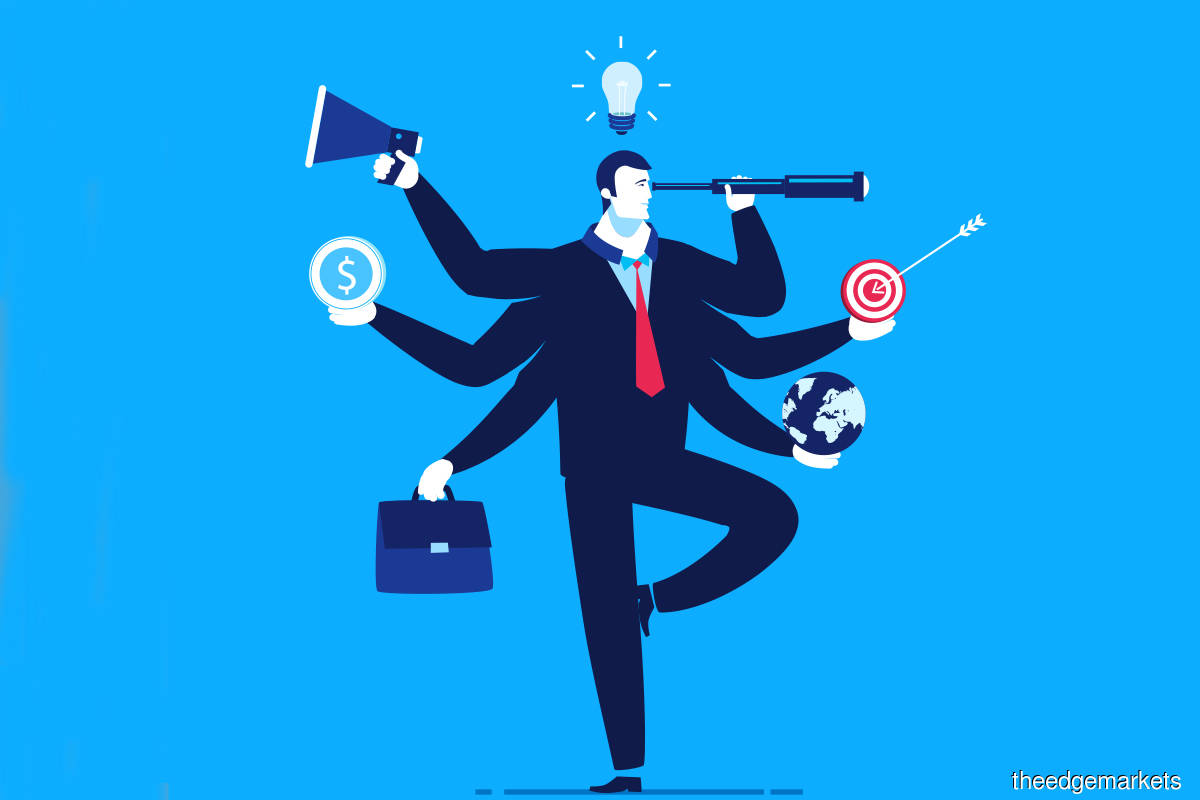 It is daunting enough to graduate amid a sluggish economy, but fresh graduates are now being warned that their university degrees are unlikely to guarantee them employment until retirement. It is likely that they will have to upskill and reskill throughout their career just to stay relevant.
This is the reality that people must grasp in the digital economy, the emergence of which was hastened by the Covid-19 pandemic.
Here are more sobering statistics: The World Economic Forum estimates that the pace and scale of disruption brought forth by the Fourth Industrial Revolution would require more than one billion people in the world to be reskilled by 2030. By 2022, some 42% of the core skills required to perform existing jobs are expected to change.
As a reflection of this demand, at least four tech training centres have been launched in Malaysia over the past few years, offering individuals the opportunity to pick up tech skill sets fit for the future. These centres offer relatively short and affordable courses.
"We live in a world where change comes so fast that whatever you studied in university may be unnecessary in 20 years. In the 1980s, you could have a career for life with one degree. But it's different now," says Dr Ram Gopal, director of strategy and innovation at Redbeat Academy.
The tech training centre was set up by AirAsia Digital in collaboration with Google last year. It started by upskilling and reskilling the airlines' grounded staff during the Movement Control Order period, helping some of them to transition into digital roles. The academy is now open to the public.
The opportunity to reskill and upskill through tech training centres also implies that everyone has the opportunity to pivot to a different industry in the digital economy. In other words, a 35-year-old worker with no formal education can learn tech skills and become a digital marketer or e-commerce merchant. 
Parents would not have to worry that their child who has a degree in history cannot find a job after graduation. Their child can always reskill to take up a tech role without having to do another three-year degree.
"This is not to denigrate people who study history, of course. But we are in a tight labour market and anything that you can do to prove you have the necessary skills will help you in your job search," says Andrew Pereira, CEO of Akademi GA, the exclusive partner of General Assembly in Malaysia. 
Akademi GA aims to close the digital skills gap by offering classes in software engineering and digital marketing, among others.
"I think there are a lot of university graduates who don't have jobs and find that their skill sets don't match the demand for jobs in the market. So, they look for programmes like ours to make themselves more marketable. Graduates of our programmes, some of whom had pivoted from an art degree to study data analytics, have secured roles as analysts," he says.
It is important to note that this is not something only fresh graduates should pay attention to. It is also not something that solely concerns factory workers.
"A chief marketing officer of a company told me that he wanted to sign up for a course on developing websites because he sits on a lot of tech committees and it would be unacceptable if he did not understand the basics of website design," says Pereira.
A lot of people tend to only think about upskilling and reskilling when it is too late, he adds. That could be when one is out of a job or unable to move up the corporate ladder.
"They allow their skills to get stale and then panic after that. One way to deal with this is to constantly ask yourself, 'What am I learning in my role right now? How is what I'm learning making me more competitive and relevant in the workforce?' If you can't find a positive answer to this, then you know your skills are getting stale and you need to do something about it."
What do you mean by upskilling and reskilling?
Upskilling refers to updating one's skill set, while reskilling involves learning new skills.
"Let's say you're in advertising and your company has decided to outsource advertising to a company that uses data to target ads. You have managed to convince the company to give you a two-month trial period to show what you can do. In that time, you can take some short-term data analytics courses. Our shortest course is around three days. After you do that, you can show the company that you can do this too and they need not outsource the project," says Ram.
Someone in the legal profession could learn how to use R, a programming language, to sift through data quickly. Owners of small and medium enterprises (SMEs), meanwhile, can take courses in cybersecurity for three weeks and understand how they can protect their business.
"If it's a family business, the owners could send their child to attend a digital marketing course. My point is that, just because your business or role is not becoming obsolete, it doesn't mean you can't add value to yourself. Our shortest course is for two hours and costs RM140," says Ram.
One thing to note is that upskilling and reskilling should not be product-based, says Eric Ku, co-founder and executive director of iTrain Asia Pte Ltd, a digital tech certification body that was established in 2005. Digital products are going through updates quicker than ever, so being product-agnostic may enable one to be more flexible.
"Even Microsoft announced that all of its role-based certifications are only valid for one year now. If you go for product-based training, you have to keep updating yourself. But if you do subjects such as data science, you will understand the core foundation of the technology," says Ku.
On a higher level, there should be a rethink at the government level about technical skills training, he observes. Technical and Vocational Education and Training (TVET) is often associated with low-tech skills, but this should change, he says.
"Our TVET is very focused on blue-collar jobs. In Germany and Australia, the focus is on technical knowledge such as machinery operations and drones," says Ku.
What is stopping people from upskilling and reskilling?
It may not have crossed the minds of most people to take up courses on the side of their full-time jobs just to upskill or reskill themselves. The additional workload may be too taxing on the individual and the payoff may not be immediately obvious.
An increasing number of companies, however, have been sending their employees to be upskilled or reskilled in recent years, say the interviewees, which is a good sign. Some are doing it now to prepare for the economic recovery.
"One of the companies we are working with is making a huge push to digitalise its marketing team. They're gearing up for increased demand. That's a trend that I see, as enterprises are hoping to make the most out of the recovery," says Pereira.
But there are still many hurdles to making this practice mainstream.
"Some old-school companies believe that if they upskill their employees, there is a chance that they will leave. So, why would they spend money equipping people with skills? But I tell them that the only thing worse than upskilling someone and them leaving is having them stay in the company and be irrelevant," says Pereira.
Some companies may not know how to evaluate the return on investment of upskilling or reskilling their employees, while some companies do not know where to start, he points out.
"What are the digital skills they need to develop? Who needs to develop those skills? Does it make more sense to hire new people or upskill and reskill the existing ones? Some human resources departments may not be up to date with the digital skills required," he says.
Another more systemic barrier could be the lack of need to upskill and reskill talent, says Ku.
Many international tech companies in Malaysia are sales-oriented, he observes, with the engineering or R&D components often done in other countries. Some companies choose to outsource their technology processes to external vendors, who may not be in Malaysia."In this kind of economy, people may not feel the urgency to update their skills," he says. 
Unless Malaysia moves up the value chain and does more R&D, this demand for upskilled and reskilled talent may not be there. But Ku emphasises that it is something that individuals must do at this time. "That's because you have a lot of people fighting for a few jobs."
The government should lower the barriers to upskilling and reskilling, the interviewees say, and companies should ensure their workforce remains relevant.
"We have a report called the 'Build vs buy approach to talent' and we have case studies that demonstrate it makes more financial sense for an organisation to develop its own talent than to hire from outside over the long term," says Pereira.
However, it is ultimately the responsibility of each individual to ensure that their skills remain relevant and employable.
"The nice thing about tech is that it has made everything fair. But by the same token, if you don't invest in yourself, then nobody can help you … Now, everyone can succeed. It is when you rest on your laurels that you get into trouble," says Ram.
What if I still cannot find a tech job?
A common gripe heard from employers is the lack of tech talent in Malaysia. On other hand, there are complaints that employers in the country do not know how to hire and value tech talent, resulting in a brain drain.
Tech training centres are well poised to address this problem. Most of them have collaborations with employers or job search platforms to match their graduates with tech jobs. For instance, Redbeat Academy works with job-seeking platform Wobb, while General Assembly counts Microsoft, Visa and Google among its clients and hiring partners.
Many also work with universities to offer micro-credentials for their courses or provide training to students who may not be exposed to the latest technologies in their curriculum. For example, General Assembly is working with the Ministry of Higher Education to upskill university graduates in data analytics and digital marketing.
"We want there to be a third alternative after you finish your secondary education. Other than university and vocational schools, there should be a third branch for acquiring professional qualifications," says Ram.
Tech start-ups and more progressive companies do not emphasise degree qualifications of potential hires as much anymore, he points out.
Additionally, these tech training centre programmes are generally shorter than university degrees, the curriculum is reviewed frequently and the instructors are oftentimes industry professionals. This ensures that the content keeps up with the developments in the industry.
Since these centres have close relationships with industry partners, they could also match the supply and demand for tech skills.
"I have a client who told me that he needs 150 full-stack software engineers for the next two years. So, I will make sure that I run enough classes in this area so that I can meet his company's needs. We can source talent for companies based on the needs they communicate with me. There is a huge supply and demand gap in Malaysia, and organisations such as ours can help them," says Pereira.
Ram does not think there will be an oversupply of tech talent because tech cuts across all industries, including healthcare and education. As the tech industry grows, more innovation will occur and more tech talent will be needed.
"Of course, there will be ups and downs in different areas of tech. We are now in the data era. But five years from now, there may be another revolution," he says. 
"Artificial intelligence is on the rise. That's why reskilling and upskilling are always important. If we are awake to that, there will never be excess supply."
Are Malaysians eager to upskill and reskill themselves? 
Here is some good news. Most working professionals understand that they have to update their skill sets to have higher salaries or become more attractive to potential employers. 
Recruitment firm Hays' 2021 Asia Salary Guide found that 94% of its Malaysian respondents said upskilling was important or very important to them. When asked which upskilling opportunities have become important to them after Covid-19, some 89% prioritised digital skills development, 83% chose reskilling and 78% stated e-learning opportunities.
Tom Osborne, managing director of Hays Malaysia, observes that Malaysian candidates often do not know where to go to develop hard skills. They often learn the skills on the job rather than before entering the workforce. 
He suggests that companies support self-directed learning and that human resources departments take the lead in making learning and development a core activity. 
"They can roll out a development strategy based on real-time micro-learning with high-quality online content, targeted actions and interventions. But you have to put the onus on the employee to think about their own development and where they want it to go," says Osborne.