This article first appeared in City & Country, The Edge Malaysia Weekly, on January 13, 2020 - January 19, 2020.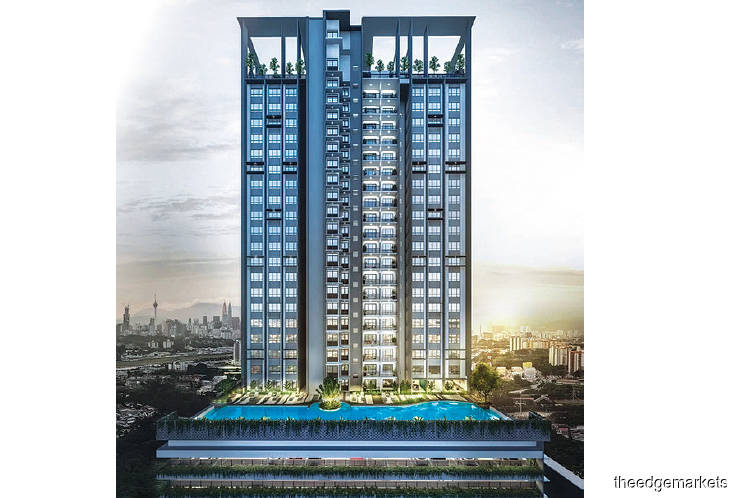 Photo by Promenade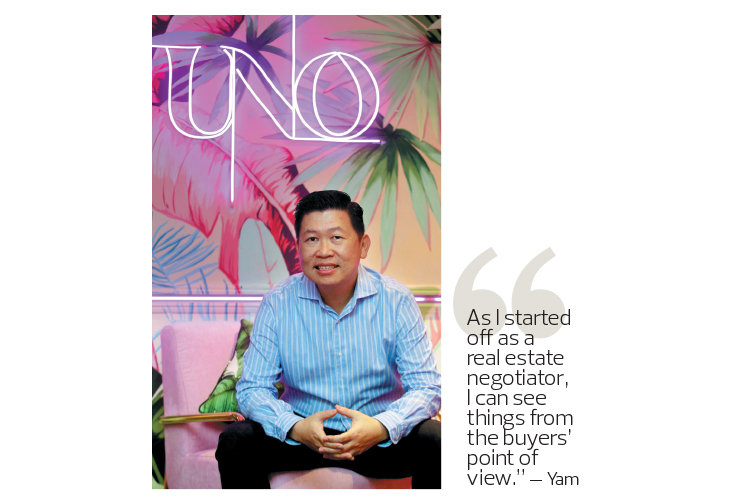 Photo by Sam Fong/The Edge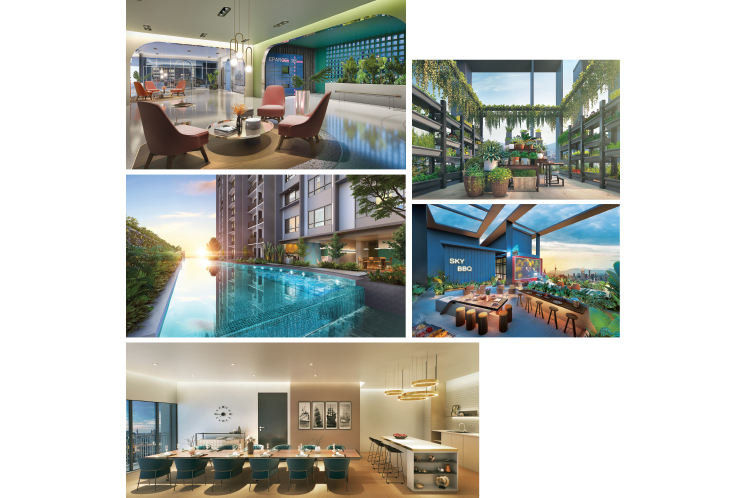 Clockwise top left: The main lobby with parcel locker; the urban farm on the rooftop; the sky barbecue on the rooftop; the function lounge on Level 6; and the 45m swimming pool on Level 6
Photo by Promenade
Promenade Group may be a new name in the property development market, but its founder, Michael Yam, has 20 years' experience in the industry. Yam spent nine years as a real estate negotiator and worked with timber company-cum-property develop­er Exsim Group.
Since its inception in 2009, Promenade has been an outsource company to Exsim, responsible for all matters pertaining to property development such as planning, branding, sales, marketing and customer service.
"We run the whole show under the Exsim brand. As a real estate negotiator, working in a property development company is a learning curve and it gives me opportunities to improve. We are privileged to work with them because they give us trust and opportunity," he tells City & Country in its office-cum-sales gallery in Bukit Jalil, adding that Exsim is Promenade's only client.
UNO Promenade Sungai Besi
Promenade ventured into property development when it started to buy land two years ago. Its maiden project — UNO Promenade Sungai Besi — is slated for launch next month.
"I have been in the property industry for 20 years, 11 of which were in development. As I started off as a real estate negotiator, I can see things from the buyers' point of view… We know what they want," he says.
"Being involved in property development gives me the satisfaction of doing niche, boutique yet meaningful developments I have always wanted to do. Over the years, as we launched various projects, we learnt from the mistakes and improved in the [subsequent] projects. There are eight staff in the property development team now."
UNO Promenade Sungai Besi has a gross development value of RM103 million and sits on a 0.7-acre leasehold plot on the Sungai Besi Expressway. Located 900m from the upcoming Kuchai Lama MRT station, it is surrounded by four other highways: the New Pantai Expressway, North-South Expressway, East-West Link Expressway and Maju Expressway.
The development will comprise 137 serviced apartments in a 27-storey block, or seven units per floor, and have three lifts, including a service-cum-stretcher lift.
All units will come with air-conditioners in the bedrooms and living room, a storage water heater, kitchen cabinets, hood and hob, as well as shoe and bathroom cabinets.
Yam says the units are priced at RM700 to RM750 psf and are available in four sizes: 691 sq ft (Type A), 1,028 sq ft (Type B), 1,044 sq ft (Type C) and 1,107 sq ft (Type D). The Type A units will have only one bedroom and one bathroom; the other types will have three bedrooms and two bathrooms.
"Types B, C and D offer flexibility, as certain walls can be hacked. For example, Types C and D are designed in such a way that the master bedroom can have an opening to the second bedroom, which can be turned into a nursery, walk-in wardrobe or study room. Otherwise, [the second bedroom] will be identical to the third bedroom, which can fit a four-panel wardrobe," he says.
"We sacrificed the yard so that the bedrooms can have ventilation and natural light, but we have given a lot of storage space in the kitchen. All the bedroom windows face outwards, rather than a void or corridor."
Each unit will come with one to two parking bays. There will be three pay-per-use electric car charging stations. On Level LG2, there will be a guard control room, nursery, kindergarten, drop-off lobby, main waiting lobby  — which will have a parcel locker for receiving or returning parcels — mail room as well as parking bays for the disabled that will also act as a waiting area.
There are two facility floors — Levels 6 and Level 26 (rooftop). There will be a children's playroom, changing room, function lounge, pool deck and a 45m swimming pool on Level 6; the rooftop will have an observation deck, outdoor gymnasium, a 2,000 sq ft sky gymnasium, an outdoor theatre and urban farm, and a sky barbecue function area.
Yam says as UNO Promenade Sungai Besi is in a mature area, it will enjoy an unobstructed view of its surroundings.
"We plan to officially launch the development by February. So far, more than 40% of the units have been sold [to] mostly owner-occupiers. With our unique selling points being low density, practical design and affordable pricing for that location, we hope to sell everything this year."
Property management app to reduce cost
Yam says the development's low indicative maintenance fee of 40 sen psf is made possible with the use of property management application Kiple, which helps reduce the need for manpower.
As such, he says, residents will not be issued access cards but will need to download the Kiple app. Each unit is allowed to have up to six registrants, who will each have a QR code on the app that acts like an access card to enter the building.
The app also allows residents to pre-register their visitors, make payments and book facilities.
"If a particular unit has two parking bays, the app allows the registration of up to five cars. At any given time, however, only two cars are allowed to drive into the parking area. There is a car plate recognition system at the parking entrance to scan your car plate number before you are allowed to enter," Yam says.
"This application also allows us to do away with the intercom, which costs RM3,000 each, as the guard can call the residents directly on their mobile for any enquiry."
To save further costs, Yam notes that only two lifts will be used to serve the residents in the first two years. The third lift, which is the service lift, is reserved for contractors only and will shut down after 6pm.
"The app makes it easier to maintain the building. It is like a community app and everyone, including management and cleaners, will use it. Owners can check on the record of the tenants and their bills. The app will continuously update itself so that the residents will get the latest updates and features about the building," he says.
Future projects
Yam believes Promenade's forte is high-rise boutique developments, and it is looking to work with landowners and partners on projects. After UNO Promenade Sungai Besi, the developer plans to launch two more projects by year-end — one in Kampung Baru, Kuala Lumpur, and another in Cyberjaya.
The RM300 million development in Kampung Baru is near Setia Sky Residences. The plan is to build an office suite featuring co-working and co-living concepts for start-ups.
"We will invite a co-working operator to manage the co-working space while providing hospitality service to the co-living unit buyers. It is near the upcoming Kampung Baru North MRT station, which is just four stops from the Tun Razak Exchange station. Each co-living unit will have a built-up of about 300 sq ft, as well as a pantry and bathroom," he says.
"What the co-working spaces lack now are co-living spaces, whose security and facilities they can enjoy. The building will have more than 50 storeys, and we are going to help the buyers to manage and rent the units out."
Meanwhile, the project in Cyberjaya will be a condominium development, targeting owner-occupiers with children studying in the tertiary edu­cation institutions in the area.