This article first appeared in The Edge Malaysia Weekly, on July 5, 2021 - July 11, 2021.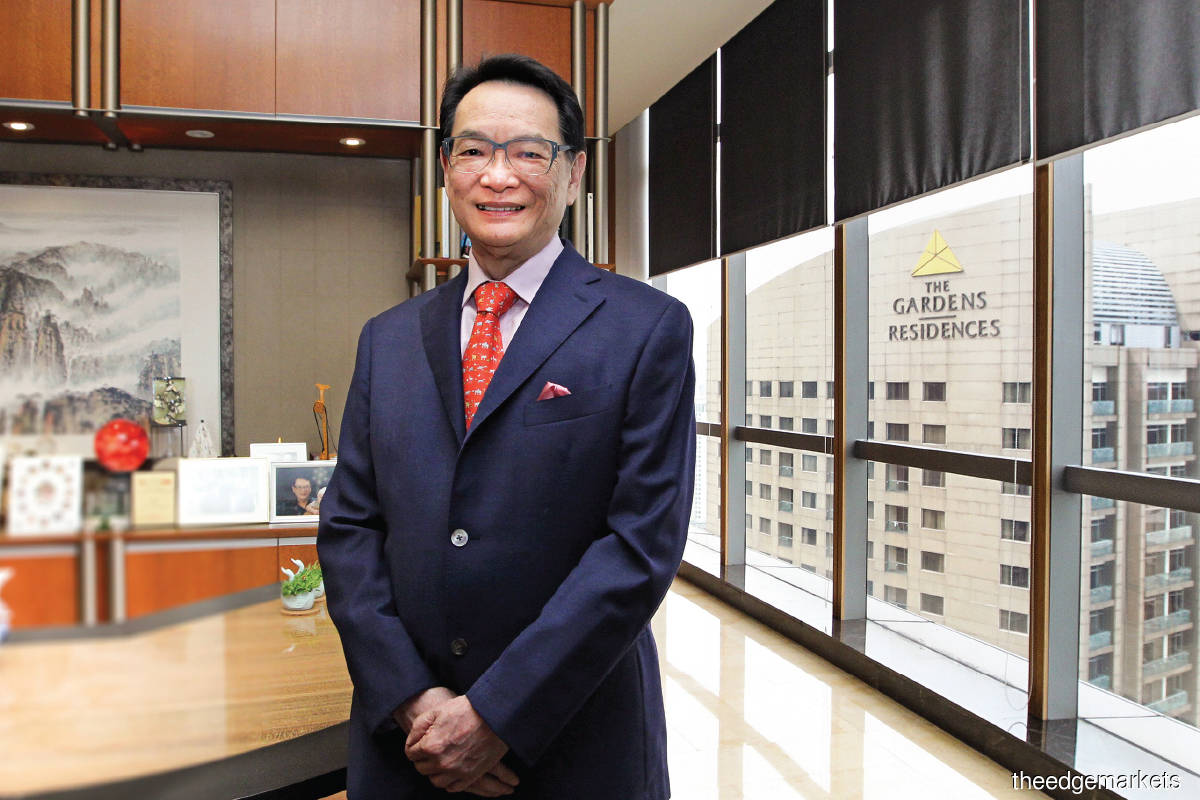 IGB Bhd's plan to unlock the value of its commercial assets through the listing of IGB Commercial REIT on the Main Market of Bursa Malaysia is seen as a bold move in the current tough business environment.
While the recent new listings on Bursa were impressive, the condition is slightly different for IGB Commercial REIT, whose performance will be very much linked to that of the economy. This is even more so as real estate investment trusts (REITs) are typically a long-term investment for investors.
Persistent lockdowns and weak market sentiment have prompted a delay in the flotation of IGB Commercial REIT units, the announcement of which was made last Friday evening. It is now scheduled for listing on Sept 20 instead of July 30. This will also allow more time for the book-building process in the listing exercise.
The closing date for the initial offering application has been extended to Aug 20. Digital and cashless alternatives for application are available in addition to methods stated in the prospectus.
At the same time, the selling shareholders and the manager have proposed to slash the institutional offering to at least 130 million units from 282 million units, thus lowering the minimum public unitholding spread from 25% to 20%. It needs to obtain Bursa Securities' approval to reduce the public unitholding spread.
According to IGB Bhd, the decision to delay the listing was made a day after The Edge's exclusive virtual interview with its group CEO Datuk Seri Robert Tan Chung Meng last Tuesday.
"In hindsight, I would prefer to delay [the listing]. But is there any difference if we delay? The market is very liquid and there are people with a lot of money. If you want something as good as EPF's (Employees Provident Fund) returns, then you can go for this," he says during the interview on the timing of the listing.
His remarks do not come as a surprise as it may not be the "best timing" for the listing, which was mooted in 2019. And Tan admits that the REIT has not received commitments from any institutional funds yet as they are weighing the distribution yield prospects.
Note that the REIT has set a lower distribution yield of 3.9% for 2021 before raising it to 5% for 2022. To be fair, that is still higher than fixed deposit rates.
"We are talking to a lot of funds but we haven't secured a commitment yet. Many are very interested but all of them are just talking about yield. I tell them to show me companies that can give me more than a 5% yield," he says.
"Here we are giving out over 90% of our distributable income. So, this is the difference. If we can't achieve a 5% yield next year, then the economy will be in dire straits. We plan and look forward."
IGB Commercial REIT's listing on the Main Market entails a restricted offering of up to 945 million units, including a restricted offer for sale (ROFS) of up to 378 million units at RM1 each to IGB shareholders on the basis of two ROFS units for every five IGB shares held.
To sweeten the deal, there will be a distribution-in-specie of up to 567 million units in IGB Commercial REIT on the basis of three units for every two units subscribed.
There is also an institutional offering of at least 130 million units, at a price determined by way of book building; as well as unsubscribed ROFS units.
When asked why there is no public offering for the Malaysian public, Tan says, "The advisers think this is the best way, so we just followed. We pay their fees, that's all. In hindsight, there could be another way of doing it."
Upon listing, IGB Commercial REIT is expected to have a market capitalisation of RM2.31 billion, based on the price of the ROFS units at RM1 each, making it the sixth largest REIT on the local bourse.
IGB Commercial REIT is not raising any amount from the IPO as there is no issuance of new units, but IGB will receive about RM2.87 billion from the asset disposals, before the settlement of bank loans and distribution.
Located within Mid Valley City and the Kuala Lumpur city centre, assets in IGB Commercial REIT's portfolio include Menara IGB and IGB Annexe, Centrepoint South, Centrepoint North, Boulevard Properties, Gardens South Tower, Gardens North Tower, Southpoint Properties, Menara Tan & Tan, G Tower and Hampshire Place Office. Their total appraised value stands at RM3.16 billion.
Touted to be the largest standalone office REIT in Malaysia by market capitalisation, IGB Commercial REIT boasts 3.4 million sq ft of net lettable area (NLA).
"All I can tell you is that all my assets are good assets. We are able to replace most of the tenants that we lost. At the moment, many tenants are not able to move in because of the lockdown. If not for that, the occupancy rate would have been higher," says Tan, who is also managing director of IGB REIT Management Sdn Bhd, the management company of IGB Commercial REIT.
To demonstrate confidence in the REIT, he says IGB will still own a stake of over 56% in IGB Commercial REIT post-listing.
He points out that IGB shareholders are getting a good offer.
"But [we are seeing] the wait-and-see attitude. In this climate, it is better to invest in something that is solid. Our assets and valuations are priced at pandemic levels. If you think the pandemic will drag on longer, then don't touch the shares. My advice is to look at four things when you buy anything in the long term: the company, management, location and assets," he says.
Despite the pandemic's impact, Tan says the REIT remains resilient, with enough reserves to last 12 to 18 months without having to borrow much from the banks. It managed to expand its net property income by 1.9% to RM132.5 million last year.
"The attrition rate is still very low. Not many [tenants] are leaving us. We managed to get the big guys in for our Southpoint Properties even during this difficult environment. When our tenants ask for rental support, we will look at it on a case-by-case basis. We give as much as possible," says the 68-year-old, who received The Edge Malaysia Outstanding Property CEO Award for 2019.
Although the renewal rates for G Tower (36.2%) and Gardens North Tower (44.8%) were less than 50% last year, Tan is not overly concerned. He says one should not invest just based on past performance, but with a long-term view on yield and capital gain.
The low renewal rate at G Tower was mainly due to tenants moving to other buildings and relocating to Southpoint Properties. Southpoint Properties managed to achieve a 66% occupancy rate year to date compared with a mere 20.6% in 2018, when it was first completed.
As at June, IGB Commercial REIT's average occupancy rate stood at 73.4% against 76.3% in 2020.
While the pandemic has resulted in the scaling down of business operations by some office tenants, this has been mitigated by the expansion of office requirements by other business sectors, from which the REIT has benefited, owing to its diversified portfolio mix of commercial properties. For instance, G Tower, which is located in the Golden Triangle area, raked in the highest gross rental income of RM31.66 million in 2020 among the REIT's properties, with an occupancy rate of 85.5%.
Competitive rental rates an advantage
With its competitive rental pricing, Tan believes the company will be able to ride out the current office supply glut easily.
"We have survived [over the years]. If the buildings in town rent at my rental rate, they will lose money. During the opening of the Tun Razak Exchange, the rent offered was RM16 per sq ft (psf), but it was RM6 psf for G Tower.
"For Merdeka 118, as the construction cost is very high, I don't think it will be looking at the RM6 to RM7 psf rental rate. So, we have a niche market in our products."
At the same time, he downplays downward pressure on rent. "Our rent is not that expensive. We are not raising our rent. It is already considered a discount because the revision rate is always 3% to 5%."
The average rent of properties in IGB Commercial REIT's portfolio was RM6.26, RM6.15 and RM6.17 in 2018, 2019 and 2020 respectively.
A total of 153 tenancies that expired last year have been renewed. They occupy an NLA of 1.08 million sq ft, or 64.7% of the total NLA. At the same time, RM4.4 million in relief was given to 150 eligible tenants of its commercial properties during the year.
Shrinking offices post-pandemic unlikely, says Tan
Although many businesses were forced to move their employees to remote working because of Covid-19, Tan is of the view that people will still need to be in the office. Lamenting the loss of lives due to the pandemic, including his close friend Paramount Corp Bhd chairman and executive director Datuk Teo Chiang Quan, he stresses the need for the nation to achieve herd immunity in order for the economy to reopen.
"It is very important for the government to achieve herd immunity. They have to ramp up vaccination and people have to be considerate [and get vaccinated]. My very good friend just passed away. He was so careful and followed all the SOPs (standard operating procedures). It is very sad. Not easy to find a friend like him," he says of the late Teo.
On the demand for office space in the post-pandemic era, Tan says there will be a need for bigger — not shrinking — offices.
"Employers still have the same space requirements and even need a bigger space for employees for social distancing. Even if all the people are vaccinated, it doesn't mean they won't be infected. We have a lot of companies requesting for more space. If the rental rate is right, I think they will still take our properties," he adds.
A recent survey by CBRE Research found that remote working is unlikely to dampen office demand in Asia-Pacific as over 70% of management prefer having their staff work from the office.
Tan also expects changes to office density in the new normal. "For instance, occupiers that had compressed their space density to 70 to 80 sq ft/person may be forced to reconsider the norm and increase the density to 100 sq ft/person in the long term. As companies look to redesign the current and future workplace while adhering to physical distancing measures, we foresee the space requirement per headcount to increase and effectively negate the impact of office downsizing."
Note that IGB Commercial REIT's anchor tenants such as Bakers Hughes, Agoda and BHP have been with the company for more than 10 years.
The REIT is projected to register initial indebtedness of RM850.9 million or 26.3% of its total asset value, lower than the average 32.9% for Malaysian REITs, according to its prospectus.
Based on the 50% limit allowed under the REIT guidelines, the company still has a debt headroom of about RM766.5 million for future expansion. To facilitate future capital-raising activities, IGB Commercial REIT has established a RM5 billion medium-term note programme.
Given that the prices of some market assets have plunged to depressed levels owing to the pandemic, the REIT does not rule out the possibility of pursuing acquisitions in Malaysia and abroad. However, it will not take the risk of picking up financially distressed assets.
"Unless you can turn them around," says Tan. "If not, they will pull down our performance. This is the way we operate. We look at good pricing and location."
Notably, IGB Commercial REIT has the first right of refusal from its sponsor IGB for the new office towers in Mid Valley Southkey in Johor Baru. Once these two office towers have been completed and achieve the appropriate yield, they may be injected into the REIT.