This article first appeared in The Edge Malaysia Weekly, on June 28, 2021 - July 04, 2021.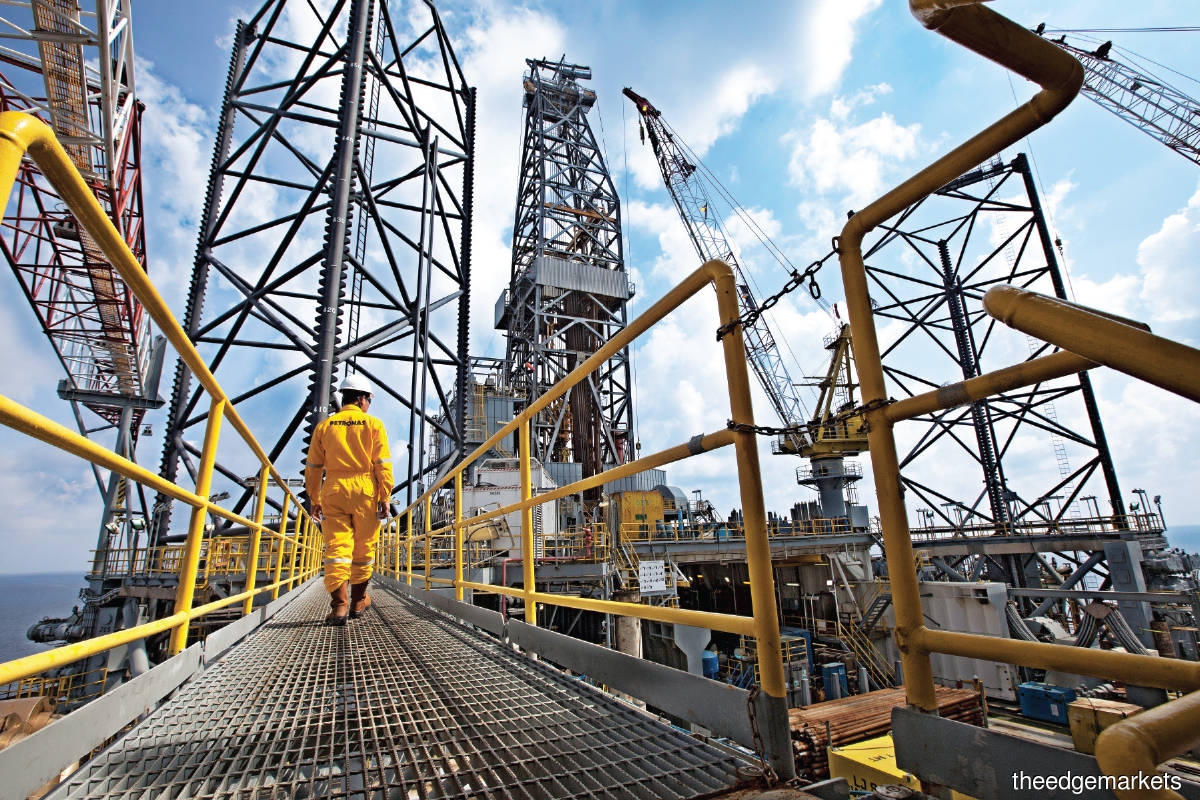 WHEN Brent Crude oil prices were sitting pretty at US$145 per barrel in mid-July 2008, a respected international bank-backed research house predicted that prices would head further north to US$200. The same outfit, when oil slumped to US$26 in February 2016, forecast that it would dip to US$10 per barrel.
Similarly, almost no one saw Brent Crude plunging more than 65% to US$20 in April 2020, its lowest level since early 2002. Again, talk of US$10 barrel oil resurfaced.
Dan Dicker, energy market analyst, had previously observed: "What I know about price — what has been proven to me again and again — is that oil prices have become ever more unreliable as the systems that work on it become ever more financialised.
"Of all the things I have studied and correctly and incorrectly forecast in my 30-plus years in the oil markets, the one unshakable truth I have held on to is that the wide ranges of prices for oil we have seen in the last 15 years have been tethered far more to unrelated financial inputs than to the underlying fundamentals of oil."
Even in chats with local oil and gas personalities, including those from national oil company Petroliam Nasional Bhd (Petronas), there seems to be hardly any certainty on oil price movements.
Nevertheless, Brent Crude is currently at US$75 per barrel — its highest level since October 2019 — having gained more than 45% over the past six months.
Is the current run sustainable?
In mid-June, Goldman Sachs reiterated a forecast from March that Brent Crude would hit US$80 per barrel by the third quarter of 2021.
Important to oil prices are ongoing talks between Iran and a number of world powers, including the US. In 2015, Iran agreed to dismantle its nuclear programme and allow inspections of its facilities in the hope that sanctions against it (valued at several billion dollars) would be lifted. The Trump administration withdrew from the talks in 2018, but under President Joe Biden, the US has gone back to the negotiation table.
Sanctions imposed by the US on Iran include the sale of oil. If the sanctions are lifted, Iranian oil could increase the supply and have an adverse impact on prices.
While Goldman says the lifting of sanctions is unlikely to have a significant effect on oil demand, there are others who disagree. Morgan Stanley, for instance, says an increase in exports from Iran would cap Brent crude prices at US$70 per barrel, meaning it would lead to a dip of more than 6.5% from current prices. Its own forecast puts Brent Crude at between US$65 and US$70 per barrel in the second half of 2021.
S&P Global Platts believes Brent Crude will trade at between US$60 and US$65 per barrel in late 2021 into 2022.
Notwithstanding the US sanctions on Iran, there are also questions over the sustainability of the economic recovery from the Covid-19 pandemic.
In a monthly oil market report on June 10, the Organization of the Petroleum Exporting Countries (Opec) states: "The global economic growth forecast for 2021 remains unchanged at 5.5%, although the forecast continues to be impacted by uncertainties, including the spread of Covid-19 variants and the speed of the global vaccine rollouts.
"In addition, sovereign debt levels in many regions, inflationary pressures and central bank responses remain key factors to monitor."
Politics could be another issue at hand.
Daniel Yergin, vice-chairman of IHS Markit, had observed, "There's an incredible case where the oil price could get to US$80, but there would be a reaction to that. That would start to affect demand and, also, there would be a political reaction to that. You'll start to see phone calls being made. Biden has been in politics long enough to know that high gasoline prices are always a problem for whoever is president."
Against rising oil prices as well looms the threat of shale gas. While views vary, shale production is said to be profitable at between US$40 and US$60 per barrel of oil.
Last year, shale producers reduced production by more than two million barrels per day to 11 million barrels, after oil prices tanked. Should these two million barrels return to the market, it could have an adverse impact on oil prices.
Top O&G picks
Just last week, Maybank Investment Bank raised its in-house crude oil price estimate to US$65 per barrel for 2021 versus US$55 to US$60 per barrel previously, following recent strong gains in the oil price.
Its analyst Thong Jung Liaw's top oil and gas picks include Yinson Holdings Bhd, Wah Seong Corp Bhd and Dialog Group Bhd.
Kenanga Investment Bank is neutral on the oil and gas sector and has no top picks but advises bargain hunters to look at Bumi Armada Bhd and Uzma Bhd.
Public Investment Bank Bhd's top picks include Dayang Enterprise Holdings Bhd and Hibiscus Petroleum Bhd. Meanwhile, AmInvestment Bank has Dialog, Hibiscus and Yinson as its top picks, while those of CGS CIMG's include Yinson, Petronas Gas Bhd and Velesto Energy Bhd.
Most of these assumptions are centred around spending by Petronas, though. For its first quarter ended March 2021, the company chalked up a net profit of RM9.3 billion from RM52.55 billion in revenue. For the corresponding period a year ago, it registered a net profit of RM4.5 billion from RM59.59 billion in revenue.
Cash flows from operating activities at RM14.3 billion were down 19% from RM17.6 billion a year ago, because of higher inventories as well as lower receipts from customers. Petronas' total assets increased to RM593.8 billion from RM574.1 billion previously, owing largely to higher cash and cash equivalents as well as higher receivables.
In a note released after Petronas' results, Kenanga highlighted that the oil company's net cash position strengthened 6% during the quarter to RM55 billion, although this is still less than half of end-FY2018's total of RM117 billion.
"Petronas is still expected to continue its RM18 billion dividend payments in FY2021 (of which RM2 billion had already been paid), which is significantly lower than the RM34 billion paid in FY2020. Meanwhile, capex spending dropped 39% quarter on quarter and 21% year on year to RM6.7 billion in the first quarter of FY2021 amid project delays, given the movement restrictions," Kenanga said.
It added that Petronas' earlier guidance was for capex to be ramped up to between RM40 billion and RM45 billion for the next five years (from FY2020 capex of RM33.4 billion).
"As such, we believe the prolonged pandemic amid the surge in Covid-19 cases, coupled with stricter movement restrictions, may pose challenges for Petronas to ramp up activity levels for the time being. This could have a trickle-down effect to local-centric contractors possibly seeing a continued slowdown in jobs," Kenanga observed.