This article first appeared in The Edge Malaysia Weekly, on June 8, 2020 - June 14, 2020.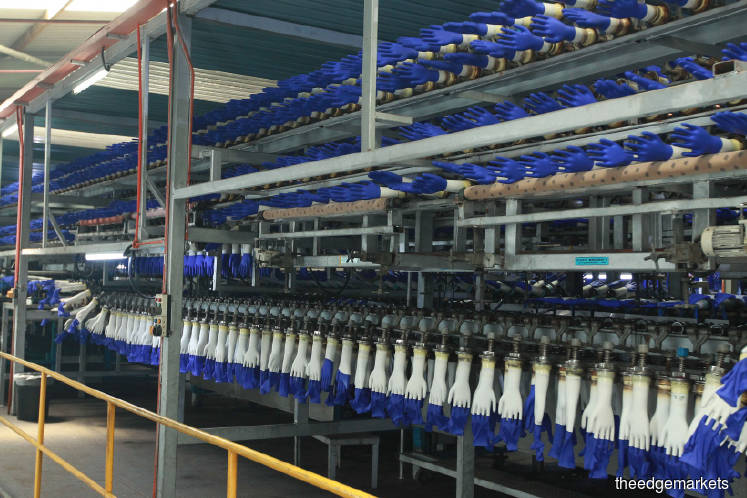 SINCE the start of the Covid-19 outbreak early this year, listed rubber glove makers have been hogging most of the limelight in the market.
Their superb share price performance has greatly increased the fortunes of Kuan Kam Hon, Tan Sri Dr Lim Wee Chai, Tan Sri Lim Kuang Sia and Datuk Seri Stanley Thai Kim Sim — the four most prominent glove tycoons in the country.
However, not many may be aware that two lesser-known businessmen, Datuk Eddie Ong Choo Meng and Datuk Seri Chiau Beng Teik, both with little to no experience in the glove manufacturing business, have been quietly making a killing at Rubberex Corp (M) Bhd within a matter of months and weeks respectively.
Ong emerged as the new major shareholder of Rubberex with a 26.68% direct stake on Feb 28, before raising it to 32.5% as at April 16.
Meanwhile, Chiau surfaced as a substantial shareholder of the company with an equity interest of 13.63% on May 15.
Just who are these two businessmen?
Ong, 42, is executive director of chemical firm Hextar Global Bhd and non-executive director of industrial products supplier SCH Group Bhd. He was appointed to the board of Rubberex on April 23.
Ong is very much a chemical businessman as he runs Hextar Holdings Sdn Bhd, the country's largest pesticide producer, founded by his father Datuk Ong Soon Ho.
In 2017, father and son took over locally-listed agrochemical producer and competitor Halex Holdings Bhd. Subsequently, Halex was renamed Hextar Global, following a major business injection by Hextar Holdings.
Chiau, meanwhile, is deputy group executive chairman of Chin Hin Group Bhd and non-executive chairman of Chin Hin Group Property Bhd (CHGP).
The 58-year-old, who started out as a building materials trader in Kedah in the 1970s, today heads a mini business empire and has major equity stakes in Chin Hin, CHGP, Solarvest Holdings Bhd and Green Ocean Corp Bhd.
Not unlike the Ongs, Chiau and his eldest son Haw Choon also took over a company, Boon Koon Group Bhd, a Penang-based manufacturer of rebuilt commercial vehicles, in 2017.
Boon Koon was then renamed CHGP to better reflect its corporate identity after it diversified into property development.
Ong's and Chiau's investments in Rubberex are already in the money. It is learnt that the former acquired the shares at 83.5 sen each, whereas Chiau's entry cost was higher at RM1.23 per share.
The counter closed at RM3.63 last Friday. That represents a paper gain of about 335% for Ong in less than four months, and an unrealised gain of about 195% for Chiau in three weeks.
The outperformer
Year to date, Rubberex has seen its share price skyrocket by more than six times.
In comparison, shares of Hartalega Holdings Bhd and Kossan Rubber Industries Bhd have more than doubled, those of Top Glove Corp Bhd have more than tripled, while shares of Supermax Corp Bhd have jumped over five times.
For perspective, Rubberex was only valued at RM138.7 million on Jan 2, but it is now a billion-ringgit company with a market capitalisation of RM1.01 billion.
Of course, the growth in Rubberex's market capitalisation was driven not only by its strong share price performance, but also its expanded share base following a 10% private placement exercise, which was completed in the middle of last month.
The placement shares, whose issue price was fixed at RM1.23 each, were subscribed solely by Chiau, who had already purchased some minority stakes earlier. Assuming that he acquired those shares also at RM1.23, his total entry cost would be about RM46.51 million.
A back-of-the-envelope calculation shows that Chiau's 37.82 million shares in Rubberex are now worth about RM137.28  million. That is a whopping paper gain of RM90.77 million.
As for Ong, it is estimated that he paid RM68.44 million for his 81.967 million shares in Rubberex, and they are now worth about RM297.54 million. That is a staggering un­realised gain of RM229.1 million.
Glove-mania aside, the timing is just right for Ong and Chiau as they are about to enjoy the fruits of Rubberex's production capacity expansion plan.
In 2017, Rubberex commenced its plan to expand its existing production facilities in Ipoh, Perak, to house new production lines for disposable nitrile gloves. The new plant is expected to have a built-up area of about 110,000 sq ft.
Once completed, the group's installed production capacity will be increased from one billion pieces per annum to 2.5 billion pieces per annum.
According to Rubberex's annual report for 2019, which was released on Bursa Malaysia last Friday, the commissioning of its latest phase of disposable nitrile glove expansion is expected to come on stream by the third quarter of this year.