This article first appeared in Personal Wealth, The Edge Malaysia Weekly, on July 23, 2018 - July 29, 2018.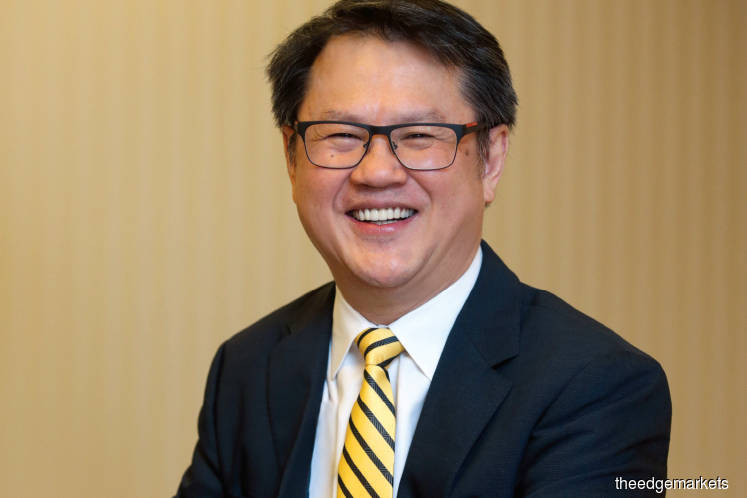 Not all bankers can call themselves true blue. However, Datuk Lim Hong Tat, the former group CEO of community financial services at Malayan Banking Bhd (Maybank), can. Banking is in his blood.
Millennials may not agree with him but Lim isn't into job hopping, preferring to learn and work his way up the ranks in just one organisation.
Now,  after a long and illustrious career of 37 years, peppered with its fair share of challenging and heart-stopping moments as well as accolades, Lim has decided to call it a day. He had fought the good fight and was ready to pass on the baton. Still, he isn't quite ready to ride into the sunset. As he puts it, "I am not retiring. I am just winding down."
Lim's journey at Maybank began with a scholarship. "I was in my second year at university when I decided to apply for a scholarship. Without a scholarship, it would have been tough financially, especially when I went on dates (chuckles). I chose Maybank because the father of a friend worked there and he had a chauffeur. So, I thought, 'Wah, this must be a good bank to work at'."
Lim believes that his ability to play hockey well helped him win the scholarship. At the time, Maybank had a hockey team. "Hockey was just a sport to me but later, I realised that team sport is important because it helps to build character and foster collaboration."
At Maybank, Lim was exposed to all aspects of banking. He also had the opportunity to travel to different regions, places he would not have dreamt of going had it not been for work.
"Maybank had two branches in Papua New Guinea. On one visit to the branches in the early years, I was escorted from Port Moresby to Lae in an armoured car, accompanied by four guys with M16s. It was dangerous as there were bandits along the way. That was really an eye-opener," says Lim.
One of his first big assignments was setting up the bank's regional credit processing unit in Sarawak. He had to start from ground zero. With the help of a few colleagues, he trained the locals and familarised himself with the people and culture.
But what Lim found even more challenging was when he was tasked with building a curriculum for a credit course for the bank's officers. "Well, I am a ground guy. Suddenly, the bosses said, 'Hong Tat, we need your help to revamp the course [which was too theoretical] and build case studies on Maybank's experience. And teach',
"It was daunting. I had to build, operate and transfer. The first few months were fun, but it was stressful towards the last few months. I felt the strain of working long hours."
Of course, there were rewards. "When you teach, sometimes your students regard you as Dr Zhivago (laughs) ... Seriously speaking, I feel fulfilled as many of them eventually became leaders in the bank," says Lim.
He is not one to back down from breaking new ground. Having run the regional offices for about six years, he was ready to return to Kuala Lumpur. He was given two options — teach for two years and return to operations or head the credit card business. "I chose the credit card business because I wanted to learn new things such as marketing, e-commerce, technology and branding," says Lim.
The learning curve was steep. "When people talked to me, they talked about interchange, chargeback and so on. I pretended to know what they were talking about, but I took notes to look at later. It took me six months to understand some of the concepts," he says.
The thing is, Maybank had already been in the credit card business for 15 years but was still not on top of the league. So, Lim set out enthusiastically to whip up the energy at the branches.
It was 1997. Not the best of times. "As I was whipping up the branches at the regional meeting, the late Datuk Seri Ismail [Shahudin] came in. He said, 'Ladies and gentlemen, there is blood coming from Thailand. We are having a financial crisis. We had better review all lending.'"
Lim had to make a decision — to go forward or stop. "We took a step back. I remembered what happened in Mexico, where all the banks except one stopped lending in the midst of a crisis. But the bank was very stringent in processing the applications and its business flourished," he says.
"So, we did the same thing, but under controlled aggression. That means we still lent, but did more rigorous checking. We were one of two banks that grew and our profit tripled. It is a learning point that I carry with me, even now. We can still grow a business in times of crisis, but under controlled aggression."
Having built up a solid foundation, Lim was ready for what he describes as the biggest challenge of his life. He was posted to the Philippines to turn around the bank's ailing subsidiary, Maybank Philippines. It was frightening, to say the least, because the operations there had a history of losses, the economy was in a recession and there was political upheaval.
"In a way, I was conned by my colleagues. My boss asked me to go, so I went. My two expatriate colleagues who were there said, 'Come lah. Life is okay here'."
Lim recalls a branch visit on an island. "I was dressed in CEO garb — coat and tie. Then, I found that I had to go by sampan. What to do? Had to go. There, I saw a big silo and I thought to myself, 'What is this big building? Maybank is on the ground floor'. I found out that our branches were set up to support the sugar industry, which had collapsed.
"It was a struggle to turn around the bank. The first year was okay but after the second year, 30% to 50% of the loans turned non-performing. For me, it was very traumatic. Before this, I was a star performer. I always excelled in what I did. I did not manage to turn around the bank within two years and in my appraisal, I received an assessment of 'needs improvement'. I was devastated."
With the support of top management and fuelled by his mission to improve the livelihood of the staff, Lim got down to work. He started reading books that could help him, including Who Said Elephants Can't Dance?, which was Louis V Gerstner's account of IBM's historic turnaround. Jim Collins' Good to Great was another inspiring read.
"So, with these ideas, plus the local
knowledge I got from the new team I managed to assemble, we came up with a strategy. We downsized and moved branches to the higher-end areas, to the mass affluent customers. Costs went down," says Lim.
"We brought in talent to grow the new business. We focused on Casa [current accounts, savings accounts]. These were the few things we did. Finally, in the fourth year, we turned around. Until now, whenever I go to the Philippines [for board meetings], I feel very fulfilled."
In 2006, Lim returned to Malaysia to head Maybank's international business. After two years, he was asked to head consumer banking. It was another tough assignment as the bank had been losing market share.
At the time, Tan Sri Abdul Wahid Omar had taken the helm. "He talked to me and said, 'Hong Tat, we must fix Malaysia first'. He gave us new direction and we transformed the bank with the mission of humanising financial services. We slowly turned things around. So, it all boiled down to doing the right things right," says Lim.
In 2014, Maybank was ranked No 4 in terms of customer service. Last year, it took the top spot, as determined by AC Nielsen, Gallup and Bains.
Lim was instrumental in growing Maybank's regional platform. He had to wear three hats — group CEO of community financial services, CEO of Maybank Singapore and country head.
"It was not easy as I had to fight with three 800-pound gorillas called Citibank, Standard Chartered and HSBC. Another three titans were OCBC, UOB and DBS, not to mention all the other banks there. It was extremely competitive. We had to change our strategy every six to eight months. I think we won because of speed and relationships."
Technology the game changer
The advent of digitalisation did not faze Lim, who believes that you either get frightened or embrace it. "So, I embraced it and continued to learn. I was lucky because I was surrounded by a good team and had a good leader in Datuk [Abdul] Farid [Alias]. And I personally believe in continual learning," he says.
Nevertheless, it was challenging. "Four years ago, we would not have predicted that Big Tech, such as Tencent and Alibaba, would be so dominant. They are unlike financial technology (fintech) firms, which have ideas and solutions but no customers. So, they work with us. But Big Tech players are dangerous — they own the customers and have the technology," says Lim.
All this boils down to regulation. "In countries such as Malaysia, it would be a problem if the central bank gave Big Tech players a licence to do banking. To me, at least for the next three to five years, Big Tech companies will eat into the peripheries of the market, especially the payment space," he says.
"What they can do in the next five years will again depend on technology, but they have the advantage of a huge profit pool from China, which they can use to acquire many businesses. And they can use this franchise of theirs to collect data and monetise it."
Maybank, however, is not sitting still. It is tackling two key market segments — small and medium enterprise (SME) and consumer banking.
"In the SME segment, we have QR Pay [payment app]. Of the 900,000 SMEs in the country, 400,000 are with us. So, we have already started to aggressively include merchants because the installation of QR Pay is cheaper and faster," says Lim.
"We want to dominate this space because we do not want to lose the CASA deposits. We also want to make sure we get the data analytics. We are trying to defend [our market].
"The other space is consumer banking. We want to enhance Maybank2U and make it equivalent to WeChat. It is the lifestyle, where everything you do is through your mobile phone. We want to enhance its usefulness."
What's next for Lim?
"I returned to Malaysia in 2006 and have spent the last 10 years rebuilding the Maybank community financial services franchise in Malaysia and Asean. The yardstick was to plan and execute good results that should be done in 10 years and I believe we have done that. One should not overstay. It is time for me to move on so that others can move up," he says.
Lim says he will now do the things he likes, and at a reduced pace, so he can travel, see the world and spend time with his family, siblings and friends. Post-Maybank, he will probably do four or five things — manage his investments, look into asset management, help run a small family business, probably sit on a few boards of directors and remain on the boards of one or two Maybank subsidiaries.
Creating and managing wealth
When it comes to wealth management, Datuk Lim Hong Tat knows what he is talking about. Malayan Banking Bhd (Maybank) has a wealth management business in eight countries and about US$70 billion in assets under management.
Lim, however, was not born with a silver spoon in his mouth. "I come from a poor family. So, managing money was important. It was a matter of security and survival," he says.
That was why he started looking into wealth management when he was 30 years old. "I remember that my savings was RM10,000. I started building on this," says Lim.
"Money management is not taught in school. So, my advice is this. You must find time and ignite the passion to learn because if you practise wealth management, it will give you peace of mind. Strive to grow your wealth so that you can sack your boss if you need to."
For Lim, reading is a must. "Some general wealth management books such as Rich Dad, Poor Dad are good starting points. You learn that big cars and big houses are liabilities, not assets. You can read, from specific books, about the different asset classes, how to invest in properties, in shares. And of course, you can make friends with a financial planner or banker you can trust."
When it comes to investing, strategic allocation is key. "Keep some cash, invest some in properties, in equities and insurance. Studies have shown that the amount of asset allocation you do will determine the performance of your investments," he says.
Lim observes that each person may have an affinity for certain asset classes. For example, some investors do well with properties, but not equities and vice versa. To discover this affinity, reading and attending seminars help, he says. "You start investing small amounts. You mix with people who are in the field and you learn from them."
Being a conservative guy, Lim practises what he describes as "controlled aggression" when it comes to investing. "I am into properties, real estate investment trusts (REITs) and equities. My asset allocation would be something like 40% property, 20% REITs, 20% (plus or minus) equities and 10% fixed income or cash," he says.
"And within each asset class, I will invest half in Malaysia and half overseas. In the property segment, I may invest in different countries. Spreading out is very important."
The goal is to make sure that the income generated from the investments must be equal or more than one's current income, that is net income after tax. "That should be our dream. So, in that sense, REITs play a very important part. In some countries, REITs are tax-free — you can do a bit of leverage so that your yield can improve from 7% to 10%. You get steady income," says Lim.
His philosophy is that equities provide capital gains if you think long term. In this space, Lim likes China and the Big Tech players for their growth potential. At the same time, he believes in keeping some cash in hand in case an opportunity comes about.
A veteran's advice for young bankers
Not many practise this, but people who are successful plan their goals and write them down, says Datuk Lim Hong Tat.
"I saw this at Maybank. [Former Maybank CEO] Tan Sri Ahmad Don wrote down goals and we achieved those goals. When Tan Sri Abdul Wahid Omar came, we wrote down our goals and we achieved them. The same goes for Datuk [Abdul] Farid [Alias]. Personally, I do that as well."
Continual learning and taking on new challenges are important. "Every challenge that came my way, I took them on. When it comes to career development, ask for a job rotation every two to three years. Move on and learn new things," says Lim.
After working for 37 years, he knows only too well that that working life can be stressful, but one must learn to manage this. "This I learnt from my mentors — you must put things in perspective. You must balance between work, family and friends. If your whole life is about work, when something happens at work, you go home upset because your whole world is about work. But if you put things in perspective, that work is only one-third of your life, your family is there for you and you have good friends, then you will not think about work all the time," he says.
Next, learn to be "depersonalised", which means adopting a "nothing personal" mindset. "If you are the boss, at some point, you will scold your staff. But after that, tell them, 'Let's go for some food'. Then, the staff will know that there is nothing personal in the scolding," says Lim.
Another thing is to be mindful and grateful for the things you have. "Count your blessings — you are healthy, you have a good family. In my case (laughs), when my boss scolds me, I look at my EPF (Employees Provident Fund account) and say, 'Okay lah."
Challenges in life should not be regarded as burdens, says Lim. "I take them on as opportunities to learn new things. In the Philippines, I learnt new things. When I revamped the credit course for the bank, I learnt new things. It was the same when I took over the credit card business. Apply the 3 Es — expose, enjoy and excel."
One rule that Lim follows is giving himself a time frame to do something and move on. "If you do not give yourself a time frame, it becomes a very heavy burden, like this is something I have to do for the next 20 years. But I said, 'In three years, I will learn as much as possible. I will do my best and then move on. Pace yourself'."
A concept Lim likes is what he calls "forming, storming, norming and performing". "When you are forming a new team, everyone is like (at the beginning), 'We are brothers, let's work together.' After one year, there may be some arguments, so storming is normal. But to make it norming, you must intervene. Share a common mission, vision and values," he says.
"Roles and processes must be clear and the trust must be there. How do you build trust? Play together, work together, have bonding sessions. And once you do that, I think you will have trust.
"It is important to allow freedom within the framework. In a bank, you must have a framework. But you cannot make them feel too stifled. Within the framework, they can do a lot of things, but with controlled aggression."
Lim thinks it is important for CEOs and up-and-coming leaders to spend at least a third of their time on talent. "Are your people good enough? If not, what can you do? And when you get the right people, work with them to develop the right strategy," he says.
"Do the right things right. The beauty is that, if you get the right strategy and provide the right leadership, you can make ordinary people do extraordinary work."