This article first appeared in Personal Wealth, The Edge Malaysia Weekly, on September 3, 2018 - September 09, 2018.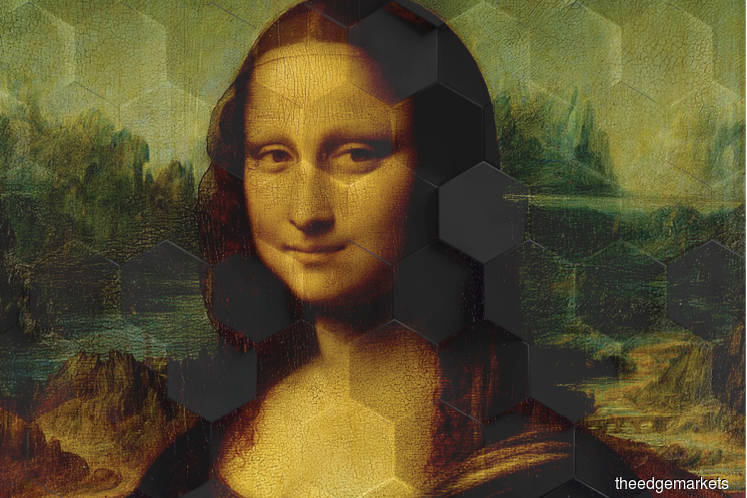 Imagine being able to buy a 10% share of an artwork and then trading it for 10% equity in a vintage watch. It is now possible for owners of illiquid assets to convert the rights to them into digital tokens that interested parties can buy to fractionally invest in the assets.
These transactions, which are made using smart contracts and blockchain technology, essentially allow asset owners to issue digital tokens that represent the value of the asset. These tokens can then be purchased and traded by investors, effectively allowing them to buy and sell their portion of the asset.
The tokenisation of tangible and intangible assets could open up new markets and opportunities if this innovation takes off. "Tokenisation enables a world where everything is unitised, interchangeable and tradable. The transactions can be done seamlessly without an intermediary via blockchain technology," says Edmund Yong, co-founder of Celebrus Advisory, a bespoke advisory firm that specialises in blockchain development and business tokenisation.
Blockchain will enable digital tokens to be efficiently and speedily linked to real-world assets. Tokenisation will also make it easier for asset owners to dispose of their illiquid assets as the tokens could be traded globally and used to represent all kinds of assets, including properties.
For example, say an investor wants to buy a fractional share of a property in Mont'Kiara that has been built by a reputable developer. But the property is priced at RM3 million and the minimum investment amount is beyond the reach of the investor. This is where tokenisation can play a part.
"In theory, the property developer can create three million digital tokens, giving each token a par value of RM1. The investor who previously could not afford to invest is now able to do so by buying, say, 1,000 digital tokens for RM1,000. The investor could sell the tokens when their price increases together with the price of the property," says Yong.
He adds that the trading of these tokens could be done globally via blockchain or third-party cryptocurrency exchanges.
Projects that "tokenise" real assets for investors have already emerged. Brooklyn-based blockchain developer ConsenSys partnered real estate developer Cayuga Capital Management to launch a property tokenisation project called Pangea in April.
According to a CNBC report in March, Pangea was in the process of tokenising US$100 million worth of real estate in the US, Dubai and Germany. This would allow accredited investors to trade Pangea tokens, which represent fractional ownership of these properties, by using the Ethereum blockchain. The value of these tokens would rise or fall in tandem with the value of the underlying properties.
"The project aims to innovate land registry and titling by using blockchain technology. It did not launch an initial coin offering (ICO) to issue tokens to the public," says Yong.
Some Malaysian players are looking into tokenising properties, says Celebrus Advisory director Alex Lee. "It seems unlikely that this can be done in Malaysia for now as we do not have the necessary ecosystem to do so yet," he adds.
Meanwhile, well-known start-up HelloGold has started offering investors its GoldX tokens, which allow them to fractionally own physical gold. A single token was priced at RM163 on Aug 17.
The GoldX tokens are fully backed by gold bars vaulted in Singapore and audited by international certification agency Bureau Veritas, according to the company's official website.
The start-up had previously launched its HelloGold mobile application to allow people to buy a fraction of a gold bar for as low as RM1. The back-end operation of the app is underpinned by blockchain technology, but it does not involve the issuance and trading of digital tokens.
"The HelloGold app allows users to buy and sell gold at anytime, anywhere, for as little as RM1. The GoldX tokens are a natural extension of that as they allow our users to use gold outside the HelloGold ecosystem," says CEO Robin Lee.
The start-up issued HelloGold tokens (HGTs) in August last year. Unlike GoldX tokens, the HGTs are issued by the HelloGold Foundation in Singapore, which raises funds to support the HelloGold mission.
The HGT holders "may get GoldX rewards at the discretion of the foundation", says Lee. According to its white paper, the HGTs are based on Ethereum ERC2o tokens and are traded on public exchanges that accept the latter.
A noble intention behind tokenisation is to provide those from the lower-income group with more choices in terms of saving and investing their money as many asset classes are too expensive to invest in due to the high initial investment amount or trading fees. "People from the underserved group, who have difficulty opening a bank account and have limited access to such products, could benefit from this. It could help them diversify their investments to preserve wealth in bad times or grow their wealth over the years," says Celebrus Advisory's Yong.
Challenges with Regulations
Nevertheless, there is still a long way to go if one looks at tokenisation from the regulatory perspective, says Nur Husna Zakaria, a lecturer at the University of Malaya's faculty of law.
Nur Husna, who is project director of the Malaysian Blockchain Regulatory Report, says the country's existing regulations currently do not allow or support tokenisation. "This is happening not only in Malaysia but across the globe. Regulators around the world are still looking at ways to regulate it."
She points out that the tokenisation of property, for instance, would encroach into land and securities laws. "Buying a property involves the purchase of land. And proof of ownership of the land is through the Issue Document of Title (IDT), which is kept at the Land Office. So, to transfer ownership of land [and put your name on the IDT, you have to file various documents and go through a lengthy process.
"How do you reflect all these in the transfer of tokens? By law, even if you hold the tokens, you do not have any ownership of the property as it is not shown on the IDT."
One way of skirting the land law could be to own a property via a holding company. Then, the company's shares could be issued to investors in the form of tokens, which would allow them to make a claim on the property indirectly.
However, this cannot be done as well, says Nur Husna. She points out that, according to the Companies Act 2016, shareholders prove their ownership of a company by submitting physical documents to the Companies Commission of Malaysia (CCM). This information is then stored in the CCM system, which allows the public to look up the ownership of any company when they log on to its website.
"So, how can you say that you have a stake in the company because you own a token [without making the necessary submission to CCM]? According to CCM's records, you don't. If something happens, say, the company goes bankrupt, you have no right to make any claims against the company's assets in court," says Nur Husna.
Currently, there are project owners who pool investment money from the public in exchange for tokens. These tokens are said to represent ownership in the businesses and assets the project owners invest in. Thus, token holders have a share of the profit generated by these businesses or when the underlying assets appreciate in value. The returns are usually paid in cryptocurrency or other alternative coins.
Nur Husna says such issuances of tokens possess features that are similar to collective investment schemes, like unit trust funds, and could be deemed capital market products. Thus, the tokens and their issuers could be under the purview of the Securities Commission Malaysia. In September last year, the regulator warned investors to be aware of the risks of token issuances before participating in them.
Nur Husna says regulators, locally and globally, are facing challenges in terms of defining the features of digital tokens. Some tokens function like securities, such as shares, where they represent ownership of a company or asset, but others function as utility tokens.
Simply put, utility tokens are like the tickets used at amusement parks. Just as visitors need to buy one or more tickets to enter the park and gain access to the different facilities, someone who wants to use the services of a particular blockchain start-up would have to buy one or more of its tokens to pay for its services.
Digital tokens such as bitcoin are also seen as currency to pay for products and services. The multifunctional features of these tokens have enabled the blockchain community to use digital tokens and cryptocurrencies interchangeably.
"If these digital tokens are a hybrid of the securities and utility functions, how would you define them? What other parties should be involved in their regulation? This is another issue that needs to be solved," says Nur Husna.
Hong Qi Yu, founder of Tokenize Xchange, a Singapore-based cryptocurrency exchange, agrees that regulations are the primary barrier to realising tokenisation. For one, the authorities would find it hard to regulate tokens as many of them are being listed and traded on cryptocurrency exchanges in many different jurisdictions across the globe. So, they would need to take into account the regulation of such trading activities and other related issues. "It will be challenging for them to verify that these tokens are backed by real assets," he says.
Regulators around the world are slowly recognising the need to adapt to the evolving landscape. For instance, the state of Delaware — which is the most popular destination for company incorporation in the US — has updated its laws to allow for the tokenisation of both public-listed and private equities.
"Other countries, especially in Asia, such as China, Japan and South Korea, are also making progress in terms of regulating tokenisation. It is inevitable that the authorities around the world will regulate digital tokens. People are already using them and the regulators realise that they cannot shut them down," says Hong.
Jeroen van Oerle, portfolio manager for global fintech equities at Robeco, concurs with Yong. He believes that the authorities will eventually come out with legislation to regulate digital tokens because they are the ones who will benefit the most. By regulating and mastering the use of tokenisation, central banks, for example, could issue their own currencies in the form of tokens and have robust oversight of money flows.
"Imagine, regulators could have access to each and every transaction being made through the blockchain. And they could have strong control over money flows. For instance, economic sanctions have been imposed on Russia by the EU, so businesses there cannot trade with those in Russia," says Van Oerle.
"However, the EU regulators cannot make sure this is being done effectively. They can only measure retrospectively by looking at the transaction records of the past three months to see if there have been any irregularities.
"But if everything is on the blockchain, they would be able to see each trade that is happening in seconds and decide whether the transaction should go through or to cancel it. They could have perfect control of what is happening underneath."
He adds that countries such as Singapore, Australia, Switzerland and the UK are aware of such benefits while other countries are somewhat against tokenisation due to money-laundering issues. However, he believes that when one country fully shows the benefits and advantages of adopting tokenisation, smart contracts and blockchain to the world, the other regulators will follow suit. "It is only a matter of time," he says.
Gaming industry goes ahead
While the tokenisation of real assets still has some way to go, there has been progress around the world. For one, the slow pace on the regulatory side globally has not stopped software developers from coming out with ideas to tokenise a wider range of assets.
Alex Lee, director of Celebrus Advisory, says intangible assets, such as patents and other forms of intellectual property, are some of the things that have been tokenised recently amid the uncertain regulatory environment.
Meanwhile, software developers are creating digital assets that could be traded freely in the blockchain world without involving strict and complex regulations associated with real assets such as properties and securities, says Lee.
CoinGecko co-founder TM Lee says a classic example is CryptoKitties, which became a hit in the cryptocurrency and blockchain community last year. What it does is allow people to buy CryptoKitties tokens using ethereum. Upon obtaining the CryptoKitties token (which is actually a few lines of code), the owner can log on to some of the online websites and own a digital cat with unique features.
One can even buy two CryptoKitties and breed new kitties with features associated with their "parents", such as the colour of their eyes or fur. Owners can also sell them on the secondary market if there is demand. At its peak, a CryptoKitty was sold for US$100,000 via blockchain.
Lee calls such tokens non-fungible, while those such as bitcoin and ether are fungible tokens as they are mainly used for transactions and do not have distinguishing features. "This is currently a trend. People are coming out with various fungible tokens and creating different items [on the blockchain ecosystem] — all for gaming purposes," he says.
Another recent example is a turn-based digital trading card game called Gods Unchained, which is built on the ethereum blockchain, says Lee. "You would have to buy its tokens to play the game. As in the case of CryptoKitties, you buy a token and own a card when you log on to its website. However, you would need to have 30 cards to play the game with other players. You can buy them with ether," he adds.
Bobby Ong, co-founder of CoinGecko, expects more games and digital assets to be created in the blockchain world in the near future. "They can create anything in the gaming world — a dog, shirt, sword or gun — and trade them."
A fund manager's view
Jeroen van Oerle, portfolio manager for global fintech equities at Robeco, expects digital tokens to be regulated in the next three to five years, which could open up a whole new world for investors. "The door is opened when regulators find ways to regulate digital tokens and investors are protected," he says.
"Investing in digital tokens is very risky for now as pump-and-dump activities are happening at [digital token] exchanges. Also, the companies issuing these tokens are not audited like those listed on stock exchanges. If these critical areas are tackled, investors may find a new universe of companies worth investing in."
Robeco is an international asset management firm based in the Netherlands. It had €167 billion (RM799.7 billion) under management as at June.
Van Oerle says the firm is currently investing cautiously in companies that are developing and providing blockchain technology and services that help organisations lower operational cost and increase work efficiencies. "For instance, we have invested in a German company that is developing a blockchain application for investment banks to help them execute trade financing cheaper and faster. We have also invested in a company that operates a cryptocurrency exchange. We make sure that the companies we invest in are doing fundamental work with blockchain technology," he adds.
According to Van Oerle, the firm invested in these companies via shares, not digital tokens. The asset manager has not invested in any digital tokens listed on cryptocurrency exchanges as many of them could be used for illegal purposes.
"Research shows that about 40% of bitcoin transactions have been involved in illegal activities. There have also been hacks and price manipulations on these exchanges," he says.
Van Oerle stresses the importance of the difference between blockchain technology and digital tokens. The former is technology that allows decentralisation services to be applied by businesses and organisations in various sectors to help them cut costs and increase efficiencies while the latter are tokens issued by start-ups to raise funds and are unregulated. "We are not investing in digital tokens until they are properly regulated," he says.
Meanwhile, Van Oerle does not favour companies that try to facilitate payment and transaction services via blockchain technology as the traditional systems are very efficient in terms of transaction speed. The security level is also high. Many companies that offer such services are unable to comply with government regulations on anti-money laundering and know-your-customer processes. "We think most of the blockchain start-ups that deal with payments and transactions will fail," he says.
An exception within the payment and transaction space is cross-border payments and foreign trades, says Van Oerle. "Let's say, someone wants to send money from the US to an Asian country. He may want to execute it via blockchain [as it would be faster and cheaper]."