This article first appeared in Digital Edge, The Edge Malaysia Weekly, on July 25, 2022 - July 31, 2022.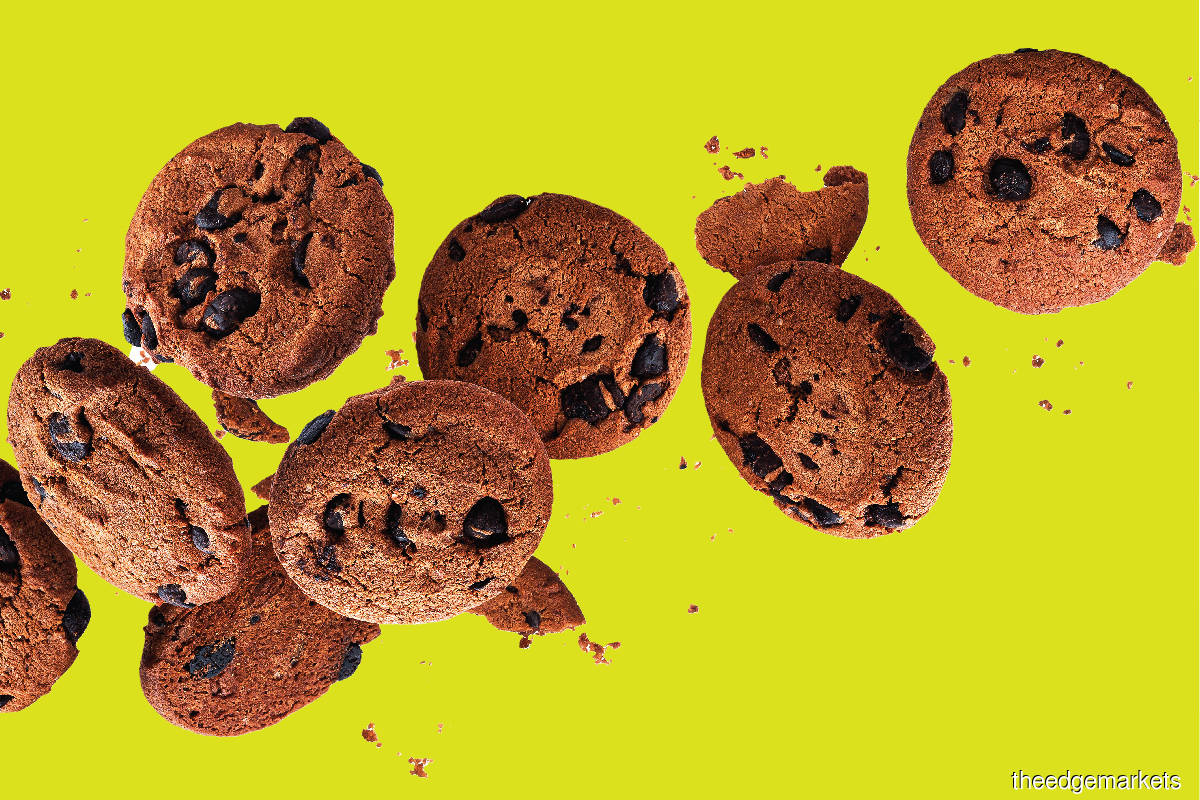 The fate of the digital advertising and marketing industry is up in the air. With the phasing out of third-party cookies, the rise of Web 3.0 and the metaverse, as well as diminished trust in digital advertising among consumers, the industry is trying to figure out how best to deliver meaningful personalisation to consumers while protecting users' data when surfing the web.
Essentially, HTTP cookies, or internet cookies, are not dangerous. They are small, randomly encoded text files that make e-commerce affordable for businesses by storing data on site visits on users' computers instead of on company servers. For example, cookies allow users to keep their shopping carts full despite multiple visits and remember their login preferences.
The concern is with third-party cookies. While first-party cookies connect users to a single website by holding on to some personal information to make the website easier to use, third-party cookies allow the tracking of users' shopping or other activity across the internet.
Following decades of data sharing and privacy concerns, big tech companies are now phasing out third-party cookies. Apple has led the browser privacy conversation since 2017, when it added the Intelligent Tracking Prevention (ITP) feature to its Safari browser. By March 2020, ITP updates had made Safari capable of blocking all third-party cookies. That same year, Google announced that it would stop supporting third-party cookies on its Chrome browser by end-2023.
Luke Taylor, chief operating officer at TrafficGuard, a company that prevents ad fraud with data, tells Digital Edge that privacy and data regulations were one of the biggest changes in the digital advertising technology (adtech) industry over the last few years as players procrastinated on adapting and rushed at the last minute to comply.
That is why changes in the adtech, digital marketing and advertising space appear to be happening very fast. The days of micro-targeting audiences are over, he says, adding that industry players are now realising that micro-targeting was too good to be true.
But what is happening now is raising concerns. Taylor says industry players do not want to appear to be panicking and unfortunately, a significant number do not want to adapt until they are forced to.
"While some adtech companies are starting to evolve, the migration of advertisers to new technologies is slower because it costs money. It takes time to learn, which means companies have to go back and explain to clients why the thing they have been doing for the last five to 10 years wasn't that great and why the business needs to invest in these new strategies," he adds.
Antoine Gross, general manager of Southeast Asia at partnership management platform impact.com, shares similar sentiments. He says the phasing out of cookies is taking a toll on adtech companies, specifically on their spending to get access to the right audience. However, consumers are becoming better prepared to deal with digital advertising and marketing, as the mere act of showing an advertisement is no longer enough to gain their trust, he adds.
"People don't want to be served an ad because we all know the mechanism behind it. There is a common mistrust. So now, brands need to find a way to build that trust with consumers," says Gross.
Advertisers have had to go through significant transformations and rethink how they plan, deliver and measure digital marketing and advertising. Arshan Saha, CEO of Xaxis — a company that uses artificial intelligence (AI), omnichannel, data-driven creative and programmatic expertise to transform digital media investments into business outcomes — and GroupM Specialty Businesses, Asia-Pacific, says this means they need a better understanding of consumer behaviour on different digital platforms.
"With the cookie apocalypse and change in privacy policies, we see the rise of new identities. Historically, advertising was defined by cookies, where it helped advertisers build [their offerings] based on various touchpoints and some level of behavioural persona.
"Modified individual identities would simply mean that, with information exchanges, that control will reside with the users and what information they want to make available. So based on their ability to share, that will help us to build a construct of them, so as to provide them with the right level of advertising content.
"This means advertisers will focus on cleaner, more reliable signals of their consumer and, for the broader advertising ecosystem, identities that are meaningful for both consumers and advertisers in a two-way value exchange level."
Brands are starting to shift their focus back to the creative elements of advertising, a strategy that goes back about two decades to the pre-internet era. Advertisers used to gather eyeballs and engagement via content that was creatively executed.
"Rather than just dropping a cookie on one person and tracking the person with no clear information, I think the increased area of focus is starting to go back to messaging through creative and engaging avenues," says Taylor.
"It doesn't mean that advertising is going back to banners. We have a lot of mediums available online that we didn't have before. We have a rich video medium in various sizes with TikTok, Instagram and YouTube. There is a lot of ability to really diversify in that creative aspect."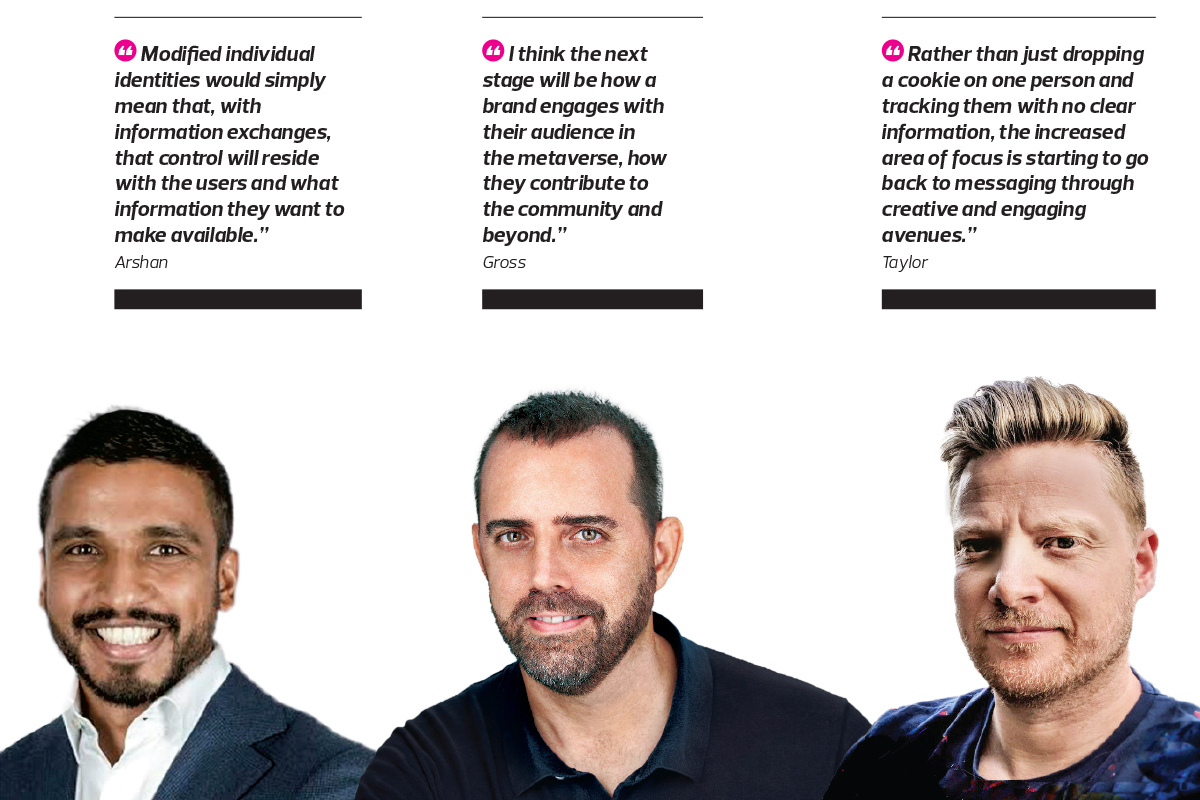 Get to know your customers
Web 3.0, which is the next iteration of the internet, will incorporate concepts like decentralisation in the form of a distributed ledger such as blockchain technologies and token-based economics. Essentially, it is built on openness and allows for greater user utility, says Arshan.
Users are already taking control of how their data is being used, with the use of ad blockers and other privacy and data protection applications, he points out. Right now, the onus is on brands and digital marketers to ensure there is trust and transparency in how collected data is used and derived, so that users are assured there is a fair exchange of value for their information.
"Ultimately, it is to ensure that ads are relevant, non-intrusive, purposeful and meaningful to a user, as well as making sure we understand the value of exchange and are able to give users the right level of transparency and control. I think that is critical," says Arshan.
With the potential to generate up to US$5 trillion in value by 2030, the metaverse is too big for companies to ignore. This revenue will be shared with Web 3.0 as parts of it sit within the metaverse.
An honest recommendation will be the currency of Web 3.0, says Gross. Digital marketing is not as easy as it was before — where all that was needed for micro-targeting was to log on to Facebook or Google — because marketers now need to target a larger audience. The challenge, he explains, is to get the same reach at a reasonable cost. That is why the industry has seen the rise of influencer and recommendation marketing.
"It's the whole context of being reliable via publishers or other sources to challenge the whole notion of mistrust in digital marketing. There's a need now for the industry as a whole to connect the consumer with relevant publishers, and brands need to work in that new ecosystem," he says.
At the same time, people need to realise that without advertising, there will be no free content, says Arshan. He stresses that essentially, free content is founded on the back of advertising models, bridging the gap that makes sure internet content is free.
Taylor cites Netflix as an example. The platform announced that it would host advertisements shortly after it suffered a decrease in user numbers, causing its share price to dip.
"Every marketer, I'm sure, was starting to look at Netflix and wondering if they could advertise with them. Knowing your audience and understanding them will [enable marketers] to identify where they are going to be, and that's where marketers should go," he says.
The same concept applies to the metaverse. Arshan says there is still a lot of debate on the pathway for scaling this space to attract consumers to spend time within it. But once consumers reside in their specific metaverse community, it is a brand's prerogative to make sure it is relevant and present in these environments.
"The first step is understanding your consumer, and based on the segment that your product or service is targeted at, understanding where those consumers are spending the majority of their time. For example, for something that is perhaps targeted at a more youth-centric cluster of consumers, the majority of their time today is spent on gaming. So, that's where marketers need to make themselves present," he says.
The backbone of the metaverse is brand relationships, asserts Gross, where not only will the brand go to consumers, but consumers too will go to the brand. He says there will be a direct relationship between the two parties, which essentially establishes a community.
"We see a lot of brands doing very traditional marketing in the metaverse where they, for example, sponsor an event at a virtual stadium, which also positions them as being innovative. I think the next stage will be how a brand engages with its audience in the metaverse, how it contributes to the community and beyond," says Gross.
Data is everything in today's world. But when not used correctly, it can be nothing. First-party data will be important and brands will collect and look at that, says Taylor. This will help them understand their consumers and know where to have a presence.
In a world inundated by data, it can be overwhelming for brands, says Arshan. They must first organise data so that it is relevant. And once the data is organised, brands will need to utilise it in a responsible and ethical way.
"To create the best ad experience, delivering a personalised ad experience across the entire journey that can be remembered and recommended to others is key. This involves getting in-depth knowledge of customers, and brands need to bring out valuable insights from each of the data points," he adds.
"These insights are not just utilised in conversations, but also with speed and precision, which is also key."
Taylor has a similar view, saying that it is important to measure a brand's impact and whether it is performing in its favour. This comparison, he adds, is not confined to digital mediums, but includes traditional advertising such as television, print and outdoor advertising.
Artificial intelligence will be prevalent in every part of the digital marketing and advertising value chain. The use of generative AI and digital twins will enable greater personalisation, says Arshan.
Generative AI refers to programmes that enable machines to utilise algorithms to create similar new content from the original resources such as images, texts, audio files and codes.
"For example, machine learning (ML) pathway genomic sequencing will make personalised nutrition and personal care products increasingly possible. Computer vision, ML algorithms and generative AI could disrupt the apparel and retail industry, where storytelling could become a reality, as ads and IPs (intellectual property) are customised based on user selections," he says.
"These are going to be aspects where AI will start playing a role across the entire value chain."
Balancing personalisation with privacy
The two things that users want today are transparency in knowing how their data is being used and control of the personalisation received on social media platforms. Nicole Tan, country director of Meta Malaysia, tells Digital Edge that right now, the perception is that privacy and personalisation cannot go hand in hand.
It is only fair for consumers to have control over their data and online experience, she says. This means businesses will have to recognise autonomy and work around that. Meta will have this in mind as it builds its advertising tools.
"Consumers want to see things that are relevant to them and it can get annoying if they are bombarded with the same irrelevant ad over and over again. At the same time, businesses don't want to talk to people who are not interested in their product or service because at the end of the day, it is wasted acquisition," Tan explains.
How can consumers who want personalisation be matched with businesses that are looking for effective and efficient marketing in this new privacy-driven world? And how can platforms ensure that personalisation and privacy are not at odds with one another?
This is where a programme called privacy enhancing technologies (PET) comes into the picture. Tan says Meta is working on this with the industry, among them the Partnership for Responsible and Addressable Media, which is part of the larger advertising industry, and the World Wide Web Consortium, which represents general technologies and internet standards.
The goal of PET is to develop standards, Tan believes, and these technologies will be the foundation of digital advertising in the future, specifically how data will be shared and processed, as well as how to ensure privacy protection.
Currently, three PETs are being worked on, the first being secure multi-party computation (MPC). Tan explains that with MPC, two organisations can work together while not sharing or limiting information that the other party can learn. The data is encrypted end-to-end, whether it is in transit, storage or in use, she points out.
"This means neither party can use the data. Let's use the example of Meta and a small business. Meta knows what the consumer is doing on the platform and the business knows when consumers are actually transacting. Since we don't want to share this information with you and we don't need to have this information exchange, we put this encryption in a clean room where the data will match, but neither party will ever see each other's data," says Tan.
"So on our end, we will know when somebody has seen the business' ad and the business will know whether that person has bought [a product or service] based on the ad. We are then able to match that. But we don't have to exchange the data and each party gets the information that it is privy to.
"We actually see this as groundbreaking and very useful for advertisers to know what is happening, but without having to pass us data. And similarly, we don't pass back data to advertisers."
The second PET is on device learning. Tan says typically, when one uses an app, the signals are sent back to the cloud and developers will know how often people use the app. With a PET in place, users' patterns stay within their device or app without having to move into the cloud. The technology will help when an algorithm is trained to understand what users are doing with that particular app in order for relevant content to be shared.
"For example, if you are someone who buys exercise equipment, you're most likely going to buy a protein shake, right? I know that through the app and this data is being sent out. But imagine you don't need to send the data but that pattern resides in the app. So, when we start looking at a particular consumer, we know that information from your device, but we don't have to take that data back to the cloud," Tan explains.
The third PET is differential privacy, which is good for crunching through really big data sets, like large public research. Tan says it is a technique where carefully calculated noise is added to a data set and in the end, only patterns are readable, and there is no ability to identify the data or persons behind them.
"Users want ads that are relevant to them but are afraid their data and identity will be with someone else with the possibility of it being misused. So by adding calculated noise to a data set, it keeps the pattern whole while the other party cannot reverse engineer and identify where the data is coming from," she explains, adding that while this is not a new technology, it has not been used in digital marketing before.
Taking all of these PET technologies into consideration, there will undoubtedly be a generational shift in the near term, where personalisation and privacy work together, says Tan.
"It will be an industry priority, not just Meta's priority. All the players and industries are looking into this and it will also mean that advertisers and businesses will need to operate in a brave new world because they may have built their businesses on personalisation alone," she adds.
"Businesses may need to relearn some aspects of the way they've done digital marketing. But at Meta, we'll make sure that we build the tools and provide the education and learning so that we are guiding businesses through this change."