This article first appeared in Digital Edge, The Edge Malaysia Weekly, on September 13, 2021 - September 19, 2021.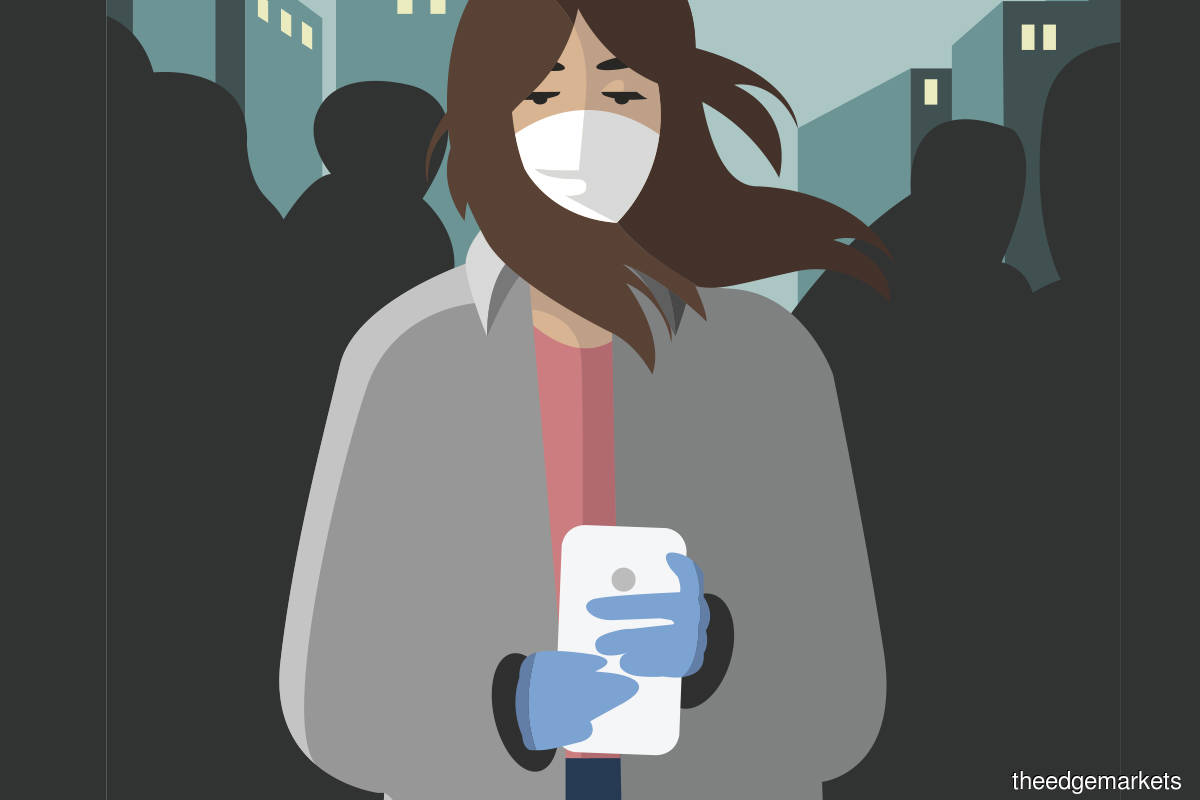 Malaysia has undergone more political instability in the last decade than it did in the early days of its formation 58 years ago.
The continuous arbitrary changes in government — following a contentious 2018 general election — has resulted in an increasingly fractious political process that has thrown the country into one upheaval too many, which have been compounded by the unceasing Covid-19 pandemic.
While political pundits see the situation as a sign of a maturing democracy, the political bloodletting has only exacerbated a weakened economy and resulted in a state lacking in direction.
And here is where technology can come in to save the day. Law Tien Soon, chief operating officer at Innov8tif Solutions Sdn Bhd, an artificial intelligence (AI) solutions provider, points out that public services can be effectively carried out during a time of political turmoil — such as this — using the right technology.
"Fortunately for Malaysia, there is a convention of caretaker governments practised in the absence of a Cabinet, unlike the government shutdown in the US where federally run operations were halted [between December 2018 and January 2019]," he says.
"Thus, it is not so much a concern of maintaining functions at status quo by a caretaker government, but the integrity aspect of mandatory spending on essential functions could be improved with the help of technology, especially during times of crisis."
For years, the adoption of technology in public service has been focused on adding processes to an existing system without looking at streamlining and eliminating redundancy and questioning the relevance of an existing activity, Law points out. "Former prime minister Tun Dr Mahathir Mohamad in 2019 said, 'If a person wants to run a tourism project in Langkawi, he has to seek permits from close to 20 departments.'"
Meaning to say digital transformation does not necessarily have to involve the latest technology. It merely has to streamline existing processes and make everything more efficient and convenient.
"Many government agencies have embarked on system modernisation programmes for business processes. However, these programmes have often stopped at digitisation — where traditional paper forms are converted into online forms for data processing and storage in a database-driven system," says Law.
"Larger opportunities remain to be unearthed [such as] the reengineering and optimisation of business processes. When an electronic form can be enforced with mandatory validators to ensure that sufficient information is provided in the expected format before submission, what is the relevance of keeping the 'checker' role in a process?
"There must be 20% of mundane and common [regulations], which can be effectively automated to yield 80% of outcomes. So, shouldn't there be an irrelevance of traditional approval activities by appointed officers for most of the applications received by an agency?"
In the last two decades, the lives of Malaysian citizens have been revolutionised by technology, particularly information and communications technology, reducing their dependence on the government for essential services.
Although the national digitalisation journey started in 1996 with the Multimedia Super Corridor (MSC), the rapid adoption of technology by the private sector has left the government looking slow, cumbersome, unwieldy and sometimes even irrelevant.
While some progress was made in going electronic, real progress has remained lamentable — that is, until physical distancing restrictions necessitated by the Covid-19 pandemic cemented the need to ramp up digitalisation efforts, especially if the country's economy is to rebound post-pandemic.
"The pandemic has shown us that keeping up to date with the latest scientific advancements is not only important to maintain our health, but also to formulate relevant policies that support economic activity. These are policies that support the deployment of appropriate and affordable technologies," says Yin Shao Loong, senior research associate at Khazanah Research Institute (KRI), whose research focuses on industrial policy, climate change and future technologies. 
The creation of the MySejahtera (MySJ) app, for example, appears to be the cornerstone of this paradigm shift. The contact-tracing method, in which authorities identify and test people who may have come into contact with a virus carrier, has emerged as a tool to stem new outbreaks of the novel coronavirus. 
Despite some hiccups in the early days of its development, MySJ is now used by three out of four persons in Malaysia or 25 million people. MySJ is owned and operated by the government of Malaysia. It is administered by the Ministry of Health and assisted by the National Security Council and the Malaysian Administrative Modernisation and Management Planning Unit (Mampu).
And so, in February, then prime minister Tan Sri Muhyiddin Yassin launched the MyDIGITAL initiative, which laid out the government's plans to "transform Malaysia into a digitally driven, high-income nation and a regional leader in the digital economy" to futureproof the nation from any other potential crisis.
Apart from promises to bridge the digital divide between urban and rural Malaysia and to develop the digital ecosystem, the initiative is also targeted at empowering the public sector's cloud computing services. The government, through a "Cloud First" strategy, aims to migrate 80% of public data to a hybrid cloud system by end-2022 to make data collection and management smoother and more effective.
This, said the former prime minister, is bound to save government costs in IT management in the long run, adding that cloud services will also allow big data, AI, the Internet of Things (IoT) and other applications to be used to strengthen government services.
Civil service not ready to meet demands of digital service delivery
However, the public service, in its current state, is not as prepared to handle digitalisation demands, argues K Sudhagaran Stanley, programme manager at the Centre to Combat Corruption and Cronyism (C4).
"[We have to ask ourselves] how prepared our civil service is to fully utilise technology. We first need to train our public sector to understand how technology can be better used to provide services," he says.
While the pandemic has forced the public sector to speed up its knowledge and understanding in this area, there are "huge cracks and gaps", he adds. "For example, a simple thing like road tax renewal during the early days of the pandemic was more complicated than buying auto insurance online. And there is the mess with [digital learning], with students not being able to follow online classes or some places not having the internet or slow internet connections. Our students are losing out big time here.
"The 2020 CLP examination — Certificate in Legal Practice, a compulsory postgraduate course to practise law in Malaysia — was postponed thrice due to Covid-19 and finally took place in 2021, unlike the English professional qualification examination for lawyers, which was immediately conducted online."
Considering the limitations, how can the current administration in its transitional state implement more complex ideas like e-voting when it has failed to make use of technology to convene parliament and hold state assembly proceedings successfully, Sudhagaran asks. "And we are just talking about basic technology involving visuals, live telecast and remote viewing to enable parliament or the state assemblies to convene without disruptions caused by Covid-19. 
"Sadly, even such basic technology isn't being utilised and needs aren't being fulfilled. We can presume that these [circumstances] are likely to occur if the civil service in its current form is asked to embark on digitalisation. 
"Many government services came to halt during the pandemic. They just could not operate despite having set up websites and other online services for years. These were not fully utilised or understood."
Tricia Yeoh, CEO of the Institute for Democracy and Economic Affairs (IDEAS), asserts that the key to making digitalisation work is ensuring that the public service is equipped with the accompanying skills to harness and embrace technology. "There also needs to be a cultural shift in the way the government approaches citizen engagement, which is where employing technology can truly shine," she adds.
Technology certainly aids citizen decision-making, as the data and information provided are a form of public education that informs and connects. "This is why the more information provided, the better. Information and data can equip citizens so they are better and more well informed. Apps can connect citizens and businesses with financing options that will help in their business development and ascertain sources of capital," says Yeoh.
"And as more citizens make use of technology through apps or websites, this represents data that flows back to the government, which can then be processed for the government to make better decisions on public policies. By analysing large amounts of data, the government would be able to track the movement of people and vehicles, which can contribute to better public transport and traffic policy, as well as determine policies on movement control and standard operating procedures during pandemic times."
Open data policy key to digitalisation triumph
While technology appears to make everything seem dynamic and flexible, it is not a panacea for the problems the country is facing at this moment, says Farlina Said, analyst in the foreign policy and security studies programme at the Institute of Strategic and International Studies (ISIS). 
"While technology can be seen as a silver bullet in many things, it cannot replace decision-making or vital policy directions," she asserts. But technology is essential when it comes to the delivery of government services, she says, and particularly critical in ensuring transparency or aid in providing insight.
In Mexico, for example, government agencies and tax authorities have found that it is possible to design novel AI-assisted processes to identify the risk of corruption or fraud in public procurement.
While most countries, including Malaysia, are still figuring out large scale digital implementation, former Soviet nation Estonia has used digital technology to streamline 99% of its public services. The efforts undertaken by the Estonian government to go virtual, borderless, blockchained and secure were its recourse to address ailments in the public services sector.
"Technology is best made and utilised to fulfil a purpose. [e-Estonia was] developed with laws and checks and balances as well as the goal of citizens' satisfaction in mind. In addition, there are partnerships with the private sector and agile means of policymaking, which shortens and opens pathways to technology adoption," says Farlina, when asked if automation could be the answer to bureaucratic red flags.
"Malaysia's public sector is still developing approaches to its adoption of technologies. The Public Sector Open Data (DTSA) initiative has been in existence since 2014 but government digitalisation efforts are still [in progress]," she points out.
IDEAS' Yeoh says initiatives such as e-Estonia and NemKonto — Denmark's common public payment system — demonstrate how governments must first adopt a principle of openness. "…through which commitments towards providing data, equipping and empowering citizens with access to data would allow it [the government] to engage more closely and directly with citizens."
KRI's Yin concurs. "Technology can aid decision-making and enforcement if it is set up to provide useful actionable data, or otherwise overcome human limitations," he says.
"Ultimately, technology needs skilled users within institutions who can make good use of it, and skilled creators to produce it to specifications. Clients need to make well-informed decisions on the technology they commission lest they end up with white elephants."
Sudhagaran stresses that while automation surely helps simplify and speed up processes and tackle corruption, human intervention is needed to make a judgement. "Our agencies and government service delivery systems are not ready to the fullest extent. Technology can do a lot. But for that, our public sector must first be trained and there is a need for a shift in mindset," he says.
"Automation cannot solve every problem 100%. Take procurement, where there is still a need for human intervention, at least in the final part of the process, to ensure the applicants are not trying to beat the system by submitting false information. The key here is, both humans and technology need to work together and ensure there are checks and balances at every level."
Moreover, there are also data privacy and security concerns that come with automation, says IDEAS' Yeoh. "It [technology] can be used for enforcement, but one has to be careful as well about over-dependence on technology as there is a risk of it being used for surveillance purposes.
"Adherence to the Personal Data Protection Act is also key since personally identifiable data should be carefully used, especially by governments that may tend to be autocratic in nature."
Amend restrictive legislations 
For comprehensive digital service delivery, concerted action is needed to address fragmentation in government departments and agencies.
"The issue is not just about working in silos. It is also an issue of leadership and coordination to establish appropriate channels of communication, mandates for information-sharing and task forces to resolve problems," says KRI's Yin.
"Ministers may come and go and the level of interest a given minister has in pursuing efficiencies will vary, but there is much interagency coordination that could be resolved by the various secretaries-general of ministries or the chief secretary of government.
"However, some administrative powers may need to be devolved. This is why higher authorities, such as the Prime Minister's Office, play an important role in resolving such issues and setting the agenda. It is not just political stability that is beneficial, stability also needs vision and leadership to generate good outcomes for the country."
Despite the risks, data coordination and sharing is necessary to break existing silos and to collaborate to find solutions to 
problems that bedevil multiple agencies and departments, says Yeoh. "I believe that laws and policies can be amended to ensure that data-sharing is made possible for the greater good. For example, integration of a social protection database is something that IDEAS has been calling for."
In June, the government announced it was considering establishing a cross-agency social protection database that would cover elements of employment, insurance and social assistance. The database would work as a sole reference point for social protection programmes in the country. But there has been little information on the project since.
"One way of ensuring data can be shared across ministries, compiled, streamlined and thereafter shared with the public for open data purposes is to amend the Statistics Act. The government has an open data policy that Mampu and the Malaysia Digital Economy Corporation are championing, but it is not thorough enough," says Yeoh.
"Researchers find it difficult to obtain data, which is a crucial problem in Malaysia. If ministries and government bodies cannot obtain data easily, this means that policy decision-making is very poorly managed since policies are being determined not based on data but other factors.
"If the Statistics Act is amended to compel and encourage the Department of Statistics to share data on a disaggregated basis free of charge, especially to researchers, academic institutions and think tanks, it will truly move the needle towards better policy decision-making."