This article first appeared in Personal Wealth, The Edge Malaysia Weekly, on May 18, 2020 - May 24, 2020.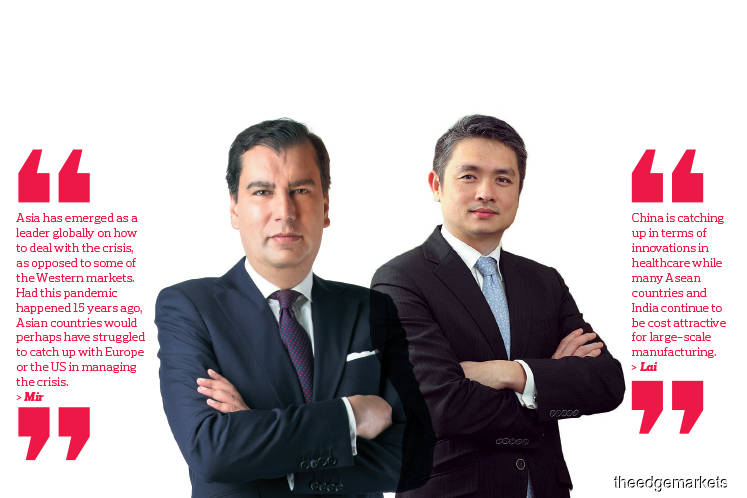 The importance of having a strong healthcare system is apparent now more than ever with the millions of Covid-19 infections globally. The pandemic has also solidified the conviction of investors in the healthcare theme, particularly in Asia, as it has brought to light the supply-demand gaps that underscore opportunities in the sector, say industry experts.
While some players in the public and private markets have been affected by the pandemic, the region's healthcare sector holds much promise for investors over the longer term. 
"The way Asia has dealt with Covid-19 shows that the centre of gravity in the global healthcare industry is shifting to the region," says Abrar Mir, managing partner of Singapore-based private equity (PE) firm Quadria Capital.
"Asia has emerged as a leader globally on how to deal with the crisis, as opposed to some of the Western markets. Had this pandemic happened 15 years ago, Asian countries would perhaps have struggled to catch up with Europe or the US in managing the crisis."
Quadria Capital is one of the biggest dedicated healthcare PE investors in Asia. Mir, who has been observing the sector through his roles in investment banking and PE for more than 20 years, believes that the current pandemic further highlights the potential of Asia's healthcare industry.
South Korea, for instance, has been notable for its mass testing and contact tracing strategies that have kept the Covid-19 outbreak under control. Meanwhile, China uses mobile technology solutions to track suspect cases and determine users' freedom to travel based on their health status.
"Asian countries have taken a proactive approach to identifying the threat and dealing with it early on. We are not out of the woods yet, but it really reflects how far Asia has come, especially if you put into context what is happening in the US and Europe," says Mir.
Obviously, the pandemic has shown the importance of having the right healthcare infrastructure in place. But it has also revealed where such infrastructure is lacking in Asia.
"People at the bottom of the [socio-economic] pyramid are overwhelmingly impacted [by the pandemic] more than the rest of the population. Singapore is an extreme example of that. But the same analogy can be applied to many parts of the economic strata in Indonesia, China, India and other markets," says Mir.
At the same time, there is strong demand for healthcare in Asia due to its growing population, rising affluence and improving quality, observes Bertram Lai, managing director and regional head of research at CGS-CIMB Securities (Hong Kong) Ltd. 
"China is catching up in terms of innovations in healthcare while many Asean countries and India continue to be cost attractive for large-scale manufacturing. In Thailand, the government's priority is to provide access to healthcare to the poor at very low prices. Thus, public hospitals are very congested. As a result, there is room for private hospitals to grow," he says.
Healthcare stocks in the region have performed well compared with the broader equity market. The MSCI AC Asia Healthcare Index, which tracks the performance of large and mid-cap securities across 12 countries in the region, provided a net return of 16.08% over the one-year period ended April 30. On the other hand, the broader MSCI AC Asia Index delivered a return of -5.54%. Over a one-month period, the healthcare index saw a return of 8.52%, outperforming the broader index's 7.5%.
Why invest?
While most of the conversations on the latest healthcare innovations are in Europe and the US, much of the industry growth is occurring in Asia. This is driven by secular megatrends that are predictable and irreversible such as the growing population and rising affluence in Asian countries, says Mir.
"That creates a very attractive investment environment. It is an industry that is growing at double digits of 10% to 15% per annum. That is faster than the rest of the world, which is growing at less than 5%," he says.
According to the United Nations, 61% of the global population now lives in Asia. By 2030, about 66% of the global middle-class population will come from the region due to rising affluence, according to the Organisation for Economic Cooperation and Development.
"With rising incomes, the first thing people spend on is social infrastructure, whether it is healthcare or education, to improve themselves and their future generations," says Mir.
The total healthcare spend in Asia was US$1.4 trillion a year ago. It is expected to reach almost US$4 trillion in less than 10 years, according to Mir. This figure is larger than the healthcare markets of the US and Europe combined.
With the improving quality of healthcare systems in Asia, medical tourism is becoming an important revenue source for the region. It has driven the growth of private hospitals in Thailand and Singapore, observes Lai.
While this sub-sector has been negatively impacted by the pandemic, the outbreak has shown that Thailand has a strong healthcare management system. "This could strengthen Thailand's position as one of the leading medical tourism hubs in Asia," says Kasem Prunratanamala, head of research at CGS-CIMB in Thailand.
Malaysia's growing middle-income population and less developed healthcare system support the growth of the country's healthcare sector. Meanwhile, in Indonesia, the introduction of a universal healthcare programme has led to more patients seeking medical treatment in hospitals. "The patient-to-bed ratio in Indonesia is still well below the regional average," says Lai.
Healthcare has always been seen as a resilient and defensive industry that investors turn to in tough times. In fact, global healthcare PE activity saw the highest total disclosed deal value on record last year, outperforming the broader PE market, according to Bain & Co's report on the sector.
Is there room for growth in the sector at this time? Mir believes so. "We certainly don't think this market is afraid of competition. In fact, we welcome more capital because the size of the demand-supply gap in healthcare is so large. In fact, the more capital, the better," he says.
At the same time, there is more demand for healthcare services in Asia as the population suffers from more chronic diseases than the rest of the world. According to Quadria Capital's website, the region accounts for about 55% of the world's disease burden but only commands 20% of the global healthcare expenditure.
"For instance, India is the world's capital of diabetes. Many parts of China and Southeast Asia are the world's capital of cancer or cardiovascular diseases. It could be due to genetics, what we eat, what we smoke or the lack of exercise," says Mir.
The supply side of healthcare services has been lagging in this region due to underinvestment by governments and the private sector. Compared with developed markets, Asia is far behind in terms of the number of doctors, hospital beds and size of healthcare infrastructure, Mir observes.
But it is this massive gap between demand and supply that makes the region attractive to private investors. While some Asian governments want to provide universal healthcare coverage, they are also calling for the private sector to lead the way in providing the physical infrastructure.
"In Asia, for every 10 hospitals beds being built, seven are by the private sector. That contributes to a very important mission of ours, which is to provide high-quality healthcare and also tap the business opportunity," says Mir.
This also applies to drug manufacturing. Asia is an important market for drug manufacturers due to the low cost of labour. Countries such as China and India produce a high number of scientists with the capabilities to lead these processes.
According to Deloitte's latest report on the state of the life sciences and healthcare industry, India is one of the world's largest sources of generic drugs, supplying 50% of the global demand for a range of vaccines and 25% of all medicines in the UK.
In the long term, the centre of drug innovation will shift from Western countries to Asia, says Mir. As its healthcare industry grows stronger, it will have the resources to undertake more R&D activities.
"Some of the healthcare companies in Asia are the top three hospital groups in the world. Many pharmaceutical companies in China and India have also emerged as leaders of that space. The innovation gap remains, but it is only a matter of time before it is filled," he says.
Lai has similar observations. "Asia has been spending more on R&D and we believe that medical technology and biotech developed in the region may be better tailor-made to suit local needs. Trade wars have taught governments to be self-sufficient and provide more funding for R&D investment," he says.
Short-term impact to healthcare sector
Of course, some companies in the sector are affected by the current pandemic at this time, be it in the public or private markets. Mir observes that some of Quadria Capital's portfolio companies have been impacted as the number of people going to hospitals for non-essential care has gone down dramatically due to Covid-19.
"In the short term, many hospitals have been negatively impacted. It does not help that many of the countries we are invested in are in lockdown now and people are generally not allowed to leave their homes. But we do think this is not a structural issue. We are very hopeful that business will bounce back after the pandemic," he says.
The same is occurring in the public markets, especially for healthcare providers involved in medical tourism. Thailand, which is heavily reliant on this source of income, has been the most affected, observes Lai. According to him, medical service providers have not been able to pivot quickly enough to e-commerce and other avenues at this time.
"We fear that a return to pre-Covid business models may take some time. Manufacturers of protective equipment such as glove makers in Malaysia and pharmaceutical companies are beneficiaries, but investors need to be cautious about supply chain issues due to travel restrictions. These business models are much more likely to bounce back quickly post-Covid-19," says Lai.
Quadria Capital's portfolio companies in the pharmaceutical space,  however, have been doing well during this period. For instance, in Indonesia and India, these businesses have grown 30% to 40% quarter on quarter this year, according to Mir. Pharmaceutical companies in India have also benefited from the supply-side challenges in China, which has led global buyers to seek alternative supplies in the subcontinent.
Lai has similar observations. "The drop in patient volume has also affected pharmaceuticals, although this is partially offset by higher trading sales of consumables such as face masks, sanitisers and other products. Nevertheless, we remain positive on global pharmaceutical manufacturers going forward as we expect to see benefits from volume growth in oral generic drugs globally," he says.
The medical device space has been performing well, says Mir. "For example, we own one of the largest diagnostics groups in Southeast Asia — Lablink in Malaysia — which is at the forefront of Covid-19 testing. In India, we are invested in Strand Life Sciences, one of the largest specialised diagnostic companies. It is at the forefront of Covid-19 testing there." 
Lablink manages KPJ Healthcare's network of hospital laboratories as well as those of some public hospitals in Malaysia.
CGS-CIMB points to Prodia Widyahusada, the biggest lab chain in Indonesia, as a potential beneficiary of the pandemic. "The company recently provided PCR [polymerase chain reaction] tests for Covid-19, so it should see some business come out of this pandemic," says Patricia Gabriela, consumer analyst at CGS-CIMB in Indonesia.
How long will this impact last across the region? For Thailand, medical tourism may only recover when a vaccine has been successfully developed, says Kasem. CGS-CIMB is cautious on Thailand's healthcare sector as it has been impacted by higher regulatory risks and a weak domestic economy. The entry of several new players over the next few years will also intensify the competition.
In Malaysia, IHH Healthcare could be affected by lower footfall. But this could be mitigated by higher diagnostics testing for Covid-19. "We think patient volumes could return after the pandemic as more urgent treatments can no longer be delayed. However, our base case is for a gradual volume return and not a V-shaped recovery," says Walter Aw, an analyst at CGS-CIMB in Malaysia.
The research firm is neutral on Malaysia's healthcare sector. While the near-term earnings of public-listed companies in the industry may be weak due to lower drug demand and patient volumes, the earnings and valuations of healthcare stocks will be underpinned by inelastic demand for healthcare services in the country on the back of supportive demographics.
In Indonesia, hospitals' performances are determined on a case-by-case basis. For instance, hospitals such as Hermina will benefit from positive patient volume growth while Mitra Keluarga and Siloam will be negatively impacted as their Covid-19 patients cannot offset the declining volume of elective care patients, according to Gabriela.
However, things are expected to normalise in the second half of the year after the lockdown has been lifted. "Hospitals in Indonesia have improved cost efficiency with measures such as consolidating drug purchases, which should increase profitability," she says.
The valuations of healthcare stocks are currently low in Indonesia and unlike other countries that are reliant on medical tourism, its hospitals rely on local patient flow. "Hence, we believe that patient volumes will recover after the pandemic is over," says Gabriela.
Meanwhile, Singapore's premium private healthcare services could remain in demand as it has overstretched public hospitals and resources. Companies with biotech and diagnostics testing capabilities could also see more interest. In addition, healthcare companies such as Raffles Medical Group are expanding into China, which presents growth opportunities, observes Ngoh Yi Sin, healthcare analyst at CGS-CIMB in Singapore.
However, a weak domestic economy post-Covid-19 may lead to people being cautious with their spending, including on healthcare. "As a result, people may migrate to cheaper hospitals. Medical tourism may take a couple of years to come back and this will have lasting negative effects on hospitals with more exposure to foreign patients. Moreover, there have been more regulatory interventions in the hospital sector, particularly in Thailand, over the past few years and it is expected to continue after the pandemic," says Lai.
How Quadria Capital balances profit and impact
Not many people would think of private hospitals as healthcare providers for the poor. In some countries, they are even blamed for overcharging patients in their pursuit of profit.
Quadria Capital, which aims to bring a social impact angle to its investments, takes a different approach with its portfolio companies. The private equity (PE) firm wants to bring affordable and accessible healthcare to all levels of society, says managing partner Abrar Mir. To do that, it has to build large businesses that can become market leaders.
"Through economies of scale, we can lower the cost of service while having the power to achieve profitability because of that scale. That is an important dynamic change," he says.
For example, Quadria Capital is invested in the Asian Institute of Gastroenterology in India. According to its website, the institute is the largest referral centre in Asia for therapeutic endoscopy and the world's largest single-location gastric sciences hospital.
"An endoscopic procedure in the Western market would cost thousands of dollars. We are charging less than US$20 in this hospital, so it becomes accessible to the poor. But what is counter-intuitive in this business model is that despite the low price, we are still generating superior returns for our investors. The profit margin of this business is more than 35%. Compare that with the profit margin of a typical hospital in the US or Europe, which is about 10%," says Mir.
He cites SOHO Global Health, one of the largest integrated pharmaceutical companies in Indonesia, as another example. "It has more than US$600 million in revenue. We have been able to bring high-end, innovative drugs from the US and Europe and sell it in Indonesia as life-saving drugs at a fraction of the cost available globally."
Quadria Capital's portfolio companies strive to serve the mass market with prices that are in line with what the general public is able to afford, according to Mir. "None of our hospitals turn patients away based on their inability to pay. We have large volumes of patients who come through, and through economies of scale, we are still able to generate large profits," he says, adding that the firm does not earn dividends. Instead, the profit is reinvested to create more scale — which could be building more hospitals — and from there, the PE firm will derive value.
"The clear alignment of values between the investors, hospital or company operators and patients is a marriage that we are working so hard to forge. It has been done successfully so far," says Mir.
The concept of scaling businesses to achieve economies of scale and subsequently increase affordability is not new. It has been done in the aviation industry, for example, where there are budget airlines that have managed to achieve this goal.
But applying this concept to the healthcare industry requires a deep understanding of how things work, says Mir. "When you walk into our hospitals, you will not find marble floors, Picasso paintings or gold chandeliers. What you will find is more investment in the productive parts of the hospital such as the operating theatre and diagnostics services. That is what we invest in because that is where we can serve the millions of patients who come through the system every day."
This opportunity to combine profit and purpose is unique to Asia as access to healthcare has oftentimes become a political discussion in Western countries, he adds. "But in Asia, it is driven by the singular mission of building the social infrastructure."
Having this social impact angle does not dent the firm's profits, Mir emphasises. Quadria Capital has always been a top quartile investor in the PE industry, with annualised returns of about 25% at the growth level.
"We are one of the largest healthcare investors in Asia and one of the largest impact-focused investors in the region. But there are other good investors doing similar and better things, not just in healthcare. While we are at the cutting edge and forefront of the healthcare industry in this space, we are certainly not the only one or the best. We are learning from our peers too" he says.
Mir believes that Malaysian healthcare companies can become global leaders, whether it is in the pathology or diagnostics space. "We see Malaysia continuing to act as a hub for regional, and perhaps even global, healthcare tourism. In addition, if you look at the different parts of the healthcare infrastructure, there are still big gaps that the government cannot fill. We think the private sector has an important role to play here," he says.
Quadria Capital, which was founded in 2012, currently has more than US$2.2 billion under management and investments in 21 companies across Asia-Pacific. In early March, the firm announced that it had closed its second fund at US$595 million, exceeding its initial target of US$400 million.