This article first appeared in City & Country, The Edge Malaysia Weekly, on July 8, 2019 - July 14, 2019.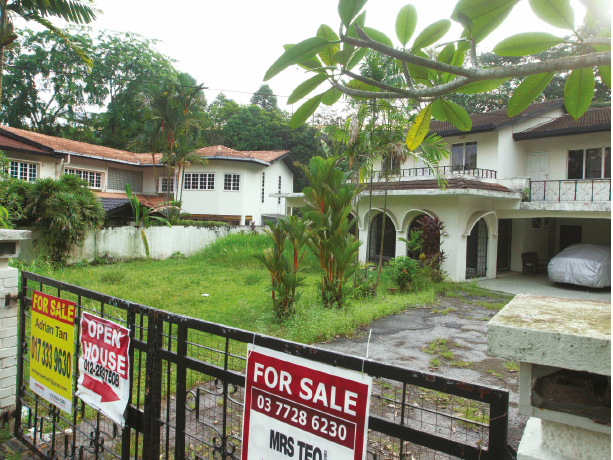 Prices of properties in the area vary according to the condition, exclusivity and views afforded.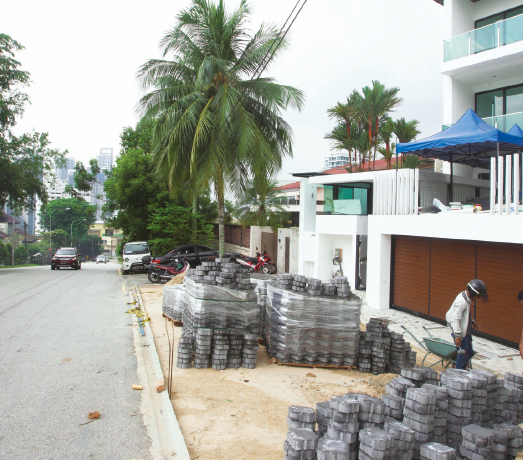 Construction is a common occurrence in the neighbourhood as new owners tend to redevelop existing properties.
Click / Tap image to enlarge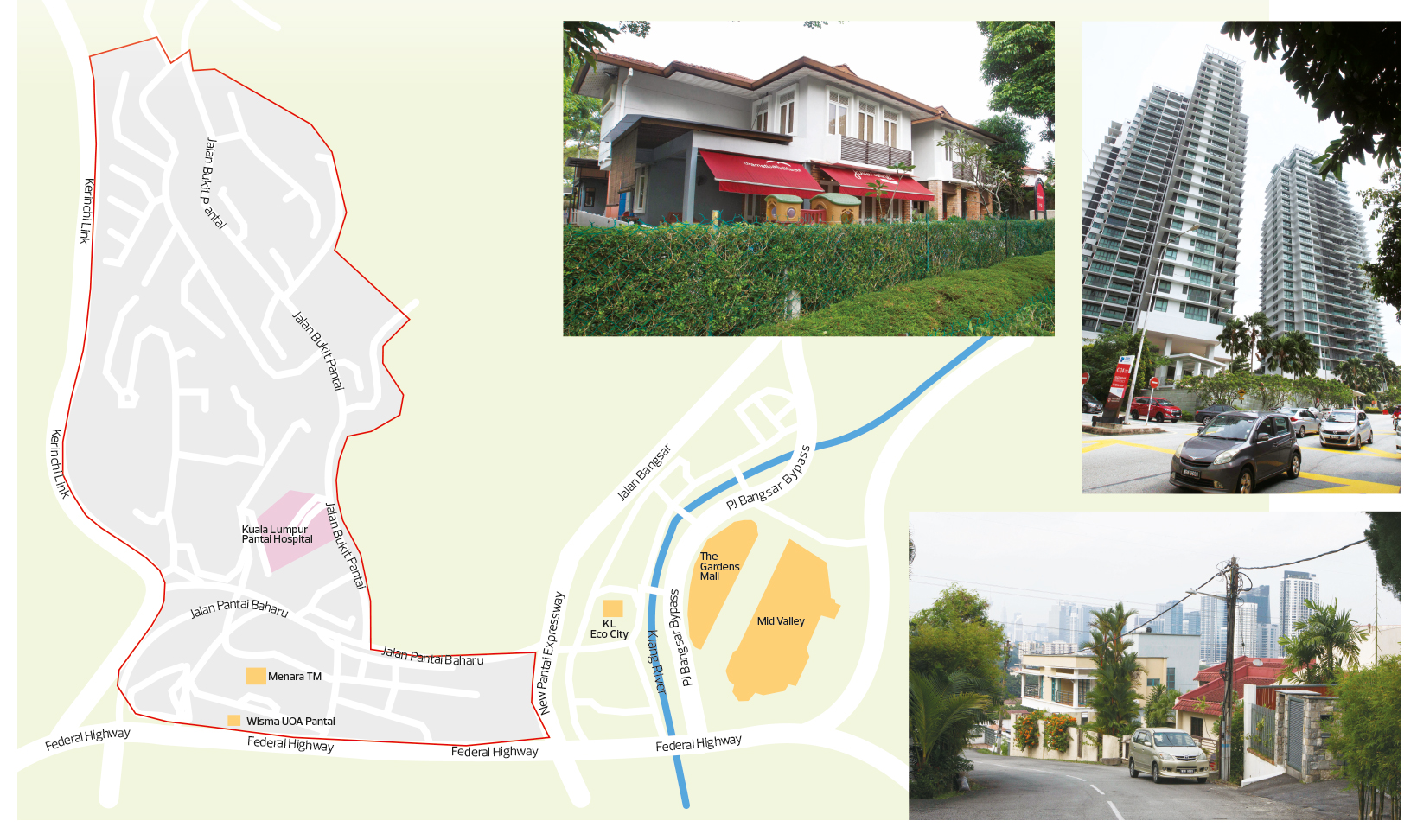 Clockwise from top: A Julia Gabriel Centre operates from a bungalow unit on Jalan Bukit Pantai; Zehn Bukit Pantai is one of the newer high-rises; properties with premium skyline view are attractive to well-heeled buyers
The prime and hilly residential enclave of Taman Bukit Pantai in Kuala Lumpur, adjacent to bustling Bangsar and the tranquil grounds of University of Malaya, straddles Jalan Bukit Pantai. Previously an estate, the neighbourhood is now home to individually designed bungalows with sizeable land areas, lined up along the main thoroughfare as well as in cozy cul-de-sacs.
Taman Bukit Pantai attracts high-net-worth buyers because of its upmarket properties and choice location — it is a stone's throw from Mid Valley Megamall, Setia Eco City, KL Sentral and Bangsar South.
According to Savills Malaysia managing director Datuk Paul Khong, the premium skyline views and freehold tenure of the properties are attractive to well-heeled buyers who want to redevelop the bungalows. "This premium, well-established neighbourhood has been around for more than 60 years of history, so many of the bungalows are now dated. We see refurbishment works going on, as well as new-builds in many of the plots," he notes.
Owing to their size, the plots' prices are similar to those transacted in Bangsar and Bukit Bandaraya, says Khong. "We see transactions of RM5 million or more — a reasonable price tag for a bungalow with a land size of 10,000 sq ft."
In the current market, prices are at a discount to the peak values of RM700 to RM750 psf in 2015, says Khong. Last year, a 6,500 sq ft property on Lorong Taman Pantai 5 was sold at RM3.7 million or RM570 psf, while a 10,300 sq ft property on Lorong Taman Pantai 1 was transacted at RM5 million or RM480 psf.
In 2015/2016, a property of 10,500 sq ft on Lorong Taman Pantai 7 was transacted at RM5.5 million or RM520 psf and one of 9,100 sq ft on Jalan Taman Pantai was sold at RM6.2 million or RM680 psf, he adds.
For the medium term, Khong expects residential values to hold firm with the limited or dwindling supply of landed properties in the area. "Prime residential land in city limits are getting scarce, thus, high premiums are attached. Prime residential sites are still holding out well in terms of capital value."
PA International Property Consultants (KL) Sdn Bhd managing director Jerome Hong expects the overall property value in the area to remain strong despite the slight softening of prices in the market as Taman Bukit Pantai is still a choice location.
"As it is common for new owners to tear down existing properties to build new ones or redevelop existing residential plots, they are essentially purchasing [the properties] because of their location," he says.
As a guide, bungalow plots of 6,000 to 7,000 sq ft — depending on their location, views afforded and exclusivity provided — are being transacted at RM500 to RM600 psf, notes Hong. "Prices vary, depending on each individually designed property and its condition — whether it is extensively renovated or in need of renovation."
According to Hong, property prices in Taman Bukit Pantai in general, including those of condominiums, flattened in 2017 and remained so last year. He adds that transaction volumes have been low since 2016. "Fewer transactions have been recorded over the last five years due to limited availability."
Nonetheless, property prices have remained unchanged over the years due to limited transactions as well as owners' strong holding power, says Hong. "As the occupants in this locality are predominantly end-users [owner-occupiers], there are fewer transactions compared with areas that are considered less mature or strategic.
"Also, property prices here have always been and will continue to remain high, so they are likely to hold steady regardless of the property market conditions," Hong opines.
Stratified and commercial properties enjoy healthy leases
Taman Bukit Pantai has several high-rise properties on offer.
"Condominiums in Taman Bukit Pantai are good for short and long-term rental. Popular properties are Zehn Bukit Pantai, Pantai Towers and Apartment Bukit Pantai," says Hong.
"[Taman Bukit Pantai] is an alternative to Bukit Bandaraya, which seems to be bursting at the seams with high-rise condominiums," he remarks.
One of the newer high-rises is Zehn Bukit Pantai, located adjacent to Pantai Hospital Kuala Lumpur, says Hong. Prices range from RM600 to RM800 psf for units of 1,884 to 3,500 sq ft.
Savills' Khong says at Zehn Bukit Pantai, 2,900 sq ft units are going for RM2.2 million to RM2.5 million or RM750 to RM850 psf. Khong notes that the rent at the luxury condominium is RM6,000 a month for a bare unit and up to RM9,000 for a fully furnished one.
According to Zehn Bukit Pantai's management committee, the condominium recently installed electric-vehicle (EV) charging facilities for the first 10 residents who took up the offer. Instead of a shared EV charging space, which is not an adequate solution to the needs of the residents, the charging facility will be installed in individual parking spaces. Each charging station costs about RM7,500 to install and is equipped with an individual internet-enabled meter. According to committee chairman Gabriel Ng, a feasibility study concluded that up to 100 EV charging stations, each delivering a maximum power of 7kW, could be installed at the condominium without compromising the overall electricity distribution load of the building that has 185 units in total.
Over at Pantai Tower, says Hong, the last transaction was in 2016, with a 1,604 sq ft unit being sold at RM592 psf. Current asking prices for 1,700 sq ft units range from RM677 to RM735psf.
Property prices in Taman Bukit Pantai — for both landed and high-rise — are above RM900,000, with the majority of transactions priced above RM1.2 million, Hong remarks. "Properties in Bukit Pantai are unaffordable for most people in the Klang Valley."
The few office buildings are predominantly located in the south, fronting the main road of Jalan Pantai Baru and the Federal Highway. Hong notes that the commercial offerings such as Menara TM, Wisma R&D Universiti Malaya and Wisma UOA Pantai are mostly fully occupied. He notes that the last was sold to CIMB Bank in June last year.
It was reported that Menara TM Annexes 1 and 2 were tendered for sale since February.
Upcoming neighbouring developments
While there are no major developments in Taman Bukit Pantai, the situation is different in neighbouring Bangsar. Large tracks have been earmarked for development as well.
Hong cites Bangsar Trade Centre, formerly known as Plaza Pantai as one of those undergoing refurbishment. Rents there currently range from RM350 to RM480 psf for offices of 820 to 5,669 sq ft.
In Jalan Kapas, three condominiums are being developed while in Jalan Tandok, a mixed-use development comprising a block of serviced apartments, a hotel and retail units is being planned. On a 19.6-acre site near the intersection of Jalan Bangsar and Jalan Maarof, previously occupied by Unilever, Pelaburan Hartanah Bhd has plans for a mixed-use development as well.
Hong also notes that in front of Menara TM, UOA Development Bhd's subsidiary Paramount Properties (not to be confused with Paramount Corp's Paramount Property Development) is planning a development comprising 132 serviced apartments and 44 hostel rooms in a 25-storey tower. Meanwhile, in Jalan Bukit Bangsar, Suez Capital Sdn Bhd is planning its 9.78-acre Bangsar Hill Park, a redevelopment of the existing Sri Pahang flats.
With plenty of projects in the pipeline in the surrounding areas, what does the future hold for the idyllic Taman Bukit Pantai?