This article first appeared in The Edge Malaysia Weekly, on August 20, 2018 - August 26, 2018.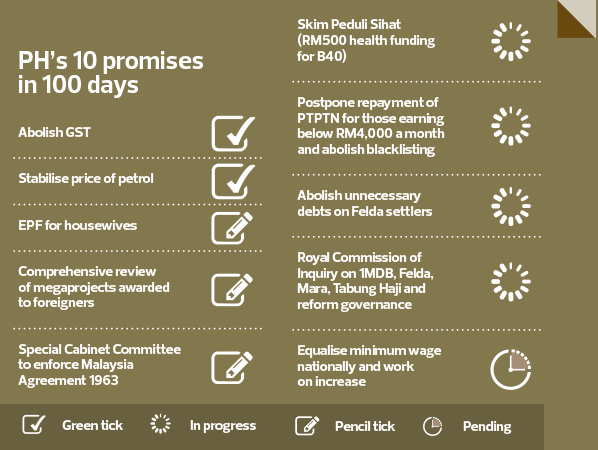 WHATEVER one's thoughts of the first 100 days of Tun Dr Mahathir Mohamad being Malaysia's prime minister again, it is clear the 93-year-old leader knows well the debt owed to the people who elected the Pakatan Harapan coalition into power on May 9.
The debt goes beyond delivering on its 10 promises in 100 days or the string of promises made in its 14th general election (GE14) manifesto. He and the government of the day owe it to the people to ensure that Malaysia will be known for its integrity and never again be seen as a kleptocracy — or, in his words, "a thieving government".
"In future, regardless of which party rules or whoever becomes prime minister and ministers, the strengthening of the nation's institutions will ensure that there is no corruption, abuse of power and theft of money and public property and, should it happen, [the perpetrators] will not escape legal action. This is what the government of the day holds to, respecting and appreciating the will of the people that the rule of law is upheld," Mahathir said in a special 20-minute speech, televised in Bahasa Malaysia at 8.30pm last Friday to mark the first 100 days of the Pakatan Harapan government.
The government, he says, had realised 21 promises or 35% of 60 promises in the Pakatan Harapan manifesto to liberate the country from corruption woes by putting in place good governance practices.
Anti-corruption and integrity institutions are being strengthened. Measures taken include establishing a Special Cabinet Committee on Anti-Corruption (JKKMAR) as well as the Governance, Integrity, and Anti-Corruption Centre (GIACC). The latter is mandated to meet the secretary-generals of all ministries as well as heads of department to identify risks of corruption and prepare an action plan to address them. The GIACC will also lead a team to draft a Political Funding Bill to combat money politics.
A National Anti-Corruption Plan will also be formulated to address issues of governance, integrity and anti-corruption. Legislation will be formulated to allow punitive action to be taken against public officers who deliberately steal or cause leakages or wastages of public funds and resources. A policy on the giving of gifts and donations to members of the civil service, including ministers and political secretaries, is being drafted.
Ministers and deputy ministers can no longer issue letters of support for projects or any other applications and heads of department have been told to disregard these types of letters and not see them as a directive.
All members of government, including elected representatives, will need to declare their assets. Public officers will also need to report gifts and other payments in kind. Guidelines on asset declaration by public officers are being expanded so that the prime minister and deputy prime minister too have to declare their assets to the Malaysian Anti-Corruption Commission (MACC) to ensure there is transparency and continuity.
The lack of such governance measures resulted in Malaysia's RM1 trillion debt burden. "Just paying the interest can bankrupt us, let alone the principal sum," Mahathir said.
"Efforts taken the past 100 days were not made in isolation [but] have taken into account the need to ensure the country's institutions are not left behind as we pursue the delivery of promises in our manifesto," he said, noting that 300 proposals put forth by a committee for institutional reform had been accepted by the current government.
"This government has an open government policy and will not conceal any crimes committed by anyone, including members of the Cabinet," he said, adding that the election of opposition member of parliament Datuk Seri Ronald Kiandee as chairman of the Public Accounts Committee (PAC) demonstrates the ruling party's willingness to be scrutinised by the opposition as well as the public.
What of the 10 promises in 100 days?
Even before the televised speech, Mahathir had admitted that the current government will need more time to deliver on the promises made in the Pakatan Harapan's GE14 manifesto.
"After Pakatan Harapan took over the government, we found that the damage done was far worse than we had anticipated. All departments were intimidated… their debt totalled a trillion ringgit, an unheard-of figure!"
The new administration has made some progress in most of the 10 areas in which it had promised change in the first 100 days, the most definitive being the abolition of the Goods and Services Tax (GST) on June 1 in favour of the new Sales and Services Tax (SST) come Sept 1.
Mega infrastructure projects have been scaled down, held back or cancelled. Wastage is being cut and projects renegotiated to save the government money.
Economists, however, are still waiting for greater clarity on how the new government plans to make up the RM20 billion revenue loss from scrapping the GST as well as deliver fiscal sustainability. The upcoming Budget 2019 on Nov 2 will be closely watched.
Stabilising the ringgit, ensuring consistent policies and minimising red tape and regulatory burdens are the top three areas that businesses would like the government to focus on, market survey firm Ipsos Sdn Bhd found from its recent survey of Malaysian businesses. Multinationals and large local enterprises also want better governance in the public sector while local SMEs want improved financial support and assistance for businesses.
Public approval rates for Mahathir is high at 71% as at August, according to the post-election survey by Merdeka Center for Opinion Research — ahead of the peak of 62% achieved by former prime minister Datuk Seri Najib Razak during his tenure between 2013 and May 2018.
Still, political pundits have their concerns when weighing the four-party Pakatan Harapan — comprising PKR, DAP, Parti Pribumi Bersatu Malaysia (PPBM) and Amanah — with the opposition: Umno and Pas.
Nothing escapes Mahathir. "After losing, Barisan Nasional still tried to complicate the situation by harping on racial and religious politics, and even attempted to drag in the rulers so as to incite hatred against the Pakatan Harapan government. Every appointment to key positions in the government was condemned in the name of race and religion. They forget that when they appointed officers, they had emphasised undivided support for their party."
In his speech, Mahathir said freedom of speech and freedom of the media will be respected but not when it comes to sedition. "Sedition will be defined," he said.
That's not a move to silence critics: "As human beings, we cannot run away from making mistakes but we are willing to be reprimanded and we will not act harshly against those who rebuke us."
Whatever that entails, if efforts to remake Malaysia continue beyond meeting the headline promises for the 100 days to delivering real change for the people, the country can hold its head high as she moves forward.
Save by subscribing to us for your print and/or digital copy.
P/S: The Edge is also available on Apple's AppStore and Androids' Google Play.