This article first appeared in Personal Wealth, The Edge Malaysia Weekly, on May 25, 2020 - May 31, 2020.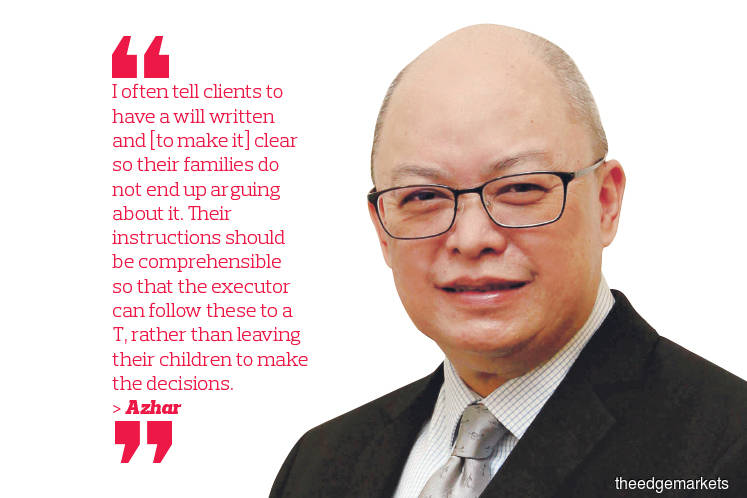 Photo by Patrick Goh/The Edge
The Covid-19 pandemic has not only impacted many lives and livelihoods but has also brought about a greater awareness of one's mortality and the need to prepare for the unexpected. This has compelled many consumers to put their affairs in order, according to Azhar Iskandar Hew, group CEO of Rockwills Corp Sdn Bhd.
In fact, when the coronavirus outbreak was beginning to spread in January and February, the company saw a record increase of 21% in the number of wills written compared with the previous corresponding period. 
Azhar, who took the helm at the largest professional estate planning company in the region last July, says the pandemic has made many realise the importance of writing a will because anyone could contract the virus at any time. The company has even received last-minute requests from those who were ill or had been diagnosed with Covid-19, which the company has had to decline.
"We said we were unable to do it for them because one, the person was quarantined. And even if we could get a will written for him to sign, there would be an issue of whether he had clarity of mind or was medically sound to sign the document. That is because we did not know what medication he was taking," says Azhar.
"But even if the person was of sound mind, who would be his witness in quarantine? A doctor or nurse could be a witness, but they would be too busy saving lives. Writing wills in a rush can also bring about mistakes such as misspelling a name or getting the identity card number wrong."
While the demand for will writing has increased, the Movement Control Order (MCO) has made the signing of wills difficult. Azhar points out that while communication with a client can be done online, the law requires the will to be signed physically by the testator and a witness.
"We have had people asking if they could sign their wills at home while we and the witness watch the signing take place via a video call. Unfortunately, the law says the witness must also sign the document. However, if the person dies before the document is signed by the witness, the video recording cannot be used as evidence of someone witnessing the will because the witness' signature would need to be there. The court would not grant probate in this case," he says.
Nevertheless, there seems to be a sense of urgency when it comes to having a will written. "In fact, during the MCO, our staff was working from home to prepare documents for wills and trusts. The only thing we could not do was get these signed. We are waiting for the conditional MCO to be lifted so our clients can come in safely to physically sign the documents. Some clients have already come to our office to sign documents on an urgent basis. But we make sure that we take all the necessary health precautions," says Azhar.
This is not the first time the company has witnessed an increase in demand for estate planning tools. There was a similar trend during previous disease outbreaks and major tragic events.
"This also happened during the Severe Acute Respiratory Syndrome (SARS) outbreak in 2003 and after the disappearance of Malaysia Airlines flight MH370 in 2014. We saw a lot of interest in will writing after the MH370 incident and had more than 2,300 wills done over a period of two months. But that interest subsided over time. The only thing that was different in those crises was that there was no MCO imposed," he tells Personal Wealth.
The MCO has been a motivating factor for the company to expedite its plans to digitalise most of its will writing and estate planning process. It wants certain processes to be digitalised to complement what is allowed under the law, says Azhar.
"We had already initiated the digitalisation of our processes over the last two years before Covid-19 struck. The MCO has merely given us a clear indication that we have made the right decision. It has also given us the opportunity to spend more time focusing on our infrastructure and implementation."
"While wills need to be signed, some back-end processes can be digitalised to speed things up and ensure that clients get a much better service. We are also looking to digitalise some of our internal processes and potentially allow clients to have direct access to us. Once we do so, they will be able to see the services they can have with Rockwills. 
"When they sign up with us, we will be able to suggest to them solutions that they need and are still lacking. We are looking to implement these plans starting from this year. The actual architecture is being discussed and finalised."
The company has quickly adapted to the new normal of doing things online, including giving public talks and conducting training. "The public have responded well to the new way of communicating online to get their wills and trusts done," says Azhar.
Accidental passion
Azhar has more than 22 years of experience in the estate planning industry as a will and trust practitioner and speaker. However, he did not have this career in mind during his university days.
After graduating with a Bachelor of Laws (Honours) degree from the University of London, Azhar was invited to tutor A-Level and first-year law students at a local college. When it closed three years later, he decided to practise law. 
Azhar was about to do his Certificate of Legal Practice when he was offered the position of legal adviser at Rockwills in June 1997. Intrigued by the estate planning landscape, he accepted the job. "I became part of the Rockwills family by accident in the sense that I did not have any idea what estate planning was when I joined," he says.
Later, Azhar became head of the training department. He left the company in 2003, but rejoined Rockwills Group in 2005 as general manager of Rockwills Trustee Bhd.
"[During the early years] at Rockwills, will writing and estate planning quickly became my passion. While it is an area that not many look into, it is an important one because everyone will die eventually. Those with assets often ignore the need for a will, leaving their assets to be distributed by the law, which is where a lot of family issues occur," says Azhar.
He adds that his own family went through the same conundrum when his grandparents passed away. "They did not have a will at the time. There were intense discussions between my aunts and uncles about the distribution of jewellery, properties and whatnot. Looking at the problems they faced, it was painful because at one point, things became heated and it took time for them to reconcile.
"I often tell clients to have a will written and [to make it] clear so their families do not end up arguing about it. Their instructions should be comprehensible so that the executor can follow these to a T, rather than leaving their children to make the decisions."
Azhar has found that in many cases, "money was much thicker than blood". He has also witnessed many obstacles and challenges faced by families when the will did not clearly define the conditions and parameters.
"Sometimes, family members expect more than what was given in the will. And sometimes, a family member is appointed as the executor and [there have been cases where he or she] and misuses that power to abscond with some of the inheritance," he says.
During Azhar's time at Rockwills Trustee, he and his team came up with innovative trust products and services such as a Buy-Sell Trust (previously known as BVPT), Declaration Trust (previously known as UDeclare), OPC (one person company) Trust and Pet Trust (see box story).
Buy-Sell Trust, which was introduced in 2007, is a legal arrangement between business partners who agree to sell their equity interest in the company upon their deaths or permanent disability. Under the arrangement, the surviving partners will purchase the equity interest after agreeing to a method of valuation to determine a fair price for the stake. Business partners will execute the agreement, power of attorney and trust deeds as well as appoint Rockwills Trustee as the trustee and facilitator of the future sale and purchase of the equity interest.
Azhar says the team saw a need for the Buy-Sell Trust when they realised that business owners, especially non-family businesses, would need an exit plan to sell their equity interest to their partners at a fair value. Many business owners generally agree in principle not to have their family members take over their interest in the business after their death.
"This is because it is difficult to establish a working relationship with family members who are not experienced or do not have any knowledge of the business. And even if the family member decided to sell the equity interest, he would not be able to determine a fair value," he says.
"Moreover, if the equity interest of the business partner is inherited by his family members, the ownership of the business will be fragmented and could lead to closure of the business."
The Declaration Trust was also launched in 2007. The product allows the client to declare himself as a trustee to hold specific assets on trust to benefit himself and his beneficiaries. Rockwills Trustee will be appointed as the substitute trustee and given power of attorney by the client to allow it to take over the role of trustee and the trust assets as indicated in the trust deed. "It is a popular type of trust as it allows the client to manage the trust as trustee prior to his death, permanent disability, mental incapacity or disappearance," says Azhar.
The manner in which a trust is usually set up requires the client to transfer ownership of assets to a trustee, who will hold the assets for the beneficiaries over a period of time. Azhar points out that even the wealthy are reluctant to transfer ownership during their lifetime. So, if a trust could be structured to allow the client to have control and ownership of the assets as a trustee during his lifetime or when he is not incapacitated, he would be more willing to set up a trust.
"We came up with the Declaration Trust to allow the client to be the main trustee and Rockwills Trustee as the substitute trustee ready to take over the role and assets upon the client's death, permanent disability, mental incapacity or disappearance," he says.
Under the Companies Act 2016, a private limited company is allowed to have a sole shareholder and director. The OPC Trust was introduced in 2017 for such business owners, whose equity interest can be quickly transferred to their beneficiaries by Rockwills Trustee upon their death, permanent disability, mental incapacity or disappearance. 
Azhar says this would prevent the company secretary from choosing who would take over the business. OPC Trust is the first of its kind in Malaysia
Educating the public and creating awareness
Azhar was deputy CEO of Rockwills Trustee from January 2016 to June 2019, before taking on his current role when Rockwills co-founder Saw Leong Aun retired last year.
Azhar has seen the company grow and evolve over the years, in addition to increasing public awareness of the importance of estate planning tools. When the company started in 1995, it only drafted 108 wills. Business grew tenfold the following year and then doubled to about 2,500 wills in 1997.
Rockwills did a record-breaking 16,000 wills last year. In fact, the company set new records in nine of the 12 months. "I inherited the success. The success of Rockwills is due to Saw's hard work. I am expected to build on from there and make the company more successful," says Azhar.
"[We set records] due to the growing societal awareness and also having more franchises join us from the financial planning industry. When more people talk about estate planning, clients are more ready to accept the idea."
Rockwills has written more than 250,000 wills thus far. However, there is still room for growth as the size of the market is about five million people.
"What was challenging for me and Rockwills was building public awareness of wills and trusts and creating a sense of urgency for these to be done. We are continuing to do that as the number of Malaysians who have written a will is still low," says Azhar. 
"There has not been a formal study but by our estimates, the current number of Malaysians who do not have a will is between 85% to 90%. Ten years ago, the percentage would have been higher, likely at 95%. Despite the growing awareness, many still procrastinate."
He points out that the bigger one's estate is, the more important it is to be detailed when estate planning. He says many clients come in just wanting to do a simple will, even though they are tycoons or millionaires. 
"If you have a business that is a gold mine and provides income for the family, and you do not have a succession plan, it will lead to fragmentation and family feuds when the estate is distributed. You need a plan to structure the business into a trust so that you will not have family members fighting and former in-laws suddenly becoming shareholders because you did not review your will that named your ex-wife as a beneficiary," says Azhar.
"This is in a business succession trust rather than a will. So, the succession of management in the company can take place quickly by using a trust, which will not be subject to probate upon death, and also prevent any complications in succession in the event that the business owner becomes permanently disabled or mentally incapacitated or goes missing without any sign of returning.
"People often ignore estate planning because they do not have the time for it. This is sad because when you are close to death and finally want to do it, estate planning will be tough because time will be against you. You need to think these things through, especially business succession planning."
Protecting furkids with a pet trust
As more people begin to think of their pets as extended members of the family, they are more willing to put money aside to ensure that their pets are given a good life after they are gone.
Last month, Rockwills Corp Sdn Bhd introduced a pet trust, the first of its kind in the country, to give pet owners peace of mind in the event that they die before their furkids.
"Just by looking at what is being offered at pet shows and exhibitions, we found that people want the best for their pets. They groom their pets and send them to pet hotels when they are out of town. Pet stores have also mushroomed, which means people are willing to pay money to ensure that their pets are well taken care of," says Rockwills group CEO Azhar Iskandar Hew.
"We have had quite a number of enquiries about pet trusts, especially from clients who are writing their wills and want to know whether they can include clauses for their pets."
However, Malaysian law does not recognise animals as legal beneficiaries, he adds. To circumvent this, the pet trust was introduced. 
The pet trust is structured in such a way that it does not take effect if the pet dies before its owner. However, the pet will be taken care of and provided for if the owner dies first.
Azhar says the pet trust is different from trust products meant for humans, whose concerns are typically about the day-to-day expenses of the family, their children's education and medical bills, to name a few. A pet trust is designed to appoint a guardian to take care of the pet, essentially maintaining its lifestyle.
"The client may even prescribe the type of food, what time to take the pet for a walk or to give it a bath. The trust can get pretty detailed. Very often, the client wants the pet to be fitted with a microchip for detection purposes. A lot of things can be done for a pet, depending on how elaborate you want it to be," says Azhar.
Under the terms of the trust, the human beneficiary or pet guardian has to be appointed to receive the benefits of the pet trust, which is then used to take care of the pet. The money in the trust is used to pay the guardian a salary as well as provide him with sufficient funds for the care of the pet. The money can be for food, grooming, vaccinations and visits to the veterinarian. The trust can mention specifics such as a pet hotel to house the animal when the guardian is away.
"The trust can pay for all these expenses. Having a guardian for the pet trust is important because this person will be taking care of the pet," says Azhar.
The pet trust can also make payments for the pet, provided that it is a dog or cat and has been microchipped.
Azhar expects to see single-digit sales growth for the pet trust in the coming months and for it to increase progressively in the future. That is because it will take some time to explain to people the concept of a pet trust, what a pet owner can do with it and how they can benefit from it.