This article first appeared in City & Country, The Edge Malaysia Weekly, on June 28, 2021 - July 04, 2021.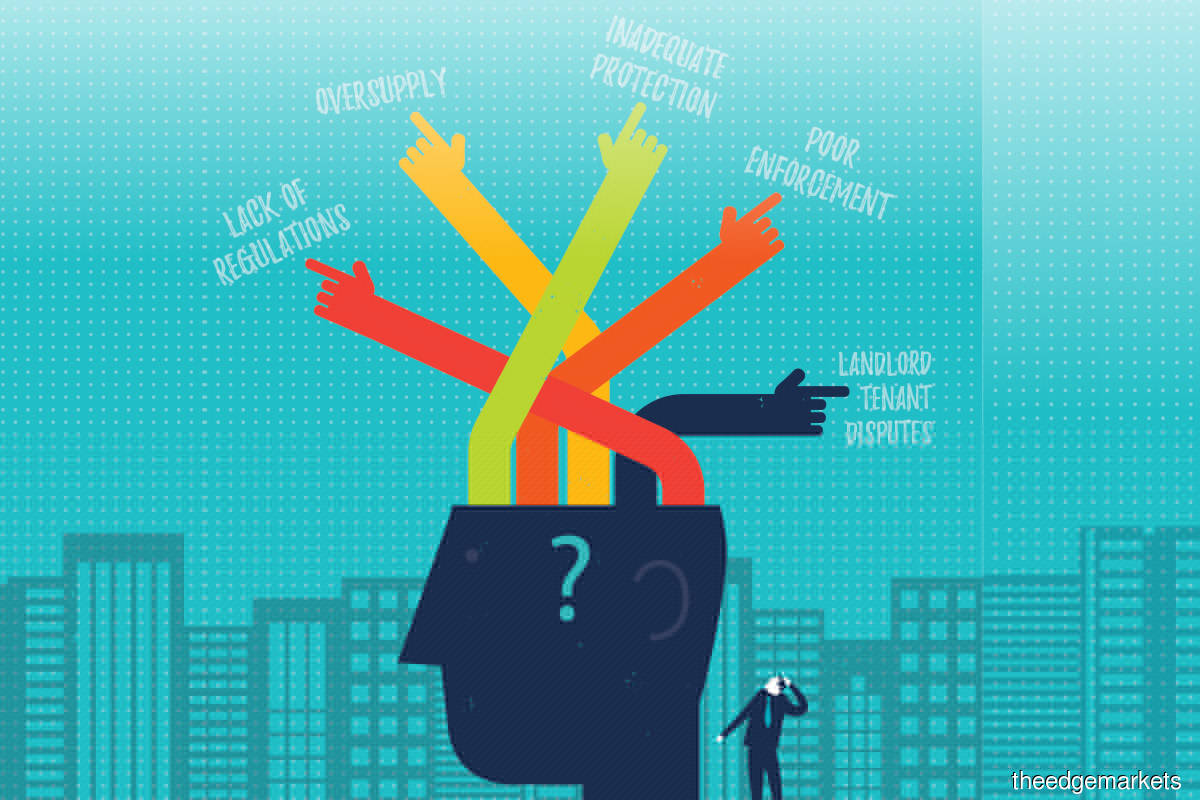 Property investors buy residential properties for various reasons. Some do it to get passive income from rental. But is Malaysia's residential rental market a sustainable and robust one? Several property experts, including a real estate negotiator and property lawyer, weigh in on the current situation.
CBRE | WTW group managing director Foo Gee Jen says, "Broadly speaking, the common issues in the rental market revolve around the lack of regulations or guidelines on the obligations of tenants and landlords; the lack of an enforcement framework for tenants and landlords to exercise their rights in the event of a dispute; no centralised registry to facilitate background checks and screening of tenants, which is helpful to reduce the risk of rental default and disputes; and no formal independent third party to arbitrate tenancy disputes.
"Apart from the Residential Tenancy Act, [which is to be tabled in parliament], there is no Act in force to govern residential rental practices in Malaysia. Instead, contract law is referred to. This means the proceedings for tenancy disputes are likely to be tedious and may not be justifiable in terms of monetary and time costs for landlords to pursue," he adds.
According to Rahim & Co International Sdn Bhd Real Estate Agency CEO Siva Shanker, the main issue is the oversupply of property. 
"The biggest challenge is the huge oversupply of high-rise units. These are properties that were sold with the promise of very quick capital gains or high-rental returns," he says. 
Siva adds that those who bought the property to flip found that there were no buyers and were forced to put the unit on the rental market. This only led to more problems, as the oversupply in the market put pressure on rents. 
"There will continue to be an oversupply situation; there will be many people who have properties for rent but no tenants. This situation will be around for a long time. Nothing can be done immediately. The only way is to slow supply," he says. 
"Even if you [control] the new incoming supply, the existing supply is still there. There is really nothing you can do to alleviate this problem. It is like balls that are bobbing in a lake but the lake has a small outlet. Those balls will be bobbing around for a long time."
Kim Realty Sdn Bhd CEO Vincent Ng concurs that there is an oversupply situation and that the challenge at the moment is the suffering of the people.
"The biggest challenge is tenants asking for a reduction in the rent.  Some are unable to pay the rent,  some don't pay on time, some run out of money to pay the rent. The landlords are having a tough time as they have to keep servicing the bank loan," he says. 
"Tenants also have a problem, because some of them have lost their jobs, some have had pay cuts, and some who are in business have seen their incomes affected. It looks like everybody is suffering."
Says Reapfield Properties (HQ) Sdn Bhd senior real estate negotiator Carmen Lee: "For the landlord, the problems generally are that many strata properties are inadequately maintained and incoming supply is reducing rental returns."
She highlights that there is poor enforcement and understanding of the Strata Management Act 2013 and the lack of a maintenance culture. She believes that authorities need to make a careful study and prevent overdevelopment to ensure supply is managed well.
In addition, Lee says there is inadequate protection for tenants' rights. "Most clauses in the tenancy agreement definitely favour the tenant … but when it comes to practice, I notice a couple of things. First, for tenants, there is a clause about 'wear and tear'. The owner gets to decide what is considered wear and tear."
She also points to the waiting period for the return of the one-month security and utility deposit. "The landlord will have up to 30 days to check the unit and refund the tenant. This is not done on the spot. [Tenants] feel this is unfair because in that one month, if the landlord wants to take that money and run, there is no way they can reach them because they no longer live in that property.
"Most of the time, the landlords are at the mercy of the tenants. They hope they can get a good tenant to take care of their unit. But some tenants may encounter shrewd landlords who deduct the deposit. There is no clear-cut decision when it comes to this matter," Lee says.
From a legal perspective, the challenge continues to be tenant and landlord disputes. "On-time rental collection has always been a challenge given that possession of the premises has been given to the tenant during the period of tenancy," says Chur Associates founder and managing partner Chris Tan. 
"Given the legal doctrine that possession is nine-tenths of the law, enforcement methods like eviction are also challenging. What can be even harder is when the tenant is not contactable and no longer in the premises, but all his or her personal belongings remain intact in the premises. Disputes regarding the condition and maintenance of a furnished property during the tenancy and the yielding up of the premises at the end of the tenancy are also a common challenge."
Possible solutions
Legislation could be regarded as the primary step to improve rental undertakings in the market, says CBRE's Foo. "This creates a level playing field for both tenants and landlords to confidently take part in the rental market. Besides that, setting up a centralised registry of tenants' and landlords' profiles will [promote accountability by] both parties and increase transparency, thereby reducing incidences of disputes.
"Last but not least, establishing an independent public agency, for example, a tribunal, will essentially stitch the regulation and enforcement functions together to promote fair rental practices and activities. 
"In short, in order to increase participation in the rental market, the rights of the parties concerned would first need to be assured. Over time, provisions on other rights and obligations associated with rental activities have to be made comprehensive and relevant as well. Utility charges, default, eviction or access ban, appropriate use of the unit and the rental calculation are among the potential aspects to be governed." 
While legislation may help streamline the rental process, Foo points out that the Ministry of Housing and Local Government in 2020 was considering whether to include the control of house prices and rents in the Residential Tenancy Act. 
"To have rent control stipulated in the Residential Tenancy Act is restraining the free market and flexibility for rent, hence it is not supported," he says.
Rahim & Co's Siva agrees that an agreement between two parties should not be regulated by the Act. "It is a private contract between two people. You can't legislate on that," he points out.
Kim Realty's Ng notes, "I think it should be left to the [players in the] residential rental market to self-regulate."
Instead of legislation, some property experts say there is a need for greater enforcement and clearer guidelines on rental matters to ensure a transparent rental market.
Reapfield's Lee suggests carrying out strict annual audits, checks and reviews on strata developments, be it the physical building or audit of accounts,  and better training for enforcement teams.
She also recommends that decisions on whether to approve new developments should be made by a committee with diverse backgrounds, such as environmental groups and residential associations, and not just state and federal government members, with more transparency regarding the approval process.
Lastly, she suggests having a special entity to regulate rent, like what is being done in Australia, where each state has a different authority that deals with the tenancy deposit or bond. 
Without clear regulation and enforcement, Lee believes that Malaysia will lose out on having a healthy rental market simply because there is a lack of transparency and trust. Moreover, it may even deter foreign investment.
"I have friends who have invested in property in Australia and the UK. They have sent me the presentations done by the property companies over there, and they observe that they are very sophisticated. Everything is done so well; the guidelines and reports are so clear. It makes investing in those countries easy," she says. 
Moreover, clearer guidelines will also help secure expatriate tenants who, according to Lee, appreciate clear guidelines, as they have a lot of questions regarding the tenancy agreement compared with the locals.
CBRE's Foo thinks a system similar to the one in Australia could help regulate the rental market here. "In an advanced residential rental market like Australia, more scrutiny is being applied throughout the process in ensuring fair and transparent rental practices, he says.
Some examples he highlights are prospective tenants being required to attend a physical viewing of the unit prior to renting as part of tenant verification; prospective tenants being required to disclose their financial health and the details of all future occupants of the unit; landlords/agents being allowed to conduct inspection of the unit during the tenancy period; tenants being obligated to maintain the unit in good condition with allowance for reasonable wear and tear only; and the establishment of a Rental Bonds Office, which functions as the trustee managing the rental deposit collected for a tenancy.
"Although the procedures in Australia may seem too meticulous, they are exemplary mechanisms to safeguard the interests of the landlord as the ultimate owner of the property. Certainly, there will be plenty of room for improvement in Malaysia for the domestic residential rental market to advance and mature," says Foo.
Says Kim Realty's Ng, "Having a good monitoring system to check the background of both landlord and tenant will definitely help, especially in the current situation."
He adds that some home-renting organisations do a Central Credit Reference Information System (CCRIS) or Credit Tip-Off Service (CTOS) check to find out the financial health of an individual on behalf of the landlord, which can help in weeding out those with a bad credit rating.
Chur Associates' Tan thinks having a better enforcement regime to maintain a balance between protecting the interests of the tenant and those of the landlord may be helpful. 
"Perhaps a rental insurance scheme can be explored and offered to better protect the interests of the landlord, which potentially include the interests of the financial institutions that have participated in financing the purchase of the property," says Tan.
"Also, setting up a special court or tribunal to look specifically at landlord and tenant disputes for timely decisions and enforcement should be a key driver," he says. He adds that a structured tenant screening database with input from landlords can go a long way to prevent any potential disputes.
Rahim & Co's Siva says nothing much can be done to bolster the residential rental market as the oversupply situation will take some time to clear. He believes that market forces will dictate property prices and if developers reduce supply, the market will stabilise. "Supply will reduce and one by one, the balls that are bobbing in the lake will slowly find their way out through the narrow passage and go away," he says.
Additionally, Siva suggests that developers should develop alternative asset classes so that investors do not put all their money into residential property.
"One of the best [alternative asset classes] is the traditional shophouse. You can rent the ground floor to a shop and the first and second floors as offices, and you can get between 4% and 5% returns. Yes, it takes a while, but once you get it tenanted and once the area picks up and booms, then you are on your way," he says.
To the query that businesses may not want to move into a shophouse, Siva believes there is a simple solution.
"The occupancy of these shophouses can be increased even more if you legislate that every person who opens a shop on the roadside move into the shophouses. These people are using public space, public areas and public everything without paying a single cent in rent or tax," he says.
"What we should do is formalise it and put them in a shophouse. If they cannot rent the whole shop, then rent it out to 20 stalls. Eventually, every on-street stall will be off the streets. When occupancy improves, yields improve. When yield improves, it will turn the shophouse into a better asset class. When this happens, developers will probably build more shophouses than high-rise serviced apartments."
The residential rental market is evolving. Although no system is perfect, hopefully, with the ongoing efforts to improve it, it will in time produce a sustainable and robust market that contributes to the economy and the needs of a mobile population.