This article first appeared in City & Country, The Edge Malaysia Weekly, on May 6, 2019 - May 12, 2019.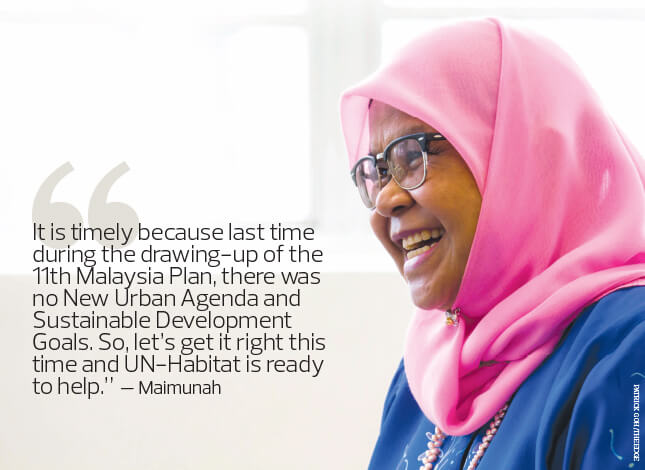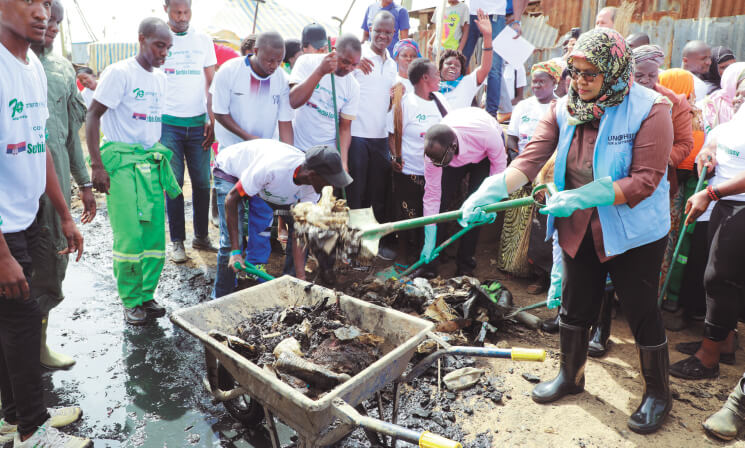 Maimunah participating in the first-ever monthly clean-up with Kibra green youth group in Nairobi, Kenya, this year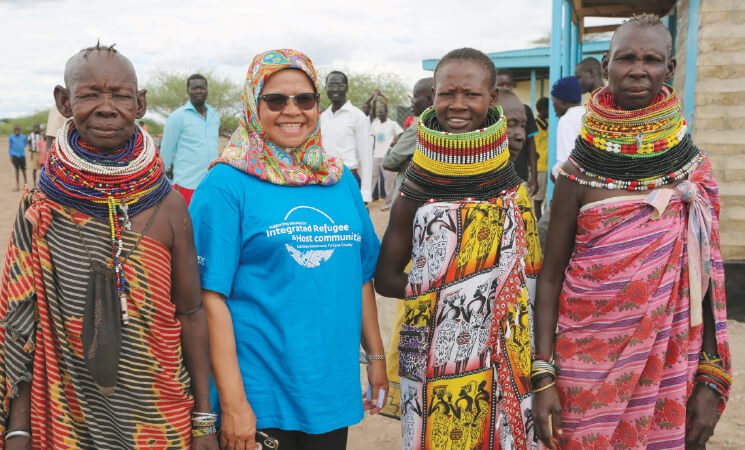 A visit to UN-Habitat projects in Kalobeyei new refugee settlement camp in Turukana, Kenya, last year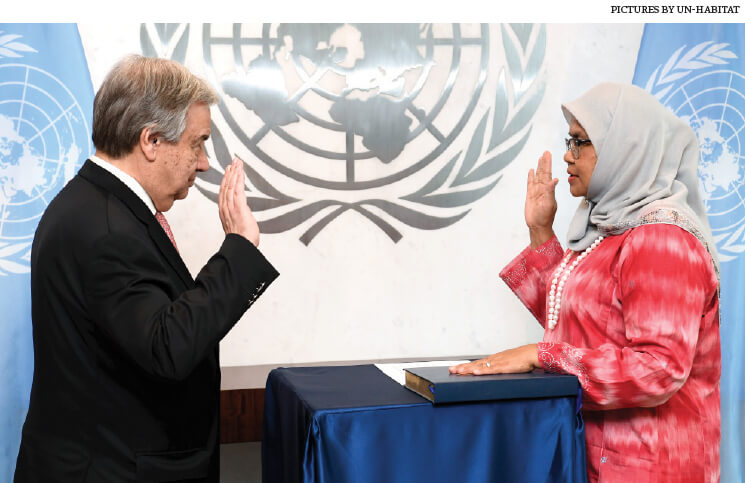 Being sworn in by Guterres
It is never easy stepping into a new role, what's more when the office is on another continent. But for Datuk Maimunah Mohd Sharif, taking up the post of UN-Habitat executive director was just another challenge in life that she welcomed with open arms.
UN-Habitat is the United Nations agency for human settlements and sustainable urban development. Headquartered in Nairobi, Kenya, it has several regional offices around the world.
This is not the first time City & Country managed to interview Maimunah. In March 2017, we caught up with her when she was making waves in Seberang Perai, Penang. In this exclusive interview, she tells us all about her journey to her current post with the UN agency.
The dynamic professional town planner holds a Bachelor of Science degree in Town Planning Studies from the University of Wales Institutes of Science, the UK, and a Master of Science in Planning Studies from the Malaysia Science University. She had begun her career as a town planner at the Municipal Council of Penang Island in 1985.
Maimunah took over the reins at UN-Habitat in January last year from Dr Joan Clos and has in a short time made her presence felt. She recalls her first major task was to complete the agency's governance reform report, which was assigned to her with a seemingly impossible deadline.
"One big thing that was given to me by UN secretary-general António Guterres at my swearing-in at the end of January was for me to do the governance reform report for UN-Habitat. I was given six months until June 30, 2018, to complete it," Maimunah recalls.
Still new to the agency and barely known to most of her staff, Maimunah rolled up her sleeves and knuckled down to get it done. With persistence, determination and a strong belief that people want to give their best, the report was completed with time to spare.
"We completed the report on June 26, four days before the deadline," she smiles. "I have to thank the member states and all my staff for believing in me and giving me the support. Because from the very beginning, I told them I could not do it alone."
While this is certainly a feather in Maimunah's cap, what was surprising was that the report had been stuck in limbo for 14 years. It was finally endorsed on Nov 23 last year. "For me, this is a big achievement for UN-Habitat," she says.
When asked how she was able to complete the task, Maimunah attributes it to divine help. "God is great. When the UN was discussing the governance transformation report in 2017 in New York, I was there. I didn't know anything about it. But the work had been done and presented, but somehow it was not endorsed."
Her ability to get things done and motivate others has been one of her strengths since her days as City Council of Penang Island mayor and Municipal Council of Seberang Perai president. In these roles, she had implemented policies and activities that brought positive outcomes to Penang island and Seberang Perai.
In addition, she had exposure to regeneration and gentrification through urban renewal projects in George Town.
In November 2009, Maimunah was the first general manager to establish George Town World Heritage Incorporated and managed the George Town World Heritage Site, which was inscribed by Unesco in July 2008.
So, Maimunah did not take up the new challenge at UN-Habitat with her eyes shut. And thankfully, she says, her husband is supportive — he was instrumental in her taking the job as she had told him that she would only do so if he went along to Nairobi.
Sustainable and affordable housing
On her recent return to Malaysia for a visit, Maimunah was asked by Prime Minister Tun Dr Mahathir Mohamad about her thoughts on affordable housing.
"I told him we need to build communities. If we don't, then social problems will arise. We have to do it for affordable housing," she says.
However, what is more important are the three As, she adds. "The first 'A' is affordability. Affordability varies from country to country as it is dependent on the economy.
"The second 'A' is accessible. I told Tun, 'If you build affordable housing 20km away [from cities] where land is cheaper and the developer gives you the product free, but employment opportunities are in the cities ... you need to have public transport. And the last 'A' is adequate supply of affordable housing."
However, Maimunah says, compared with many other countries, Malaysia has many institutions and policies in place to develop sustainable cities.
"Malaysia has the Town and Country Planning Act, National Land Code and so on. To me, it is the implementation part that is lacking. Malaysia has five-year development plans and is now drawing up the 12th Malaysia Plan," she says.
"I have met the ministers and said, 'As the new government, let us start off on the right foot.' It is timely because last time during the drawing-up of the 11th Malaysia Plan, there was no New Urban Agenda and Sustainable Development Goals. So, let's get it right this time and UN-Habitat is ready to help."
She also suggests that the government sets up development committees based on themes rather than having them under a sole department.
"I was in Madrid [recently] and the mayor was looking at the functions of the local government. He wanted to do away with departments and have themes. For example, the theme of climate change, and in the group, there will be planners, engineers, architects, developers, economists, sociologists and so on," she explains. In this way, a wider perspective could be considered.
Moreover, she believes that there is a cost for everything and, therefore, a plan needs to be valued accordingly.
"I learnt that when you are drawing up a plan, you have to treat it as an investment plan. And we have to put a cost to it. For example, if you want to implement the plan in the next six years, how much will it cost? What benefits can you get from it if implemented? And what is its impact on the economy, on society and so on. We have to do that," she emphasises.
Then, the difficult part comes in — execution. And the statements in the plan need to be translated into actionable components.
"When you translate the statements into action, you'll need tools, you'll need the process to be documented so we can share it with other cities. The first thing is to do your analysis, then do your public engagement. For UN-Habitat, we put down all these specific steps [or processes]," says Maimunah.
She adds that most governments do not have much time to carry out studies or gather information and want the projects to be implemented quickly.
"We have to demonstrate a quick win ... what is the low-hanging fruit that we can help identify?" she says.
According to Maimunah, a lot of explaining is needed to get the message across to people. "To win their buy-in, to get them to trust us, you have to explain. To be able to do that, you must have the knowledge and the power of negotiation and public relations.
"For me, it isn't about getting funding, it is about making change ... to make UN-Habitat more visible and positive change laid on the ground. Sometimes, there are roadblocks in terms of understanding, roadblocks in terms of funding.
"If they don't have funds, we can approach the private sector to help do a private-people partnership or something like that. Then, we must show a quick win, meaning a small project with a big impact. I believe in 'small project, big impact' because it makes them want to do more. That is the tactic of negotiation."
Ultimately, Maimunah believes governments must come up with holistic plans that engage with different ministries so that the projects can be carried out efficiently. "I am always promoting the idea that every city should have an integrated holistic sustainable development plan."
This requires various ministries or agencies to work together for positive outcomes. To give an example, Maimunah relates how separate conversations with the Vietnamese ministers of construction and environment about green land and environment matters saw her bring the two together to create greener spaces and healthier marine life. This led to the signing of a memorandum of understanding where UN-Habitat will help develop the holistic plan.
"We have to integrate vertically and horizontally. Vertical integration concerns the central government, state government, local government and the community. Horizontal integration is what you want to do. This is very important if you want a sustainable outcome," she explains.
Creating change in UN-Habitat
Apart from travelling the world and providing insights into the UN-Habitat's assistance to make cities sustainable, Maimunah is also bringing change to the agency itself. When she first joined it, there were some matters she needed to deal with. Among them were staff motivation and a financial deficit due to a drop in contributions from member states.
"I had town halls and went to the offices to talk to the staff. We had a survey and I asked them what they wanted, what was lacking and what were the strengths. I asked because I could not impose my views as I was new," says Maimunah.
"So, I got the information … the staff knew better than me about what needed to be done. And I believe that everyone wants to give his or her best. There is nobody, I think, who wants to work with the UN and wants to be the worst employee. I really believe people want to give their best. That is why I see every staff member as an asset.
"Then, I set up a task force. This is because I believe that it will reduce the silo mentality when people work together and build a sense of teamwork and team spirit. Sometimes, we can be good in society but not good in our own organisation. So, I set up a task force, led by a senior officer, to look into the transformative change process in April last year.
"Through this process, we identified 49 things we wanted to achieve. We did not engage a consultant to do this because I believe that if we want to change, we have to be the agents of change.
"And we advertised for change agents, with no extra pay. They volunteered and we got 40 of them internally and also from the regional offices … they became the champions of change. There is ownership and a sense of belonging and pride, and they want to bring about change."
There are other projects and reports like the UN-Habitat strategic plan that Maimunah and her team have to complete within the next five years. However, she is not complaining about the workload — it is her nature to tackle challenges head-on and overcome them.
"I realised that if I came in and everything was running smoothly, I would have to ask myself what value-add I could bring to UN-Habitat," she says.
So far, her efforts to build trust within the organisation and among member states are gaining traction. But what happens if she hits a roadblock?
"I'm very persuasive," Maimunah smiles. "I negotiate, I try to make them understand. To me, every country, every politician wants to do their best for their country."
A woman with a vision and heart for change, Maimunah is relishing her role at UN-Habitat and helping countries build better and sustainable cities.
UN-Habitat partners Think City
UN-Habitat has signed on Think City Sdn Bhd as its key partner in Malaysia. UN-Habitat executive director Datuk Maimunah Mohd Sharif and Think City managing director Hamdan Abdul Majeed believe that they can leverage each other's international and local knowledge.
"Think City has been actively supporting the agenda of making cities more liveable and sustainable. It has been looking at ways to overcome the challenges of urbanisation ... working in partnership with local governments," says Hamdan.
"Our collaboration with UN-Habitat is to draw upon its global experience, know-how and tools to help us better execute the kinds of projects that make our cities work. That is the first area or aspect.
"The second area is ... UN-Habitat has been actively involved in diagnostics and analysis of cities. We would like to work with it to draw upon its expertise to understand Malaysian cities better. It can tell us the projects needed for our cities.
"The third area is ... experiences are not a one-way street. What we have learnt in Malaysia can also be applied by others with the help of UN-Habitat.
"We can be part of a global network of cities working towards making change. Because the business of making cities is a continuous process, we have to constantly assess and be up-to-date with the needs of the populace. The key lies in how we do it in a sustainable manner ... we can learn from one another and shorten the learning curve by leveraging the knowledge and experiences of organisations like UN-Habitat.
"It is in this context that we formalised a partnership ... not only to be its delivery partner for the region but also to work with it on a global platform wherever possible."
Maimunah says, "I have known Hamdan for a very long time. We've worked together on projects in Penang and Butterworth. We understand each other. He is also a champion of cities and urbanisation. It is very important that we have a local partner. In other cities, we also have local partners. UN-Habitat, at the global level, shares knowledge and practices on making better cities.
"Now we have a collaboration with Think City … working together on urban regeneration. UN-Habitat has programmes in Melaka, Cyberjaya and Iskandar, Johor," she says.