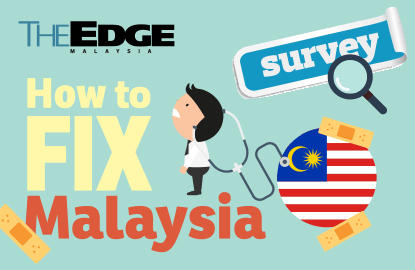 This article first appeared in
The Edge Malaysia Weekly
, on December 19-25, 2016.
From the survey:
What positive things happened in Malaysia this year?
IN our survey, we asked people to look back and think of some of the positive things that happened during the year.
Over half of the 16,000 comments we received were in the negative — none, not sure, can't think of any, zilch, nothing worth mentioning. None at all.
However, it was not all doom and gloom. There were many comments that lauded Malaysia's sporting achievements this year.
There were many reasons to be proud. For one, national shuttler Datuk Lee Chong Wei beat arch-rival Lin Dan of China in the Rio 2016 Olympics although Lee did not win gold.
Also, other Malaysian athletes did the country proud at the Olympics and Paralympic Games.Malaysia won four silver medals and one bronze at the Olympics as well as three gold medals and one bronze at the Paralympics.
On the whole, while they seemed frustrated by issues of corruption and poor governance, many respondents were glad the mass rapid transit (MRT) and light rail transit (LRT) extension projects had been completed on time. Some were also pleased that ride-sharing services such as Uber and Grab were made legal this year.
Although the state of politics in Malaysia leaves much to be desired, the majority of the respondents said they were happy to see a more diverse turnout at the Nov 19 Bersih 5 rally for electoral reform as well as more political awareness among the masses.
The majority of the respondents were also happy to note that the US Department of Justice has filed civil lawsuits to seize assets worth more than US$1 billion allegedly siphoned off from 1Malaysia Development Bhd (1MDB). They said the scandal had cast an international spotlight on systemic corruption in the country.
Others were glad to see the Malaysian Anti-Corruption Commission (MACC) cracking down on corruption in the public and private sectors. Notable cases include those involving Sabah Water Department officials and some government-linked companies.
The optimists among the 21,439 respondents had every reason to cheer: Malaysia had lovely weather, minimal haze, a good rainy season that did not end in devastating floods and there were no natural disasters.
Will 2017 be a better year for Malaysia?
When we posed this question in the survey, we received almost 16,700 comments. A significant number said they did not think the new year will be any better. This is not surprising. On average, the respondents rated Malaysia's prospects at an average of 38.81 out of 100.
Many respondents pointed out that Malaysia was still facing economic headwinds, in part due to external conditions, poor domestic consumer sentiment and the weaker ringgit against major currencies.
Many too pointed out that governance issues continue to loom large. Yet, it is worth noting that many of them said 2017 will be better if there were change on multiple fronts.
Still, a small percentage of the respondents were hanging on to hope.