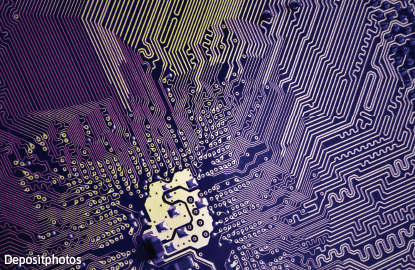 This article first appeared in digitaledge Weekly, on September 21 - 25, 2015.
DESPITE expectations of lower global demand for smartphones due to moderating economic growth around the world, most locally listed companies — that count some of the world's biggest semiconductor foundries as their clients — remain positive on their earnings prospects. In fact, some quarters argue that the fears have been exaggerated by recently released statistics.
Last month, information technology research and advisory firm Gartner Inc highlighted that in the second quarter of 2015, global smartphone sales grew at the slowest rate since 2013. Its research director Anshul Gupta said smartphone sales in China fell for the first time year on year — a 4% decline. China is the world's biggest market for smartphones, representing 30% of total sales in 2Q2015.
Meanwhile, global industry association SEMI forecast in July that the total semiconductor equipment market will expand 7.1% to US$40.15 billion in 2015, but will grow at a slower pace of 4.1% in 2016 to US$41.79 billion. The front-end wafer processing equipment market is forecast to grow 9.8% in 2015 while the test equipment and assembly and packaging equipment markets are expected to contract by 2.8% and 8.5% respectively.
Unisem (M) Bhd chairman and group managing director John Chia Sin Tet opines that fears of a slowdown in the semiconductor industry have been overblown.
"Yes, some of our customers are facing a slowdown, but others are not. Overall, the business condition is quite good and we are still running at full capacity. After all, Unisem is just a tiny player in a very large industry, so we will not be affected that much," he tells digitaledge Weekly over the phone.
Unisem (fundamental: 1.80; valuation: 1.20) provides semiconductor assembly and test services for global electronics companies. It offers an array of leadframe packages for the global integrated circuit (IC) market, with turnkey services, including electrical and thermal characterisation, assembly, testing and failure analysis.
Globetronics Technology Bhd CEO Heng Huck Lee tells digitaledge Weekly that he does not expect the slowdown in the global mobile and semiconductor industries to affect the group's performance significantly.
"We have a diverse base of products. The demand for sensors and quartz timing devices will be stable in this quarter, while LED volumes are smaller due to oversupply issues in the industry," he says in an email.
Globetronics' (fundamental: 3; valuation: 1.70) product portfolio targets a few world-renowned customers in the sensor, quartz timing and LED sectors that have exposure to smart devices, consumer electronics, automotive and general lighting segments.
Last year, the global semiconductor industry was said to be worth US$335.8 billion, according to the Semiconductor Industry Association. The industry is dominated by the US, South Korea, Japan and Taiwan.
For instance, South Korea-based Samsung Electronics Co and SK Hynix Inc are two of the world's largest memory chip makers while US-based Intel Corp is one of the largest integrated device manufacturers (IDMs) in the world.
Taiwan Semiconductor Manufacturing Co Ltd (TSMC) and United Microelectronics Corp are contract chip manufacturers, also known as foundries, that produce chips designed and sold by fabless companies. Fabless companies refer to those that outsource the manufacturing of chips so that they can focus on the design, development and marketing of their products.
Malaysian semiconductor and semiconductor-related companies are mainly in the outsourced semiconductor assembly and test (OSAT) business as well as the manufacturing of automated test equipment (ATE).
In other words, they are involved in the lower end of the value chain, serving the semiconductor manufacturers, brand owners and IC developers and fabricators.
Unisem, Malaysian Pacific Industries Bhd (fundamental: 2.10; valuation: 2), Globetronics and Inari Amertron Bhd (fundamental: 3; valuation: 2.10) are among the well-known Malaysian OSAT companies.
Basically, OSAT companies provide outsourced services, including assembly, packaging, fabrication and testing for the IDMs, which are the brand owners of semiconductor ICs.
As for the ATE manufacturers and equipment suppliers, which include newly listed Aemulus Holdings Bhd, Elsoft Research Bhd (fundamental: 1.95; valuation: 2.10), MMS Ventures Bhd (fundamental: 3; valuation: 2.10) and ViTrox Corp Bhd (fundamental: 3; valuation: 1.50), they serve the OSAT companies and multinational semiconductor manufacturers.
In a nutshell, ATE manufacturers are engineering support companies that produce semiconductor testers to test electronic devices and semiconductors for their functionality. The ATE industry is highly dependent on the semiconductor industry — every semiconductor needs to undergo testing before it is packed or assembled into electronic devices.
Weaker numbers
Nevertheless, patches of weakness have emerged. The latest financial results of Penang-based Elsoft and ViTrox were weaker, signalling lower demand from upstream players.
Elsoft's net profit in the second quarter ended June 30, 2015 (2QFY2015), plunged 74% year on year to RM1.8 million.
ViTrox also saw its net profit decline 20% to RM19 million in the first half ended June 30, 2015 (1HFY2015), from a year ago.
ViTrox co-founder and president Chu Jenn Weng attributes the weaker results to the slowdown in the semiconductor back-end assembly and test markets in China and Taiwan as well as the soft smartphone and tablet markets.
"Our customers, mainly OSAT companies, have delayed or put on hold their capital investment in the supporting semiconductor back-end assembly and test market," he says.
In a move to mitigate market volatility, he says ViTrox aims to expand its product range and capture a bigger slice of the pie in various continents. "We will continue to strengthen our presence in China, America, Europe, India and Southeast Asia, including Malaysia, through our internal sales force and sales channel partners."
In July, Gartner forecast global semiconductor revenue to reach US$348 billion in 2015, a 2.2% increase from 2014, but down from its previous forecast of 4%.
The outlook for the key electronic equipment segments that drive the semiconductor market, including personal computers, smartphones and tablets, has been revised downwards.
In the smartphone market, Gartner said, Apple's iPhone was the bright spot with strong unit growth and increasing average selling prices, but the lacklustre performance of high-end Android smartphones and general softness in the smartphone market in China would continue to impact growth.
But it appears that most OSAT companies are unperturbed.
Unisem's Chia notes that half of the company's clients are from the automotive and consumer electronics industries while the other half are from the smartphone industry.
"It [Unisem's high exposure to the smartphone market] is not something to worry about because the likes of Apple, Lenovo and Xiaomi are still seeing strong market demand," he says.
He adds that TSMC, the world's largest foundry, has stated that its clients are reaching low inventory levels. More importantly, he says, China "can afford to slow down a little bit more" as the country remains as one of the largest economies in the world.
According to Worldwide Semiconductor Trade Statistics, the global semiconductor market has slowed down since early this year due to weaker global economic conditions.
The industry is expected to grow moderately at 2.3%, 3.1% and 3% in 2015, 2016 and 2017 respectively, mainly driven by demand for smartphones and automotive applications.
It is worth noting that optoelectronics, sensor and analogue semiconductor sectors are expected to have higher growth rates of 14%, 4.3% and 4% respectively in 2015. 
Riding this wave, Globetronics' Heng says the group is targeting to launch imaging sensors for smartphones and tablets in 4Q2015 and a health sensor for wearables in 2016. These new products are expected to not only mitigate the weakness in demand but also contribute to healthy volume growth in the next two years.
"The global environment is starting to look more challenging. At the same time, there are lots of opportunities to be tapped from the Internet of Things (IoT), where the connectivity of a multitude of devices will provide huge opportunities if we are able to capitalise on our strength in the sensors segment," he says.
Meanwhile, a semiconductor analyst with a local research house says the slowdown in smartphone sales growth should not affect the related local players badly, as most have their own niches.
For example, he says, Globetronics is leveraging the IoT ecosystem by supplying sensors to world-renowned smartphone brands. In addition, smartphones of the future are expected to have more sensor components. This will boost demand and therefore alleviate concerns of slower smartphone sales growth.
It is learnt that most of the local semiconductor players supply mainly to the smartphone and automotive sectors, but sales growth from the latter is more stable than from the former.
---
Note: The Edge Research's fundamental score reflects a company's profitability and balance sheet strength, calculated based on historical numbers. The valuation score determines if a stock is attractively valued or not, also based on historical numbers. A score of 3 suggests strong fundamentals and attractive valuations. Visit www.theedgemarkets.com for more details on a company's financial dashboard.