This article first appeared in The Edge Malaysia Weekly, on May 24, 2021 - May 30, 2021.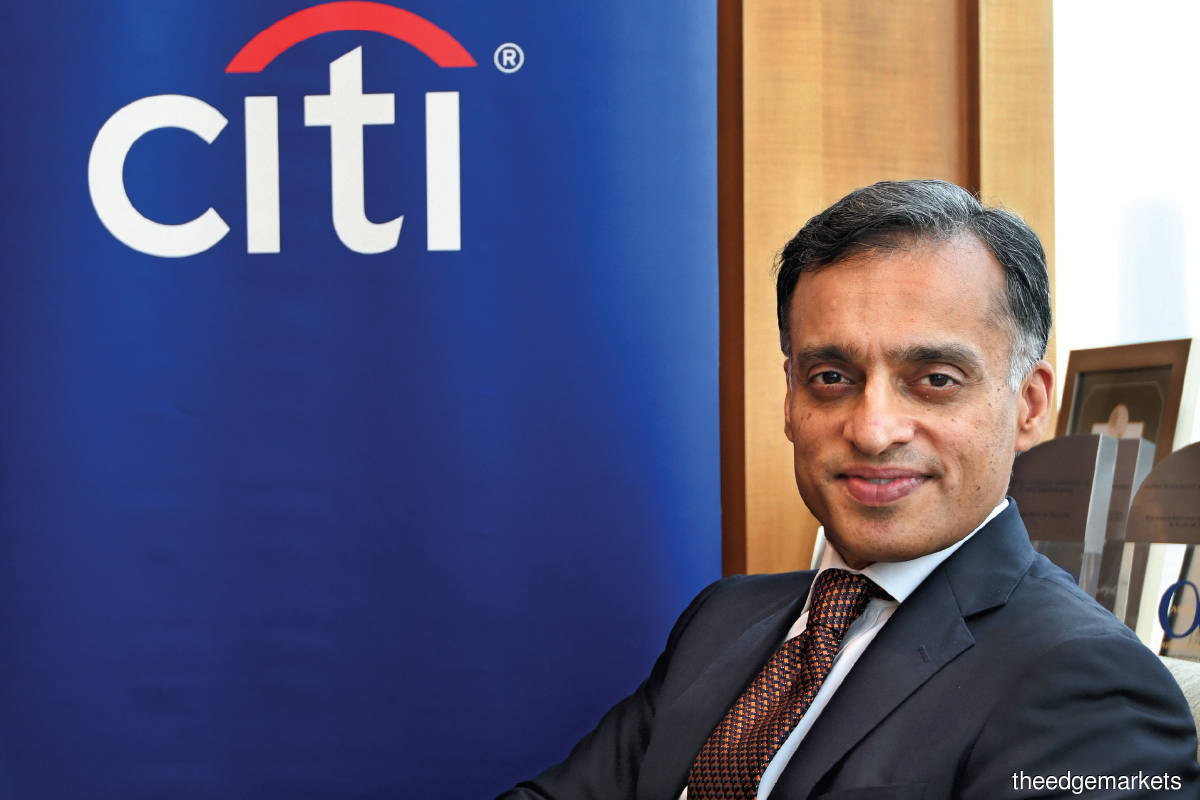 TO say Usman Ahmed took over the reins as Citi Malaysia's CEO at a very challenging time is an understatement.
Not only has the veteran banker had to grapple with managing a corporation in the midst of a tough operating landscape upended by the Covid-19 pandemic, but his arrival in Malaysia was also just days after an Emergency was declared in the country.
In addition, just 2½ months into the top job here effective Feb 1, a major shift in business direction was announced that will impact Citi Malaysia structurally, putting the spotlight on the new chief and the banking group.
"I'd say it's definitely the most eventful first quarter I've had in a new role!" Usman says, laughing.
But he is quick to add that he "couldn't have asked for anything more given the circumstances", giving credit to the Citi Malaysia team on the ground for helping him to settle in.
"I've moved seven times internationally and while nothing could have prepared me fully for moving during a pandemic, I'd say that prior experiences and [having been in] a CEO role before have been helpful. In addition, my support from the ground has been absolutely fabulous. I'm just one person of a team," Usman tells The Edge in his first interview as CEO of Citi Malaysia.
"The pandemic has brought challenges but at the same time highlighted to us the importance of being more compassionate, being more resilient and relying on technology to be able to serve our customers in an uninterrupted fashion," he adds.
In his 21 years with Citi, Usman has held a range of senior leadership roles in Bahrain, Hong Kong, Pakistan, the Philippines, United Arab Emirates and the UK. Prior to taking on his current role in Malaysia, Usman was  CEO of Citi Bahrain, Kuwait and Qatar, and global head of Islamic banking.
"Malaysia is an economy and a franchise that has significant opportunities for us, which makes it very interesting and challenging at this time to lead the franchise, and I am very excited about the prospects it holds," Usman says.
"Yes, the environment has been very complex globally, regionally and for Malaysia. According to Citi Research, growth prospects will continue to improve as vaccination programmes roll out across the globe, and we expect that for Malaysia as well. Malaysia has proven itself to be an economy that delivers growth and is resilient across multiple sectors, and that will not change for the medium to long term," he adds.
Not one to waste time, Usman is quick to address the subject on everyone's mind when it comes to Citi today — the sale of its retail banking assets in 13 markets across Asia-Pacific, Europe and the Middle East, including Malaysia.
"With respect to the announcements that have been made, it's a lot of work right now. We are focused on making sure that first and foremost we are maintaining full-fledged consumer banking operations as normal ... We want to see that our employees and  customers are fully taken care of during and after the process has concluded," Usman says.
He admits that the bank "has a lot of decisions to make as things unfold" and cannot say much at this early stage.
"But what I can tell you is that the interests of our customers, employees and stakeholders will be uppermost in the decision-making process," he stresses.
"It's a long process but then again, this is something we are managing very closely and we will continue to give timely updates along the way," he adds.
When asked what kind of "decisions" the bank is grappling with right now with regard to the sale, Usman answers: "The ultimate objective is working towards finding the right buyer for this business ... one that can continue to look after the prospects of the customer franchise as well as our employees for the long term."
Usman reveals that "the preference" would clearly be for the group to find a buyer who has an interest in the whole business rather than piecemeal. "Again, there are no decisions made on this at this point … We are at a very early stage right now."
He clarifies that the buyer will have to have a banking licence to operate in Malaysia as it is a sale of the consumer portfolio only. Citi Malaysia's consumer portfolio consists of the credit card business, mortgages and wealth management.
When asked on the number of potential buyers and whether they are local or foreign, Usman says they are still "very early" in the process and declines to comment on that. "We've got strong initial interest. We're not in a position to discuss specifics," he states.
As for the tentative timeline for the process, Usman replies: "Many months is what I can tell you.
"It could easily extend into next year. That's quite a likely scenario ... as you know, the process involves regulatory and certain other approvals."
Citi 'remains strongly committed to Malaysia'
The news mid-last month on Citigroup exiting retail banking in 13 markets across Europe and Asia took many by surprise globally — from employees and customers to the banking fraternity and industry observers alike. Bloomberg reported that the sale could fetch as much as US$6 billion (RM24.87 billion).
Usman gives the assurance that there is "no change" when it comes to Citi Malaysia's commitment to all of its businesses here, and that includes consumer banking.
"We remain strongly committed to the country and the strategic announcement on the consumer banking business that was made is not in any way reflective of any one country. It's a global strategy shift that involves 13 markets. We have fantastic franchises, including the consumer franchise here in Malaysia. The sale is to allow us to move the consumer business to an institution that is better placed in terms of scale, and we ourselves are fully committed to growing our franchise on the institutional side," he says.
"We remain focused on ensuring a completely normal consumer banking operation; it has never been any other way since we made the announcement. But I think people sometimes perceive that things might change immediately ... There is no change," he says.
"All consumer banking products and services, including credit cards, mortgages and wealth management, continue to be offered through our branches and online channels. We are not taking action on employees or portfolios whatsoever. This is a strategic decision we have made and we know what the timelines are for execution ... so we're not looking to make any moves that will be detrimental to the process. Why would we want to make the business less attractive if we ourselves are conducting a process for a sale?"
Usman acknowledges that the macro environment continues to be "complex" globally as well as locally.
Against this backdrop, he insists that Citi Malaysia's mission and strategy remain the same: to focus on serving customers well across all client segments.
Topmost on his mind is to help Citi Malaysia's employees and customers navigate the pandemic. "We are still in the middle of it," he points out.
"That focus encompasses looking after the health and well-being of our colleagues. It involves operating a safe working environment, us offering financing assistance and flexibility to customers, and helping our clients access capital locally as well as internationally," he adds.
On top of that, Citi Malaysia will continue to focus on growing its institutional banking business here.
"The Institutional Clients Group is the larger part of our business today and we are further strengthening our commitment. Deepening our client relationships and expanding our coverage remain the focus for us," Usman says.
"We are the only bank in the world that has a physical presence in 96 countries and we do business in over 160 countries. We enable access to international markets for our Malaysian clients and help them expand overseas. The Malaysian economy continues to attract foreign direct investment and we also facilitate FDI and trade flows," he adds.
The institutional banking business contributed 60% to the RM801 million net profit of Citi Malaysia's FY2019 (ended December), with the remaining 40% coming from the consumer banking business.
The contribution is fairly consistent with the trend in the previous years, with the institutional banking business contributing 58% (2017: 64%) to the RM788 million (2017: RM763 million) net profit of Citi Malaysia's FY2018 while 42% (2017: 36%) came from the consumer banking business.
Citi Malaysia's solutions centres are another area of focus for Usman. "They are a growing part of our presence in Malaysia and we will continue to invest," he says.
Today, Citi Malaysia's solutions centres include its trade and cash processing hub in Penang that operates 24/7, covering 50 countries and processing more than 69 million transactions annually, with a value of approximately US$29 trillion. In addition, its anti-money laundering (AML), fraud operations and securities services hub covers 17 countries from Kuala Lumpur.
Citi Malaysia is also committed to investing in a "strong drive towards digitisation", having launched its digital-first strategy last year.
"Digitisation is one of the defining trends for the future. We have almost 99.9% of our corporate transactions digital," Usman says, adding that Citi Malaysia is a top foreign bank for corporate e-payments, with a 27% market share on transaction value.
When asked how much Citi Malaysia will be investing in the digital agenda, Usman clarifies that Citigroup's digitisation budget is not country-specific.
"We have a global platform and it's made available in Malaysia, and we overlay with local innovation as well as connectivity where required. We benefit from being part of Citi's global technology infrastructure," he says.
Citing the example of WorldLink, Usman says it facilitates digital payments for clients in 140 currencies from Malaysia.
Beyond that, ESG (environmental, social and corporate governance) is also a top priority for the bank.
"Citi recently announced a commitment of US$1 trillion to sustainable finance by 2030 and to Net-Zero greenhouse gas emissions by 2050. We have always been an industry leader on sustainability ... But we are now raising the bar for ourselves and the industry," says Usman, noting that an ESG taskforce has been set up at Citi Malaysia to adopt Citi's global ESG capabilities and deliver products and content locally.
Eye on Islamic banking pie
Usman brings to the table over two decades of experience in Islamic banking. With that wealth of experience and with Malaysia being at the forefront of Islamic banking, naturally he has plans to raise Citi Malaysia's game in this segment.
"We would also like to significantly expand our Islamic banking business in Malaysia. There is a lot of upside potential there and having higher growth in Islamic banking is going to be very much part of our business planning exercise," he says.
"We'll undertake new product development as well. We've had successes and innovations that we've done in the Middle East. I was the global Islamic banking head for Citigroup twice, so I look forward to that (growing the Islamic banking business for Citi Malaysia)."
Why compete in a saturated market in which competition will be stiff? Moreover, many foreign Islamic banks have not done well here.
But Usman is unfazed and remains confident that Citi Malaysia has a value proposition in the Islamic banking space.
"Today, as a US bank, we can offer shariah-compliant US dollar nostro account services. That is something that local banks do not offer and probably cannot offer with the same level of competitiveness," he points out.
Given this, Usman believes Citi Malaysia's "value proposition in the Islamic banking industry is different from that of the local banks".
"We've done sukuk issuances for first-time issuers across the globe using innovative shariah structures. Our focus is to make our global distribution capabilities and access to international capital markets available to our clients here in Malaysia. Likewise, for market risk management products to help clients manage exposure to rates and currencies … and at the same time, expand our ability to facilitate Islamic trade finance through our global trade platform," he notes.
Usman is cognisant of the fact that the Islamic banking industry is not as large as the conventional banking industry.
"I don't think we are looking at this as a plug for our consumer banking business. Our strategy for Islamic banking is a function of the market opportunity in the industry," he explains.
For the nine months ended Sept 30, 2020 (9MFY20), Citi Malaysia's Islamic banking business saw its net profit fall to RM7.2 million from RM87 million a year earlier mainly owing to net loss derived from the investment of Islamic banking funds of RM43.6 million versus a net gain of RM49.3 million in the previous year, with the higher income attributable to the doubling of deposit balances. Total assets stood at RM3.5 billion, which is about 8.5% of Citi Malaysia's total assets of RM41.3 billion as at Sept 30, 2020.
Looking at the publicly available full-year accounts, the Islamic banking business contributed 10% to FY2019's profit after tax.  
Taking into account Usman's plans and strategies for Citi Malaysia, coupled with the tough operating environment and structural shift the group plans to embark on, what does the group's earnings trajectory look like?
Usman attributes significant provisions for loan losses made last year at Citi Malaysia to "prudent management in a complex macro environment". He is still expecting a challenging environment this year but notes that things are improving.
"It's about balancing the risks and also providing support to customers and employees," he says.
Citi Malaysia registered a net profit after tax of RM391 million and a revenue of RM1.6 billion for 9MFY2020. This is a decrease of 41% or RM274 million in net profit from the previous corresponding period.
The decline in net profit was mainly due to higher allowances made for loans, advances and financing. Its 9MFY20 earnings are the latest available results.
Banks' role in the pandemic
In the midst of the pandemic, Usman observes that banks have been very much part of the solution when it comes to the Covid-19 crisis that has hit the world hard.
"Banks are very much a part of the solution for helping society navigate the pandemic. It's a responsible place to be in. We are happy to play our role," he says.
He opines that banks are also at the heart of the solution for sustainability by providing financing.
"Banks conducting their business in a more socially responsible manner are going to help spur the momentum towards attainment of the UN's Sustainable Development Goals," he adds.
He also points out that banks are at a point where the evolution of their business models is driven by technology. Furthermore, customers are looking for an increased level of flexibility, speed, convenience and security in their transactions.
"Banks are at the forefront to be able to shift and adapt their business models to make that possible for our customers," Usman says.
"For us, with the network that we have, being able to enable growth and economic progress by providing access in a consistent manner with seamless service delivery across 96 countries — that is very important."