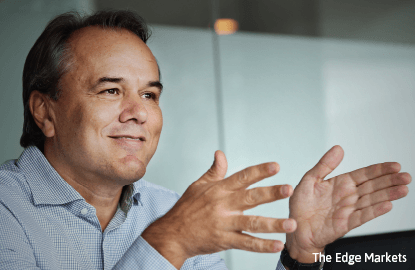 This article first appeared in The Edge Malaysia Weekly, on November 9 - November 15, 2015.
MALAYSIANS love data," says Maxis CEO Morten Lundal, referring to the company's analysis of its customers' data usage, which shows that Malaysia is "as advanced as anybody" in what he calls "mobile internet terms".
"The average data consumed by our customers is 1.4GB, but it is also remarkable that prepaid users consume almost as much as postpaid users, and our LTE users now use 2.3GB," he tells The Edge.
"This love for internet and the high data volume we are providing is comparable to that in the most advanced nations. Not only is the usage high but also the coverage and speed we enjoy here in Malaysia are comparable to the best."
Yet the speed at which Malaysians are lapping up mobile data capacity is expected to require more spectrum in the next three to five years — the reason telecommunications companies like Maxis are eyeing the 700MHz spectrum band.
According to Lundal, the 700MHz is the key identified band for mobile services in Asia-Pacific and has been released in countries like Taiwan, Australia and New Zealand.
"This spectrum delivers good coverage as the signals travel far and can further enhance capacity, thus giving better user experience for LTE [4G]. This band can play an important role in achieving the [11th Malaysia Plan's] goal of 95% broadband coverage," he says, adding that Maxis expects its data traffic to grow more than five times in the coming years and is already effectively using its existing spectrum allocation.
"With increasing subscriber need for bandwidth, on top of the existing spectrum, there is conservatively a need for at least 2x10MHz of 700MHz. The availability of the 700MHz spectrum for the big mobile players is directly linked to the average data speed Malaysians will experience a few years from now," he says when asked about spectrum adequacy.
According to him, the worldwide growth in data needs has nudged international regulators to make more spectrum available. "For example, the European Union's plans provide that at least 1200MHz spectrum be identified to address increasing demand for wireless data traffic. GSMA research shows that 600MHz to 800MHz of additional spectrum will be required for mobile use by 2020."
Expectations are that spectrum in the 700MHz band, which is currently used for analogue television broadcast, will only be freed up in 2017 or 2018, after broadcasters in Malaysia migrate to digital transmission in a lower band, which is expected to happen next year, at the earliest.
In the meantime, the question over the cost of Malaysia's "Big Three" mobile operators — Maxis, Celcom Axiata Bhd and DiGi.Com Bhd — getting additional spectrum to meet the rising needs of their 10 million plus subscribers has been causing some unrest among investors, worried that unexpectedly high spectrum cost could eat into their dividend pool.
"It is sort of an old issue that is not entirely old because the GSM900 and GSM1800 spectrums could be reassigned and cause disruption," a seasoned investor says, flagging the area to be a potential source of additional income, which the government can rechannel to boost rural broadband services.
Another fear is that the quality of service could be affected by technical glitches when there are huge changes in spectrum allocation if an industry-wide spectrum refarming exercise were to be done.
"Therefore, a redistribution of value within the industry without any customer benefit should not be the focus. Rather, it is more important to add new spectrum to the industry," the investor adds.
As it is, mobile operators like Maxis have seen data prices falling over the last few years "and more so over the last few months due to intense competition" despite the rising demand for mobile data. Will this trend continue?
"We do not see the price decline continuing as operators have a cost to serve. It is very expensive to produce quality data on a wireless network, and although it is tempting to have low prices to attract customers, it has to be a viable model ... ultimately, it is also bad for customers as investments will be correspondingly low and, hence, quality," Lundal says, reiterating Maxis' commitment to continuously innovate to "create value for customers".