This article first appeared in City & Country, The Edge Malaysia Weekly, on March 22, 2021 - March 28, 2021.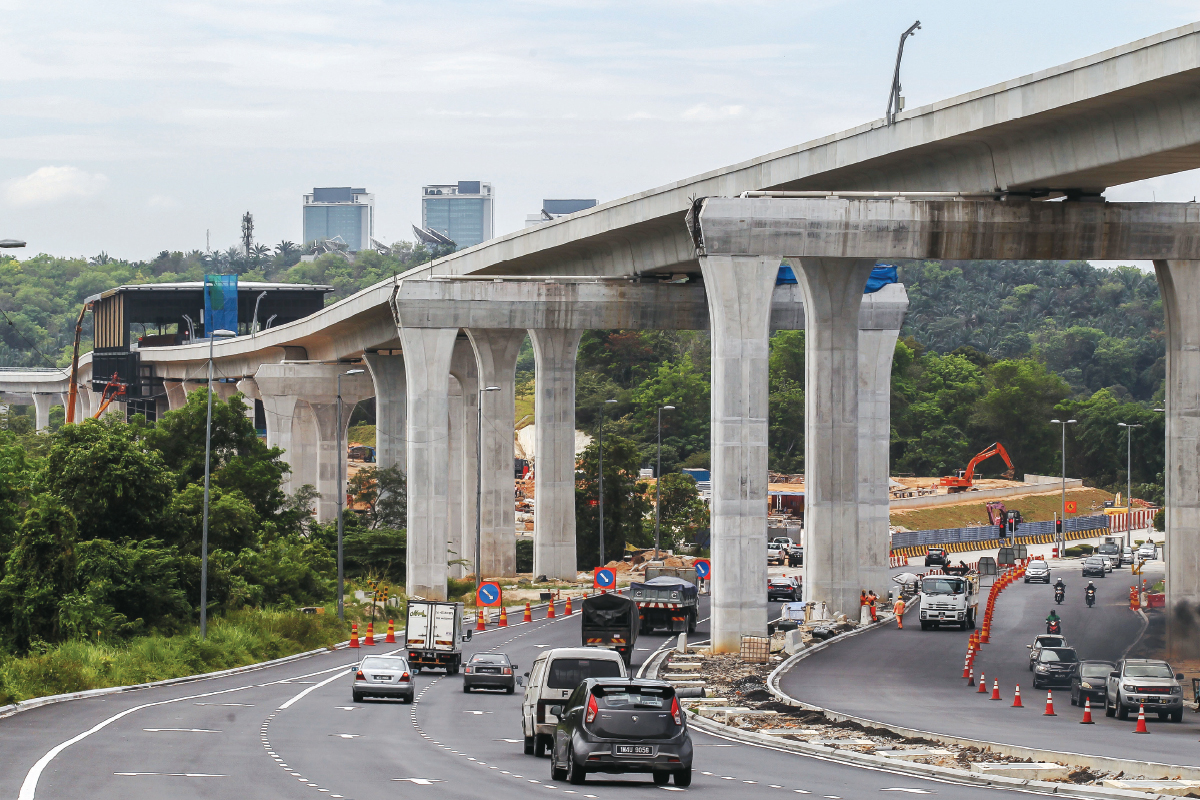 In the final instalment of our special coverage on the Klang Valley mass rapid transit MRT2 (Putrajaya Line), City & Country looks at abutting cities Cyberjaya and Putrajaya, which will host three stations — Cyberjaya North, Cyberjaya City Centre and Putrajaya Sentral. 
Cyberjaya and Putrajaya, which are in the district of Sepang in Selangor, are home to the federal administrative centre, multinational companies (MNCs) and data centres. Forming part of the Multimedia Super Corridor economic zone, they are positioned as the Silicon Valley of Malaysia. 
Despite their importance, these areas may not have seen stellar growth owing to their distance from the city centre, small populations and lack of connectivity.
However, property consultants foresee that property values in both cities will trend upwards once the Putrajaya Line is completed.
Formerly known as the Sungai Buloh-Serdang-Putrajaya Line, the Putrajaya Line is set to enhance property values in the areas and developments near it, according to property consultants. Phase 1 is due to be completed in July this year and Phase 2, in 2023. The line will serve as a corridor for about two million people between Kwasa Damansara and Putrajaya, with 35 operational stations (of which 11 are interchange stations) and an overall alignment of 52.2km.
Key drivers in Cyberjaya and Putrajaya
The Putrajaya Line will play a crucial role in improving the connectivity between Cyberjaya, ­Putrajaya and Kuala Lumpur city centre.
Metro Homes Realty Bhd executive director See Kok Loong says, "The Putrajaya Line will definitely be a boost for Cyberjaya and Putrajaya, as currently, public transport is only covered by KLIA Transit. With the opening of the new MRT line, Cyberjaya and Putrajaya will be connected to KL city centre."
"Furthermore, the [original master plan of] Putrajaya administrative centre does not allow [the building of] underground or basement car parks, whereby owners of private vehicles are supposed to park and ride at dedicated areas and most visitors are required to walk. With the Putrajaya Line, it will perfectly fit in with the original concept." 
Savills Malaysia director of research and consultancy Amy Wong concurs. "Both Cyberjaya and Putrajaya have always been predominantly destination townships. A trip to the Putrajaya administrative district typically meant a 90-minute or two-hour return drive, depending on traffic and starting point. Even getting a GrabCar to Cyberjaya and Putrajaya would cost a pretty penny.
"The Putrajaya Line will boost the connectivity of Cyberjaya and Putrajaya to the key activity hubs in central KL and other urban spots in Greater KL. Alternatively, the line provides a greater reason for decentralisation," she says.
Metro REC Sdn Bhd managing director Ng Weng Yew says, "The Putrajaya Line should have a positive impact on property values and investment returns at its immediate localities, especially those within a proximity of 1km such as Skypark @ Cyberjaya near Cyberjaya North Station; the ongoing mixed-use development of Cyberjaya City Centre (joint venture project between Cyberview and MRCB Land) and Garden Residence near Cyberjaya City Centre Station; and Presint 7, 8 and 9 near Putrajaya Sentral Station. It will attract more businesses, especially those in IT and innovation, to relocate to Cyberjaya."
Ng adds that the line may also boost the cities' desirability as a place to live among a young target audience, especially white-collar workers and professionals. "The direct transit and connectivity of the Putrajaya Line to the Express Rail Link (which connects KLIA to KL Sentral) at the Putrajaya Sentral MRT station will be a great catalyst for the overall appeal of this dynamic neighbourhood."
Savills Malaysia's Wong notes other key drivers in addition to the improved connectivity. "Both cities are mature and well-equipped with amenities and facilities. Established in 1995 and 1997 respectively, Putrajaya and Cyberjaya are not new urban areas as they are over 24 years old. They are considered self-sustained urban areas where residents are not required to travel out for their daily needs.
"Both cities are also known as job centres in the public and private sectors. Putrajaya is the administrative centre for the federal government while Cyberjaya is home to many local companies and MNCs, especially in tech and information and communications technology, as well as higher-learning education centres."
She highlights the strategic location and demographics of both cities. "Cyberjaya and Putrajaya are located at the southern tip of the Klang Valley, surrounded by major highways and close to KLIA. There is also a high household income in Putrajaya. The population in Putrajaya earns the highest household income (RM9,983 per month) in Malaysia after Kuala Lumpur (RM10,549 per month). Selangor has a household income of RM8,210 per month (Cyberjaya is part of Selangor). Nevertheless, there are not enough people living in Putrajaya and Cyberjaya to justify support businesses opening here, instead of in KL. The combined population in Putrajaya (90,000) and Cyberjaya (100,000) is about 190,000 persons." 
Metro REC's Ng says an increasing number of developers have entered this market in the past two decades. They include S P Setia, MCT, Mah Sing, Glomac, UEM Land and Villamas. 
"There is good infrastructure and highways (Elite Highway, Maju Expressway, Lebuhraya Damansara-Puchong, South Klang Valley Expressway and North-South Expressway), rail (Express Rail Link and MRT) and KLIA. Both cities have a relatively low crime rate and the areas here are typically equipped with security and surveillance cameras."
Steady demand, good outlook
Metro Homes' See observes that while Cyberjaya has attracted more people to move there in recent years, it still needs to create catalysts to fuel further demand. For now, he expects it to continue to be a student market, with spillover from government servants in Putrajaya.
"Most assets in Putrajaya are owned by the government, and [individual owners] are mainly government servants with conditions that require them to hold the unit because of the discount offered. The yearly transaction volume is very low. The trend will continue for many years to come," See says.
He points out that although Cyberjaya is well-planned and semi-mature, the scale of developments there is too large compared with its population and, as such, it has not reached its full potential even after 20 years. "In the last 10 years, most of the projects in Cyberjaya were focused on the student market, and comprised mainly small-sized units."
According to See, Putrajaya registers a yield of 3.5%, with rent below RM1.50 psf "because most government servants are provided with accommodation or can buy at a significant subsidy. Whereas in Cyberjaya, because of the student population, rents are much better but limited to small-sized or studio units only. Rent is RM1.80 to RM2 psf. Yield is 4% to 4.5%."
Savill Malaysia's Wong says: "Putrajaya and Cyberjaya might require a boost to their population. A higher population might trigger the opening of various types of businesses, jobs and affordable housing schemes that are needed in both Cyberjaya and Putrajaya. Some 69% of residential property transactions in Putrajaya were below RM500,000 each in 3Q2020 (3Q2019: 80%). Taking the gross median monthly household income of RM9,983, this means that most households in Putrajaya can afford property of up to RM700,000 in value."
See concurs. "For the market to be really vibrant, we need the population [to increase] and more conventional affordable housing. Prices will move up after the opening of the Putrajaya Line in 2023."
Notwithstanding, the demand for property in Cyberjaya and Putrajaya appears to have been steady over the past few years, according to property consultants.
"Between 2019 and 2020, landed homes such as the Putrajaya Presint 11 2-storey terraced homes could fetch prices of between RM750,000 and RM800,000 (1,750 sq ft), with a yield of 3.6%. The landed units in Cyberjaya Perdana Lakeview could fetch prices of between RM950,000 and RM1 million (1,920 sq ft), with a yield of 3%," Ng notes.
"Condominiums such as Saujana Aster in Presint 11, Putrajaya, could fetch RM420,000 to RM440,000 (1,050 sq ft) with a yield of 4.3%, while Serin Residency in Cyberjaya was priced from RM450,000 (1,380 sq ft) with a yield of 4.8%.
"Residential units in the primary market have a generally healthy take-up but in recent years, there have been reports of strata unit owners in Cyberjaya offering reduced rents [compared with the market rate] to attract prospective tenants. There were instances of auction units with reserved prices set at a considerable discount to the developer's purchase prices," says Ng.
"This phenomenon could be attributed to the general economic situation over the last three to five years, which coincides with the consolidation of the property market/prices and heightened property overhangs; and most buyers, especially of strata units, being investors (for rental income)/speculators, as there were certain projects here being offered with guaranteed rental return schemes in the early days."
There are some existing hurdles in both Cyberjaya and Putrajaya. 
"[A challenge] is the final-mile connectivity from and to the MRT stations and [whether there will be] adequate parking facilities at these stations. Gradually, this could be addressed by the prevalence of ride-sharing and car-sharing services in the country. Feeder buses must also have comprehensive coverage and frequent trips, as Cyberjaya and Putrajaya [cover] over 4,000 acres," says Ng.
Meanwhile, See notes: "For Cyberjaya, the locals [Malaysians] are not moving in compared with other townships such as Setia Alam and Kota Kemuning. It is mainly due to the fact that its scale is too big [without the population to support it] and organic growth is too slow. For Putrajaya, there is a lack of business activities; it is also too dominated by the government administration."
Wong adds, "[For both cities], there is a lack of affordable mid-range housing schemes. There is also a lack of vibrancy of businesses and nightlife."
The overall outlook for Cyberjaya and Putrajaya appears sanguine, however, with the addition of the Putrajaya Line. "The outlook is good with the new line and, at least, the population is starting to build up in Cyberjaya after almost 25 years," says See. "My advice to investors is to be selective in terms of products for Cyberjaya; some are doing well whereas some are just so-so. For homebuyers, it is a good place to live ...  the infrastructure is fantastic and the only issue is that it has not reached critical mass yet and is not as vibrant as Puchong and Subang Jaya."
"[Moving forward], the demand for affordable housing in Cyberjaya and Putrajaya may increase. However, due to the lack of such schemes in these locations, many homebuyers are looking at alternative townships on the fringe of Putrajaya and Cyberjaya that offer a more affordable price level (for example, Puchong)," says Wong.
Metro REC's Ng says, "The primary concern now is the impact of the pandemic on the overall economic conditions of the country — whether the pandemic-induced uncertainty will be prolonged, and the capability of our country to recover economically and politically soon. Until such uncertainties are addressed, it will be hard for the local real estate market to expect positivity in the medium term for now.
"Otherwise, the Putrajaya Line would be an impetus for [enhancing] the appeal of properties in Cyberjaya and Putrajaya (especially those in close proximity to the stations) but the commercial impact would generally be muted somewhat for a considerable period of time — until the country's economy recovers post-pandemic."