This article first appeared in City & Country, The Edge Malaysia Weekly, on May 18, 2020 - May 24, 2020.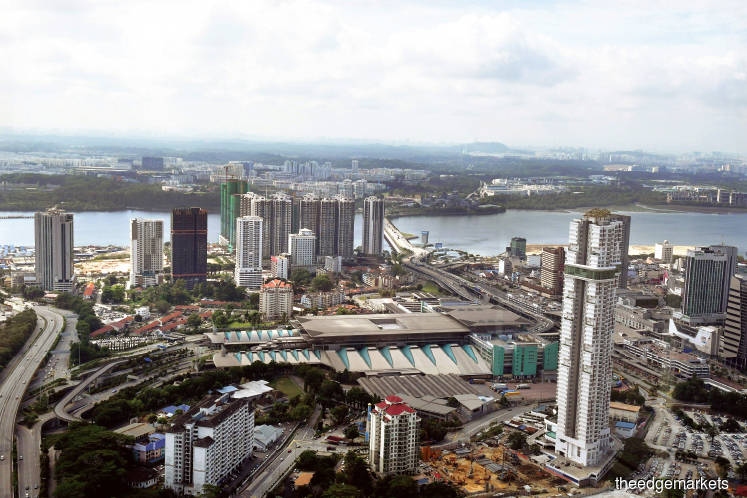 Prior to the outbreak, the property market in Johor was already relatively soft as developers continued to concentrate on clearing existing stock, especially high-rises. Photo by Low Yen Yeing/EDGEPROP.my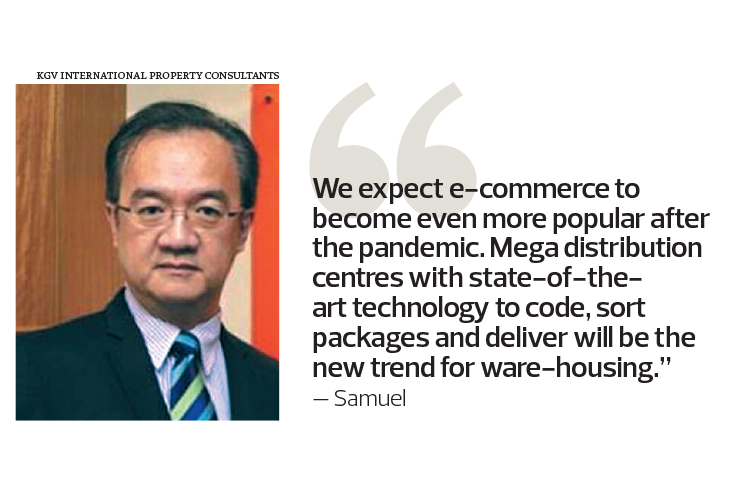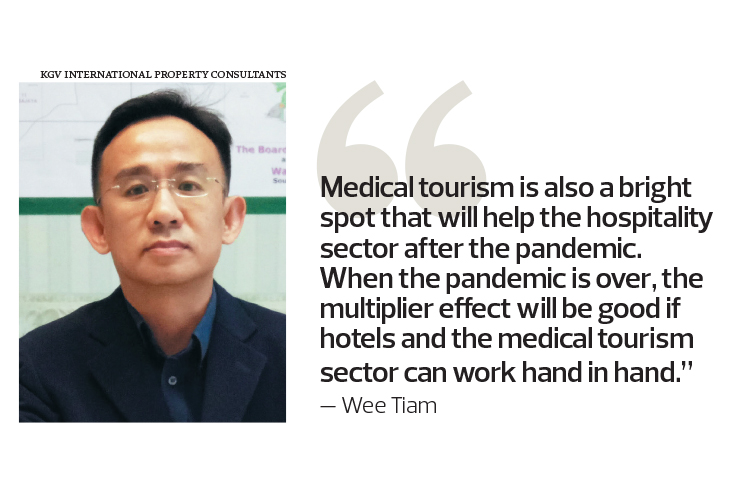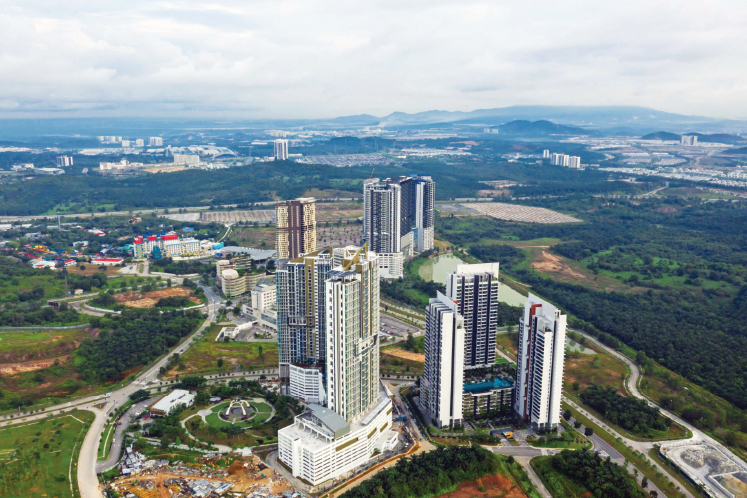 According to Samuel, Medini can actually be a showcase and developed to be an international economic special zone. Photo by Bloomberg
There is still a glimmer of hope in the ­Johor property market. Peninsular Malaysia's southern­most state is experiencing noticeable disruption with the Movement Control Order (MCO) and the Conditional MCO (until June 9) as well as the Enhanced MCO (EMCO) in Kluang, which was lifted on March 28. Although real estate transactions have ground to a halt, there are still pockets of opportunity.
"The MCO and EMCO act as circuit breakers designed to sever the Covid-19 chain of infection. These measures inadvertently disrupt social and economic activities in Johor. Amid the outbreak, there are still some bright spots in the state. They include retirement homes, mega distribution centres and medical tourism," says KGV International Property Consultants (Johor) Sdn Bhd executive director Samuel Tan in an email.
"There are various permutations for retirement homes, such as age-friendly, partially assisted living, fully dependent or a combination of the above. The silver generation will be one of the main demands driving the real estate sector. The earlier our government and developers venture into this sector, the faster we can develop the expertise in terms of hardware [such as the concepts and building specifications] and software [such as medical support, other wellness aspects and practical guidelines].
"The government should provide incentives and work through government-linked companies or joint ventures with private developers to intensify the development of retirement homes," says Samuel.
He highlights mega distribution centres as another bright spot. "We expect e-commerce to become even more popular after the pandemic. Mega distribution centres with state-of-the-art technology to code, sort packages and deliver will be the new trend for warehousing. Gone are the days of small, mass-developed warehouses. We foresee that an increasing number of multi-storey distribution centres [with high ceilings] will be built.
"As land cost increases, such distribution centres may even be ramped up to allow trucks to drive up to the loading bays of respective units. Every floor will be akin to the ground floor," says Samuel.
KGV International Property Consultants (Johor) head of research Tan Wee Tiam is optimistic about the outlook for medical hubs in Johor. "Another bright spot [in the real estate sector] is medical hubs [which can take advantage of our relatively lower cost base]. This is a feasible proposition but one that requires a lot of expertise.
"Many Singaporeans, Indonesians and our own locals would probably prefer to seek specialised medical treatment here, rather than going to Singapore [due to the convenience and lower cost in Malaysia]. It is therefore fitting to attract credible, international medical groups to come and establish their presence here," he says.
"Medical tourism is also a bright spot that will help the hospitality sector after the pandemic. When the pandemic is over, the multiplier effect will be good if hotels and the medical tourism sector can work hand in hand."
Upcoming market trends
Amid the pandemic, market experts in Johor anticipate new trends emerging in the near future. Working from home will become more popular and take newer forms.
"We foresee residential properties having more home offices and incorporating more practical features [that equip residential properties as home offices]. For example, houses will be broadband-enabled, there will be flexible layouts and clever incorporation of furniture to convert the unit to a home office, and there will be better acoustic and air-ventilation features," says Wee Tiam. "The bigger properties sited at non-centralised locations could be popular should this work-from-home concept take off."
Another trend that is likely to be seen is themed shopping malls. "Mall owners need to create a distinct theme for shopping malls. The current crop of malls is just way too similar," Wee Tiam remarks.
"E-commerce will be even more popular after the pandemic, owing to various measures implemented such as social distancing and restricted opening hours at these malls. It is important for mall tenants to embrace and incorporate online and offline sales channels. An efficient delivery platform is also critical. The shopping mall will evolve to be a destination where people go for experiences and not so much solely to buy things," Samuel notes.
"Corporations may gradually cut office space after these few months of experimenting with working from home, multimodal working and off-site working arrangements. Many will realise that productivity for certain types of work will not be affected at all even if staff work from home or work under flexible hour arrangements," he adds.
Impact of outbreak on sectors and catalytic projects
Prior to the outbreak, the property market in Johor was already relatively soft as developers continued to concentrate on clearing existing stock, especially high-rises.
"We have yet to look at the official data from the authorities. Nevertheless, from anecdotal evidence and our working relationships with other professionals from banking, legal and consultative firms, we have a feeling the transaction volume plunged drastically during the MCO and could easily be at the historic low," says Samuel. "Some of the deals got stuck as a result of administrative hiccups because of the MCO measures. These deals will be delayed or even cancelled if either party hits the brakes owing to the uncertain outlook.
"In terms of price movement, it is too early to make a call. Nevertheless, we predict property prices might drop 15% to 20% depending on property type, location and the usual covenants. We do not expect a total collapse for property prices in Johor Baru as they have already corrected quite a bit since the last peak in 2012 to 2014 [across sectors]. There might be some fire sales because of over-commitment or over-gearing," he continues.
"In the residential sector, very few would be prepared to commit to big-ticket items in the midst of the pandemic. 
"The hospitality and retail sub-sectors have been most directly affected as a result of Covid-19. Hotel occupancy hit an all-time low during the period. Many hotels practically registered zero occupancy. Some hotels resorted to being used as quarantine centres or venues to temporarily house returnees from overseas who had to undergo the 14-day quarantine period. Some hotels are already closing down. More hotels will follow suit if they do not get enough help from the government and do not belong to strong parent companies," says Samuel.
"Retail malls are also closed during this period except supermarkets selling essential items such as groceries and food. Shopoffices lining the main roads and arterial roads are mostly closed except F&B outlets and those providing essential services. In fact, the retail sub-sector had already experienced a drastic drop in footfall even before the MCO and EMCO kicked in," he points out.
According to Samuel, other sub-sectors such as office, industrial and residential are also badly affected but probably not as severely. "For the office and industrial sub-sectors, only essential businesses and industrial operations can still go on albeit at much lower workload and intensity.
"In short, both rental and sale transactions for all sub-sectors have either been delayed or cancelled as a result. Many tenants are likely to seek a waiver or some form of discount or rebate from their landlords. Potential buyers, especially those who are buying for their own use, will adopt a wait-and-see attitude. They are unlikely to commit at this point," he says.
"Nevertheless, we expect the pent-up demand to build up, especially in the landed residential sub-sector. Those with spare cash or a stable future income stream will be back in the market gradually."
In terms of the most affected areas in Johor, Iskandar Malaysia — by geographical definition, comprising a major part of Johor Baru and part of Pontian and of Kota Tinggi — will be the most affected compared with other districts such as Batu Pahat, Muar, Kluang and Segamat. "Iskandar Malaysia attracts the most attention and investment. Hence, most property activities and transactions are concentrated on Iskandar Malaysia. Most property deals there are affected. Most existing deals will be delayed. Some may even be cancelled," says Samuel.
"Having said that, Iskandar Malaysia will also be the first to recover. When the Covid-19 pandemic is gradually brought under control, the pent-up demand built up during the MCO and EMCO period will start to bring the real estate market to life, albeit slowly," he adds.
Meanwhile, the catalytic projects in Johor have also been hit. "The existing catalytic projects in the education, leisure and medical sub-sectors are all affected, although to different degrees. The Pengerang Integrated Petroleum Complex (PIPC) and Pengerang Rapid (Refinery and Petrochemical Integrated Project) project as well as Desaru Coast project on the east coast of Johor Baru are also affected owing to the plunge in oil price and drastic drop in visitors respectively," says Wee Tiam.
"For future catalytic projects such as the RTS (Johor-Singapore Rapid Transit System) and HSR (Kuala Lumpur-Singapore High-Speed Rail), our government might have to further delay them in view of the huge cost involved and the damage done to the economy as a result of the pandemic. There are other more pressing priorities for it to handle at the moment," he adds.
"Nevertheless, we maintain our stand that these two projects are beneficial in the long term and should proceed even in the immediate aftermath of Covid-19. They will provide the much-needed boost to the construction sector and spin-off effect to the rest of the economy."
The aftermath
The current sentiment in Johor appears to be cautious, and the future is riddled with uncertainty. "Looking at the economic damage to the world and our nation, all individuals and businesses [across the board] have been affected. For those who are employed, the main concern will be job security. For businesses, the main worry will be business continuity. As long as one is uncertain about his or her future source of income, whether individually or as a business, he or she will not venture into new investment. Even if one does, one will be extremely cautious and will only invest in a measured way," says Wee Tiam.
"Owing to its proximity to Singapore, Johor is dependent on the city state's economy. Many of our people work in Singapore. Many of our companies have business dealings with Singapore corporations. Therefore, should Singapore's economy suffer or take a longer time to bounce back, Johor's economy and property sector will be adversely affected too." 
Moving forward, the authorities will have to adopt a different approach in helping the property market post-pandemic. "After this outbreak, it is the best opportunity for both the authorities and private sector to take stock and do a holistic assessment of our system, structure and way of doing things," says Samuel.
"The federal and state governments need to have an integrated and holistic planning policy for the real estate sector. It is crucial to provide clear, accurate and transparent policies and data in terms of planning, guidelines, rules and regulations, property supply and demand, the net prices of property from developer sales and so on.
"The authorities would need to provide more assistance to the property sector in the form of waiver or discount in terms of property tax, quit rent, stamp duty and other associated miscellaneous fees. This pandemic is causing great pain to individuals and businesses. Many do not have any income stream during this period. Any form of aid will help the individual and business tide over this difficult season," he adds.
"It is time developers took a hard look at the concept, type and specifications of the properties they have developed over the years. What worked previously may not work in the future," Samuel points outs.
Meanwhile, he suggests a few initiatives to implement after the Covid-19 crisis. "Perhaps the government would need to be even more pro-business and pro-investment. The world will become even more competitive as all will be fighting for investments to kick-start the economy post-pandemic.
"The authorities may want to consider tweaking or doing away with the existing policies, such as high quota of bumiputera units, low-cost housing and low quotas for foreigners. Some differentiations in policy should be made in terms of location and development types. Also, remove blanket draconian policies that cut across strata, that are not practical and do not serve any real purpose," he stresses.
"In many countries, mass housing catering for the B40 is undertaken by the government or a quasi-government agency. So long as the burden of building low-cost housing is placed on the private sector, the problem of mismatch of quality, location and timing will persist as the developer is a private entity that would ultimately need to prioritise its bottom line and shareholders' interest," says Samuel.
He also raised the issue of Real Property Gains Tax. "The government may want to consider doing away with the RPGT as part of the holistic effort to kick-start the real estate sector. The RPGT does not contribute much revenue to the country but it is one factor deterring people from buying and investing.
"The authorities should also consider converting the lease of Medini (a special economic node created to boost Iskandar Malaysia) to a proper leasehold or even freehold tenure like that of Danga Bay and Bandar Baru UDA. Owing to the peculiarity of its private lease, properties in Medini face challenges in terms of end financing despite excellent infrastructure and other preferential policies. Medini can actually be a showcase and developed to be an international economic special zone. This will be a low-hanging fruit for the government as Medini has already attracted a number of catalytic projects such as Legoland Theme Park, Gleneagles Hospital and Kota Iskandar, and many established developers have already started their developments there."
In the near term, the outlook is grim for almost all sectors except the medical and medical supply fields, telecommunications and logistics. "Nevertheless, we must know that all businesses move in cycles. Property is no exception. The Covid-19 outbreak is a black swan event. Even before the pandemic, we were already badly affected by the US-China trade war, sudden change of government and sharp plunge in both oil and palm oil prices," says Samuel.
"The world's last major recession was in 2008. More than 10 years after the global financial crisis, the global economy is in fact due for a major shake-up. The pandemic will accelerate the correction across sectors and countries."