This article first appeared in The Edge Malaysia Weekly, on June 7, 2021 - June 13, 2021.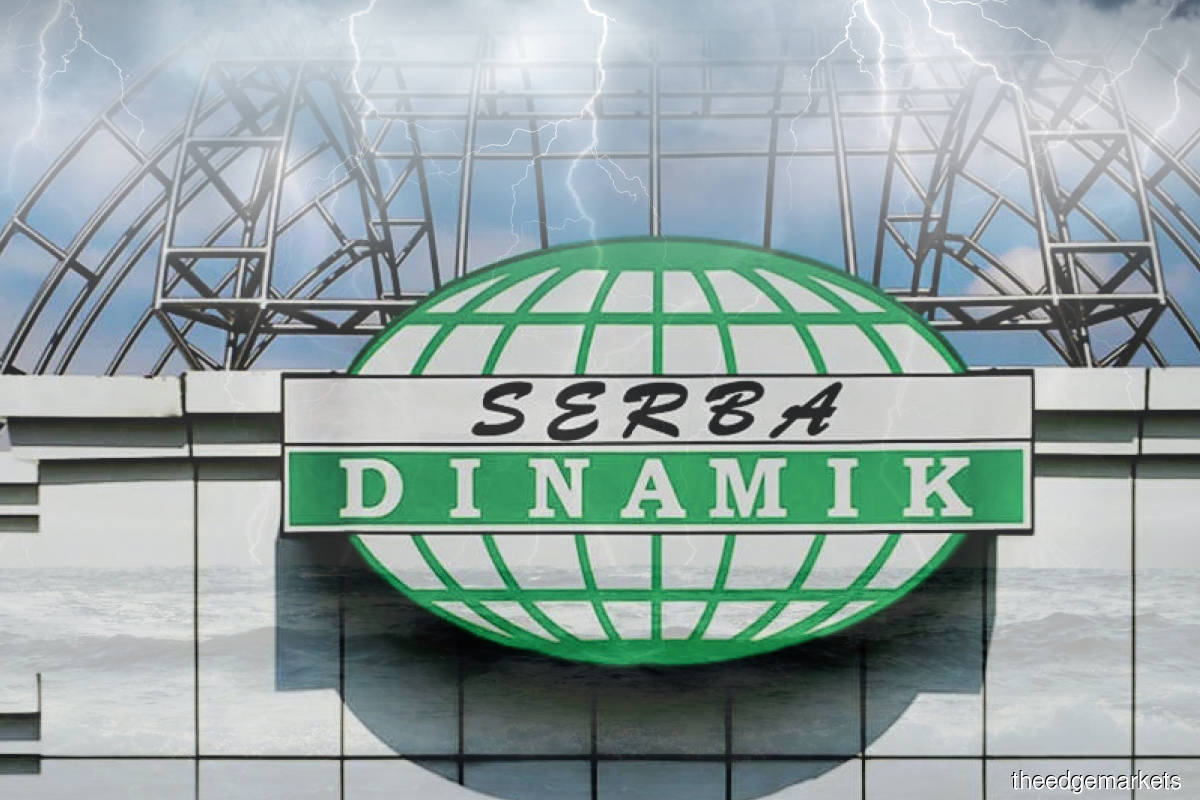 IN a week, Serba Dinamik Holdings Bhd has lost more than RM3 billion, or half of its market value, resulting in many market watchers saying that the company's stellar run has come to an end.
While company officials, especially managing director and CEO Datuk Mohd Abdul Karim Abdullah (pictured), have said time and again that there is nothing untoward at Serba Dinamik, auditors KPMG's queries regarding more than RM4.54 billion worth of transactions at the company have unsettled investors. Since the disclosure of the red flags raised over these transactions, Serba Dinamik's stock has plunged more than 52%, over the week to close at 76.5 sen last Friday.
"This is KPMG you are talking about, not some small audit firm, and Serba Dinamik is a huge company. Why would KPMG risk its relationship with such a successful company?" one market watcher asks.
Others prone to believe conspiracy theories say the issues at Serba Dinamik are also linked to recent shareholder issues at Sarawak-based company Cahya Mata Sarawak Bhd, and that high-level politics is involved. However, all this is pure speculation.
With all the rumours flying, Serba Dinamik's response, other than claiming that there is no issue, has been that it is looking to undertake an independent review.
Serba Dinamik, in its announcement to the local bourse, said, "The company takes the view that there is no issue with regard to the legitimacy and existence of the contracts as well as the value that will render any material impact to the financial and operational aspects of the Group for the financial year ending June 30, 2021."
Serba Dinamik and KPMG did not respond to questions sent by The Edge.
Serba Dinamik has performed fantastically well since its initial public offering in February 2017. At end-February 2017, just after its IPO, it announced a net profit of RM156.15 million from RM1.39 billion in revenue for its financial year ended December 2016 (FY2016). In February this year, for its four quarters ended December 2020 (the company changed its financial year end to June 2021 recently), it chalked up a net profit of RM631.74 million on the back of RM6.01 billion in revenue.
This means that in four years, its net profit and revenue have gained more than fourfold, which is no mean feat considering how volatile oil prices have been and how most of its peers have fared, bleeding losses owing to the weak operating environment.
Brent Crude has, over the last five years, fluctuated between lows of just above US$20 per barrel in April last year and highs of just above US$85 in October 2018. Despite the volatility in oil prices, Serba Dinamik had never suffered a loss-making quarter since its IPO in February 2017, which, on hindsight, should have raised eyebrows.
The ballooning receivables and depleting cash pile at the company went unnoticed as well, until KPMG highlighted at the end of last month matters pertaining to its statutory audit (see "Amid audit review, Serba Dinamik financials flag other risks").
Besides Serba Dinamik's stellar performance, its share price, which had gained more than 120% prior to the recent development, was also the envy of other O&G companies, many of which had become penny stocks.
The managing director of one publicly traded O&G outfit says, "We in the industry were perplexed by the (high) margins that Serba Dinamik was commanding, but of course it's only on hindsight that everyone talks about these things, else the focus is on the share price, on capital gains. Everything else is secondary."
And now, KPMG's queries in relation to its statutory audit has led to Serba Dinamik's stock being pummelled.
KPMG's grouses
In a nutshell, KPMG took issue with Serba Dinamik's sales transactions worth RM2.32 billion, trade receivables (RM652 million) and material on-site balances (RM569 million). The transactions add up to RM3.54 billion.
KPMG was also uncomfortable with certain transactions involving trade payables, in which there were issues concerning addresses of suppliers, and where the amounts owed ranged from RM60 million to RM96 million — despite the companies having paid-up capitals of only RM100,000. These transactions were pegged at RM481 million by KPMG.
Also in the spotlight is a customer and supplier in Bahrain, whose office address cannot be located, and which has US$101 million (RM417.36 million) in sales transactions and US$24 million (RM99.17 million) in trade receivables with Serba Dinamik.
Under scrutiny as well were trade receivables and sales transactions for information technology contracts in which the invoices of some suppliers had no company registration numbers. In some instances, there were issues with the companies' names, and with customers making payments directly to subcontractors, after which Serba Dinamik would receive the net amount.
One customer's principal activity was also not IT-related even though the contract was for IT purposes. KPMG had in some cases been unable to determine "the appropriateness of the contracts and transactions as well as the revenue and cost recognised". However, no value was attached to these transactions.
With these issues being raised, Serba Dinamik's stock hit limit down (-30%) for the second consecutive day last Tuesday, following the lifting of trading suspension the week before, which did little to shore up investor confidence.
There have been some questionable decisions as well, making market watchers wonder who is advising Serba Dinamik. For instance, last week, a 16.17% shareholder, Datuk Abdul Kadier Sahib, who is also a non-independent non-executive director of Serba Dinamik, withdrew his request made at end-May —when the accounting issues first surfaced — to convene an EGM and remove KPMG and appoint BDO in its place.
Cards seem to be stacked against Serba Dinamik
Just last week, the company's independent directors — Hasman Yusri Yusoff, Datuk Mohamed Nor Abu Bakar, Sharifah Irina Syed Ahmad Radzi, Tengku Datuk Seri Hasmuddin Tengku Othman and Rozilawati Basir — issued a statement saying that they "share concern in regard to the current situation of the company … We will ensure that the company's corporate governance is at the highest level and we remain independent in executing our responsibilities".
This came on the back of pension fund Kumpulan Wang Persaraan (Diperbadankan), or KWAP, which has been a substantial shareholder since September 2017, selling down its stake in the company to below the 5% threshold. Prior to the selldown, KWAP had a 5.25% stake or 195.03 million shares.
Meanwhile, other substantial shareholders, including the Employees Provident Fund (EPF), which has a 10.18% stake or 377.7 million shares, and state-controlled unit trust outfit Permodalan Nasional Bhd (PNB), which via its various funds has more than 5% stake (at end-April 2020 PNB had a 5.28% stake), have also expressed their displeasure.
EPF said it sought to ensure "the highest level of transparency and corporate governance" at investee companies while PNB told news wire agency Reuters that it had "informed the Serba Dinamik board of directors of the firm's deep concern about recent developments".
Another large shareholder, State Financial Secretary Sarawak, which as at end-April 2020 had a 4.11% stake or 126 million shares, has kept mum so far.
The Minority Shareholders Watch Group (MSWG), which viewed negatively Abdul Kadier's call for an EGM to remove KPMG, in a press statement, urged "all minority shareholders to vote against the resolution to remove the auditor (KPMG)".
MSWG said, "As part of good governance, KPMG should be allowed to complete their work and report to Serba Dinamik's shareholders at the forthcoming AGM. The external auditor should be around to defend their findings and explain themselves … There is no urgency to remove the auditor at this juncture."
According to news reports, Institutional Investors Council (IIC) also objected to Abdul Kadier's proposal to remove KPMG, deeming it KPMG's responsibility "to highlight any issues of concerns, in particular those pertaining to financial transactions and how contracts were awarded, which in Serba Dinamik's case appear to be questionable".
"Why the urgency to remove KPMG before the commencement of investigation and the results of the investigation are known?" IIC asked.
Late last week, the Securities Commission Malaysia confirmed market speculation that it was indeed investigating Serba Dinamik. It is also likely that Bursa Malaysia may be looking into the company.
Meanwhile, other than Citi Research, most of the other analysts who cover the company have downgraded Serba Dinamik. TA Securities O&G analyst Kylie Chan Sze Zan, in a report after the accounting issues cropped up, wrote, "At this juncture, apprehension over Serba Dinamik's corporate governance and financial integrity weigh on sentiment … We believe investors will not completely rule out the possibility of accounting and operational irregularities on Serba Dinamik's part."
She downgraded Serba Dinamik to a "sell" from a "hold" previously, slashing her target price to RM1 from RM1.70 previously.
Some announcements have not panned out
One market watcher says he was put off by Serba Dinamik being in the news ever so often and announcements being made all the time.
"There were some announcements that did not take off as expected, some of the company's plans did not pan out, but these new developments were never mentioned (by Serba Dinamik)," he says.
As an example, he says, in August 2017, Serba Dinamik sought to acquire a 30% stake in Almurisi Development Sdn Bhd for RM18.3 million as part of a plan to develop a mixed-use residential and commercial property in Pengerang, Johor, on a 70-acre site, but the project did not materialise. The gross development value of the project was pegged at RM600 million.
According to court documents, Serba Dinamik was supposed to buy an additional 40% in Almurisi Development for RM26.23 million. However, nothing came of it.
Perhaps these issues, coupled with Serba Dinamik's shareholders constantly being in the news, have created a perception problem.
Other than a 26.93% stake in Serba Dinamik, Abdul Karim is also a 32% shareholder in fabric company KPower Bhd and a 37% shareholder in concrete product manufacturer Sarawak Consolidated Industries Bhd.
Meanwhile, non-independent non-executive director of Serba Dinamik, Datuk Awang Daud Awang Putera — who was Karim's partner but ceased to be a substantial shareholder in the company in June last year — has a 26.79% stake in Minetec Resources Bhd, where he is executive chairman. Awang Daud is also executive chairman at Aimflex Bhd, where he has a 29.03% stake. He ceased to be a substantial shareholder in Sealink International Bhd late last year.
While some pro-Serba Dinamik punters and bankers linked to the company say there is a lot of business envy in the industry, others say it is possible that more issues may surface at the company now that the alleged accounting problems have surfaced.
The RM7.7 billion Abu Dhabi job
Serba Dinamik's reach has been impressive — bagging jobs in Qatar, Oman, Indonesia, India, Republic of Guinea, UAE, Bahrain, Oman, Zambia, Turkmenistan, Uzbekistan, Kazakhstan, Saudi Arabia and Kuwait among others (see "Major announcements and jobs secured by Serba Dinamik" on Page 60). To put things in perspective, Serba Dinamik's order book is a whopping RM18.7 billion.
A large job in Abu Dhabi — the RM7.7 billion contract secured in April 2020 from Block 7 Investments LLC for engineering, procurement and construction of an innovation hub, academic campus, related facilities and infrastructure — has also come under the spotlight.
Questions have been raised as to who controls US-based Block 7 Investments.
Market talk has linked Abdul Karim with Block 7. However, at the time of the announcement in April 2020, Serba Dinamik had said that none of its directors or major shareholders or persons connected to it had any interest in the award.
According to news reports from the Middle East in April this year, Block 7 Investments is a joint venture (JV) between Efire Capital Holdings Ltd of Abu Dhabi and Serba Dinamik. But this could be a different Serba Dinamik from the listed entity here in Malaysia.
Efire's website says Block 7 is a JV between Liwa Investment Holding of Abu Dhabi and Serba Dinamik Holdings Ltd. Checks on Serba Dinamik's annual report indicate that it does not have any such entity within the group.
Liwa Investment Holding's vice-chairman is prominent businessman Hadef Salah Salem Bin Omair Al Shamsi, who, some online sources say, is linked to the royal family there.
In a WhatsApp message to The Edge, when asked if he controls Block 7, Abdul Karim denies it, saying there is no related-party transaction.
Hopefully, there is more clarity after the appointment of an independent outfit to assess the issues raised by external auditor KPMG.
Amid audit review, company's financials flag other risks
The recent decision by Serba Dinamik Holdings Bhd's second largest shareholder Datuk Abdul Kadier Sahib not to pursue the removal of the company's auditor KPMG has yet to put a hard stop to the sell-off in the counter.
As the oil and gas (O&G) services firm heads towards an independent review to verify the statutory audit queries raised by KPMG involving over RM4 billion, a look into the company's books uncovers separate issues such as rising gearing and tightening operating cash flow.
"A closer look at the company's cash flow would reveal a worrying trend. Despite rising net profits, the company's operating cash flow has been deteriorating over the years," said equity research firm Asia Analytica Sdn Bhd in a May 31 note.
"While it is too early to conclude whether there was any misconduct by the company or if it would be facing financial difficulties, the risks are heightening as the company's operating cash flow deteriorates and it sinks deeper into debt," said the research house.
Cash flow deteriorates as receivables, gearing jump
In a nutshell, a company would ideally want healthy operating cash flow to fund its business and cash expenses, such as working capital and dividends.
It is also common for a company to use leverage to expand while still keeping in mind the need to create value for shareholders. The group had also ventured into Laos, Kazakhstan and Uzbekistan as well as into the ICT (information and communication technology) segment, according to its annual report.
The idea is to keep gearing and interest rates favourable. One way is by adding to shareholders' equity by staying profitable and growing the company's retained earnings.
On the surface, Serba Dinamik checks the boxes as an investor's darling with its commendable growth — on average, its annual top and bottom-line grew 30.24% and 27.04% respectively between the financial year ended Dec 31, 2017 (FY2017) and the 12-month period ended Dec 31, 2020 (12MFY2021).
However, net cash flow from operations has deteriorated to negative levels (see table). For one, this is due to receivables, which have risen 48% to RM1.87 billion as at end-2020 from a year ago. They had more than doubled in just three years since end-2017.
The company also saw rising interest payments during the period. Net debt has risen sevenfold to RM3.1 billion at end-2020, from RM405.26 million at end-2017, resulting in net gearing rising to 0.9 times, from 0.3 times.
In the meantime, the group had delivered dividends each year without fail since listing in February 2017, and had paid out RM490.92 million to date.
Also drawing attention is its consistent net profit margin of 10% to 11% during the period, even though 40% of the group's order book is in the volatile O&G sector.
The company had two private placements in January 2018 and February 2021, which raised RM935.81 million in total, with about RM803 million or 85% earmarked to fund its projects in Johor (Pengerang and Teluk Ramunia), Tanzania and Abu Dhabi.
Investors would remember companies such as London Biscuits Bhd, which borrowed heavily until it went into liquidation after defaulting on its loans in 2019. The first signs of trouble? Cash flow deterioration, ballooning receivables and rising debt.
Writing off receivables diminishes retained earnings overnight and results in a significant jump in net gearing, thus adding to financing costs and limiting future borrowing capacity.
"If Serba Dinamik can prove the transactions and the receivables are real, then this drama can be put to rest," said an analyst. "The main problem is when you cannot get back your cash."
To be sure, Serba Dinamik cited challenges arising from the impact of the Covid-19 pandemic on the over 20 countries in which it has a presence.
It should be noted that the company's accounts receivable days, an indication of how long Serba Dinamik needs to collect on its services, is around 113, just slightly above the average of around 93 days for O&G operations and maintenance (O&M) services providers.
Refinancing ability uncertain
The audit review is raising another problem. Fitch Ratings on June 3 downgraded the company's long-term issuer rating to "B-" from "BBB-", citing elevated refinancing risk from its short-term debt maturities in 2021 and its US$222 million (RM915.19 million) sukuk due in May 2022.
"We estimate that even if Serba Dinamik reins in its dividend distribution, its working capital and capex needs will use up cash of about RM90 million-RM100 million per month," said Fitch in a note.
"Hence, Serba Dinamik is reliant on increasing working-capital facilities to smoothen operations and bridge the time lag between the rendering of its services and the receipt of cash," it said.
Standard & Poor's, which also reduced its ratings to "B-" from "B+", anticipates the company to have RM1.7 billion in maturities by May 2022, including the greenback-denominated sukuk, its short-term debt and another RM200 million long-term debt for amortisation.
"In our opinion, efforts to restore capital providers' confidence in Serba Dinamik's operations are likely to take months, even if the company completes the independent review.
"With less than 12 months from the May 2022 maturity of its sukuk, the limited time frame to both refinance and complete the independent review creates significant uncertainty," it said.
At this juncture, KPMG said it remained in communication with Serba Dinamik over the audit matter, according to a report by Reuters.
In a statement dated June 3, Serba Dinamik's independent directors said they continue to execute their responsibilities, adding that the independent committee overseeing the review will have no management representation.
Serba Dinamik currently has five "buy" calls, five "hold" calls and one "sell" call among analysts, with the target price averaging RM1.36.
The company had lost RM 3.15 billion or 52.48% in market capitalisation since the revelation of the audit queries. The counter closed at 76.5 sen last Friday, valuing the group at RM2.85 billion.