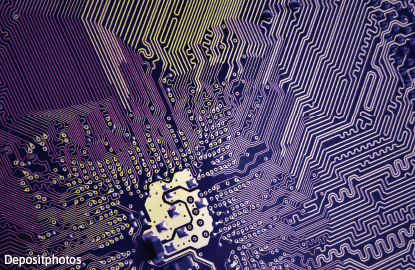 This article first appeared in digitaledge Weekly, on September 21 - 25, 2015.
NOTWITHSTANDING fears of a global slowdown in demand for smartphones and a share price correction recently for Bursa Malaysia-listed semiconductor-related companies, their counters are still maintaining year-to-date gains of between 11% and 48%.
On average, the share prices of outsourced semiconductor assembly and test (OSAT) companies have risen by 37%, while automated test equipment (ATE) manufacturers have advanced 22%.
The likes of Globetronics Technology Bhd, Malaysian Pacific Industries Bhd (MPI) and Inari Amertron Bhd have seen their share prices climb more than 40%.
Shares of Penang-based MMS Ventures Bhd and ViTrox Corp Bhd have jumped by close to 30%, while Unisem (M) Bhd and Elsoft Research Bhd gained by not less than 10%.
Newly listed Aemulus Holdings Bhd closed at 45.5 sen last Friday, a hefty 63% premium to its issue price of 28 sen. It is worth noting that Khazanah Nasional Bhd bought a 15% stake in the company from its share placement.
Now, some investors are wondering if there is any upside left in the rally in semiconductor stocks. A quick check on Bloomberg shows these counters still offer potential upside of between 12% and 42%.
For instance, MMS Ventures could offer 42% upside potential, based on a fair value of 95 sen, says Kenanga Research, which gives it a "trading buy" call.
The research house describes the company as an underappreciated gem and another under-covered technology stock to watch.
MMS Ventures designs and manufactures automation solutions for the LED and semiconductor industries. It is a net beneficiary of the appreciating US dollar as 70% of its revenue is quoted in the greenback, with natural hedging from its raw material purchases at 20% of total costs.
"We believe that the group could offer dividend per share of up to three sen, translating into a dividend yield of 4.5%, based on its estimated free cash-flow projection of RM10.5 million this year," says Kenanga Research.
MMS Ventures had a strong balance sheet and healthy cash flow to support its dividend payout in financial year ending Dec 31, 2015. The group had net cash of RM15.7 million as at Dec 31, 2014.
At Unisem, it is worth noting that its share price has dropped by more than 20% despite releasing decent results for its second quarter ended June 30 (2QFY2015).
RHB Research deems the selldown unjustified as the current favourable US dollar environment is likely to propel Unisem's earnings to a new high, while the management remains cautiously optimistic on its near-term outlook.
The company has set aside a full-year capex allocation of up to RM130 million to further raise its wafer level packaging and bumping capacity.
Given the appealing upside, RHB Research has upgraded its call on Unisem to "buy", with a revised target price of RM2.67.
Meanwhile, Maybank IB Research highlights that the earnings visibility of Globetronics is strong as it has started to see contribution from its healthcare sensors.
"We expect Globetronics to ship out 3.5 million units per month from April 2016 onwards for this product," it said in a report dated July 31, maintaining its "buy" call on the group for its growth prospects and decent dividend yield of 3%, with a higher target price of RM7 compared with RM6.80 previously.
MPI, the world's top producer of micro leadframe packages (MLP), is expected to be impacted by the ongoing inventory corrections in the industry, particularly for personal computers and industrial segments.
AllianceDBS Research, however, opines that MPI's weaker outlook in the second half of this year will be partly offset by the stronger US dollar, as the company typically hedges 50% of its net US dollar receivables 12 months forward.
MPI plans to spend RM175 million in the financial year ending June 30, 2016, to expand production capacity for its ultra-thin MLP and automotive sensors.
On Aug 26, AllianceDBS Research downgraded MPI to "hold", with a lower target price of RM6.65.
Inari's share price has been fairly resilient, despite the recent market volatility triggered by uncertainty in the global economy, AllianceDBS Research comments.
The group has earmarked RM110 million for capex for the financial year ending June 30, 2016, compared with RM62 million a year ago. That will be mainly used for constructing a new plant, automation process and additional equipment.
AllianceDBS Research maintains a "buy" call on Inari, with a target price of RM4.25.
"The stock deserves to trade at a premium to peers given its close relationship with its key customer Avago Technologies, which has a strong lead in the fast-growing radio frequency (RF) products," it notes.
Avago, a Singapore-based US-listed RF chipmaker, is also a major client of Aemulus. Currently, Aemulus derives about 40% of its revenue from Avago's Malaysian and Singaporean units. While Aemulus has been easing off this dependence by expanding to other clients, it retains the potential to ride Avago's capacity expansion in the RF segment.
AllianceDBS Research says Aemulus looks to be on track to achieve its target of 50% revenue growth for the financial year ending Sept 30, 2015, after reporting more than 100% growth a year ago.
ViTrox's management conservatively expects financial year ending Dec 31, 2015, to see mild growth, but the company is highly positive on 2016 and 2017.
"I don't think this slowdown will affect ViTrox badly as we have more diversified businesses with customers beyond smartphone and wireless application. The slowdown should be temporary due to currency volatility and global economy uncertainty," says ViTrox CEO Chu Jenn Weng.
Eighty per cent of ViTrox's products are exported and billed in the US dollar, whereas only 30% of its raw materials are imported in the currency.
Considering its future growth prospects and undemanding valuations, Maybank IB Research maintains a "buy" call on ViTrox, with a target price of RM3.65.