This article first appeared in City & Country, The Edge Malaysia Weekly, on May 13, 2019 - May 19, 2019.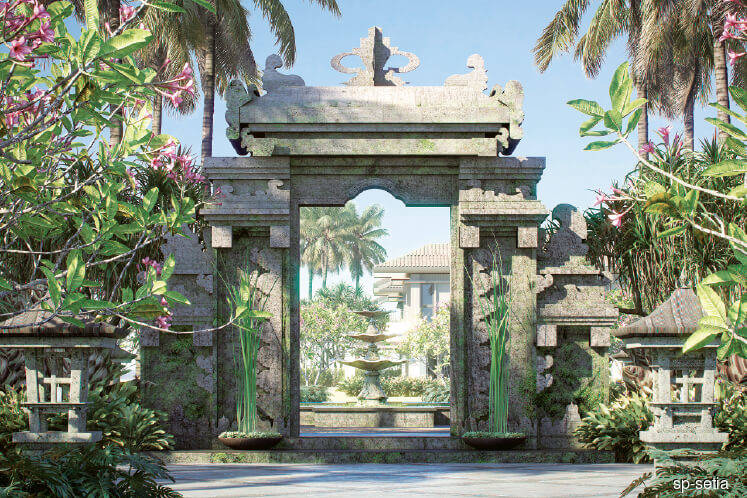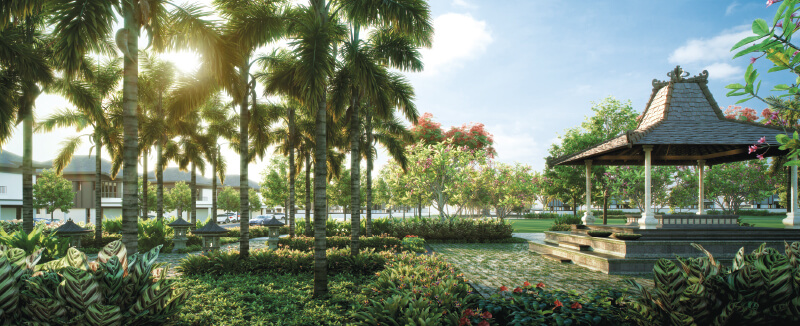 Artist's impressions of the 4.78-acre central park, known as Lamantara, which will boast Balinese features and various facilities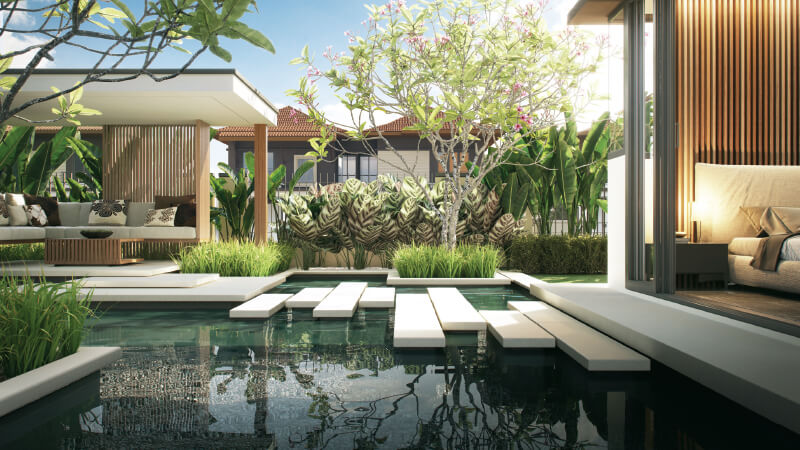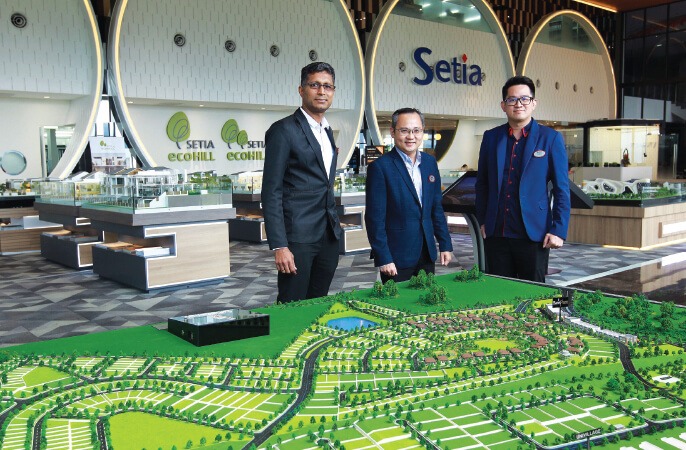 From left: Sivadasan, Koh and Choy
Semenyih town, which is a 50-minute drive from the Kuala Lumpur city centre, is known for its eco-tourism attractions, such as Broga Hill, Paradise Valley and Outbac Broga, and the 125-acre University of Nottingham Malaysia that was established there in 2005.
Also noteworthy is the fact that the area has seen a surge in property developments in the past decade as developers flocked there due to the scarcity of land in the city centre. In recent years, the developments have started inching towards the nearby small town of Broga, especially Jalan Broga, where one of S P Setia Bhd's latest projects — Setia Mayuri — is coming up.
The residential component of the 209-acre township, located diagonally across from Nottingham University, will be unveiled later this month.
According to S P Setia general manager Koh Sooi Meng, Setia Mayuri is a low-density, freehold and individually titled township with a total gross development value of RM700 million. It will have one commercial and two residential parcels and another about which there is little information.
The residential component will feature a total of 136 bungalows and 318 semi-detached houses, which means a density of just four to five units per acre. The township is targeted at upgraders, investors looking to rent out to students as well as parents buying for their children studying at Nottingham University.
The township's security measures include perimeter fencing, Setia Auxiliary Police, single-point entry/exit via the sole guardhouse and individual home security systems. Meanwhile, trees and shrubs will create a natural barrier.
"When we visited the site, we saw a hilly area with many trees. It is a serene place near Broga Hill, which is why the team decided on resort-style homes. We wanted to do something different. It will be a low-density development, offering only semidees and bungalows — a total of only 454 units," Koh tells City & Country.
The name "Mayuri" is derived from Sanskrit word "Mayur", which means peacock. In fact, the township's logo resembles a peacock with its train of feathers, distinguishing itself from its peers.
To be launched in three phases, Residential Parcel 1 is known as Charm of Mandara — in Balinese, the word "mandara" means paradise.  The first phase will be unveiled this month, together with the on-site sales gallery.
The RM72 million, 29.37-acre first phase will feature 18 bungalows and 46 semidees. The built-ups of these semidees range from 2,483 to 2,518 sq ft (land size: 3,149 to 6,723 sq ft) while that of the bungalows are from 2,878 to 3,573 sq ft (land area: 5,612 to 9,690 sq ft).
The starting price of the semidees is RM800,000 while that of the bungalows is RM1.2 million.
"Residential Parcel 1 will have a Balinese concept because it is an everlasting resort-living concept, which is well received by Malaysians. The team and the architects flew to Bali last year to visit the resort homes and gardens there to get some ideas," Koh explains.
"All our units will have different land sizes that are bigger than usual. It is hard to find semidees with so much land these days. And the units are within walking distance of Nottingham University."
The entrance to Setia Mayuri will feature split temple gates brought in from Bali. There will also be Balinese-style pavilions and gazebos as well as native plants within the township.
Sales and marketing manager Chris Choy believes there is demand for semidees and bungalows in Broga as it is surrounded by old linked houses whose current residents might be looking to upgrade.
The developer is generally optimistic about selling the units, thanks to the overwhelming response to the project's commercial parcel that was unveiled in March. Called Baris Place, this 7.35-acre component can be accessed directly from Jalan Broga.
It offers 32 two and three-storey shopoffices (20ft by 80ft and 80ft by 80ft) that are going for RM1.03 million to RM4 million. More than 90% of the units have been taken up to date.
"Many of the buyers who came for the launch [of the shopoffices] were those living in the nearby linked houses and were looking to upgrade their homes. Their selling price of less than RM1 million and big land size make the products attractive. Buyers can do whatever they want with the land," Koh points out.
Residential Parcel 1 is open for registration while the show units, one each for the bungalows and semidees, are available for viewing at the site.
Balinese concept
Landscape senior manager Rames Sivadasan says there will be a 4.78-acre central park in Residential Parcel 1 called Lamantara that will boast Balinese features and various facilities.
"We are making it sustainable so it won't become too costly to maintain. There were almost 100 mature trees at the site, which we saved. These trees will later be transplanted to the park. Big trees can survive on their own and it is more sustainable. The park will also have split Balinese-style gates and pavilions to emphasise the concept. It is our aim that when people take photos there, others will feel that it is in Bali," says Sivadasan, adding that the township is designed to have various cul-de-sacs to limit the number of units on each road while creating a safe and private space for the community.
According to Koh, though these features are expected to differentiate S P Setia from the other developers in the area, the former is also looking to complement the features of their developments. He says Setia Mayuri's residents can also become members of Club 360 at EcoHill Semenyih — the developer's first project there.
"By allowing them to become members, we will show them that Setia Mayuri is not far from Semenyih town, just about 10 minutes away. And the township is connected to major highways such as Kajang-Seremban Highway (LEKAS), Cheras-Kajang Expressway, North-South Expressway and Kajang Dispersal Link Expressway (SILK)," he says.
Choy adds that the main challenge in selling Setia Mayuri is the perception of the location. But with more developers building projects in Broga, the distance between Broga and the Kuala Lumpur city centre has shortened.
"Broga and Semenyih are self-sustaining as well … there are many amenities around. We can see that people are still buying but there are more choices now. As long as the price and the product are right, then we are good," he says.
Following the success of EcoHill and EcoHill 2, which have since helped transform Semenyih, Koh is aiming to do the same to Setia Mayuri. Together with the other developers, he hopes to turn Broga into the next property hot spot.