This article first appeared in Personal Wealth, The Edge Malaysia Weekly, on October 15, 2018 - October 21, 2018.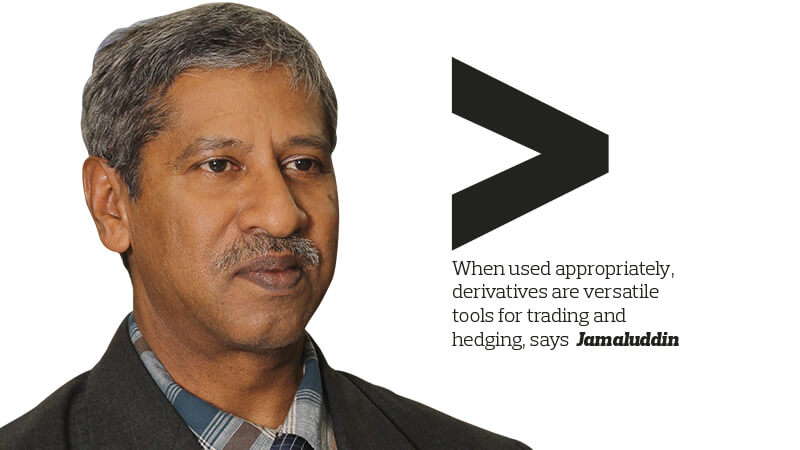 When used appropriately, derivatives are versatile tools for trading and hedging, says Jamaluddin
Investors have viewed financial derivative products negatively since they played a big role in the havoc wreaked in the global financial crisis. The epicentre of the crisis was the US financial industry, where deregulation had resulted in an avalanche of unregulated derivatives.
However, this did not stop the gigantic derivatives market — valued at an estimated US$1.2 quadrillion today — from recovering and growing.
When markets become more mature, there is a greater need for investors — be they institutional or retail — to manage their investment risks.
Financial derivative products, when regulated and appropriately used, are necessary to meet these needs, says Jamaluddin Nor Mohamad, CEO of Bursa Malaysia Derivatives Bhd (BMD), the derivatives arm of Bursa Malaysia. "Our capital market, mainly equity, has grown quite substantially. The FBM KLCI is holding near a record high. There are nearly 1,000 companies listed on the exchange, with many trading activities happening there. This has led to a greater demand from investors for new tools that allow them to long and short the market, and to manage their risk."
He adds that when used appropriately, derivatives are versatile tools for trading and hedging.
At present, there is only one equity-based futures product on the market — the KLCI futures contract (FKLI), which allows investors to long or short the index.
The lack of futures products prompted BMD to act on the matter. "We started the discussion internally and asked ourselves what new products — if we were investors — would appeal to us. In what way and why? Once we established a valid proposition, we took it to the industry by talking to brokers to get feedback on details such as how they would like the product to work. What is the right contract size? Then, we reached out to potential users in the institutional and retail industries for further feedback before meeting the regulators to answer their questions."
This process gave birth to the Mini FTSE Bursa Malaysia Mid 70 Index Futures contract (FM70). Launched last month, the product allows investors to long or short the Bursa Malaysia Mid 70 Index, which tracks the performance of the next 70 companies ranked by full market capitalisation after the FBM KLCI.
The initial margin for investors to trade one FM70 contract varies, depending on the index level. For instance, say an investor puts in RM800 as the low initial margin for a contract valued at RM30,000 when the FTSE Mid 70 Index is at 15,000 points. Assuming he takes a long position and the index rises to 16,000 points, he can opt to sell the contract to close his initial position. As each index point is priced at RM2, he will earn a gross profit of RM2,000.
On the other hand, investors are required to put in an initial margin of about RM5,000 to trade one FKLI contract that is priced at RM90,000 when the index is at 1,800 points. Each point is priced at RM50.
Jamaluddin says the FM70 will meet the demand of fund managers involved in the trading of mid and small-cap stocks and retail investors who have adequate financial knowledge and capability. "There are many fund managers out there who are not invested in the FKLI as it is too costly and it does not help them to hedge their position efficiently when they have exposure to mid-cap companies. The FM70 solves these problems."
Jamaluddin says there is growing demand from retail investors for passive investing instruments — such as exchange-traded funds (ETFs) — that track the performance of an index. Hence, the FM70 offers them one such option.
"There are about a thousand stocks listed on the bourse. An investor would need to look into each one before deciding which to buy. What if you have a short or long-term view on the market based on global events and macroeconomic factors and you want to buy or sell on the broader market? This product could be suitable for you, provided you know how to manage the risk. The initial margin is RM800, which makes the FM70 easily accessible to retail investors."
He adds that the FM70 is also suitable to day traders as the FTSE Bursa Malaysia Mid 70 Index is more volatile than the FBM KLCI, which provides them with pockets of opportunities.
More products in the pipeline
Jamaluddin says BMD aims to launch other equity-based futures contracts when the time is right. "For instance, we have the FTSE Bursa Malaysia MidS Cap Index [which tracks the price performance of mid and small-cap companies] and the FTSE4Good Index, which measures the performance of companies that demonstrate strong environmental, social and governance (ESG) practices. We also have several shariah indices that the Islamic asset managers would be interested in. There are many indices to consider.
"We are also looking at single stock futures contracts (SSFs). Such products have been launched in the past but have not taken off due to several reasons. These include having no market makers providing bid and offer prices in the market and an underdeveloped securities borrowing and lending market back in 2006.
"We are currently reviewing our SSF contract specifications and we plan to introduce new underlying shares for SSF to make it more palatable to market participants.
"However, all these will very much depend on the needs of the industry. We are not going to force [these products onto the market]."
Jamaluddin also has plans to launch currency contracts. At the moment, the proposal for the country's first ringgit contract is being reviewed by Bank Negara Malaysia, he says, without going into details. "The product will be introduced when the respective regulators are comfortable and can ensure that it will not be misused. Even if we get the nod, we can expect the product to be introduced with some restrictions and it won't be freely tradable. I can't comment on when it will be launched, we will leave it to the regulators to decide."
However, the core offering of BMD is its commodity-based futures contracts, which mainly consist of crude palm oil futures (FCPO) contracts. Jamaluddin says the company will continue to enhance the features of FCPO to facilitate more trading activities on the exchange.
He says a few features have been added to the FCPO contract since the start of the year. For instance, BMD has introduced the free on board (FOB) service, which enables domestic buyers and sellers to manage their risk of loss during the goods delivery process. It also introduced the Alternative Delivery Process (ADP) which enables the buyers and sellers to negotiate to take crude palm oil delivery from any location across the globe. The previous FCPO contracts only recognised two delivery points, Port Klang and Pasir Gudang Port.
"We have also relaunched the US dollar-denominated refined, bleached and deodorised (RBD) palm olein futures contract (FPOL) this year to make our product offerings more comprehensive. The commodity futures will be our main focus," he says, adding that the product had an average daily volume of 2,704 contracts as at Oct 4.
Measures taken to protect retail investors
While the upsides of introducing new futures products to the market are clear, are there downsides? Unlike investing in equities or bonds, investors who trade futures could lose more than their principal investment. Retail investors who do not have adequate knowledge to trade futures products could suffer from huge losses if they act recklessly.
Jamaluddin Nor Mohamad, CEO of Bursa Malaysia Derivatives Bhd (BMD), says the company has inserted screening procedures to filter out individuals who are not suitable for derivatives trading. He says these procedures include looking at the individual's net asset to see whether he has the financial capability to withstand market volatility and take on potential losses. It also takes into account the person's educational background — having a diploma, bachelor's or master's in related financial subjects is a plus point.
"There is no net asset requirement for an individual to trade futures contracts. However, each broker will conduct its assessment on the client's suitability," he says.
Those who have the capital but not the knowledge are required to attend classes and workshops organised by BMD and other licensed futures brokers to familiarise themselves with futures trading activities so that they know what they are getting into, says Jamaluddin.
"Participants have to go through this process, which is similar to what our brokers go through. After this, we will assess them on their level of awareness and knowledge."
He says the workshops and webinars will educate participants on the terminology of the futures market, practical trading steps and risk management. "We even put you through an online simulation trading process. In short, you put into practice what you have learnt, not just read the materials."
On top of this, Jamaluddin says investors can also check out the details of the FM70 and other futures products at www.bursamarketplace.com. "The website also allows you to conduct simulation trading for FM70, FKLI and FCPO. The prices are not real-time, there is a 15-minute delay. However, the idea is to allow people to get a feel of what it is like to trade futures before actually putting their money in."
Jamaluddin adds that the bourse regulates the brokers to ensure they hold sufficient cash to run their brokering business. "For instance, when a broker's client liquidates his contract and makes RM5 million in profit, we will make sure that the broker is in the position to deliver that RM5 million. So, the cash adequacy is managed by us.
"We also make sure we monitor individual investors' positions and the brokers will give them a margin call when they hit a certain amount of loss. They won't be able to trade further if they don't top up their margin," he says.
While the bourse is providing retail investors with easier access to futures contracts, it does not mean that it is encouraging them to speculate in the market. The bourse is merely taking a few steps forward to liberalise the futures market, says Jamaluddin.
"There are already similar derivative products that are available in the market, such as structured warrants. Retail investors already have exposure to products like these and we should not be seen as taking a big step forward [in terms of liberalising the market]."
However, Jamaluddin says investor awareness, by and large, still needs to be enhanced and it remains one of the critical challenges faced by the bourse.
Who is Jamaluddin Nor Mohamad?
Bursa Malaysia Derivatives Bhd (BMD) CEO Jamaluddin Nor Mohamad has a wealth of experience both in the company and the financial industry.
Before joining BMD, the 58-year-old spent many years in the banking industry. He joined Bursa Malaysia in 2012 and was tasked with heading the Islamic capital market business. Part of his job scope was to increase investor awareness of the concept of shariah and encourage more people to invest in shariah-based products.
Over the next six years, Jamaluddin spearheaded a few projects including the setting up of Bursa Malaysia-i, the world's first end-to-end shariah investing platform. Through this platform, investors (including retail, institutions and fund managers) can invest in shariah-compliant securities listed on the bourse via several Islamic participating organisations that offer Islamic stockbroking services.
Under his leadership, the bourse also launched the Bursa Suq Al'sila and Exchange-Traded Bonds and Sukuk (ETBS) platforms. The former is an international commodity platform that facilitates commodity-based Islamic financing and business transactions, while the latter allows retail investors to trade bonds and sukuk on the open market, similar to stocks.
"In 2017, I was asked to join BMD to provide the derivatives markets with a new perspective," he says.
Should derivative products be allowed under the values and spirit of Islamic finance? Jamaluddin says the core values of Islamic finance is to create value and bring positive impact on the people and investors. He does not think fund managers, both conventional and shariah, should have an issue in incorporating derivative products into their investment portfolio to help them mitigate downside risks.
"In reality, whether you're a conventional or Islamic asset management firm, you have to manage investment risk. The risk is there regardless of the fund house that manages it.
"In the final analysis, the main objective of the fund manager is to manage risk, improve portfolio returns and the sustainability of the funds. What product and how it is used, is subject to their own internal governance process."
However, from an academic perspective, a shariah-compliant product requires real economic activities. "This is where things get complicated and tough," he says.
Meanwhile, the ETBS initiative has not taken off since it was launched in January 2013. Only three bonds have been listed on the platform, all issued by the same issuer, DanaInfra Nasional Bhd. Over the years, investors have pointed out the shortcomings of the platform, including the lack of investment choices, unattractive risk-adjusted returns and low trading liquidity.
Jamaluddin acknowledges these issues and says the platform is expected to improve as the regulators, including Bank Negara Malaysia, are considering relaxing the listing requirements. This could encourage more companies to list their bonds on the platform and spur more trading activities.
"The main concerns for us and the regulators are investor protection and the possibility of credit default. Even though bonds are perceived as having lower risks than equities, the element of default is still very much alive as some issuers could find ways to get out of fulfilling their obligations.
"This is why the requirements are strict and only a limited number of big companies can fulfil it. An example is an issuer that issues government guaranteed bonds. In this case, the government will protect the interest of the bondholders in the event of a default and it is safe for the investors."
Nevertheless, Jamaluddin does not believe the ETBS is a failure. "It was launched to provide another option for investors to manage their money. It provides investors with risk-adjusted returns that are between fixed deposit and equities. It has not met its objective yet. However, things have to start somewhere."