This article first appeared in The Edge Malaysia Weekly, on June 29, 2020 - July 05, 2020.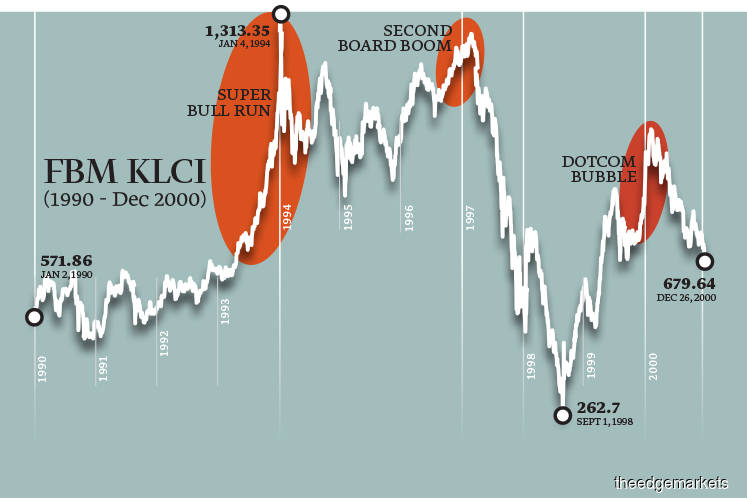 THE last decade of the 20th century was certainly a boom time for the Malaysian economy. The country recorded GDP growth of above 8% for nine years, starting from 1988.
It was also a time when almost everybody talked about the stock market, exchanging investment tips and making phone calls to their remisiers to buy or sell shares.
In the 1990s, the Malaysian stock market was one of the largest in Asia ex-Japan, with the FBM KLCI surging 43% over the decade.
Retail participation was consistently above 40%. In years such as 1996, 1999 and 2000, the market was even dominated by retail investors, whose participation rate stood at 54%, 59% and 54% respectively, according to CLSA.
The strong rally, which started in the early 1990s, hit a peak of 1,313.35 points on Jan 4, 1994, during the so-called super bull run.
Buying frenzy was easily triggered by rumours of a new timber concession or acquisitions. Within a year, timber company Lingui Developments Bhd rose from 60 sen to an all-time high of RM9.60 in early 1994. Jaya Tiasa Holdings Bhd also hit a record high of RM15.43 in mid-1997.
Other speculative counters were Aokam Perdana Bhd, Idris Hydraulics (M) Bhd, CASH Bhd and North Borneo Timber Bhd.
The mania continued with the Second Board boom in 1996 and 1997, just before the Asian financial crisis, which saw the local key index — the Kuala Lumpur Composite Index — plunge to a low of 262.70 points on Sept 1, 1998.
Biscuit maker Hwa Tai Industries Bhd was one of the high flyers during the bull run. Its share price soared to over RM100. Last Thursday, it closed at a mere 27 sen.
Auto, timber and number forecasting group Repco Holdings Bhd's share price climbed to a high of RM140.50 in September 1997 before collapsing to RM2.98 less than a year later.
The group, helmed by executive chairman Low Thiam Hock, defaulted on its loans and in April 1999, special administrators were appointed. Its shares were suspended in 2000 and it was delisted three years later.
Other companies that were trading at crazy valuations included PWE Industries Bhd (now known as Pansar Bhd), Sin Heng Chan (Malaya) Bhd and Zaiton Bhd (delisted in August 2003).
Note that in 2009, the Main and Second Boards were merged into a single unified board called the Main Market. Meanwhile, the Mesdaq Market was transformed into the ACE Market.
Meanwhile, in the late 1990s, the dotcom bubble emerged as the internet was taking off, leading to the overvaluation of many technology and internet companies. The bubble finally burst in March 2000 after many companies failed to generate good earnings amid stratospheric valuations.
Pong Teng Siew, retired head of research at Inter-Pacific Securities, believes retail investors nowadays are more sophisticated and pay attention to companies' fundamentals. "In the 1990s, stock trading was not based on the actual information and announcements. A lot of it was based on rumours. At that time, we only had half-yearly results, but now we have quarterly results, which help to guide investors as to what makes a good company."
Areca Capital Sdn Bhd CEO Danny Wong says retail investors' interests are very different now. "During the 1990s, the trading value was very small, but the volume was very high — that means retailers went into penny stocks. But this time around, it is different; investors are buying glove, healthcare, technology and banking stocks. They are not just looking at penny stocks, but also looking into holding certain [fundamentally strong] stocks."
He adds that today, the market is more mature and investors' interests are protected by the regulators.