This article first appeared in The Edge Malaysia Weekly, on July 19, 2021 - July 25, 2021.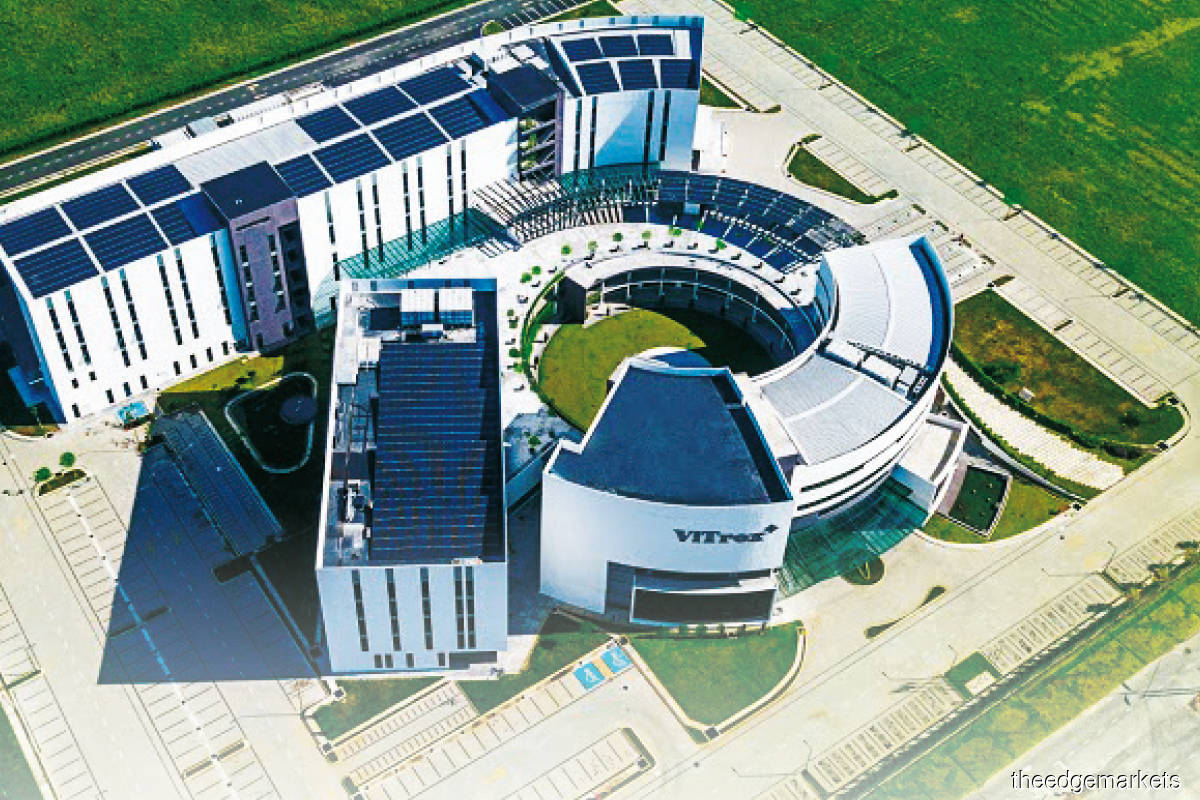 UNDER the guidance of its co-founder, CEO and president Chu Jenn Weng, automated test equipment (ATE) maker ViTrox Corp Bhd has grown from an unknown company that started with seed capital of just RM20,000 into a giant with a market capitalisation of more than RM7 billion.
Its office has expanded from Chu's rented 100 sq ft bedroom in Taman Permai, Sungai Dua, Gelugor in Penang, to an impressive 450,000 sq ft corporate headquarters, dubbed Campus 2.0, at the state's Batu Kawan Industrial Park.
Since its 2005 listing on Bursa Malaysia, ViTrox's share price had jumped about 150-fold from 12 sen to its peak of RM18.08 in February this year. Over the past 15 years, the group's revenue and net profit grew 19 times and 10 times, to hit record highs of RM470.37 million and RM105.62 million, respectively, last year.
How did ViTrox achieve this? What are its plans for the future? Is there more upside for growth?
In an exclusive interview with The Edge, Chu insists that ViTrox is still on Day 1 of its journey, as it hopes to grow beyond the ATE industry and semiconductor space.
"When people tell me ViTrox is very successful, I tend to disagree. If you look at Google, Alibaba, Tencent and AirAsia, they started around the same time as us, but look how big and successful they are today. There are still a lot of things for us to learn and improve," says Chu, 51.
Today, ViTrox has more than 600 customers in Malaysia, China, Taiwan, the US, Mexico and 40 other countries. The group has two main business segments — machine vision system (MVS), which provides component-level inspection solutions; and automated board inspection (ABI), which offers board-level inspection solutions.
Its MVS target market is semiconductor manufacturers, including integrated device manufacturers (IDMs) and outsourced semiconductor assembly and test (OSAT) players, whereas its ABI business unit serves electronics manufacturing service (EMS) providers and contract manufacturers.
In layman's terms, ViTrox makes machine vision inspection systems that scan for defects in semiconductors and other hi-tech gear. Chu did not expect the business to have such huge market potential when ViTrox was established more than two decades ago.
"I was born and raised in Seremban. My family was quite poor in the early days. My father failed in his business when I was in primary school — SJK (C) Chi Hwa. He was a technician repairing TVs, radios and other electronic products. When I was a kid, I helped him to do soldering. I liked to dismantle, repair and assemble things. I even climbed up to the rooftop of some two-storey buildings to install antennas for my dad's customers," he recalls.
Career-shaping milestones
After Chu completed his STPM at Chung Hua High School Seremban, he received offers from universities in Taiwan and Singapore, as well as Universiti Sains Malaysia (USM).
"I didn't have enough money to study abroad, so USM seemed to be the only realistic option. I am very grateful to Robert Kuok because I was a recipient of a Kuok Foundation scholarship. Without that scholarship, I might not even have had the chance to go to university," he says.
In 1990, while in his second year of a Bachelor's degree programme in Electrical and Electronics Engineering at USM, he was gifted a second-hand Pentax SLR camera by his mother for his 20th birthday. His mother, who sold noodles at a coffee shop in Seremban, had bought it from a customer for RM50.
"That was when I fell in love with photography. I loved it so much that I used most of my pocket money from my scholarship to buy film and develop photos. As I didn't have money to waste, I learnt photography skills by reading books in the school library and bookshops in Ipoh.
"I didn't know the photography skills that I learnt would benefit me when I ventured into machine vision technology. So, I always tell others that it was because of the selfless love and giving from a mother to her son that led to the creation of ViTrox eight years later. Without that unconditional love, ViTrox may not have even existed," he says.
Today, that Pentax SLR camera is showcased at ViTrox's V-Gallery in Campus 2.0.
During his third year in university, Chu was shortlisted for an internship at Hewlett-Packard (M) Sdn Bhd, which in time became his first employer. It was at HP that he developed a clear vision for his career.
"One day, I went to the HP production department. I saw a camera mounted on a machine and a robotic arm moving swiftly towards a wafer. It managed to pick up a small die from the wafer, very accurately in a split second. I was so amazed when I saw these images flashing on the black-and-white screen," he recalls.
Chu realised then that, with camera technology, a robotic arm could achieve things humans never could. "From being a hobbyist, someone who likes photography, to being someone who saw how cameras could help machines do wonderful things, I knew this was exactly what I wanted to pursue."
At the end of his internship, Chu persuaded his field supervisor to put him on a project working on machine vision. He returned to USM and persuaded his lecturer, who taught him image processing, to allow him to work on an industrial project for his final year in 1992.
"This lecturer, Datuk Ir Dr Ahmad Fadzil Mohamad Hani, is my mentor. Today, he sits on our board as an independent non-executive director. Frankly, I didn't know where all these ideas were going to lead me. I just followed my heart," he says.
At that point in time, Chu had not conceived the idea to start his own company, as he only wanted to gain as much knowledge as he could with HP.
"I continued to work and study hard to learn about the technology and did my very best to implement as many machine vision solutions as possible during my first five years in HP (1993 to 1997). I even completed my master of science degree in image processing during my tenure with the company," he says.
In 1995, Chu took a life-changing trip to the HP Garage — considered the birthplace of Silicon Valley — in Palo Alto, California. There, he learnt that HP was co-founded by Bill Hewlett and David Packard from a garage. On the advice of their lecturers at Stanford University, Hewlett and Packard decided not to join the multinational corporations in the East Coast, but instead started their own business.
"That, to me, is really an inspiring story. I stood in front of the HP Garage and asked myself, 'If these two engineers could start their business from a garage and grow it into a world-leading technology company, why can't I do it?' Like them, I am also an E&E graduate. That trip planted a seed in my heart that, given an opportunity, I'd want to build a great global technology company in Malaysia by Malaysians," he says.
In 1998, Chu and his university mate Steven Siaw Kok Tong started a partnership after receiving a request from a former colleague to build a vision system for a back-end semiconductor contract manufacturer in Perak.
"We knew the opportunity had arrived and we decided to quit our high-paying jobs to pursue our dream of starting our own venture. We used the initial capital to purchase parts and cameras; then, we started to write software. We worked day and night, even during the weekend, and Steven would join me after he finished his work at HP," he says.
ViTrox was officially formed in 2000, but its breakthrough came in 2004, when it launched its first 3D vision inspection system for semiconductor components. It gradually became an automated vision test equipment company, and grew tremendously from there.
Using technology to make the world a better place
The strong performance of ViTrox shares in recent years propelled Chu into Forbes' Malaysia's 50 Richest list for the first time in 2020. The former HP engineer was ranked 47th with a net worth of US$280 million (RM1.22 billion) last year, before climbing to 35th with a wealth of US$460 million (RM1.92 billion) this year.
"Being one of the richest men in the country was never my goal. In fact, I requested Forbes not to include me in their list. With the money and resources that I have, I have a great responsibility to contribute to society, to the country and to the world," he stresses.
While Chu was already a multi-millionaire before he was 40, he was unhappy.
"Oftentimes, I felt empty and had no sense of purpose in life. We worked hard in the daytime and we played hard in the night time. And I found that this kind of life was not quite the life I wanted."
In 2009, he came to know about the Tzu Chi Foundation because of his twin daughters, and it turned out to be another life-changing event for him.
"After we enrolled them in a Tzu Chi Sunday Humanity School, we realised we had to accompany them to attend class every alternate weekend. I was so inspired and touched by the stories of (Tzu Chi founder) Master Cheng Yen and Tzu Chi volunteers. It was then I realised the importance of sustainability for ViTrox, and I stopped thinking as a businessman. I know we should manage our company with care and love.
"When I visited Master Cheng Yen in Hualien, she asked me, 'How can you transform a cool metal into a machine that brings warmth to the world?' I then decided that the mission of our company would be to use technology to make this world a better place, not to make money," Chu says, adding that he did not want ViTrox to be just another technology company whose sole objective was to make profits.
"Nowadays, companies and corporations focus only on the results. But ViTrox will always focus on the cause. If we continue to do things for a good cause, the results will come later. This is the core belief of our company."
With environmental, social and corporate governance (ESG) being a popular investing theme these days, Chu believes many investors will be attracted to ViTrox.
"In fact, before ESG came into play, we had done a lot of work and made a lot of investments to make sure that our Campus 2.0 was a green working place. Our bricks can breathe, we use solar power and we recycle rainwater to water our plants at our organic farms. We participate in disaster relief and community services. We provide daily free healthy vegetarian food to our employees. And we run our business with uncompromised integrity," he says.
Today, ViTrox has a clear purpose — to reduce electronic waste on the planet. With the deployment of ATE systems in manufacturing, defects can be detected at the early stages. As such, the production of defective electronics goods that will subsequently become e-waste can be significantly reduced.
"This is our vision for the next 50 to 100 years, and this is the mission for our 700 employees. When my engineers are developing a new machine for our customers, they know they have to work very hard and very fast, because the earlier they can come up with the products, the less e-wastage there will be in the world. We want our machine to be able to detect every minor defect in our customers' products," Chu reiterates.
Limited upside for now?
ViTrox plans to bank on precision smart farming and the Penang Automation Cluster (see story on Page 60) in its next phase of growth. Notably, the group has a 10-year master plan to aggressively expand its workforce, increase its floor space by expanding to Campus 3.0 by 2023, as well as build a ViTrox university by 2026.
All these plans will not materialise overnight, which partly explains why research analysts are currently divided over the company's 12-month prospects.
A check on Bloomberg shows that four research houses have a "buy" call on ViTrox, whereas three have a "hold" and three a "sell". If the analysts are right, the stock has a potential upside of only 0.68%, against its consensus target price of RM16.07.
Farsighted as always, Chu does not read too much into the share price performance.
"It's just a stock valuation given by the market. Being a listed company, we don't have a choice in choosing our shareholders. But we can choose our company's vision. If investors share the same ideology with us, then we welcome them to invest in our company," he says.
It is estimated that institutional investors' shareholding in ViTrox increased from about 6% in 2010 to around 15% in 2020. According to its Annual Report 2020, prominent institutional investors include DBS Bank Ltd, Kumpulan Wang Persaraan (Diperbadankan), Voyager Assets Ltd, Norges Bank, Credit Suisse, Public Islamic Select Treasures Fund, Public Islamic Treasures Growth Fund, and Great Eastern Life Assurance (Malaysia) Bhd.
Chu acknowledges that he cannot promise investors that ViTrox will be making more profits in the coming years, neither can he assure them of capital appreciation. Instead, he just wants the company to continue to do what it is good at and, hopefully, the market will reward it later.