This article first appeared in City & Country, The Edge Malaysia Weekly, on December 13, 2021 - December 19, 2021.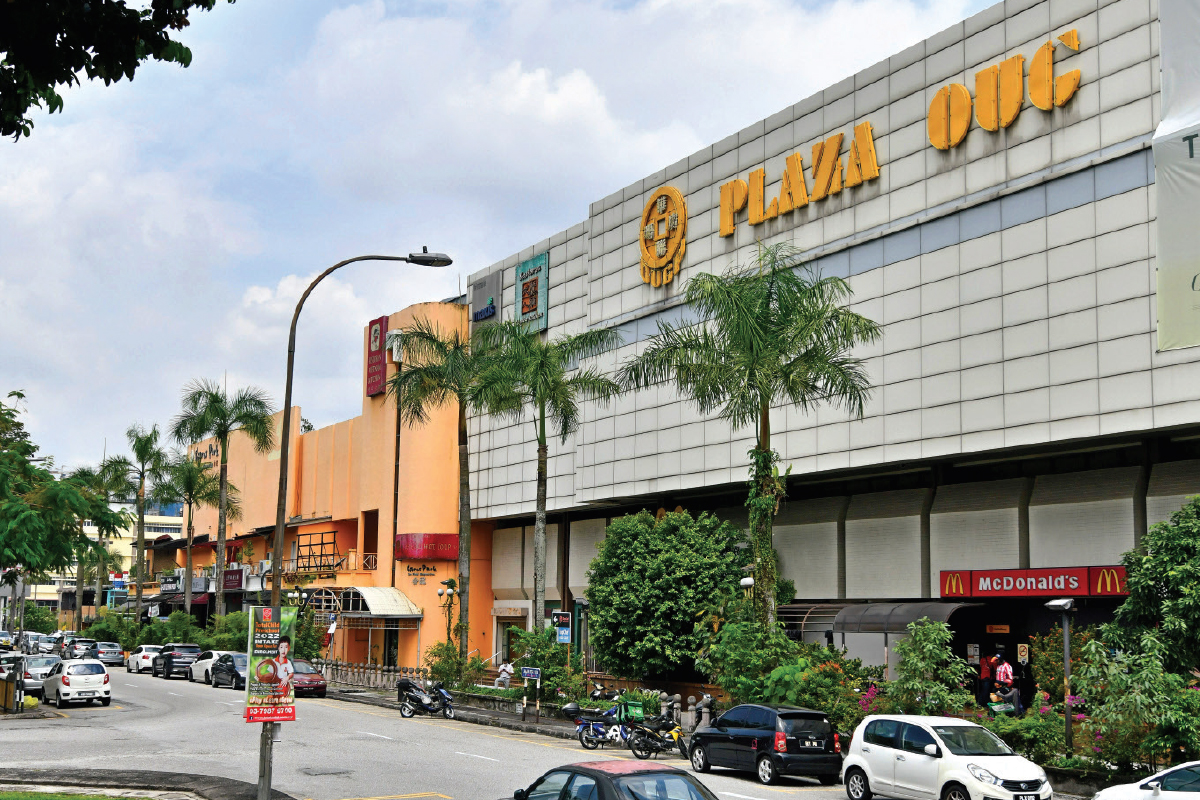 The predominantly landed township of Overseas Union Garden, better known as Taman OUG, is set to be transformed with the surge of higher-density projects being planned or already in progress. 
Located off Jalan Klang Lama or Old Klang Road, the established Taman OUG is surrounded by equally mature neighbourhoods such as Taman Yarl, Taman United, Taman Bukit Indah, Sri Petaling and Bukit Jalil. 
Developed in the 1970s by Overseas Union Garden Sdn Bhd, the housing area comprises mainly freehold landed properties ranging from terraced houses, semidees to bungalows, as well as neighbourhood shops in the Jalan Awan and Jalan Hujan commercial areas. 
Plaza OUG — still fondly known as Yaohan to many folks of a certain age, even though the Japanese department store that bore the name had ceased operating for more than two decades — is a notable landmark as one enters from Jalan Klang Lama. There are plans to redevelop Plaza OUG into a 6-storey shopping complex with a mezzanine floor, a 30-storey hotel with 312 rooms and a 41-storey serviced apartment with 361 units.
At the heart of the area is the relatively newer 5-storey commercial building known as The Market Place, which opened in 2016 to offer both wet and dry markets, restaurants, as well as a badminton hall.
Savills Malaysia group managing director Datuk Paul Khong shares a little history of the area. "Since the 1980s, Taman OUG [has been] a coveted and very liveable address. The iconic Yaohan shopping centre, wet market and commercial shops were supported by the sizeable residential neighbourhood," he says.
Having all the key ingredients for a successful housing project from the start has ensured that Taman OUG not only thrived but even spilled over, so to speak. "The rapid growth of Taman OUG has since spurred more development and encouraged expansion to Sri Petaling and Bukit Jalil at its rear boundaries, along with many new road connections," Khong adds.
He notes that the local property market in the area has been considerably resilient over the past 20 years. "There were about 40 transactions per annum in the last 10 years, with around 80% of the secondary sales in the area being terraced houses," he says.
PA International Property Consultants (KL) Sdn Bhd managing director Jerome Hong notes that the price of a 1-storey terraced house with a land area of 1,604 sq ft was about RM15,000 in 1976. "Today, a similar property is transacted between RM580,000 and RM610,000."
He points out, however, that there is limited land left for development in the area, which means the only way to grow further is upward. "Taman OUG's landscape will see a drastic change. [It] will be transformed from a quiet residential enclave into a bustling hotspot. We foresee property prices and rents in the area further improving."
The change will be particularly pronounced at the 63-acre W City OUG @ Kuala Lumpur (formerly known as Paradigm Garden City) by WCT Holdings Bhd. According to the developer's website, the integrated and self-sustaining mixed-use development will comprise residential, commercial, retail and public space components. It aims to be a vibrant hub of entertainment, wellness, enrichment, specialities, and food and beverage.
W City OUG's first completed development — in July 2020 — is Waltz Residences. It offers 419 units with built-ups ranging from 948 to 1,691 sq ft, priced from RM754,000.
An ongoing W City OUG project is the three-tower Maple Residences. Slated for completion in 2025, it will add 940 units to Taman OUG's property market. 
Hong says Tower A, launched in October last year, offers 303 units with built-ups ranging from 808 to 1,163 sq ft, priced from RM643,000.
Tower B will offer 295 units with built-ups ranging from 808 to 1,152 sq ft. Tower C's units, totalling 342, are bigger, from 1,163 to 1,378 sq ft. 
Subsequent phases to be developed at W City OUG are a neighbourhood community retail hub, an MSC (Multimedia Super Corridor) office tower and residential blocks, Hong shares.
Another development in the works is The Legacy OUG by Grande Peak Properties Development Sdn Bhd, targeted for completion in 2023. Located on Jalan Gembira, it comprises two 34-storey blocks of condominiums, totalling 442 units, with built-ups ranging from 1,050 to 2,230 sq ft. 
Steady growth in prices
Hong says property prices in Taman OUG have shown marked appreciation over the past decade. 
A 2-storey terraced house on Jalan Hujan Emas 9 with land and built-up areas of 1,647 sq ft and 1,672 sq ft respectively, gained 107% in price to RM455 psf in 2019/2020, from RM220 psf in 2010.
In the same period, the price of 2-storey semidees on Jalan Hujan Emas, with land areas ranging from 4,069 to 4,241 sq ft and built-ups of 2,076 to 2,160 sq ft, grew 72% to RM795 psf from RM463 psf.
"Asking prices of two-storey terraced houses are on a par with recent transactions recorded [by the Valuation and Property Services Department], whereas asking prices of 2-storey semidees have dropped slightly," Hong notes.
For a general comparison, he says that asking prices of 2-storey terraced houses with a land area of 1,650 sq ft range from RM477 psf for a 2,200 sq ft built-up unit to RM525 psf for a 1,600 sq ft built-up unit. For 2-storey semidees with a land area of around 5,000 sq ft and built-ups ranging from 3,000 to 4,000 sq ft, they are between RM622 and RM627 psf. 
As for high-rise properties, asking prices at Waltz Residences have remained stable at an average of RM791 psf, he notes.
In the commercial segment, shopoffices have fared well, with prices appreciating in excess of 95% over a 10-year period, Hong adds. Two-storey shops on Jalan Hujan, with a land area of 1,604 sq ft and built-ups ranging from 2,328 to 2,391 sq ft, appreciated 95% in price to RM836 psf in 2019/2020 from RM430 psf in 2010. "The average transacted prices of properties located within the main commercial hub, such as those in Jalan Hujan and Jalan Hujan Rahmat, were higher," Hong says.
Laurelcap Sdn Bhd executive director Stanley Toh also notes that property prices in Taman OUG have been growing steadily over the past 10 years. Even so, he adds, "in terms of its outlook, prices in the mid- to long term are expected to remain stagnant mainly due to the age of its existing properties."
Apart from that, "the opening up of Sri Petaling and Bukit Jalil with newer projects has attracted millennial buyers from Taman OUG, which is still predominantly occupied by the older generation," says Toh. Further, many old bungalows in the area have been amalgamated and developed into super-linked terraced houses, townhouses and semidees.
Generally, Toh says, asking prices in Taman OUG are around RM700,000 to RM800,000 for terraced houses; RM1.5 million to RM1.8 million for semidees; and RM2.3 million to RM3 million for bungalows.
As for high-rise serviced apartments, they are priced from RM650 to RM850 psf, he adds. 
Meanwhile, 2-storey shops range from RM1.2 million to RM1.8 million while 3-storey units are going for RM2.2 million to RM2.5 million.
"In terms of transactions, prices have generally been increasing over the last five years," says Toh. He notes, however, that there were a few fire sales in the neighbourhood during the Movement Control Order (MCO) period, but points out that they were typical knee-jerk reactions due to the pandemic.
According to Savills' Khong, terraced houses in Taman OUG typically have one to three storeys, while semidees and bungalows usually have two or two-and-a-half storeys. He says asking prices of 2-storey terraced houses with built-ups of 1,600 to 1,760 sq ft range from RM840,000 to RM880,000, and for 2-storey semidees with land areas of about 5,000 sq ft and built-ups of 3,000 to 4,000 sq ft, from RM1.8 million to RM2.5 million.
An analysis of 2-storey terraced houses in the area with a land area of 22ft by 75ft and built-up of about 1,670 sq ft shows that the average transacted price was about RM870,000 in 2019, representing a marginal compound annual growth rate of 0.6% over a five-year period, notes Khong.
While there were limited transactions of semidees in the neighbourhood, transactions of 2-storey semidees with land areas of 4,000 to 5,000 sq ft were recorded at around RM1.5 million to RM2 million in 2018/2019.
"Demand for terraced houses is still relatively strong given the location, and the area is expected to remain popular with the owner-occupier segment," says Khong. "Its central location, full connectivity to a network of highways and proximity to shopping malls and wet markets still makes this location appealing."
Strategic, convenient
There are many factors driving the demand for properties in Taman OUG. The main draw is its strategic location off Jalan Klang Lama and proximity to Petaling Jaya and KL city centre, as well as good connectivity to a large network of highways such as Maju Expressway (MEX), Shah Alam Expressway (KESAS), New Pantai Expressway (NPE), Federal Highway and Sungai Besi Expressway leading down to North-South Expressway. Apart from that, there are LRT stations — Awan Besar, Sri Petaling and Bukit Jalil — in the vicinity.
Taman OUG also enjoys an abundance of amenities close by including Mid Valley Megamall, The Gardens Mall, Pearl Shopping Gallery, Bukit Jalil Recreational Park, Bukit Jalil Golf & Country Resort, KL Sports City (formerly known as National Sports Complex). There are also wet markets, medical centres, schools, banks and neighbourhood commercial areas. Another shopping complex nearby that just recently opened its doors is Pavilion Bukit Jalil. 
Another selling point of Taman OUG is its freehold tenure — a point made by both Khong and Toh.
"Being within an established locality, the overall landscape of OUG is expected to remain resilient, as it is well supported by both organic growth and local demand from the vicinity with catalytic developments such as W City OUG and Pavilion Bukit Jalil," Khong notes.
Toh feels, however, that improving public transport facilities could give a further boost to the area. "More MRT and LRT stations in the area can cater for the growing population," he says.
But while the needs of the growing population are being catered for, how will the older generation in Taman OUG, who are presumably still calling Plaza OUG "Yaohan", take the impending radical transformation of their neighbourhood that has remained more or less the same for close to half a century? 
Khong's words will find acceptance: "While Taman OUG is an old but established suburb, it must continue to rejuvenate itself with renovations, refurbishments or redevelopments of its existing residential stock to stay relevant."