This article first appeared in The Edge Malaysia Weekly, on December 18, 2017 - December 24, 2017.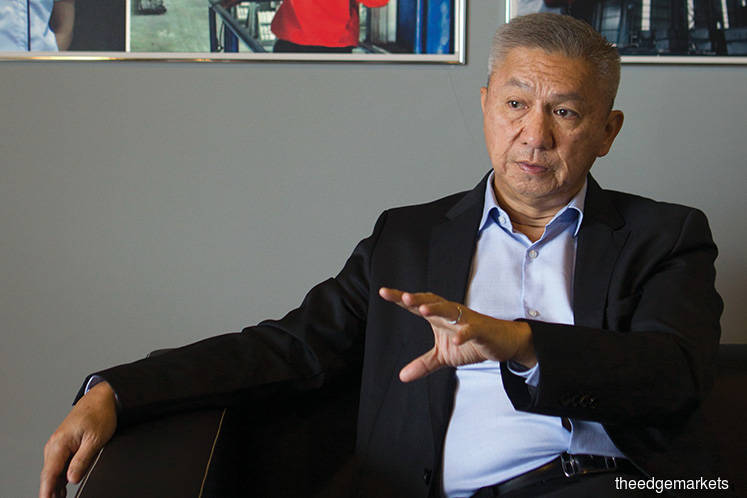 TAN Sri Paul Koon Poh Keong is a founding member of Press Metal Aluminium Holdings Bhd and has been its CEO since the company's listing on Bursa Malaysia in 1993. He has more than 30 years of experience in the aluminium industry. Here is an excerpt from The Edge's exclusive interview with him:
The Edge: It has been more than 30 years since Press Metal was established as a privately owned local aluminium extrusion company. Today, it has grown into a globally integrated aluminium corporation. Can you share with us your corporate journey?
Tan Sri Paul Koon Poh Keong: Basically, we had to roll up our sleeves and always be there to operate equipment and all that. That was how we started. We learnt from scratch. I had zero knowledge of aluminium at the time. But we worked through it together. I am mainly in operations and my brothers are helping generally in marketing.
Tell us about your family, your brothers.
I am the youngest of seven brothers. Two have passed away … the five of us are still active in the business. We have strong family values, which is why we have been able to work together very well.
Are you the final decision-maker?
Being the CEO, I have to make the day-to-day decisions. Of course, being the youngest, I have to do more (laughs). I take the challenge, I enjoy the work and I'd like to continue to be there to deliver. As for my brothers, they are getting older, so they want to have an easier life, which is fine with me because everyone has his own perspective.
Have there been any disputes?
It is absolutely harmonious. To us, it's all about family. That has always been our core value. We don't want to see family disputes … all the brothers have been very supportive.
One of the major breakthroughs for Press Metal was its entry into China. What is the potential of the market and where do you see it headed?
I would say it is a [matter of] right timing. As we are an international company in China, it makes a lot of sense for people to come and look at us. Besides, I am Chinese-educated, so we can communicate with them. At the same time, we also understand the international business. It is good for us to be there [because] the whole world is sourcing products from China.
Press Metal is one of very few players in the world that are adopting Chinese technology whereas most of the smelters are adopting Western technology. Why?
China has built so many smelters in the last 10 to 12 years, so they became very good at it. This is something that is not fully understood by the Western world. We chose Chinese technology and have confidence in it, which actually made a whole world of difference because we have been able to keep our cost low. Having said that, it does not mean that efficiency or product quality is less.
One of the things investors like about Press Metal is the cheap hydropower that you have managed to secure over the long term in Sarawak.
We saw the opportunity of Malaysia's captive power [plants]. You cannot be in the industry when you do not have a huge amount of captive power. But it was not as simple as that because when you get this power, you have no choice but to use it. This is a project in which you have to be certain of your ability to operate well, especially in the commodity cycle. It was a big sum of money as well.
Today, Tan Sri, you are one of the richest men in the country while Press Metal will soon become one of the top 30 companies listed on Bursa Malaysia. Looking back at the start, would you say you have achieved more success than you imagined?
Everybody has his dream and goal but so far, whatever that has happened, is more than what I have expected. We have to catch up with the market momentum. Sometimes, you cannot see it. Sometimes, when the timing is right and you are riding it by doing the right thing, you might be able to achieve your goal earlier.
What is the secret behind the success of Press Metal?
It is important in this industry that you become a significant player with volume. Our whole team is behind the company. Everything has to work together … with support from friends, banks, states and the market. We have always focused on aluminium as we believe in this metal. We believe aluminium will be used more and more in the future.
What is the most important lesson that you have learnt?
Mitigate the risks. Two years ago, we suffered a fire at our Samalaju [Industrial Park] smelting plant [in Bintulu, Sarawak]. Today, we have put in many mitigation plans; we are much stronger.
Press Metal is already the largest integrated aluminium producer in Southeast Asia. How much further can the company grow?
Currently, I think we are only doing about 1% of the world aluminium usage. There are still plenty of opportunities for us in the market. More importantly, we have a low-cost model whereas cost is getting higher in the US and Australia.
What is your personal dream for Press Metal?
Make it continue to grow, make it an international player. There is no reason why we cannot do that. We just need to work at it.
Save by subscribing to us for your print and/or digital copy.
P/S: The Edge is also available on Apple's AppStore and Androids' Google Play.