This article first appeared in Personal Wealth, The Edge Malaysia Weekly, on July 27, 2020 - August 02, 2020.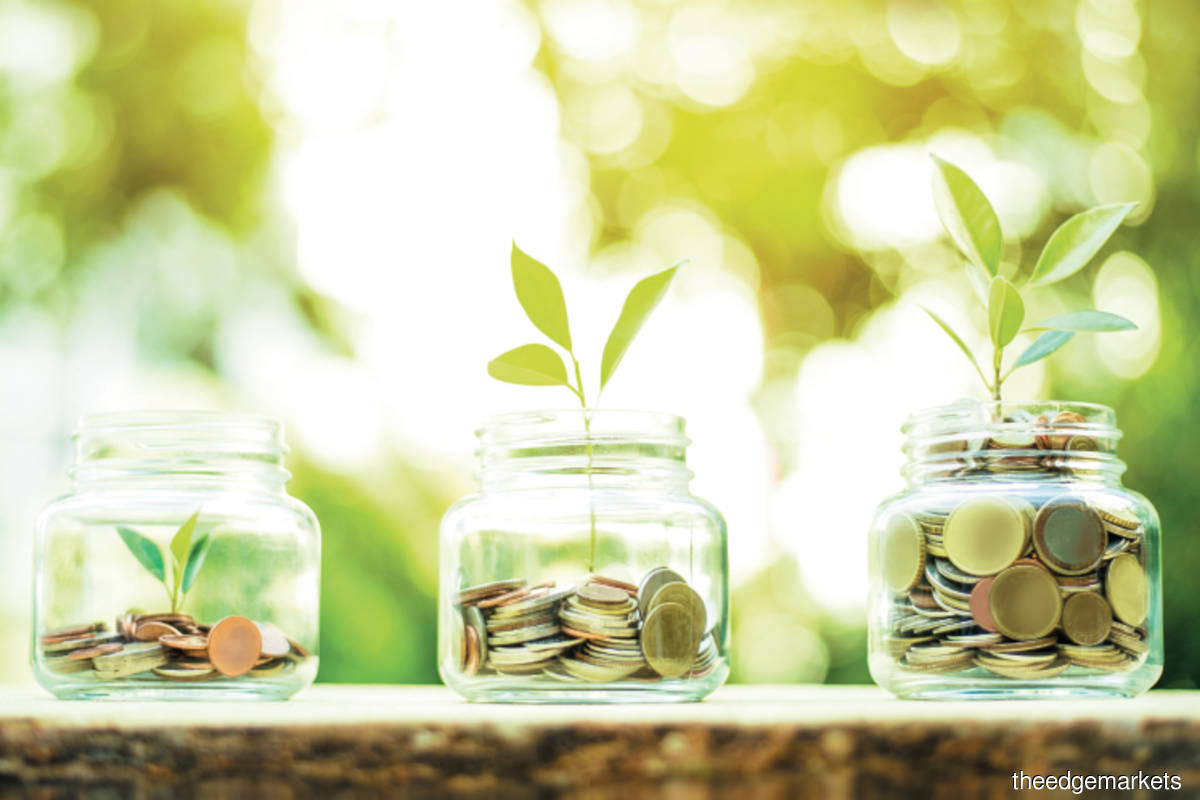 Malaysians now have a new option when it comes to investing small amounts of money. Micro-investing platform Raiz (pronounced raise), the first of its kind in the country, allows users to automatically invest their loose change from everyday purchases in unit trusts via its app.
"We consider ourselves a new breed of robo-advisor. Our main value proposition is micro-investing. A key feature of the app is the round-up feature, which allows users to round up their transactions to the next ringgit and invest the change," says Aidi Izham Mohd Khalil, executive director and chief executive of Raiz Malaysia Sdn Bhd. 
"For example, if a user buys a cup of coffee for RM6.60, 40 sen will be automatically invested. Similarly, if one buys groceries for RM130.10, 90 sen will be automatically invested. The objective is to modernise the old practice of saving loose change." 
Raiz is targeting the segment of the population that wants to learn how to save and invest, he says. The idea is to help them kick-start their saving and investing habit, even with small amounts. They can do this regularly and effortlessly without affecting their lifestyles, he adds. 
Recognising that having to come up with a large amount of capital upfront can be a barrier to entry for new investors, the platform imposes a really low minimum investment amount of RM5. Thereafter, users have the option of investing their loose change or setting recurring amounts of RM5 on a monthly, weekly or even daily basis. 
"We want to help people who are struggling to develop a consistent saving habit. Raiz also makes investing easy," says Aidi. 
"Each time users make a purchase, a new investment deposit is made. This basically makes [growing their] wealth a by-product of their spending habits. With the overwhelming response that we have seen in just a month since the soft launch, we have proved that there is a demand for the product," he adds.
Raiz Malaysia is a 70:30 joint venture between Australia-based micro-investing firm Raiz Invest Ltd and Jewel Digital Ventures Sdn Bhd, a wholly-owned subsidiary of PNB Equity Resource Corp Sdn Bhd. Jewel Digital Ventures is an investment vehicle set up by Permodalan Nasional Bhd (PNB) to spearhead its digital business strategy. 
Raiz Malaysia will be fully consolidated into Raiz Invest. Formerly known as Acorns Grow Australia, the latter was a joint venture between US-based Acorns Grow Inc and Australia-based asset manager Instreet Investment Ltd. In April 2018, Instreet took a controlling stake of the company and rebranded the platform as Raiz Invest. 
Acorns Grow Inc was founded by father and son Walter and Jeff Cruttende in 2012. When Jeff was studying in college, he realised that while many of his peers were interested in investing, many of them had not invested before as they had the perception that investing was expensive and difficult to do. 
To address this issue, Acorns allows individuals to start investing with just a few dollars and to do so seamlessly via a mobile phone, which was unheard of in the market at the time. Today, the platform is used by more than 7.7 million investors in the US.
The micro-investing concept was introduced in Australia in 2016. As at April last year, Raiz Invest had seen more than 670,000 registrations, over 190,000 active monthly customers and US$320 million in assets under management. 
Aidi, who was working in the unit trust division of PNB back then, came up with the idea of developing a micro-investing platform in 2016. To realise this, he needed the help of an expert. So, he approached Acorns co-founder Jeff, who referred him to George Lucas, founder and CEO of Raiz Invest Ltd. 
The following year, Aidi entered a pitching competition run by PNB with his idea and won. He and Lucas then began talking to the Securities Commission Malaysia (SC) about the possibility of making the Raiz platform available in the country as the regulator had already launched its Digital Investment Management framework.
Last year, Aidi and his team submitted a formal application to the SC and received approval in principle in September. The Raiz platform went live in May. At the time of writing, the launch of the platform was scheduled on July 23.
The Raiz mobile app is available for download on the App Store and Google Play while the web version is expected to be launched in the near future. As at July 20, the app had been downloaded more than 10,000 times on Google Play.
"Prior to the launch, we did not conduct any marketing activities. Yet, the platform has received an overwhelming response. This is very encouraging for us," says Aidi. 
Lucas concurs, saying that he is interested to see how Malaysians respond to the new platform. "In Australia, people use the platform for a variety of objectives. Some use it to set up a rainy day fund, some for retirement and others for short-term goals such as buying presents. Some opt to withdraw all of their money when their goals are achieved. 
"We recognise these differences. That is why the [Australian and Malaysian versions of the] platform are designed to be versatile and can suit those with short, medium and long-term goals. We allow users to withdraw money any time they want at zero cost and with no penalty."
Investing in unit trusts
This year has been a challenging one for investors. In addition to the volatility in the financial markets, caused by the Covid-19 pandemic as well as the ongoing US-China trade tensions, many have found themselves in financial difficulties due to the economic crisis. 
Despite these conditions, Aidi believes it is a good time for Raiz to be introduced in Malaysia as the platform encourages users to stick to a healthy and sustainable saving habit. "I think this is the best time for us to [draw attention] to this product. Many Malaysians now have more cash, thanks to the facilities granted by the government such as the moratorium on bank loans. They can use platforms such as Raiz to save and invest for a rainy day," he says. 
On March 25, Bank Negara Malaysia announced a six-month deferment for all loan and financing payments to help individuals, small and medium enterprises as well as corporations manage the impact of the current pandemic. Many insurers have also provided similar options for their life insurance policyholders and takaful certificate holders, provided that they meet certain criteria.  
Raiz does not require any deposit to open an account but users must put in at least RM5 to start investing in a recommended portfolio. 
Instead of exchange-traded funds (ETFs), which are commonly offered by robo-advisors, the platform's portfolios comprise several unit trust funds offered by Amanah Saham Nasional Bhd , a wholly-owned unit trust management company of PNB. These unit trusts invest in domestic and foreign stocks, corporate bonds, government bonds, money market instruments and other capital market instruments that offer liquidity.
"Unit trusts are more popular and familiar to local investors than ETFs. Also, we want to integrate [our investments] easily and quickly [with our platform]. Unit trust funds allow us to do that," says Aidi.
"As our assets under management and user base grow, we will expand our medium to cover more asset classes and jurisdictions. This can be done via unit trusts offered by other fund houses as well." 
There are currently three portfolios available to users. The conservative portfolio invests 80% in ASN Sara 1 and 20% in ASN Equity 3 while the moderate portfolio invests 100% in ASN Imbang 2. The aggressive portfolio invests 80% in ASN Equity 3 and 20% in ASN Sara 1. 
ASN Sara 1 is a mixed-asset conservative fund. According to its July fund fact sheet, it has provided annualised returns of 2.41%, 3.34% and 6.11% over the past 3, 5 and 10 years respectively. 
ASN Equity 3 is an equity fund. It has seen annualised returns of -2.14%, 0.15% and 3.91% over the past 3, 5 and 10 years respectively. 
ASN Imbang 2 is a mixed-asset balanced fund. It has provided annualised returns of 0.44%, 2.07% and 4.73% over the past 3, 5 and 10 years respectively.
In 2019, investors of ASN Sara 1, ASN Equity 3 and ASN Imbang 2 received an income distribution of 5 sen, 4.1 sen and 4.2 sen per unit respectively.
Raiz charges users a monthly fee of RM1.50 for accounts with less than RM6,000. The fee covers the cost of administering the investment accounts. It is charged to the debit card nominated in the users' funding account. If there is more than RM6,000, an annual fee of 0.3% will be charged on the balance in the investment account. 
Further offerings 
To set up the round-up feature on the app, users will need to link Raiz to their debit card. Aidi acknowledges that this may be a cause for concern among some Malaysians, who may be worried about the safety of their bank accounts. 
"We want to assure our users that Raiz, as a regulated entity under the SC,  takes their security seriously. We work hard to protect their information and prevent unauthorised access," he says.
"We have taken many steps to keep users' accounts and information protected. This has been assessed by the bank as part of its regulatory obligation. We also needed to complete an external audit of our security features before the licence was granted."
Aidi says the Raiz website and mobile app are secured with 256-bit encryption and multi-factor authentication. The platform employs the latest bank-level security and artificial intelligence technology to safeguard users' information, including having secure servers. "Even after all these safeguards, we will alert users if we detect any unusual account activity for protection against fraud."
Lucas says the Australian platform received the same concerns when it was introduced in the market. However, he is pleasantly surprised to learn that there has been comparatively less resistance in Malaysia. 
"We have seen fewer people who are wary about linking their cards to the platform in Malaysia compared with Australia. We think it is because people in Malaysia really see the value-add that the round-up feature brings and that they trust the other parties, which are Malayan Banking Bhd (Maybank) and PNB," he says.
Currently, users can only link a Maybank debit card to their Raiz account. Aidi says linking a Maybank credit card to a Raiz account may be possible in the near future. 
"We are exclusive to Maybank until the first quarter of 2021. However, we plan to collaborate with more banks and even e-wallet providers going forward. For us to do that, we need to work with individual banks and e-wallet providers, especially in terms of sharing transaction data."
The Australian platform offers a few features that have yet to be made available to Malaysian users. For instance, users Down Under can participate in a loyalty programme called Raiz Rewards. When they shop at the platform's partner brands, the retailer will deposit a dollar amount or a certain percentage of the purchase price in their Raiz account.
Raiz Invest also has a carbon-offsetting feature, which allows users to sign up for a monthly subscription to offset their carbon footprint. Apart from this, users in Australia have access to Sapphire, a bitcoin portfolio, and Raiz Kids, a feature that allows parents to save and invest for their children and dependants. 
Aidi says that while he is interested in offering these features to Malaysian users, it is still quite early for the platform to do so. "We would definitely love to provide more products and services to users here. However, being a regulated entity, we must maintain our focus on improving financial literacy and assisting Malaysians in their saving and investing journey. We have to be realistic and take our time to grow what we have before embarking on other things in the pipeline."