This article first appeared in The Edge Malaysia Weekly, on July 26, 2021 - August 01, 2021.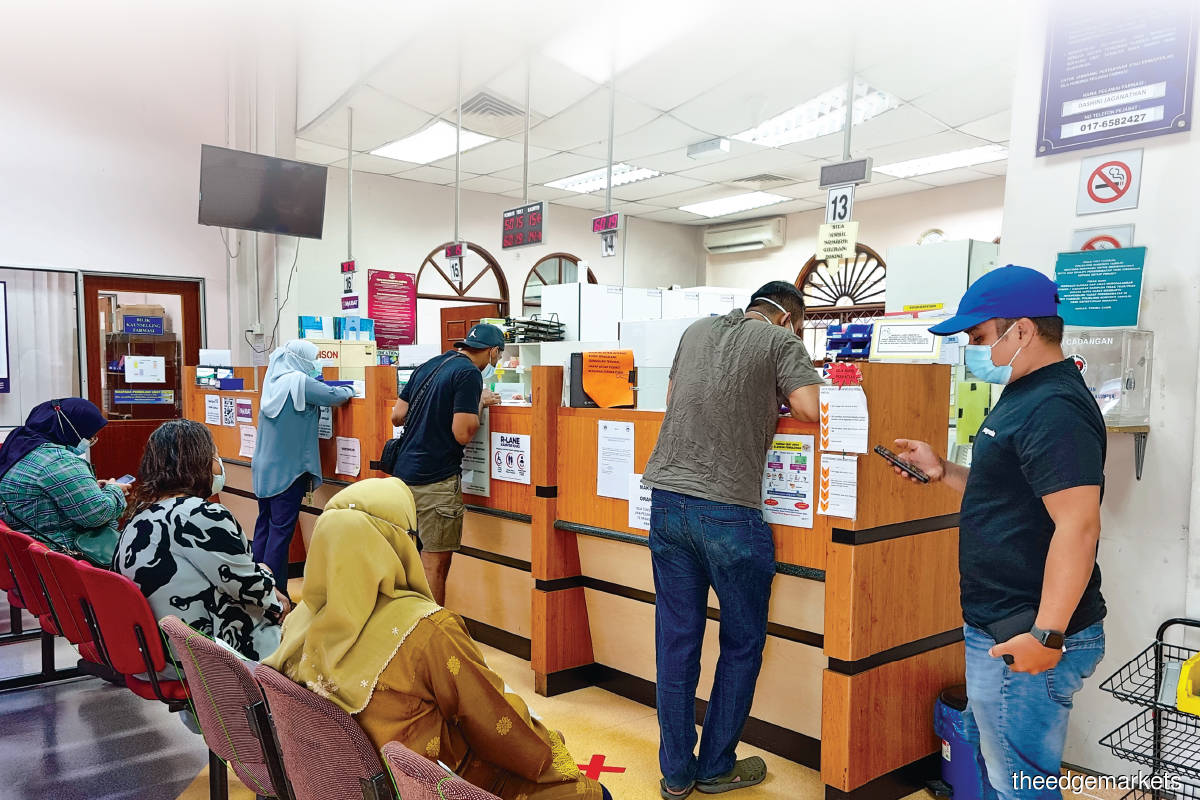 I got a call this morning from the hospital, from one of the wards that I am overseeing, on the need to discuss two cases to see if we could administer IL-6 inhibitors, which we don't have, as we have run out. Not to be overly dramatic about it but yes, we have run out of this drug," a senior doctor who works with Covid-19 patients tells The Edge. He wishes to remain anonymous as speaking to the media on the dire situation of the public healthcare system is not allowed.
The interleukin-6 (IL-6) inhibitor is used to treat critically ill Covid-19 patients who suffer from an overreaction of their immune system, which can be harmful to their health. IL-6 is used to suppress this overreaction.
This is just one of the dire situations that government hospitals in Malaysia, especially in the Klang Valley, are facing in the battle against Covid-19. The shortage of beds and equipment, including oxygen tanks at some of the hospitals in the Klang Valley, has been publicised in the news and on social media.
Not to mention overworked medical frontliners who are involved in the nation's response to the Covid-19 pandemic. The public healthcare system appears to be bursting at the seams.
Apart from the fact that Covid-19 triggers an immune response that can be devastating to an individual's health, hence the need for intensive care for so many at the same time, has the government been underspending on the public healthcare system?
The government's healthcare budget consistently ranks among the highest expenditure every year. In 2021, the government increased the healthcare budget to RM31.94 billion, or 2.2% of Malaysia's estimated GDP for the year.
It was the highest budget for the country's public healthcare system, higher than the RM30.6 billion allocated in 2020. For many years, government spending on healthcare has been the second largest allocation after education.
"So how did we get here? I think that although, as you say, healthcare is the second largest recipient of the annual budget, in truth, as a percentage of GDP, at our level of income, it should sit at around 7% to 8% [compared with about 2% currently]. We are still not getting enough allocation even by other upper-middle-income countries' standards," says Prof Datuk Dr Adeeba Kamarulzaman, professor of medicine and infectious diseases at the University of Malaya.
According to the World Bank, the average government spending on healthcare for upper-middle-income countries in 2018 was 3.84% of GDP. However, among the upper-middle-income countries, the range was from 0.6% to 15.9% of GDP, with many countries such as Argentina, Bosnia and Herzegovina, Costa Rica, Cuba, the Maldives and Tuvalu spending more than 5% of their GDP on public healthcare in 2018 (see "Malaysia's healthcare allocation lags behind peer group average but rising, World Bank, WHO data shows" on Page 52).
While in absolute terms, the budget allocated to public healthcare is huge and is growing annually, it is still underinvested if the government aims to have a universal healthcare system for the people.
In addressing the question of underinvestment, one should also delve into the specific areas of the public healthcare system where the allocation is invested.
That is because, according to Adeeba, the government has been investing in acute healthcare services — the discipline of treating sudden diseases or injuries that requires immediate but short-term management and treatment, rather than public healthcare as a discipline itself.
Public healthcare as a discipline involves biostatistics, epidemiology, health policy and management, social and behavioural sciences, and environmental health sciences, which are required to combat diseases such as dengue, tuberculosis and human immunodeficiency virus (HIV).
This means for public healthcare to be effective as a discipline, investments in surveillance and contact tracing technology as a tool to collect data so that full analytics can be done, must be increased, so that the response to a public health crisis can be more effective.
This does not mean investment in acute healthcare should be reduced, but rather, more investment should be allocated to public healthcare by the government. As mentioned, the current 2% of GDP spending on public healthcare is insufficient for a universal healthcare system.
To be fair, Malaysia's public healthcare system has grown by leaps and bounds since independence. In the early days of nationhood, spending on public healthcare was focused on providing health facilities all over the country, to the point that between 1957 and 1980, one public clinic was built every 3.8 days, according to Dr Yap Wei Aun, Izzanie Razif and Dr Somil Nagpal in their report titled, "Malaysia: A new public clinic built every four days", published as part of the World Bank's series on universal health coverage studies in 2019.
The increases in the supply of health facilities have also been accompanied by a large increase in the number of doctors, both generalists and specialists, in the public and private healthcare systems, says the report.
In 1960, there were one doctor per 7,000 people. But by 1990, this ratio had improved to one doctor per 2,550 people. And by 2010, it was one doctor per 834 people. In 2019, the ratio had further improved to one doctor per 482 people.
While Malaysia has been doing well in terms of the number of doctors-to-population ratio, there is an imbalance in the public healthcare system. There are too many junior doctors and general practitioners, but a shortage of senior doctors and specialists to treat rising cases of chronic disease in the country.
One of the reasons for this imbalance is that many specialists quit the public healthcare service to join private hospitals, which have been mushrooming in the country. There are now more private hospitals than there are public ones in Malaysia. According to the Health Fact 2020 report by the Ministry of Health, there were 144 public hospitals in the country, compared with 208 private hospitals, in 2019.
Since private hospitals' unique selling proposition is their premium experiences and services, there are fewer beds in private hospitals than public hospitals. In 2019, there were 46,988 beds in public hospitals, but only 16,469 beds in private hospitals.
It is no secret that private hospitals offer much better pay for doctors and nurses compared with public hospitals, and this has caused the brain drain of medical professionals from the public to the private healthcare system.
"The internal brain drain has been enormous, and one of the reasons is because of the glaring difference in salary, between those in private healthcare and those of us who are crazy enough to remain in public healthcare," says Adeeba.
"Someone I trained — five years of medical school, four years of the master's degree programme and three years' post-master's — can leave for private practice and be offered a salary equivalent to that of a dean with umpteen years of experience doing administrative work, this, that and others."
In addition to being an expert in infectious diseases, Adeeba is also vice-president of the Malaysian AIDS Council, president of the International AIDS Society and a member of the World Health Organization's science council.
Meanwhile, the public healthcare system must ensure that doctors are allowed to improve their productivity in tandem with increasing their compensation, says Yap, who is one of the authors of the World Bank report on universal healthcare in Malaysia. He says this could be done by eliminating the time doctors spend doing mindless and repetitive tasks, such as filling forms, tracing tests and typing in results, and equipping them with the appropriate technological tools and continually upskilling the health workforce.
"This will allow them to maximise quality time spent with patients. The interests of patients must come first. Hence, a productive and efficient health workforce is critical to a high-performance health system that benefits patients," Yap says in an emailed reply to questions from The Edge.
"The medical profession is not and should not aim to attract based on lucrative compensation, but on the impact that these professionals can have on the lives of fellow human beings. This is a privilege few other professions offer."
Nevertheless, salaries will always be one of the major pull factors for doctors to jump to the private healthcare system. To ensure that public healthcare doctors are paid according to market rates, the hiring and promotion system should not be based on the grades of the civil administration department.
On this, Yap agrees that confining the public healthcare system to federal bureaucracy, which includes not just civil service rules but also budgeting processes, procurement rules and management norms, is a large constraint that impedes performance. "Reforming the employment structure for public sector doctors is absolutely important, but it should be accompanied by broader reforms to public healthcare delivery," he says.
One of the problems the pandemic has highlighted is the plight of junior doctors in the public healthcare service. The long hours put in do not commensurate with better career prospects and many of them are not absorbed into permanent positions as this would mean a higher pension bill for the government in the future (see "Clear training pathway for junior doctors needed" on Page 53).
How to fund the public healthcare system?
While public healthcare needs more investment, the question is how, with the country running on a deficit for decades and government debt levels still a concern.
The country's public healthcare system is almost exclusively funded by the government's coffers, which come from tax and non-tax revenues. For outpatient treatments at government hospitals or clinics, Malaysians only pay a token sum of RM1 for a visit to the doctor, with most medicines given free.
While the government could allocate more money to the public healthcare system, this would mean less funds for other functions or a higher debt-to-GDP ratio if the system continues to depend exclusively on government funds for its operational and development expenditures. Therefore, one aspect that needs to be looked at to reform the public healthcare system is its funding.
"There is no one best way to fund healthcare. It depends on the values of the country and its socioeconomic, labour market and institutional context," says Yap.
He adds that Malaysia would first need a true national consensus on the objectives of the public healthcare system. On this, he asks whether equity, effectiveness and efficiency are truly the core values backed by real commitment, or are they just aspirational buzzwords?
"If it is real, increasing public financing is critical as it would allow for a broad pooling of resources — from the rich to the poor, the healthy to the sick — and a redirection of resources towards the most effective health interventions, including preventive care. Funding the public healthcare system by increasing general government revenues [taxation and other revenue sources], reprioritising these from other sectors towards health, or both, allows for the broadest possible pooling," says Yap.
"It draws on the full strength of the economy, is less pro-cyclical [less affected by transient downturns and crises] and is less dependent on employment uncertainties. The sick and the poor will not be penalised."
However, Malaysians would need to be able to trust the government to spend wisely, exhibit accountability and distribute the funds fairly, he adds.
There are other financing opportunities to consider, says Yap. Employers already spend a substantial amount on healthcare for employees and households spend a large amount on health in an ad hoc, "out-of-pocket" manner. Organising these commitments creatively and equitably to create better value through economies of scale and strategic purchasing would be useful to supplement general government spending on health, he adds.
"In addition to increasing resources available to the health sector, Malaysia should not neglect the importance of improving the efficiency of healthcare spending in the private and public sectors — by purchasing the most cost-effective interventions and by reducing waste," says Yap.
Meanwhile, Dr Kuljit Singh, medical director at Prince Court Medical Centre, opines that the rakyat should be stratified based on income level if they seek treatment at public hospitals. Someone who can afford to pay should be paying for the treatments, even at public hospitals.
As someone who is working in the private healthcare system, Kuljit says people should understand that good healthcare cannot be obtained at a low cost. That is because doctors need to be trained and high-tech equipment, which costs millions of ringgit, needs to be bought or leased.
He cites the example of Singapore's public healthcare system, which uses a dual-wing system. There is a wing for non-subsidised treatments at public hospitals in Singapore. So, those who can afford to pay will have to pay, instead of getting subsidised treatments.
"It takes a lot of effort from any government in power. It is in the mind of the people that healthcare needs to be free. The expectations of the people is that healthcare treatment should be inclusive in our tax," says Kuljit.
"Anywhere in the world, the moment you try to pull a reform, there will be a population who will be against it. But the government must bite the bullet, because if they do not bite the bullet, how are you going to go forward with it?"
However, like Yap, Kuljit says that for people to accept a reform, especially one that would see them paying for the reforms, the government would have to ensure that the reforms bear fruit. The people would have to be able to see where their tax monies go.
See also "We must reset Malaysia's pandemic strategy" on Page 43