This article first appeared in Personal Wealth, The Edge Malaysia Weekly, on June 11, 2018 - June 17, 2018.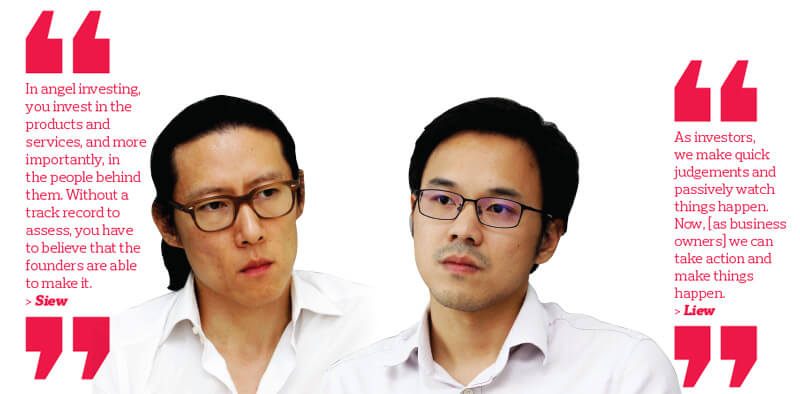 Siew Yuen Tuck and Liew Ooi Hann joined the financial industry in 2007 and soon found themselves in the middle of the global financial crisis. Their three-year tenure may have been relatively short, but it taught them valuable lessons in investing and in life. This gave them the foundation they needed to launch financial technology (fintech) start-up Jirnexu Sdn Bhd.
Although they were strangers at the time, Siew and Liew had one thing in common — working on structured products. Siew was tasked with identifying banks that were ticking time bombs while Liew was part of a team that helped to package structured products.
Siew, who graduated from Oxford University with a degree in modern history, was working at Kynikos Associates LP — one of the most successful short-selling hedge fund firms in the world. His main job as an analyst was to identify short-selling opportunities in the European banking industry.
"We were looking at how some banks were holding collateralised debt obligations through structured investment vehicles. These were usually small listed German banks that held enormously high-leveraged structured products. We were looking closely at them before many of the others did," says Siew.
In 2008, the financial crisis slowly unfolded and then erupted. "In Europe, if I am not mistaken, [Swiss investment bank] UBS was the first big bank to suffer from a massive write-down. Then, the smaller German banks we were looking at collapsed. It was kind of scary and I was watching it every week," he recalls.
"In the UK, Northern Rock was nationalised by the government and other big banks such as Lloyds Bank and Royal Bank of Scotland went through a merger. It was scary and fascinating to watch the crisis unfold."
Ironically, while the financial crisis caused many investors to lose their hard-earned savings and retirement funds, Kynikos was making good money by taking short positions on banks.
Liew, who graduated with a first-class honours degree in business mathematics and statistics from the London School of Economics and Political Science, spent three years working with Barclays Capital (today known as Barclays Investment Bank). His primary task was to build structured products for the bank to sell to clients (these were not the products that directly contributed to the financial crisis).
"The first part of my job was the construction of the underlying assets of such products. I did due diligence on various funds — including hedge funds — that we wanted to use as the underlying assets for the structured products," says Liew.
"Thereafter, we performed qualitative due diligence on these funds to make sure they were behaving the way they should. Our job was to ensure that the fund managers followed their mandate and did what they said they would do."
He witnessed first-hand how some hedge funds failed and closed shop during the crisis. Some of them were funds Liew had picked and parked under the structured products that Barclay sold to clients.
"Those who did not follow their mandate failed. They were supposed to hedge their positions and would not have been affected by the crisis if they had done so. Instead, most of the time, these hedge funds took long positions in the market. When the market fell, they crashed along with it," says Liew.
But instead of losing his job, he was offered a higher salary to fix the problems of some of the structured products. "We were the only ones who knew how to fix the problems and structure the products again correctly. No one knew more about these products than us. So, I felt there was a bit of a moral hazard there and did not enjoy doing it anymore," says Liew.
"I did not feel right about it. People had lost a lot of money. But here we were, still at the bank and [being paid a higher salary] to fix the problem we started."
In 2010, Siew and Liew (who were 28 and 24 years old respectively) decided to quit their jobs. But they never thought that their paths would cross or that they would team up to establish Jirnexu.
Becoming angel investors
Both of them decided to return to Malaysia. Liew says there were more opportunities here as the country was less developed than the UK. Siew had lived there for a long time and wanted to come back and do something different.
"I had been in the UK for about half my life at the time. I wanted to come back and start something new. Having had six years of working experience in London, I knew that I could always go back if I wanted to, if anything happened," he says.
At first, Siew tried investing in the local market. Then he realised that he was no longer excited about securities such as stocks and bonds. Instead, he looked forward to starting a business.
He attributes this to his family background as his father and grandfather have been doing business all their lives. "I grew up in a 'business family' and had always wanted to test my instincts in this area," says Siew.
He recalls his days in the UK where he was able to purchase simple financial products online via moneysupermarket.com without the need to go to a bank or meet agents. These products were popular in the UK, but it was not the case in Malaysia.
So, Siew launched RinggitPlus.com — an online marketplace that sells personal finance products such as credit cards, savings accounts and insurance plans — in 2010. The opportunity then was to close the gap between banks and their consumers by providing easier access to simple financial products. "The e-commerce trend, while fairly new in Malaysia back then, was another important driver of online businesses in the long term," he says.
Siew also tried his hand at angel investing. "I could test out my business instincts by investing in early-stage start-ups. [Back then,] this segment was highly risky and unproven, especially in Southeast Asia," he says.
"In my previous job, I was used to looking at numbers and the fundamentals of a company. But in angel investing, you invest in the products and services, and more importantly, in the people behind them. Without a track record to assess, you have to believe that the founders are able to make it."
In 2014, Siew invested in StoreHub — a start-up that provides a cloud-based system for retail small and medium enterprises to manage their business. In January this year, it raised US$5.1 million in a Series A funding round from investors such as Cradle Seed Ventures (the venture capital arm of Cradle Fund Sdn Bhd).
He made the investment because he saw a capable person in StoreHub co-founder Fong Wai Hong. "Most of the time, a start-up founder tends to have one strength. He is either an incredible sales person, a technologist or an expert in a subject matter," says Siew.
"Wai Hong is strong in multiple areas and this is quite rare. He is very disciplined and particularly good at controlling cash flow. He is also a great leader who can convince people to buy into his ideas."
In 2010, Liew also launched a financial education portal — SaveMoney — after selling his stake in a restaurant to a foreign buyer. He had invested in and operated the restaurant through Ambergate Capital Ventures Sdn Bhd, a venture capital fund that he had co-founded and operated from July 2010 to February 2012.
Liew started the portal to bridge the knowledge gap in financial products in Malaysia. Soon after, he thought of taking it a step further by allowing users to buy these products after learning about them.
But before he could do that, he met Siew through a mutual friend. Realising that they had similar businesses and the same vision, they decided to join forces and set up Jirnexu in 2012. Today, the company has more than 90 employees and operates three platforms — RinggitPlus.com, KreditGoGo.com and XpressApply.com.
RinggitPlus and KreditGoGo are online marketplaces in English and Bahasa Malaysia respectively. They enable consumers to make comparisons and purchase simple financial products such as credit cards, travel insurance, fixed deposits and personal loans. XpressApply helps consumers complete their transactions with banks and insurance companies when buying financial products online.
Last month, Jirnexu raised US$11 million in a Series B funding round. The investors included Japan-based SBI Group (a financial services company based in Tokyo) and SIG Asia Investments (the venture capital arm of Susquehanna International Group based in Philadelphia, the US). The start-up raised
US$2 million in its pre-Series B funding round in October last year.
It was hard work securing the funding as Siew had to be aggressive and persuasive to reach out to the investors. "It is not that they come to us. I have to reach out to them," he says.
Turning into business owners
It has been six years since Siew and Liew started Jirnexu. Now, they identify themselves as business owners rather than angel investors.
"In an investment, you make a decision then sit there and wait for the market to play out. Ultimately, the market determines the movements," says Siew.
"But as a business owner, you have to work hard, build a good team and get along with them. All of these factors contribute directly to the company's success. It is higher risk, but definitely more fun."
Liew says, "As investors, we make quick judgements and passively watch things happen. Now, we can take action and make things happen."
Being entrepreneurs and business owners, Siew and Liew no longer strictly abide by the golden rule of investing when it comes to personal investments — diversifying. Both of them have invested heavily in Jirnexu and there is little diversification when it comes to their personal investment portfolios.
"What we are doing is flying in the face of what most investing theories suggest investors do, which is to diversify. We are heavily invested in Jirnexu. What we do is probably not suitable for most investors," Liew jokes.
Instead, they have taken on a different perspective, that they are now in the driving seat and can steer the company in any direction they want. If the business is successful, they can reap the returns.
"At the end of the day, it is about conviction. And we have the conviction that our business has a lot of potential to grow," says Liew.
Siew concurs. "The percentage of people buying straightforward financial products (such as credit cards, travel insurance and term life insurance) online ranges from 25% to 50% in developed markets. In Malaysia, it is only in the single digit."
Liew says the online marketplace for financial products is progressing slowly compared with consumer products. That is because financial products are harder to understand and people tend to be more careful and prudent when buying one.
"But it will slowly gain traction. It is like people buying consumer goods online eight years ago. They did not trust the operators and were worried they would not get the things they purchased. What we need to do is to continue improving our products and services, stay in the market and gain the people's trust," he says.
While the duo have invested a considerable amount of money in Jirnexu, it does not mean that they do not have something set aside for a rainy day. "We hold a lot of cash in case something happens and we grow our company prudently," says Siew.
"Ultimately, it is a risky investment and you need to have some spare cash for a rainy day. We have to plan ahead," says Liew.
"As we are both married with children, we have to know how much we will need in the next three to five years. Will we be able to grow our business to the stage that we want at that point in time? We have to balance both."
Lessons learnt during the global financial crisis
The 2008 global financial crisis taught Siew Yuen Tuck and Liew Ooi Hann valuable lessons that have stayed with them until today.
"The three years at Kynikos Associates LP were the most exciting part of my career. I worked with some of the smartest people I have ever met. They were former financial investigative journalists, bankers and accountants, all from various backgrounds," says Siew.
"I was working under the founder, James S Chanos, himself. He was intimidatingly smart and extremely diligent. Just see how successful he was by going against the market."
Chanos, however, was not a person who would offload his negative emotions on employees. He was a very nice guy who would never put you down or make you feel small in public, says Siew.
The pressure of working under Chanos came from the notion that each employee in the firm did not want to upset their boss. So, they strove hard to make him accept their investment ideas, to be acknowledged.
"We wanted him to buy into our ideas. Every time we walked into his room, we made sure we were able to answer every single question that he may have," says Siew.
The most important lesson he learnt at Kynikos was to read between the lines when it came to the numbers presented by public-listed companies in their quarterly reports and financial statements, to find out what was going on in the company. Crunching numbers — seen as a crucial part of an analyst's job — was less critical.
Why? Siew explains that the stock market is primarily designed to drive prices up, not down. But the numbers released by companies could be deceiving at times.
"The mechanism [of any stock market] aims to drive stock prices up. It is in the interests of the investment banks to do so (publish reports that are favourable to the companies). The same goes for public-listed companies. Some companies may make announcements to drive up their stock. So do the analysts," he says.
"The entire machinery is there to make the company look positive. What we were trained to do was to cut through all that noise and figure out what was really going on in the companies.
"In this case, crunching numbers is just a tiny part of it. This is because you are only provided with a limited set of numbers to look at. There is not much you can do.
"The most important thing I learnt is to read between the lines. Thus, it is important that you dig deep into the industry and companies to really understand the meaning behind those numbers."
He cites the example of Chanos shorting Tesla Inc's stock, which had been rising despite the company's poor track record. "By looking at the numbers, he knew that the company's cash flow needs had been increasing [and that the company was unable to meet them]. He also saw the red flags, including the mass executive departure from the company. This is an obvious example of a company with poor fundamentals and yet the stock price kept appreciating," says Siew.
The ability to stick to one's convictions no matter what the market is saying is another thing he learnt. "Once you get the conviction [to act], it does not matter what the market is saying. It is what we think about the fundamentals. That is probably the most important thing I have learnt," says Siew.
As for Liew, he learnt the importance of taking charge of matters instead of allowing others to make decisions for you. For instance, some of the hedge fund managers he came across during the financial crisis had not done what they should have. Instead of hedging, they went long on the market and crashed when it collapsed.
"The lesson I learnt is taking things into your own hands. In the investment world, people tend not to behave in the way they are supposed to and lie. There could be many reasons for this — greed, ego or negligence," he says.