This article first appeared in City & Country, The Edge Malaysia Weekly, on March 23, 2020 - March 29, 2020.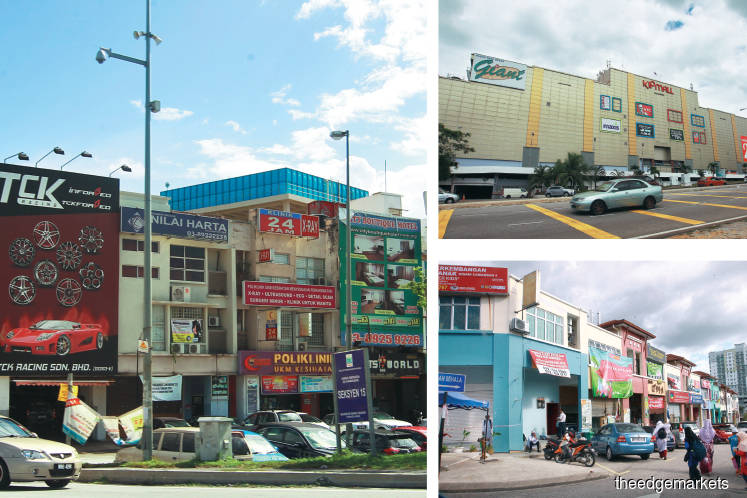 Over the years, Bangi has grown into a township that comprises various commercial and retail components
Photo by Patrick Goh/The Edge
Click / Tap image to enlarge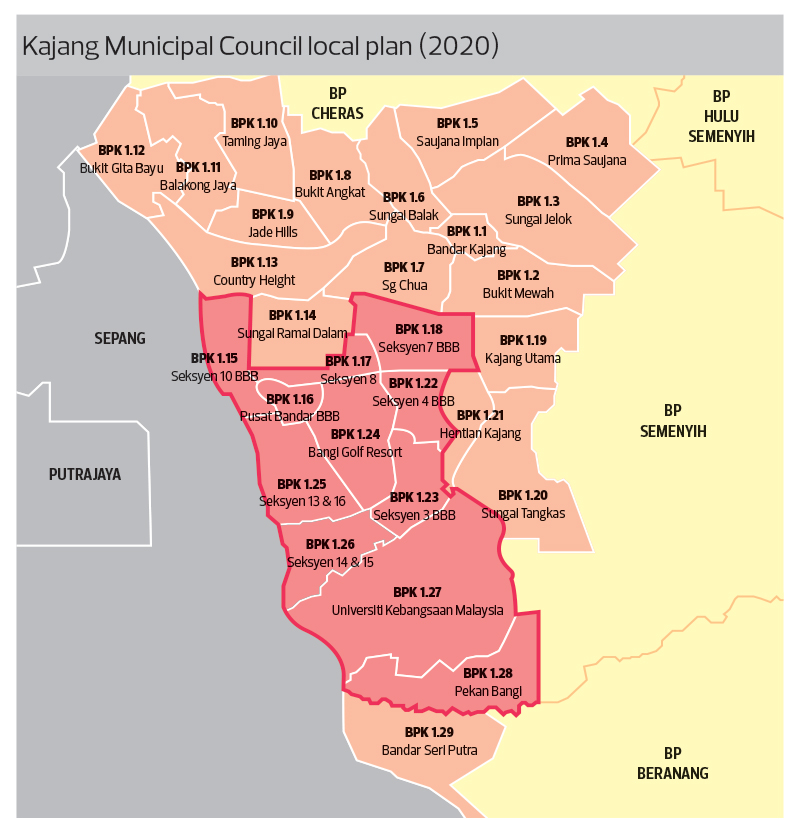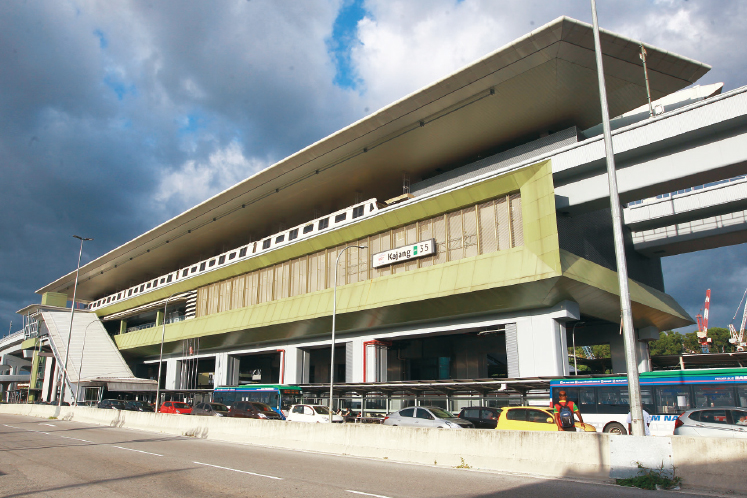 The Kajang MRT and KTM Komuter interchange station nearby enhances the connectivity of Bangi
Photo by Patrick Goh/The Edge
Click / Tap image to enlarge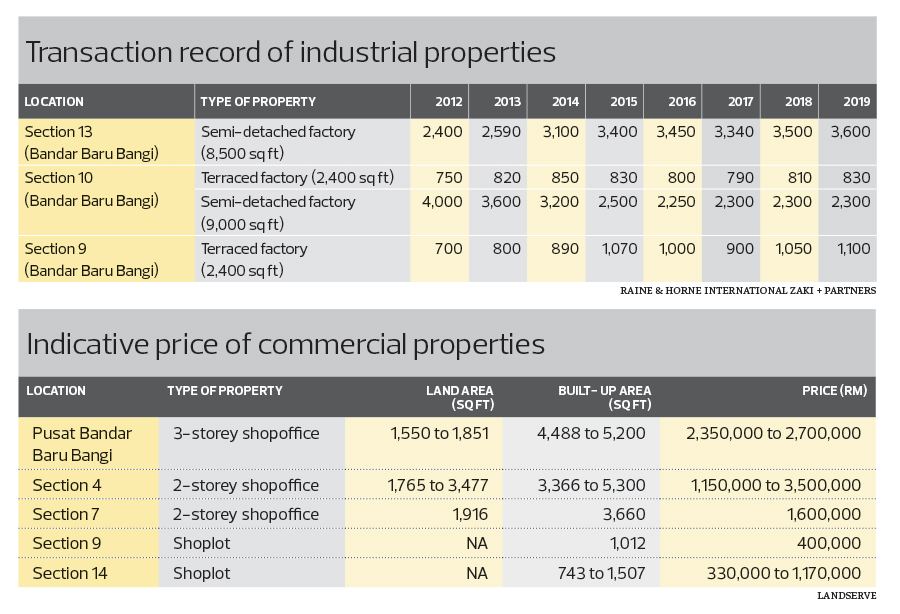 Click / Tap image to enlarge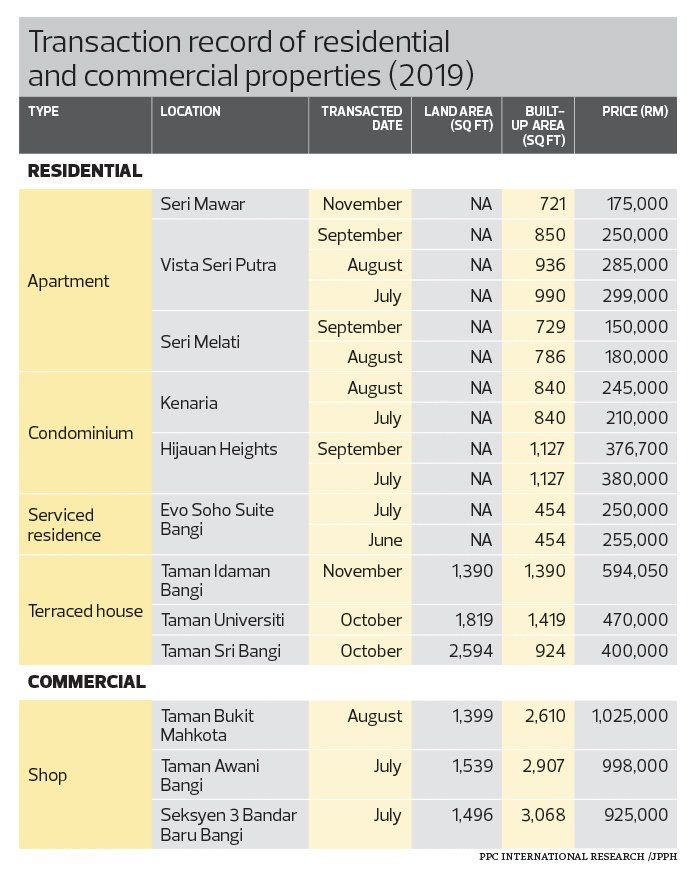 Bangi is very much characterised by Universiti Kebangsaan Malaysia (UKM), which was established in the 1970s. The university is usually the first thing most people think of at the mention of Bangi.
Located in the district of Ulu Langat, Bangi is a rather quiet area compared with the nearby Kajang and Semenyih. Its border is rather difficult to determine, as the property consultants whom City & Country spoke to tend to differ in opinion, giving varying borders and sizes.
According to the Kajang Municipal Council Local Plan 2020, Bangi is part of the 9,298ha Blok Perancangan Kajang (BP Kajang), which is divided into 29 Blok Perancangan Kecil (BPK).
In total, there are 11 BPKs that bear the name or address of "Bangi". It is surrounded by Kajang in the north, Semenyih in the east, Nilai in the south and Putrajaya in the west.
The BPKs include BPK 1.15 (Seksyen 10 Bandar Baru Bangi), BPK 1.16 (Pusat Bandar Bandar Baru Bangi), BPK 1.24 (Bangi Golf Resort), BPK 1.27 (Universiti Kebangsaan Malaysia) and BPK 1.28 (Pekan Bangi) (see map).

PPC International managing director Datuk Siders Sittampalam notes that Bangi was predominantly an oil palm estate accommodating Malay villages such as Kampung Bangi, Kampung Bahagia, Kampung Batu Lima and Kampung Rinching, before UKM moved its main campus to Bangi in 1977.
"In the last 20 years, Bangi has grown into a larger township and it is generally divided into Bangi Lama and Bandar Baru Bangi. Bangi Lama comprises residential and commercial areas, whereas Bandar Baru Bangi comprises [areas with educational institutions, residences, industries and commerce]," he says.
Amenities
Raine and Horne International Zaki & Partners Sdn Bhd partner James Tan notes that Bandar Baru Bangi is developed by Perbadanan Kemajuan Negeri Selangor.

"Bandar Baru Bangi has transformed into a banking training centre, with educational and R&D institutions," he says. The township is about 40km from Kuala Lumpur city centre.
Bangi is home to various government and private training centres, including the Petronas Leadership Centre, Bank Simpanan Negara Training Centre, RHB Complex Bangi and Maybank Training Centre. Public and private universities there include Universiti Tenaga Nasional and German-Malaysia Institute.
According to Siders, the development in Bangi comprises a mix of landed and non-landed properties. Based on the number of residential property transactions in District of Hulu Langat in 3Q2019, the property types with the highest number of transactions are 2 to 2½-storey terraced houses — with 781 transactions worth RM457.52 million.
"The buyers in Bangi are more focused on landed properties with freehold titles. There are mostly landed properties in Bangi, with a mix of individual and stratified titles. Government servants working in Putrajaya are among the buyers," he says. So, it is no surprise that most new developments there are landed properties.
Even though the rate of development in Bangi has not been as rapid as that of its neighbours of Kajang, Putrajaya and Semenyih, it has much to gain from the spillover from these areas.

Landserve Sdn Bhd managing director Chen King Hoaw explains that some plantation land in Bangi has been converted and cleared as developers venture into new developments to cater for growing demand for more affordable homes.
"These newer developments, which include townships, stratified high-rise condominiums and gated and guarded schemes, introduce residential properties with modern designs and other product features," Chen says.
"As more developments take shape in the less developed parts of Bangi, new areas are being opened up, with more connecting roads being constructed within and outside these developments, thus providing greater connectivity throughout Bangi. So, there has been quite a transformation in Bangi's overall landscape over the last 10 years."
There are already amenities in the area, such as Bangi Wonderland Theme Park & Resort, which has been in operation since 2016. There are also Bangi Golf Resort, Bangi Gateway and Giant hypermarket.
Property developments
According to property consultants, property developers with projects in Bangi include S P Setia Bhd (775-acre Setia Alamsari), UEM Sunrise Bhd (448-acre Serene Heights), IOI Properties Group Bhd (323-acre Bandar Puteri Bangi), Mah Sing Group Bhd (428-acre Southville City), United Malayan Land Bhd (898-acre Bandar Seri Putra), OSK Holdings Bhd (Bangi Lakehill Villa) and Trans Loyal Development Sdn Bhd (Bangi Avenue).
They note the strategic location of Bangi, which is sandwiched between Kajang and Putrajaya, as a unique selling point for developers and buyers. Bangi is less than 10km away from Kajang and Putrajaya.
Also, it already has a network of roads and highways, including the Cheras-Kajang Highway, North-South Expressway Central Link, Kajang Dispersal Link Expressway and Maju Expressway.
It is also serviced by a public transport system that includes the Bangi KTM Komuter station in Bangi Lama and UKM KTM Komuter station in Bandar Baru Bangi. The Kajang MRT and KTM Komuter interchange station nearby enhances the connectivity ofBangi.
Other than the easy accessibility and amenities, Chen notes that available land parcels in Bangi — especially those located off the trunk roads but with development potential — would be less costly than those in Kajang and Putrajaya.
"So, it is only natural for developers to be interested in doing projects in Bangi… Given its large catchment area, there is bound to be demand for all types of developments in Bangi," he explains.
Infrastructure development
Development in Bangi is not limited to property. Several infrastructure developments have been planned, and Siders expects the improved connectivity in the area to increase the attractiveness of the residential and commercial properties there.
It has been announced that new public transport systems, such as the East Coast Rail Link (ECRL) and the Putrajaya monorail project, will include Bangi as a stop.
Early this year, the then federal territories minister Khalid Abdul Samad was quoted as saying that the monorail system in Putrajaya was expected to be completed by 2025. This line will be connected to Kajang, Bangi and Cyberjaya as well as integrated with the Kuala Lumpur-Singapore High Speed Rail (HSR), ECRL and Mass Rapid Transit (MRT).
Last year, ECRL was realigned and it will now skip Bentong and Gombak. It will turn southward from Mentakab to Kuala Klawang in Negeri Sembilan before entering Selangor through Bangi/Kajang and then proceeding to Putrajaya Sentral and, finally, Port Klang.
According to the official website of Malaysia Rail Link (MRL), the Bangi/Kajang ECRL station will be an interchange station, with KTM Electric Train Service (ETS) and KTM Komuter service.
The website also states that the Putrajaya Sentral ECRL station will interchange with the Express Rail Link to KLIA and klia2, as well as the upcoming Sungai Buloh-Serdang-Putrajaya MRT line. The ECRL project is expected to be completed by end-2026.
The ERCL could open up more connectivity to Bangi, as it was reported that the HSR would have a stop in Putrajaya.
Bright prospects
With the massive property and infrastructure developments planned, property consultants are generally optimistic of the prospects of Bangi. Chen notes that those who work or live in Bangi and its surroundings, particularly Kajang, Putrajaya, Cyberjaya and Semenyih, would consider owning a home there, as it offers good product features at competitive prices.
Chen sees UKM and the educational institutes, government and private training centres and factories as the catalysts in Bangi, as these developments offer a vast pool of job opportunities to the various segments of its population.
He says, "Predominantly, target buyers would be those looking for affordable homes costing less than RM500,000 … We foresee Bangi becoming popular among home seekers, with demand picking up gradually in the long run."
Tan notes that the target audience for develop­ments there are first-time homebuyers aged 25 to 50, government servants, working populations from Putrajaya, Sepang, Kajang, Kuala Lumpur and Seremban, retired government employees as well as staff of and parents of students at UKM.
"The suitable developments there would be low and medium-rise developments such as apartments, condominiums and serviced apartments as well as shopoffices in Bandar Baru Bangi city centre. The absolute price should be RM320,000 to RM350,000," he says.