This article first appeared in City & Country, The Edge Malaysia Weekly, on November 15, 2021 - November 21, 2021.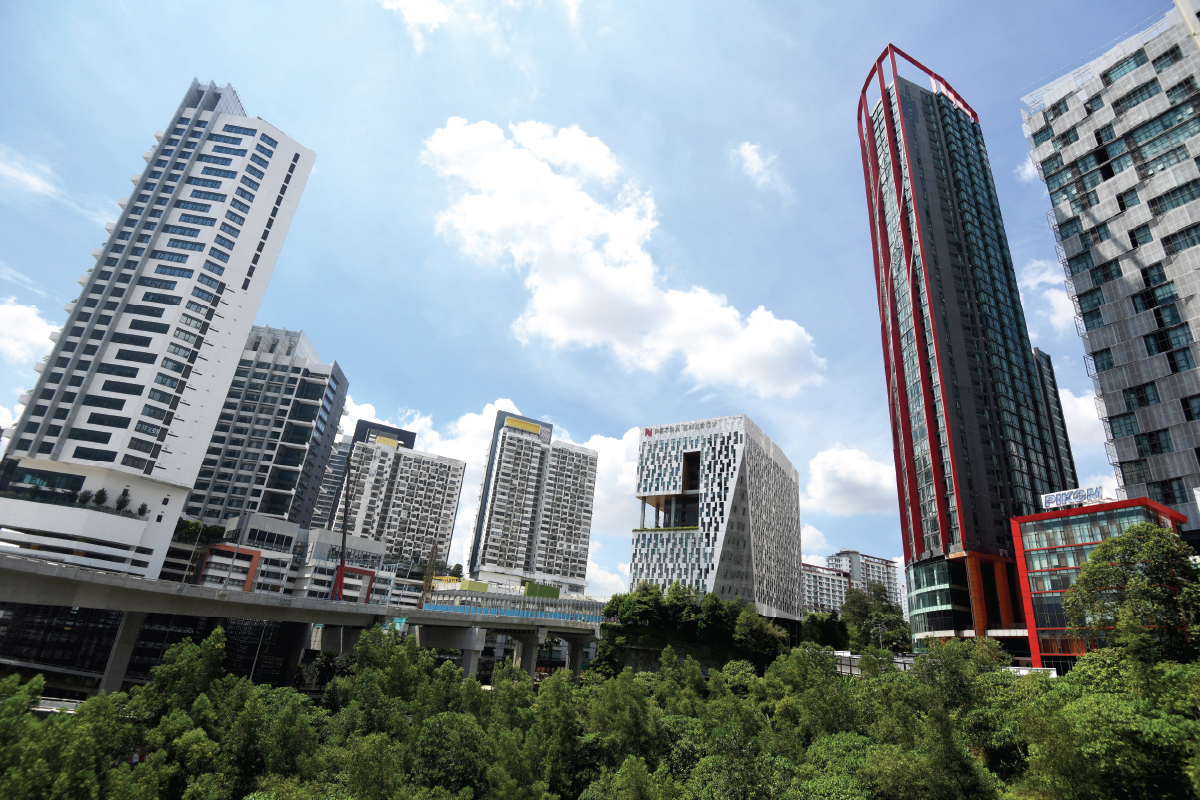 On a brisk Sunday evening in Damansara Perdana, Japanese restaurant Nippori at Empire Damansara — under the same chain as the popular Nippori Bistro in Petaling Jaya — is at full capacity and reverberating with energy. Despite the ongoing Covid-19 pandemic, the area appears to be exceptionally busy and bustling with traffic.
Bordering Kota Damansara, Kampung Sungai Penchala and Mutiara Damansara, the township of Damansara Perdana has gained some traction, owing to the revival of Empire City Damansara 2, which was acquired by Exsim Group and has now been revamped, with Central Park Damansara as its proposed name. The upcoming completion of the Damansara-Shah Alam Elevated Expressway (DASH) and remaining pockets of land to be developed are also providing a boost to the area.
On the township's background, Laurelcap Sdn Bhd director Stanley Toh says, "Damansara Perdana was developed by MK Land Saujana Triangle Sdn Bhd in 1996. It used to be an Orang Asli settlement, occupying about 750 acres of leasehold land. It is located along the LDP (Damansara-Puchong Expressway), with Kampung Sungai Penchala on its northern boundary.
"The opening of DASH, coupled with the impending completion of Damansara City Mall as well as pockets of [land] to be developed in the future, may help the area see a small revival."
An upcoming major project in Damansara Perdana is Central Park Damansara, which comprises a mall, office buildings and serviced residences D'Erica, D'Vervain, D'Cosmos and D'Quince.
Apart from DASH (which is connected to the Penchala Link), Damansara Perdana is accessible via the LDP and New Klang Valley Expressway. The township's amenities include the KPJ Damansara 2 Specialist Hospital while a short drive away are commercial developments such as The Place, Perdana Trade Centre, Perdana Business Centre, The Curve Shopping Mall, Lotus's Mutiara Damansara hypermarket and IKEA.
According to MetroREC Sdn Bhd head of agency Terence Yap, Damansara Perdana has good potential, with plenty of offerings. "It is a great place to live and work. Residents there enjoy good infrastructure and, traditionally, Damansara Perdana has been a family-oriented residential area, suitable especially for families with young children. Owing to the recent surge in micro units there, more young working adults are moving to the area."
Promising demand, strategic area
Non-landed residential developments appear to be the preferred form of property in Damansara Perdana, owing mainly to their affordability, Toh notes. "Landed properties there are mainly semi-detached and detached houses that cost more than RM2.5 million each. Thus, demand is skewed towards non-landed properties," he says.
"For non-landed properties, the average rent is RM2.50 psf per month and the yield is typically 5% to 5.5%. Meanwhile, the average price of such units is between RM480 and RM600 psf."
Yap observes that older condominiums such as Perdana Exclusive Condominium, Perdana View, Perdana Emerald and Metropolitan Square are very popular among middle-class families with young children, owing to the affordability of the units, lower monthly maintenance fees and bedrooms with smaller layouts.
"Tenants who come from other parts of the state will initially rent at Damansara Perdana because of its convenience and safe environment. A few years later, they will become homeowners in the same area," he says.
"Unlike Mutiara Damansara, where the majority of condos are high-end and cost more than RM1 million each, Damansara Perdana's non-landed properties are well within the RM250,000 to RM600,000 price range, which is attractive and has room for a further increase. Upon the completion of DASH, property prices there will get a boost."
Yap says newer developments such as Empire Damansara and Empire City are magnets for the middle class, young first-time homebuyers and investors.
"These new micro-serviced residences were launched with younger occupants in mind. They are compact in size and have a modern façade. Reduced square footage means more affordable living for young graduates. They can enjoy living closer to work and great amenities.
"Another reason these newer developments attract young buyers is that less upfront cash is required compared to subsale condos. Lastly, landed developments like The Rafflesia cater for upper-class families as they are spacious and exclusive developments."
For landed properties in Damansara Perdana, the average rent is between RM1.25 and RM1.60 psf and the yield is only 2% to 2.5%, says Toh. "The average price is between RM750 and RM800 psf.
"Demand [for commercial properties] in Damansara Perdana used to be high about 10 years ago but it is quiet at present, owing mainly to the challenging environment in the retail market as well as competition from the surrounding areas. Only four 3-storey shopoffices were transacted between 2018 and 2020. In addition, vacant units are on the rise."
He adds that the average price of commercial properties in Damansara Perdana is RM650 to RM700 psf for retail units on the ground floor and RM280 to RM300 psf for offices. The average rent for retail units on the ground floor is between RM2.50 and RM5.50 psf per month while that for offices is RM2 to RM5 psf per month.
Meanwhile, the area has its own set of challenges. Yap says as more compact-size units are expected to be launched, Damansara Perdana is likely to become more congested during peak hours. "Parking is quite a challenge for existing shoplots and older condos. Cars can be seen double or triple parking outside shoplots. They are parked illegally outside older condos at night, owing to a lack of parking bays allocated to each unit. Empire City's future micro-size serviced residence projects might lead to an oversupply too."
Nevertheless, the future of the township appears promising despite the challenges. Yap says Damansara Perdana's property scene had shown signs of resilience amid a slowdown in the rest of Malaysia.
"It was only when the construction of DASH was truly underway that Damansara Perdana entered a slowdown phase and eventually experienced a drop in property prices. Now that the completion of DASH is around the corner, the township will recover once market sentiment picks up. You can't really go wrong investing in properties in the RM250,000 to RM600,000 price range during the bottom of the property market cycle," he adds.