This article first appeared in The Edge Malaysia Weekly, on August 22, 2022 - August 28, 2022.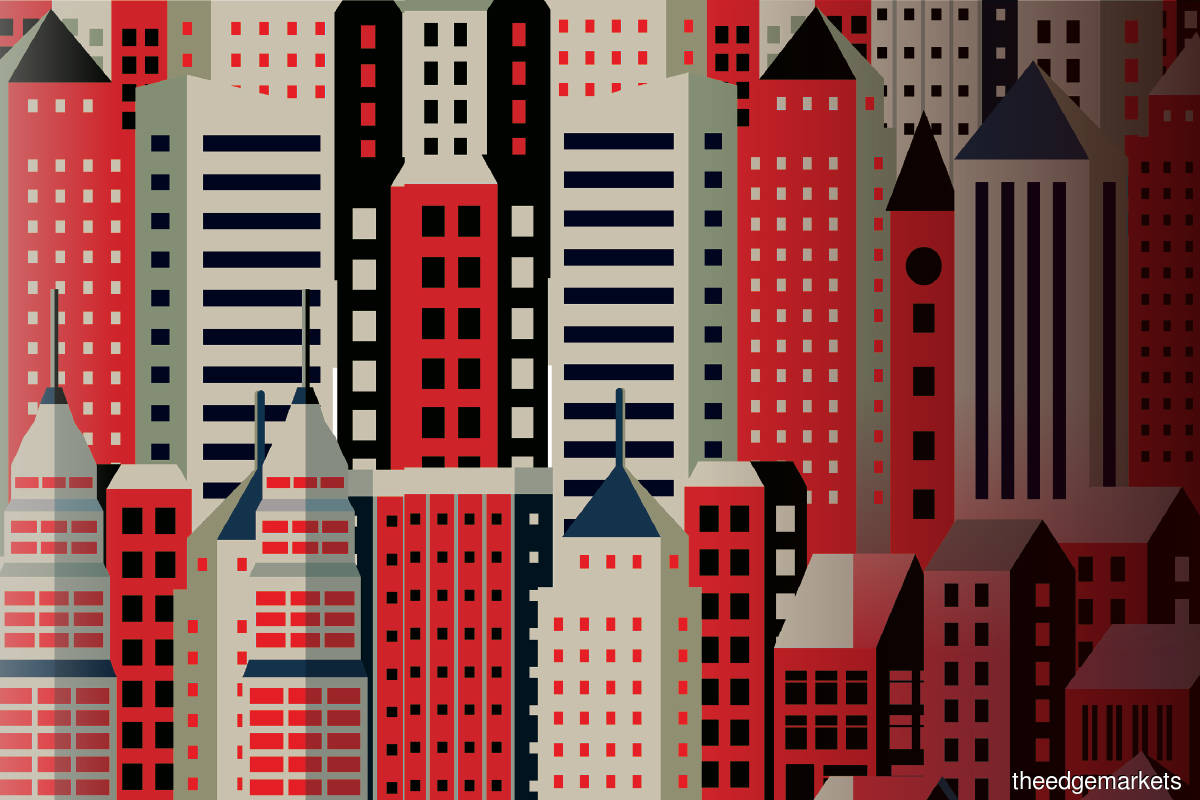 OVER the last year, real estate investment trusts (REIT) with large exposure to office buildings have mostly outperformed the overall REITs segment from a share price performance perspective.
This could be attributed to the relaxation of the Movement Control Orders and the transition into endemicity starting March. With workers returning to work at offices, and malls and hotels allowed to operate without restrictions, investors are betting on commercial REITs.
Over the last 12 months, the Bursa Malaysia REIT Index saw huge movements, from its peak of 829.31 points on Oct 18, 2021, to its trough of 748.88 points on March 8, 2022, before charting back up again to about the same level of last July 2021 as at last Friday. The index closed at 806.6 points.
However, commercial REITs with large exposure to office buildings, such as KLCC Stapled Group (KLCCSS), UOA REIT and Sentral REIT, saw their unit prices chalking up gains over the last 12 months. UOA REIT and KLCCSS both saw their unit prices increase by 10.8% over the period.
Last Friday, UOA REIT closed at RM1.14 per unit, while KLCCSS closed at RM7.05 per unit.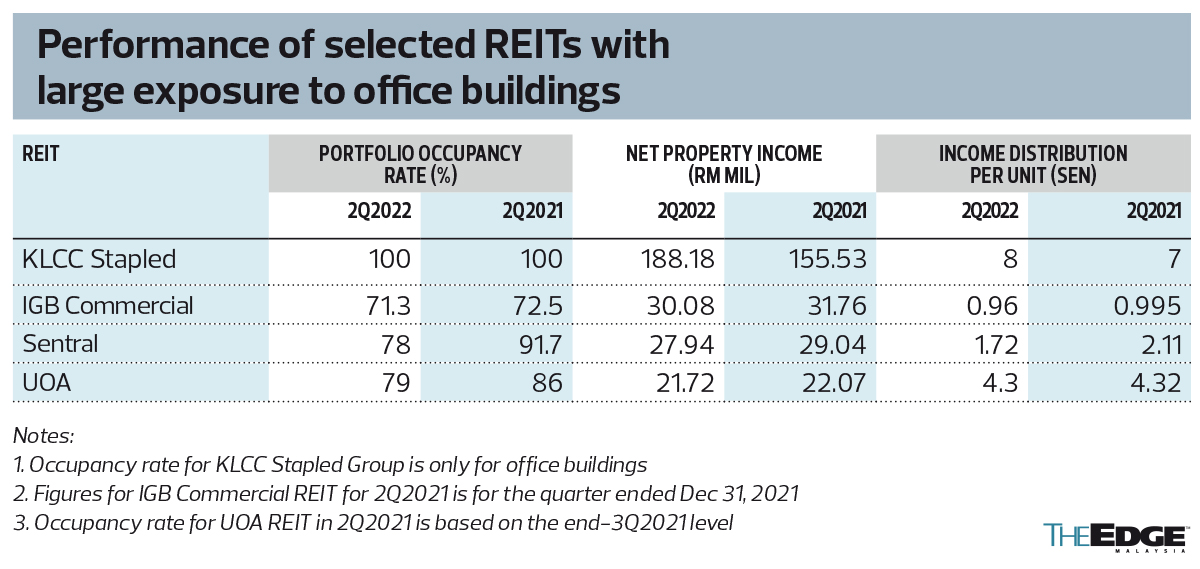 Sentral REIT saw its unit price increase by 18.78% over the last 12 months to 98.5 sen per unit.
Judging from the unit price movements, commercial REITs with large office exposures in city centres are still favoured by investors, with the exception of Sentral REIT, whose assets in KL Sentral — considered to be KL fringe by real estate firms — constitute 64% of the REIT's asset value.
On the other hand, IGB Commercial REIT, which owns office buildings in the MidValley City development — which is often considered the fringe area of KL by real estate firms — has seen its unit price dwindle by 16.13% since its listing on Sept 20, 2021.
The lacklustre performance of IGB Commercial REIT could be attributed to its occupancy rate. As at end-June 2022, the REIT's portfolio occupancy rate stood at 79%, lower than the 86% at end-2021.
While the location of MidValley City can hardly be considered as bad, it is not within the city centre, where multinational corporations prefer to set up their local or regional headquarters and services. IGB Commercial REIT does have properties in KL city centre, but these are old buildings.
For its second quarter ended June 30, 2022 (2QFY2022), IGB Commercial REIT said the occupancy rate of all three of its city centre assets — Hampshire Place Office, Menara Tan & Tan and GTower — were lower than in 2020.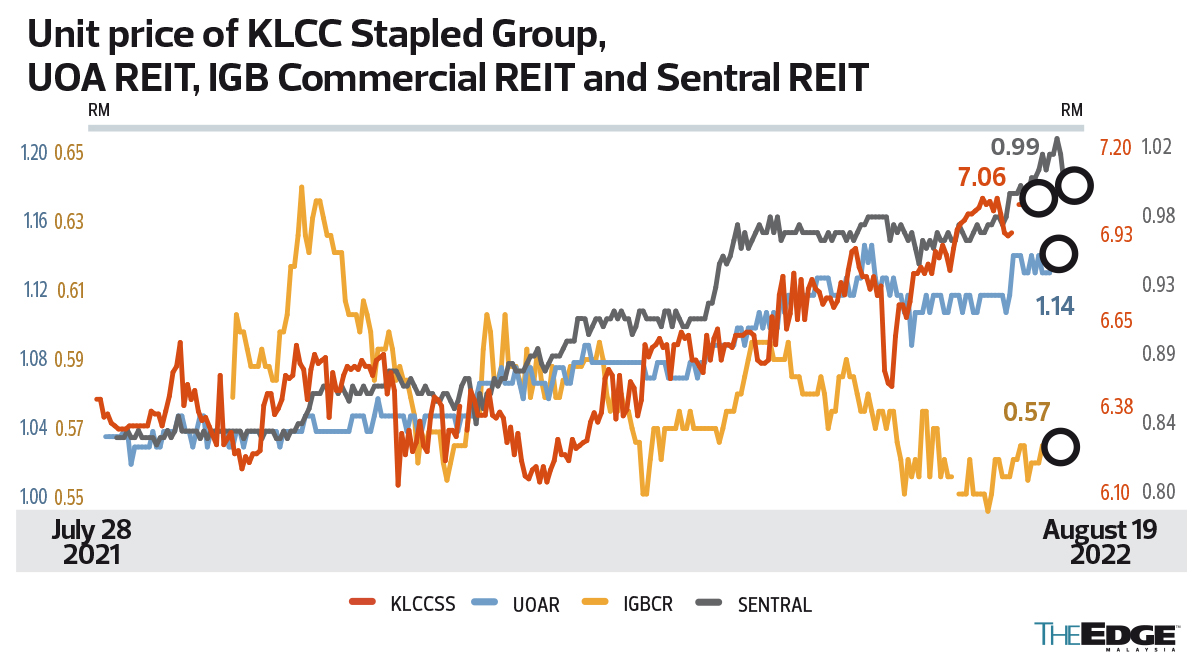 Hampshire Place Office's occupancy rate was 54.4% in 2QFY2022, compared with 63.4% in 2020. The occupancy rate has been declining since 2019, when 67.5% of the offices there were occupied. GTower, located at the intersection of Jalan Tun Razak and Jalan Ampang, was only 63% occupied in 2QFY2022, compared with 85.5% occupancy in 2020.
For its assets in MidValley City, all of the office buildings have lower occupancy in 2Q2022 compared with 2019, 2020 and 2021, except for Southpoint Properties, and Menara IGB and IGB Annexe.
In contrast, KLCCSS has a 100% occupancy rate for its office portfolio as at 2QFY2022. KLCC REIT owns Petronas Twin Tower, Menara 3 Petronas and Menara ExxonMobil, while KLCC Property Holdings Bhd owns Menara Dayabumi.
What sets KLCCSS apart is that its assets are mainly occupied by the Petronas group of companies. For example, Malaysia Marine & Heavy Engineering Holdings Bhd and MISC Bhd are headquartered in Menara Dayabumi, even though the building is already 38 years old.
Note that KLCCSS is majority owned by Petronas.
While Sentral REIT's unit price performance has been commendable so far this year, last Friday, the counter fell 2.48% to 98.5 sen per unit. This could be because the unit price had breached the RM1 level on Thursday.
RHB Research analyst Loong Kok Wen has a neutral call on Sentral REIT, with a target price of RM1, while Kenanga Research's analyst Marie Vaz has a lower target price of 87 sen per unit with a "market perform" call.
Hong Leong Investment Bank Research's analyst Farah Diyana Kamaludin, in a note dated May 13, 2022, called for a buy on Sentral REIT with a target price of RM1. These target prices and calls were made after Sentral REIT announced its 1QFY2022 financial results.
In a May 13, 2022 note, RHB's Loong says that she cut the outlook for Sentral REIT to neutral with a lower target price of RM1 (from RM1.02) due to the adjustment to her cost of equity assumption, in view of the recent interest rate hike.
While the downgrade to neutral was due to the adjustment to cost of equity, Loong also notes in her report that she is cautious about the risk of occupancy of Sentral REIT's assets being less stable this year, as tenants re-evaluate their working arrangements, and due to the incoming supply of office space that will intensify the competition in the office space market.
Sentral REIT's blended occupancy rate fell to 86% as of end-1Q2022, from 90% in the preceding quarter.
"The anchor tenant in Wisma Technip, which had been progressively moving out, completely reconsolidated its operations to another building in the quarter, leaving the building's current occupancy level at only 50%.
"In addition, a key tenant's tenure in QB3-BMW also ended, causing the drop in the blended occupancy rate," says Loong in the report. However, she adds that Sentral REIT's strategically located prime office buildings, such as Platinum Sentral and Menara Shell, should remain competitive for the REIT.
In terms of lease reversions, Loong is also cautious on it dipping into negative territory, as Sentral REIT could be focusing on retaining tenants this year. She adds that over 30% of the leases up for expiry in FY2021 were not renewed for Sentral REIT.
Sentral REIT announced its 2QFY2022 results last Friday. Its net property income — income that reflects the REIT's ability to retain tenants and revise their rents — fell 3.8% year on year to RM27.94 million.
Its net income for 2QFY2022 fell to RM18.5 million compared with RM22.64 million in the corresponding quarter in 2021. For the first half ended June 30, 2022, Sentral REIT's net income fell to RM38.8 million compared with RM43.34 million in the corresponding period in 2021.
Its blended occupancy rate also fell further to 78% in 2QFY2022, compared with 91.7% in 2QFY2021. At press time, it was not known whether analysts, including Loong, Vaz and Farah Diyana, would revise their respective calls and target prices on Sentral REIT.
Sentral REIT's declining occupancy rate reflects the oversupply situation and the imbalance in the types of office space in KL, with many older buildings being left behind while newer buildings are being constructed and completed.
Sources say that Technip — the French oil and gas services company — moved out of Wisma Technip to a nearby building that had just been completed in recent months. Wisma Technip was completed in 1994.
"The recent completion of a few mega projects has pushed the overall vacancy rate (of KL office space) in a range of 20% to 22%, and it is expected to increase next year with more developments scheduled for completion," says Foo Gee Jen, chairman of CBRE | WTW.
"However, it is the old buildings that are mainly impacted. This situation may reduce the attractiveness of the investment from an overall perspective."
This being the case, commercial REITs with large exposure to office buildings could start to feel the pressure of rising vacant office space and the imbalance in the demand and supply of newer and better equipped offices in KL.