This article first appeared in The Edge Malaysia Weekly, on September 28, 2020 - October 04, 2020.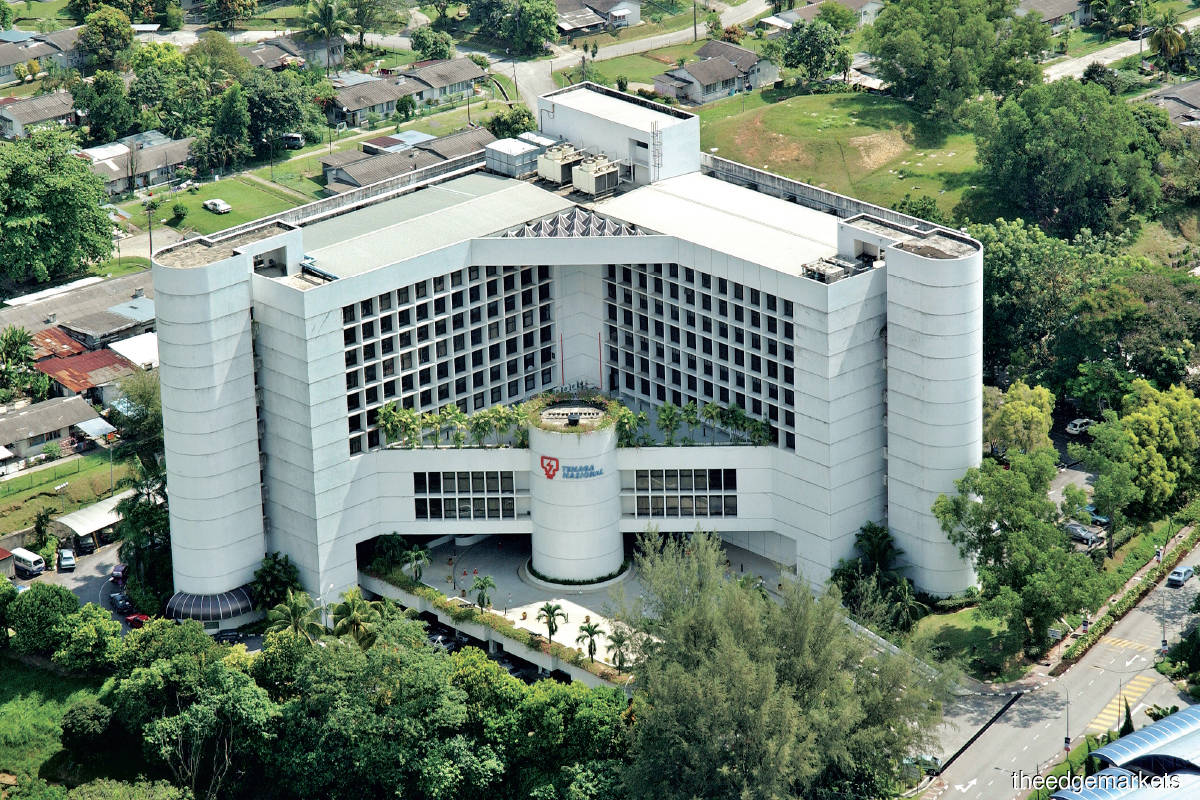 THE interview with Tenaga Nasional Bhd CEO Amir Hamzah Azizan last Wednesday was delayed for about an hour as his office had requested for it to be done after the special announcement by Prime Minister Tan Sri Muhyiddin Yassin at 2.30pm.
It is understandable that Amir would want to keep abreast of the public policy direction. Operating in a highly regulated business, Tenaga's strategies will be affected by any change in government policy.
Despite the change in government in February, Amir has been steadfastly implementing the transformation plan of the national utility company.
"Every government has its own direction of whatever it has to do. Whatever Tenaga has to do in discharging its amanah (obligations), it will continue to do. What we need to do is be clear about the direction and how we want to manage the business, and then execute accordingly," says Amir, who assumed the role in April last year.
Some people see him as the new kid on the block in the power industry, even though he is no stranger to the oil and gas sector.
Amir, however, has hit the ground running. Over the past year, he has spearheaded the transformation of one of the oldest government-linked companies (GLCs) in the country to further improve transparency and efficiency. One of the most anticipated transformations is the separation of its power generation and retail businesses.
Starting Oct 1, Tenaga's power generation businesses will be parked under a wholly-owned subsidiary. The generation company (GenCo) will have its own board and balance sheet, with Amir serving as its chairman.
The separation of the businesses is part of the recommendations made by the government through the Malaysian Electricity Supply Industry 2.0 (MESI 2.0) initiative launched in September 2018. MESI 2.0 seeks to liberalise the domestic power industry, meaning the 70-year-old utility group will lose its dominance at home and compete with new entrants.
"I think the current government is looking at how the pace of reform needs to be done in Malaysia, hence they are relooking at MESI 2.0. We are supportive to help the government think through this because at the end of the day, it is not something that we control," says Amir.
"But whatever it is, my obligation to Tenaga is that in whatever form MESI is, we are ready to do it. Hence, whether there was MESI 2.0 or not, we posited on GenCo and RetailCo because it was important for Tenaga to have a better control, a better focus of its generation and retail businesses.
"So, if the pace of MESI 2.0 accelerates, we are ready. If it decelerates, Tenaga will be there and will continue to provide whatever the system needs."
Pivot towards renewable energy
When the Jimah East power plant in Port Dickson was commissioned last year, Amir said it would be the last greenfield coal-fired power plant in Malaysia. Going forward, renewable energy (RE) will make up about 20% of the country's power-generation capacity by 2025.
Tenaga has been involved in the generation of power from RE sources, especially solar, in the country. Last month, it completed its second Large Scale Solar (LSS) power plant in Bukit Selambau, Kedah.
The project was completed 144 days early despite the Movement Control Order (MCO). So now, Tenaga has about 80mw of installed capacity from solar energy in the country, with its plant in Bukit Selambau having the capacity to generate 30mw and another in Sepang generating 50mw.
The government has also opened the tender for LSS4, in which Tenaga is participating, says Amir. "If there are LSS5, LSS6, we will compete and participate because we believe energy transition is in. So, we have to make sure it works."
At the same time, Tenaga is providing customers with the option of self-generating RE and it has made good strides in that segment, he says. "Now, we have contracted altogether 56mw of rooftop solar on residential and industrial sites. That is beginning to push the acceleration of energy transition in Malaysia and allowing customers to participate in that sphere."
As at June 30, Tenaga had about 141mw of domestic RE capacity (excluding large hydropower plants). It is currently developing a mini hydropower plant with an installed capacity of 4mw in Kuala Berang, Terengganu, while negotiating with the government for the construction of a 45mw plant in Jelai Kecil in Kuala Lipis, Pahang, and a 26mw plant in Sungai Pelus, Perak.
This pivot towards RE will involve investments and acquisitions in foreign countries, with an initial focus on Southeast Asia. Countries such as Vietnam, Thailand and Indonesia have big opportunities in RE that Tenaga can tap into, says Amir.
Tenaga's forward capital expenditure (capex) plan is still robust, despite the fact that more than 99% of households in Peninsular Malaysia are already connected to the grid. That is because energy transitions are capital-intensive, says Amir.
Over the next five years (2020 to 2025, including Regulatory Period 3 between 2022 and 2025), Tenaga plans to spend RM35 billion in capex, including upgrading the grid to become fully automated and digitised, as well as investing in more RE plants.
At the moment, Tenaga's international RE portfolio has a total generation capacity of about 500mw. It plans to have a total generation capacity of 1,700mw in the next five years from RE sources, both domestically and internationally.
"So at the moment, the team is looking at where we can get the 1,000mw from, and it has to give you the yield that you want,"says Amir.
Learning from international investments
Tenaga has been investing in foreign energy companies for a long time, but now Amir is shifting the focus to actually running the companies together with its foreign partners. This is because of its bitter experience in having to impair the value of its investments in Turkey and India in 2018 and 2019 when the ventures did not pay off.
In the financial year ended Dec 31, 2018 (FY2018), Tenaga provided impairments of RM1.07 billion on its investments in Turkey and India. This was followed by another impairment of RM334 million in FY2019.
Tenaga is now restructuring its investments in Turkey and India. In Turkey, where it has a 30% stake in GAMA Enerji AS, Tenaga and its partner GAMA Holding AS have managed to restructure the debts of the operating company.
Tenaga invested in GAMA Enerji in 2015 for US$243 million. At the time, the latter had an 840mw natural gas-fired plant and a 45mw wind power plant under construction.
However, the Turkish lira has depreciated sharply owing to political turmoil and foreign borrowings have put GAMA Enerji under financial stress. Now, with the breathing space provided by its creditors, it will be able to focus on turning around its operations, says Amir.
While the investment in Turkey has been a sore point for Tenaga, Amir gives the assurance that the experience will not be wasted. That is because the electricity generation and supply industry in that country is fully merchant-based, whereby corporate power purchase agreements (PPAs) are the norm.
A corporate PPA is when a power producer bids or offers to provide electricity to corporate entities, competing on a free-market basis. This is vastly different from the current structure in Malaysia, where independent power producers are selling the electricity generated on long-term PPAs.
"At the very least, we understand the market a bit better, what the Turkish market is like, where it is really pure merchant, because that is relevant to Malaysia if we ever move towards a merchant market. At least I know I can deploy some of the lessons learnt from that side," says Amir.
In India, where Tenaga has a 30% stake in GMR Energy Ltd (GEL), the situation is much more challenging, he says. However, the group is working with its partner, GMR Infrastructure Ltd, to restructure the operation. This includes selling assets to clean up the books.
"In India, it is a much more challenging environment because it is a very complex country with a lot of moving parts. So, what we had to do was find alignment," says Amir.
"We are still trying to find alignment in India, but we have preemptively taken impairments in the assets. And where we can work together with the partners is to dispose of some assets and stuff so we can clean up the books a bit. I think India will be a longer-term challenge for us, but at least the engagement is there."
Tenaga acquired the stake in GEL for US$300 million in November 2016. When the deal was concluded, it was the first investment by a foreign company in India's power generation industry. According to news reports, GEL has a diversified portfolio of coal-based, gas-based and RE assets with a total capacity of 4,630mw.
Not all of Tenaga's overseas investments have gone sour. Its investment in Vortex Solar Investment S.a.r.l. has been profitable, with earnings before interest, tax, depreciation and amortisation (Ebitda) of £18.11 million (RM87.8 million) in the first half of this year.
Tenaga acquired a 50% stake in Vortex for £86 million in January 2017. On Sept 17, it acquired another 5% equity interest in Vortex from Beaufort Investments S.a.r.l. for £11 million, giving it majority control.
According to Amir, there will not be any more impairments coming from Tenaga's international division this year. He says the division is now growing because the group has a better understanding of how to win in those markets.
"We took the decision not to invest if we were just a pure equity investor. We will invest when we have a strategic capability on something that we get. Hence, we have to take the RE business into our control in order to win. We are a large utility company with good experience, so why can't we do it?" says Amir.
Tenaga will bring the experiences and lessons learnt from its international investments back to Malaysia, especially in the corporate PPA segment, so that it will be better prepared when market liberalisation kicks in, he says.
Deploying technology to better serve customers
To ensure that Tenaga will be competitive when the electricity generation and retail market has been fully liberalised, Amir has looked at deploying technology so that the group will be able to serve its customers better. For example, the deployment of smart meters in several areas has allowed customers to monitor and manage their electricity consumption so as to save money and the environment.
This is just the first phase of the utilisation of smart meter technology, according to Amir. The technology can be further refined to provide more accurate consumption data to consumers.
"If the smart meters give us better data, what can we do with the data? Tenaga is the rare organisation that has 9.4 million customers. So, if I know I can do something with that data, there will be a lot of things that I can offer you," he says.
Another way of utilising technology to reduce cost for the consumer is to come up with different packages to entice customers to shift their consumption patterns, from the normal 9am to 6pm time frame to beyond that. That is because the usage pattern in Malaysia peaks during these hours and falls outside of those hours. If more consumption could be shifted to non-peak hours, Tenaga would be able to save a lot of money as it would not have to cater for the swing in demand.
"If we can move some of that load to other times, then I would not need high reserve margins because I would not have to cater for the swings. The system cost drops, which leads to lower tariffs, and people will be happy. Everybody gains along the way," says Amir.
"But I can only do it if I have the data that tells me these things. Then, I can induce some people to shift the consumption. We can create special packages for people to earn by moving into different time windows.
"That comes with technology, and that is what Tenaga wants to actually help the government with. So, that is why we are investing in our grid of the future to get us to that capability."