This article first appeared in City & Country, The Edge Malaysia Weekly, on August 31, 2020 - September 06, 2020.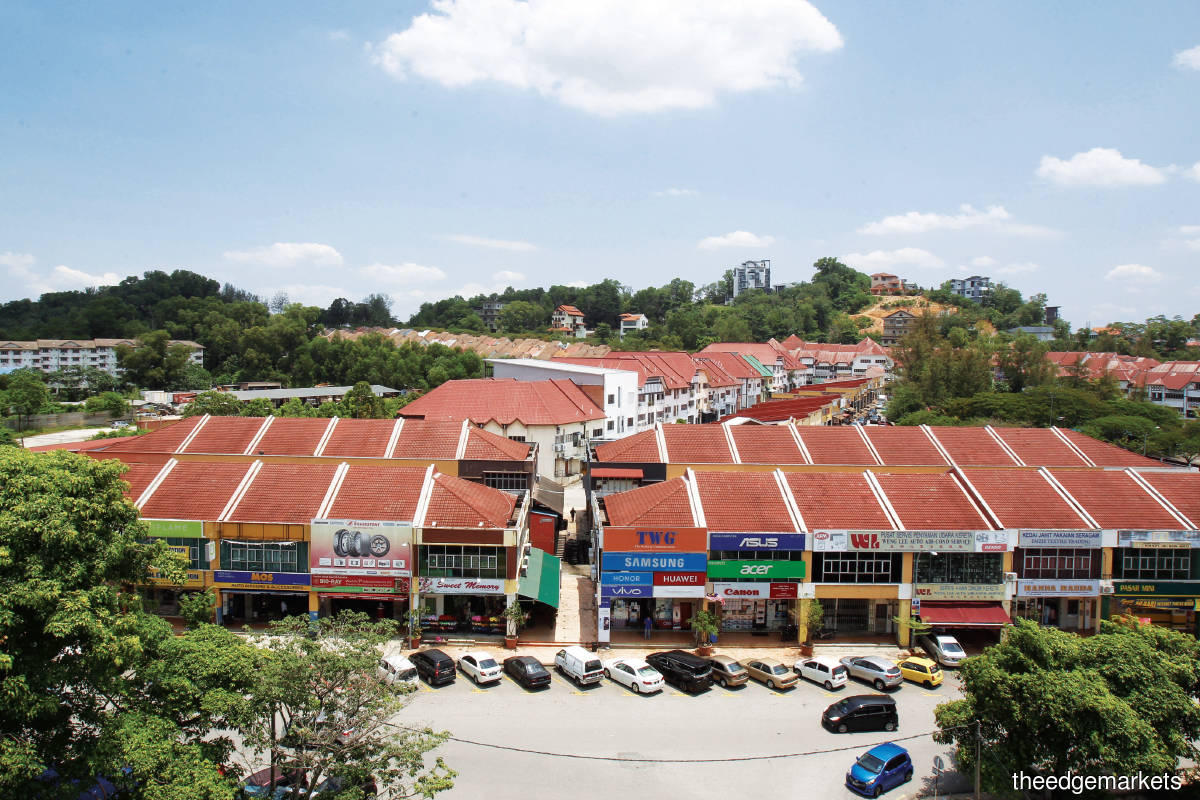 The relatively quiet Bukit Rahman Putra is a 1,109-acre township in Sungai Buloh, Selangor, whose main attraction since 1987 has been the 279-acre, 36-hole golf and country club Kelab Rahman Putra Malaysia.
Previously a rubber and oil palm estate, the township saw early developments in the 1990s by GuocoLand (the property arm of Hong Leong Group), followed by Sunway Group in 2003 with its gated and guarded Sunway Rahman Putra. Other notable property developers in the area include MRCB Land Sdn Bhd, NLY Ventures Sdn Bhd, Golden Armani Sdn Bhd and Suria Land Development Sdn Bhd.
Today, Bukit Rahman Putra comprises mainly landed properties catering for the middle and high-income groups. There are several condominiums and apartments as well as commercial and industrial properties. The area is also home to the SB Mall shopping centre, Putra Medical Centre and SK and SMK Bukit Rahman Putra.
According to Landserve Sdn Bhd managing director Chen King Hoaw, Bukit Rahman Putra's location was considered far from the Kuala Lumpur city centre 30 years ago. "But much has changed over the last two decades, given the network of highways and roads that we have today," he says.
The area enjoys easy access to major roads and highways such as the Damansara-Puchong Highway (LDP), New Klang Valley Expressway (NKVE), Middle Ring Road 2 (MRR2) and the Guthrie Corridor Expressway (GCE), putting the township within 30 minutes' drive from the KL city centre and other parts of the Klang Valley.
In addition to the KTM Komuter service, residents can now enjoy the convenience of MRT services with the Sungai Buloh MRT station about 4km away. It is the final station on the Sungai Buloh-Kajang MRT Line (MRT1) and an interchange to the Sungai Buloh KTM Komuter station.
Currently under construction, the Sungai Buloh-Serdang-Putrajaya Line (MRT2) will add more stations to the Sungai Buloh-Kepong areas, says Chen. "Upon full completion of MRT2 in 2022, we expect the Kepong-Sungai Buloh corridor to further transform for the better. Residents in Bukit Rahman Putra are set to benefit from such developments."
Surrounded by mature townships, Bukit Rahman Putra residents are within easy reach of amenities that can be found in the commercial hub of Bandar Baru Sungai Buloh, the Sungai Buloh Hospital, ELC International School and IGB International School. Malls such as The Curve, Ikea and 1Utama Shopping Centre are about 20 minutes' drive away.
"Bukit Rahman Putra is a mature and peaceful township characterised by well-lined streets, greenery, rolling terrains and premium landed homes. The neighbourhood is a conducive place for living," says Chen.
Steady values
PA International Property Consultants Sdn Bhd managing director Jerome Hong notes that Bukit Rahman Putra is a thriving residential and commercial township that comes under the jurisdiction of the Shah Alam City Council as well as the Selayang Municipal Council.
"When the terraced houses in the township were launched in 1994, the 2-storey homes with a land size of 22ft by 75ft went for RM148,888. Now, these homes are being transacted at RM500,000," he says.
The values of other landed properties in the township have seen a similar trend over the years.
At Ascot Hill, the 2½-storey semidees with a land area of 32ft by 60ft were sold for RM328,000 each in 2011. Transactions in 2019/20 saw prices of between RM888,000 and RM900,000 — a significant increase of about 170% in just 10 years, says Hong.
At Sunway Rahman Putra,  the 2-storey superlink courtyard units were launched at prices starting from RM657,000, and the bungalows, at between RM1.3 million and RM1.9 million, says Landserve's Chen.  He notes that an intermediate superlink unit there was transacted at RM1 million in 2018 while a corner unit was sold for RM1.9 million this year.
"The bungalows were sold for RM1.68 million to RM2.7 million each between 2016 and 2018, depending on the land area, built-up and condition of the property," says Chen.
The 21-acre freehold development is adjacent to the golf course.  
GuocoLand's 52-unit luxury bungalow development Notting Hill,  which is also next to the golf course, was commanding prices of RM1 million and above.  These units were transacted at between RM2.1 million and RM3 million from 2016 to 2019, .
As for the recently completed development Kalista by MRCB Land, the prices of the 3-storey superlink houses and semidees start from RM1.6 million and RM2.6 million respectively, says Chen. The development comprises 28 superlink units and 18 semidees.
PA International's Hong notes that the prices for the landed residential market in Bukit Rahman Putra have dropped by 3% to 18% overall.  "The exceptions were the 3-storey semi-detached houses with a land area of 1,920 sq ft in Jalan BRP 2 and next to the golf course, and the 2-storey terraced houses with a land area of 1,650 sq ft in Jalan BRP 6."
As for high-rise developments, units at Astana Putra with built-ups of 854 to 2,619 sq ft were sold for RM126,000 to RM458,000 when they were launched in the late 1990s,  Chen notes. Today, a search online would find asking prices of RM288,000 to RM630,000 for units with built-ups of 950 to 1,343 sq ft respectively. 
According to Hong, capital appreciation in Astana Putra is stagnant due to less visibility and age, despite having views of the golf course.
At Putra One Residence,  average transacted prices have increased by 10%, from RM480,000 in 2018 to RM530,000 in 2020, for units with built-ups of 1,098 sq ft, says Hong. Developed by NLY Ventures, the properties with built-ups of 880 to 1,100 sq ft is in Persiaran Bukit Rahman Putra 1.
Other condominium developments in the area are Seri Tijanni by Golden Armani and Suria Putra by Suria Land Development.  The asking prices for units at these developments range from RM390,000 to RM600,000 at Suria Putra for units measuring 881 to 1,076 sq ft, to about RM450,000 at Seri Tijanni for units with built-ups of 1,200 sq ft. The developments were completed in 2018, says Hong.
Meanwhile, low and medium-cost apartments such as Pangsapuri Bukit Rahman Putra and Astana Mutiara are showing capital appreciation of 20% to 40% due to their affordability and close proximity to commercial and industrial areas, says Hong. 
In the commercial segment, 2-storey shopoffices measuring 1,650 sq ft were sold for RM398,888 each in 1996. In 2017, these were transacted on the secondary market at RM960,000 each, he says.
"Generally, the value of 2-storey shopoffices in Bukit Rahman Putra is still considered stable despite a slight drop for the units at Jalan BRP 8. There haven't been any transactions of 2-storey intermediate shopoffices on Jalan BRP 1 recently. The occupancy rate at Jalan BRP 1 is about 90% because of its close proximity to [SB Mall] and the Jalan Kuala Selangor main road," Hong notes.
"Stratified offices on Jalan BRP 6 have shown good capital appreciation due to the limited units available in the vicinity," he adds.
Healthy outlook
An ongoing development in the township is Alstonia by MRCB Land. The 4.11-acre gated and guarded stratified development will offer 31 units of 3-storey garden villas and a 24-storey condominium with 214 units. The freehold development is slated for completion by 2023 and prices start from RM1.8 million for the villas and RM630 psf for the high-rise units with built-ups of 1,001 to 1,431 sq ft.
A future project in the township is a 4.55-acre commercial development, also by MRCB Land, adjacent to Alstonia. It will comprise a retail podium and a block of serviced apartments.
"It would be good if Bukit Rahman Putra could have a modern neighbourhood mall for its residents for shopping and dining.  The township is rather quiet at night," Chen says.
He observes that development has sprawled towards the northern part of Bukit Rahman Putra. "One of these is the ongoing Bandar Rahman Putra on 140 acres of Malay reserve land by Pencala Jaya Sdn Bhd. Phase 1, known as Azalea in Taman Putra, comprises 2- and 3-storey terraced houses priced from RM456,000 and RM550,000 respectively."
Pencala Jaya has reportedly submitted a proposal to the Ministry of Transport to build a KTM Komuter station in Taman Putra between the existing KTM stations in Sungai Buloh and Kuang to serve the population in its development and surrounding areas, says Chen.
Apart from more residential supply from the ongoing developments in Bandar Rahman Putra, Hong expects to see minimal changes in the short to medium term save for a few sizeable development parcels in the area. "In the long term, property prices in the area will continue to increase due to the well-planned developments and connectivity," he says.
Chen is similarly optimistic about Bukit Rahman Putra's medium to long-term prospects. "Given its mature and conducive setting and affordable pricing, coupled with the infrastructure development and transformation taking shape in its larger neighbourhood, we believe more homebuyers will appreciate living in the township. Another factor that makes Bukit Rahman Putra appealing is its freehold tenure," he says.