This article first appeared in The Edge Malaysia Weekly, on October 29, 2018 - November 04, 2018.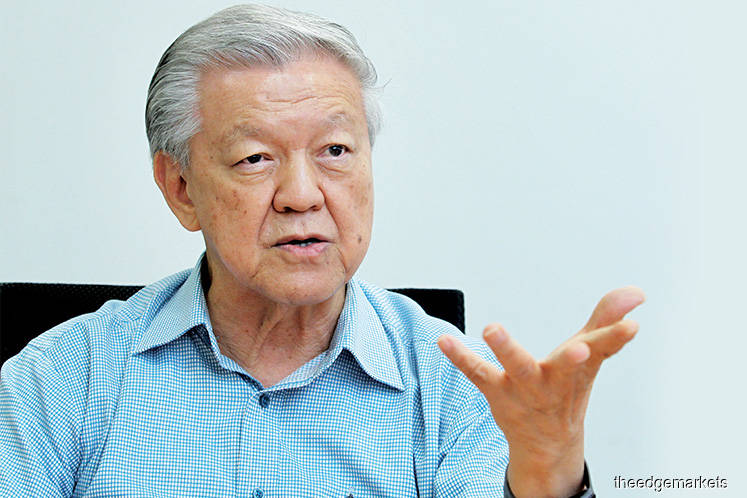 EVEN as there is growing doubt as to whether MCA will remain intact when the next general election comes round, the party's leaders have submitted an application to Kuala Lumpur City Hall to redevelop its headquarters in Jalan Ampang.
This has angered some members, including former president Tan Sri Chua Soi Lek.
In an interview with The Edge, he lambasts the redevelopment plan, saying  the leaders have got their priorities wrong when the members' morale is at an all-time low following the 14th general election, when the party only managed to cling on to one parliamentary seat.
"The redevelopment of Wisma MCA has not gone down well with party members, especially now, when MCA is like a sick man in the ICU, with no attending doctor. More so, the focus should be on politics," Chua says.
The plan, he says, has got some members wondering whether the incumbents, such as deputy president Datuk Seri Wee Ka Siong, who will be vying for the presidency at the party elections on Nov 4, are keen to remain in power only because of the party's assets.
"Why are they focusing on redevelopment instead of whether or not to leave Barisan Nasional, which to me, is a more pressing issue?"
The Edge had reported recently that MCA plans to demolish Wisma MCA and build into a 70-storey skyscraper on the site, with a gross development value of RM1 billion.
The headquarters, which occupies a freehold parcel measuring 4,955 sq m or 53,335 sq ft, is less than 500m away from the iconic Petronas Twin Towers.
Chua says the land could be worth up to RM4,000 psf, and is currently MCA's most valuable asset.
Another prized asset is Menara Multi-Purpose, which was acquired in December 2011 for RM375 million when Chua was the party president. However, the political party's main source of income is the dividends it gets from its 43% stake in Star Media Group Bhd.
Criticising the decision to go ahead with the redevelopment plan without consulting the grassroots, Chua says "doesn't send a good signal to the members".
He notes that members have an emotional attachment to Wisma MCA. In the 1980s, following the MCA Koperasi crisis, they had chipped in RM100 each in a fundraising campaign, led by former president Tun Ling Liong Sik, to prevent the building — which was charged to the banks — from being seized by creditors, he recalls.
Current MCA president Datuk Seri Liow Tiong Lai had said in a statement that the idea of redeveloping Wisma MCA was mooted when Chua was the president.
To this, Chua responds, "Yes, that is true. What I meant was to upgrade San Choon Hall as it was reaching its 2,500-people maximum capacity. We needed space to accommodate the increasing number of central delegates."
He adds, "I said this should not be the priority, the priority must be facing the 13th general election (then)."
Chua says when he was president, MCA's most valuable asset was its equity stake in Star Media. At that time, its share price was hovering at around RM2 (adjusted price) compared with last Friday's close of 72 sen.
"There are many reasons why Star Media shares are not doing very well now. One is because it is traditional media, which people are not so optimistic about." The group has also made investments, according to people, that are bleeding, like dimsum, he adds.
 
In denial
Chua, who resigned as president in December 2013, says MCA leaders are in denial, months after GE14.
His view is that the party has to leave Barisan Nasional. "There are no two ways about it. The only reason that I can think of why MCA is not leaving BN is that the leaders are hopeful that in the not very distant future, they hope to form a unity government, and can come back as part of the government, although as a very junior member."
The MCA, he says, needs leadership that can inspire the confidence of its members.
"If the leaders are still singing the same slogans, like Liow always says — such as we are very united without friction — that has nothing to do with the grassroots. They are not interested in hearing all these. Nobody has come out with a clear path on what the party wants to do."
He believes the party should not be fixated on Chinese education issues, and be issue-centric, instead of ethnic-centric.
"If MCA leaders continue to focus on just building a few Chinese schools, relocating 10 or 12 schools every five years, or fighting for recognition of the United Examination Certificate, then the party is doomed. That should not be the only issues to talk about day in and day out because these are not matters that endear us to the voters.
"There are so many national issues that MCA leaders try to avoid — corruption, corporate governance, freedom of speech, equal rights, discrimination, crime, poverty eradication," he says. Not many current leaders have touched on these issues in their recent speeches, he adds.
He says if the MCA had stuck to his decision not to accept any Cabinet post after the party's poor showing in GE13, the party may not be in its current situation.
"In those days, I made the decision not to accept any Cabinet post after GE13. When I walked off (on Dec 21, 2013), within six months, MCA leaders had joined the Cabinet," he says.
He says if they had followed his lead, "today, MCA may have done better ... people will not blame the party for 1MDB, for all the sin, corruption and abuse of power that has happened."
At this point, that is a moot question.  Chua, who was once sacked by the party because of a sex video scandal, managed to stage a comeback and won the election for party president in 2010.  
One thing is for sure — he still has a keen interest in the party.
Save by subscribing to us for your print and/or digital copy.
P/S: The Edge is also available on Apple's AppStore and Androids' Google Play.