This article first appeared in The Edge Malaysia Weekly, on September 18, 2017 - September 24, 2017.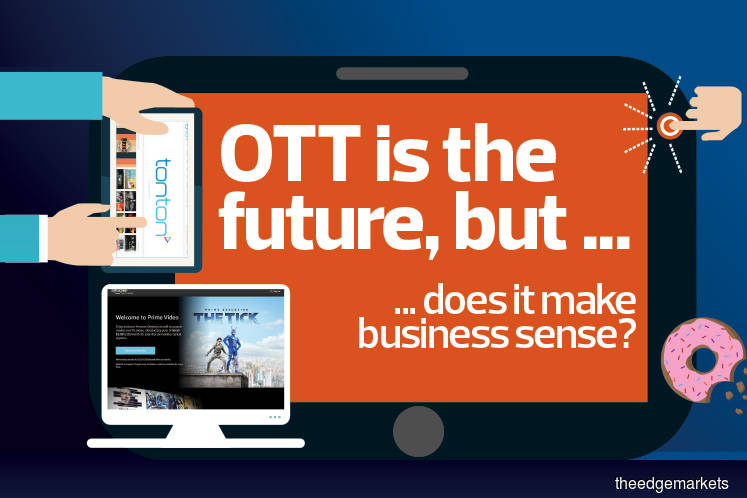 GONE are the days when one called in sick in order to catch the final episode of Rosalinda. And probably, those tense moments when husband and wife argued over whether to watch Akademi Fantasia or a Malaysian Super League football match will not arise again.
Nowadays, viewers have more than one platform to watch content. They can do so on traditional and smart TVs, laptops, desktop computers, smartphones or other digital devices, thanks to over-the-top (OTT) video streaming.
"I see a future where we can shut off our transmitters and stop our free TV broadcasting, give the licence back to the government and transmit all television in Hong Kong on OTT. It is not impossible for something like that to happen in the next five to 10 years," says S K Cheong, CEO of TVB.com, a unit of Television Broadcast Ltd.
"Such is the power and the capability of technology and the benefits it brings to users that it would be preferable for someone to watch plain old television in the living room using an OTT service."
TVB.com operates myTV SUPER, the largest OTT service provider in Hong Kong, according to Parrot Analytics, which tracks demand for OTT and content globally.
myTV SUPER claims to have one million subscribers in Hong Kong.
With the proliferation of mobile digital devices and internet connection globally, the broadcasting industry is experiencing another round of change with OTT fast becoming the first choice for content consumption today.
But the OTT industry is not without its challenges. Some of its more pressing issues are regulatory uncertainty due to the involvement of multiple markets, stiffer competition as more players jump on the bandwagon, challenges posed by pay TV and piracy.
OTT platforms, such as Netflix, iflix, viu, Astro GO, Amazon Prime, tonton and even Facebook and YouTube, can stream content on the go, anywhere, anytime, and on any audio-video device that supports the broadcast of content.
In Malaysia, the OTT industry was pioneered by Media Prima Bhd's tonton seven years ago. This was when the media group decided to digitalise its content and migrate it onto an online platform so that its users could play back past episodes of the network's programmes.
"Seven years ago, tonton was founded as Malaysia's first OTT service. In fact, in Malaysia, it was launched before the iPad, so it was ahead of the curve. It started as a catch-up service to complement our four channels," Airin Zainul, director of tonton and Media Prima TV Networks' licensing and merchandising, tells The Edge on the sidelines of the ContentAsia Summit held in Singapore recently.
"Today, tonton has 7.3 million registered users," she adds.
Astro Malaysia Holdings Bhd followed suit with Astro on Demand and recently, Astro GO. The pay TV giant has also launched tribe in Singapore, Indonesia and the Philippines.
In 2015, iflix, founded by Catcha Group CEO Patrick Grove, started unrolling its services in Malaysia and quickly expanded into other Asian countries. Now, barely two years into the game, it claims to have a presence in 19 countries across Asia, the Middle East and Africa.
Last year, Netflix, the US-based OTT service giant with streaming revenue of about US$8 billion in 2016, started its broadcasts in Malaysia and has since claimed a top position among the platforms in the country by subscriber base, alongside tonton, Astro GO, HyppTV and iflix.
Still in experimental stage
It is amazing how fast the broadcasting industry has caught up with online on-demand video streaming. In Malaysia, while tonton has been available for seven years, the past two years has seen an influx of OTT services into the market.
However, is the industry sustainable? While experts agree that video on demand streaming is the future, it is not an easy capital-intensive game to play.
"I think we are in a very early experimental stage. Everyone is experimenting with no true answer or perfect solution in sight. OTT isn't new but the world of SVOD, especially in Asia, is spectacularly exciting," says Airin.
SVOD refers to subscription-based video on demand, such as Netflix, iflix, HOOQ, viu and tonton VIP. YouTube and tonton are currently advertisement-based video on demand (AVOD) with the former having unrolled its own SVOD called YouTube Red.
Vivek Couto, co-founder and executive director of Media Partners Asia, thinks the industry is still at a nascent stage, where business models will rapidly evolve with some of the brands and products that are available today no longer around in three to five years.
For independent OTT services such as Netflix, iflix and viu, which are not backed by strong content owners, a major capital expenditure is content acquisition. It is not known if regional independent OTT services, such as iflix and viu, have turned a profit, although it is highly unlikely as they are still in expansion mode to improve their library of content.
"iflix and HOOQ have made progress in various markets but they have also demonstrated how challenging this business is and its level of cash burn," says Couto.
One thing is for sure, investors seem to think the prospects for independent OTT services are promising, judging from the amount these have raised. So far this year, iflix has raised US$220 million from global investors such as Hearst, an American diversified media and information company; EDBI, the investment arm of Singapore's Economic Development Board; and clients of DBS private bank.
iflix also counts as its investors Evolution Media, a growth stage investment fund company; the UK-based media giant Sky PLC; Catcha Group; Liberty Global PLC, the world's largest international TV and broadband company; Singapore-based venture capital firm Jungle Ventures; and PLDT Inc.
viu, founded by PCCW Ltd, added Temasek Holdings Pte Ltd, China-based private equity firm Hony Capital and Foxconn Ventures Pte Ltd as its shareholders through a US$110 million fundraising exercise in August.
HOOQ is a joint venture between Sony Pictures Entertainment Inc, Warner Bros Entertainment Inc and Singapore Telecommunications Ltd.
Some of the euphoria over OTT services is due to the success of Netflix, which had a market capitalisation of US$78.9 billion as at last Thursday and was trading at a price-earnings ratio of 222.7 times.
Netflix was listed in March 2002 at US$15 per share when it was a DVD rental by mail business. In April 2006, it issued new shares at US$30 each before venturing into video on demand streaming. About five years ago, Netflix issued new shares at US$70 each. It closed at US$182.63 last Thursday, and judging by its performance, it represents a lucrative investment indeed.
Nevertheless, Netflix had a head start over the others and boasts 100 million subscribers globally. Its superior library of content allows Netflix to charge a relatively high price for its services, something that local and regional OTT services cannot afford to do.
What will happen when more OTT services start vying for the same markets? Will investors plough money into every one of them or will there be a culling?
"I think it's too early to tell. If we are in a bubble, it is still inflating and I think there's still room for growth," says Airin.
To Couto, "the most obvious thing is that there could be consolidation — a merger between HOOQ and iflix has merit but valuations and shareholder control will be an issue".
Will OTT services be regulated as they become mainstream?
In Malaysia, most of the OTT players are non-independent — for example, tonton and Astro's multiple units — and operate on the broadcasting licences of their parent companies. HyppTV, meanwhile, is a licensed Internet Protocol TV (IPTV) service provider.
Being an independent OTT player, iflix operates in a less regulated environment; its content is not governed by the Content Forum that was set up by the Ministry of Communications and Multimedia.
The Content Forum is a grouping of licensed broadcasters, media organisations, advertising companies and others to regulate and oversee the content broadcast by its members. It is a form of self-regulation that the ministry established to ensure all members adhere to the content code.
However, some of the licensed broadcasters feel their content should not be censored as well in order to provide the industry with a level playing field.
Still, a lot of popular Hollywood and Asian content that does not meet Malaysia's stringent censorship code has not been banned or censored.
"This is good for the growth of Malaysia's broadcasting industry. Can you imagine if the censorship code were strictly applied to all international content? Malaysian broadcasters might not be allowed to show certain popular programmes," says an industry player.
Nevertheless, iflix global director of original programming and head of commissioning Mark Francis says the platform adheres to local sensitivities. Indeed, its original programme Oi! Jaga Mulut does not touch on race or religion.
"We tell our producers and stand-up comedians that as long as they steer clear of these issues, everything is good," Mark tells The Edge on the sidelines of the ContentAsia Summit.
The question is, shouldn't the independent OTT services be regulated by the government like their non-independent peers and traditional broadcasting companies?
Last year, Communications and Multimedia Minister Datuk Seri Salleh Said Keruak said his ministry was looking at licensing for OTT players under the Communications and Multimedia Act (CMA) 1998.
"A deeming provision is being considered under a review of the law so that OTT providers can be deemed as licensed if they provide services in Malaysia," he was quoted as saying by the media.
It is not clear if the CMA has been amended and if it has, whether it includes the regulation of OTT players. At press time, there was no response to requests for an interview with MCMC for this article.
For tonton, content classification is key when it comes to OTT services; it observes the sensitivities of the countries it operates in. Besides Malaysia, tonton is now available in Singapore and Brunei, and it is looking at another Southeast Asian market for its service.
"Some countries are a bit more liberal on the type of content served while others impose restrictions on religious or risqué content. From a deployment perspective, this complicates things a little," says Airin. "There is no one platform that fits the mould. All content needs to be filtered and classified according to the rules of each country it is made available in. The platform itself needs to be multi-region-aware."
The internet revolution has changed the way we live. The internet has become the medium of communications and beyond. OTT is a prime example. What is pertinent, however, is how many people are willing to pay for content that is sourced over the internet.
The future is interesting but should investors and broadcasting companies go for broke in starting an OTT service?