This article first appeared in The Edge Malaysia Weekly, on March 16, 2020 - March 22, 2020.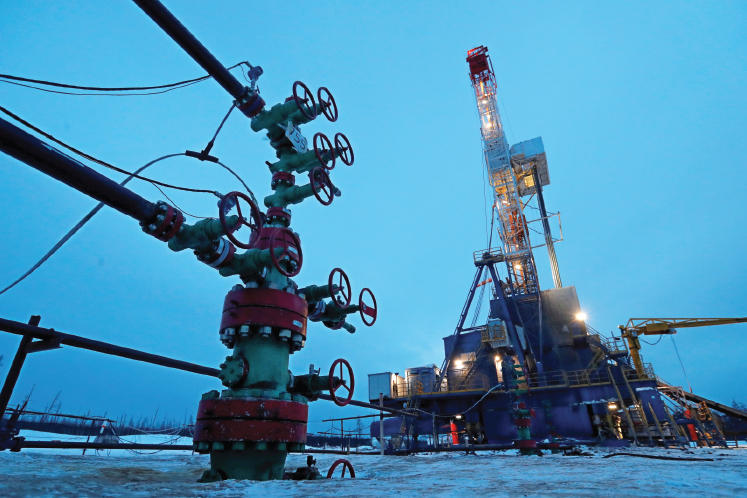 A well head and drilling rig in the Yarakta oilfield in Russia... the alliance between the Saudi Arabia-led Opec and Russia has collapsed
Photo by Reuters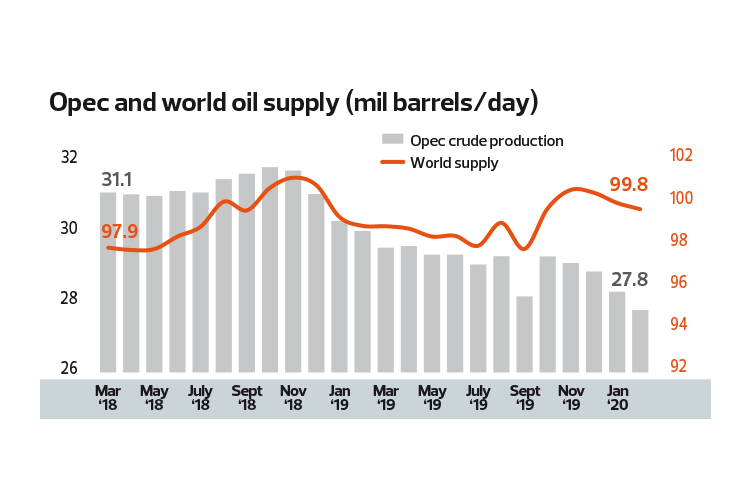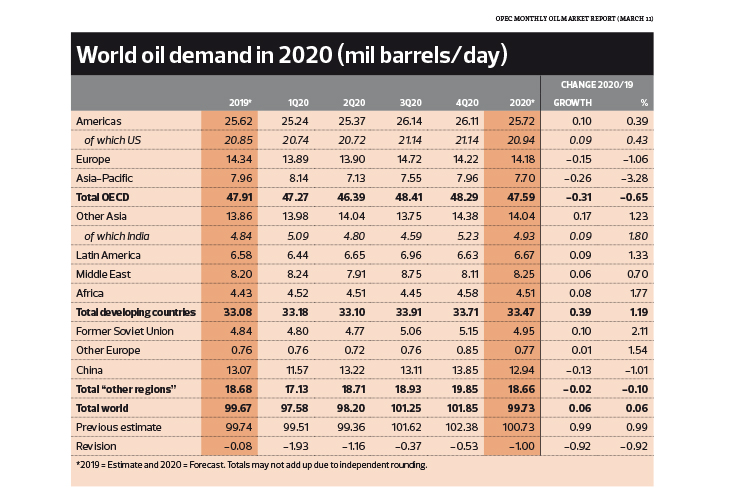 EARLIER this month, on March 6, the benchmark Brent crude tumbled 9.4% to US$45.27 per  barrel, marking its largest daily dip since the 2008/09 global financial crisis.
Over the week, Brent crude fell further and was hovering around US$33.80 last Friday, down about 35% from the beginning of the month. This was due to two Middle Eastern oil producers seeking to boost production next month — Saudi Arabia to as much as 13 million barrels per day, up from 9.7 million, and the United Arab Emirates by four million barrels per day, up from three million. These moves come after an alliance between the Organization of the Petroleum Exporting Countries (Opec) and Russia collapsed acrimoniously recently.
Add to this the global economic slowdown and lacklustre demand brought about by the Covid-19 outbreak, which has resulted in travel plans being aborted, factories shutting down and thousands being quarantined on suspicion of being infected.
These events have hammered oil prices to new lows.
In Opec's monthly oil market report dated March 11, it says, "Despite tender signs of improvement at the beginning of the year, current expectation of global economic growth is being dragged down by the carry-over of weak 4Q2019 data in several key economies, along with the strong impact of the rapidly spreading Covid-19. Previously forecast growth of 3% for 2020 global GDP is now therefore revised down to 2.4%.
"Furthermore, the impact of Covid-19 is exacerbated by high global debt levels, the ongoing general slowdown in world trade as well as challenges in manufacturing, impacted by slowing capital expenditure in various key economies and by a globally decelerating automotive industry.
"The underlying key assumption for the forecast is that while China will see a sharp deceleration in 1Q2020 and to a lesser extent in 2Q2020, a recovery in the country is projected to take hold in 2H2020, supported by government-led stimulus measures. However, the impact of Covid-19-related developments outside China will continue well into 2Q2020, especially in Asia, the eurozone, the US and Middle East … Depending on future developments, further downside risk remains."
Opec has revised downwards the growth in world oil demand for the year from 0.92 million barrels per day (mb/d) to 0.06 mb/d. Total world oil demand in 2020 is now assumed at 99.73 mb/d, with consumption in 2H2020 expected to be higher than in 1H2020.
"Considering the latest developments, downward risks currently outweigh any positive indicators and suggest further likely downward revisions in oil demand growth, should the current status persist," Opec says.
At 99.73 mb/d, the growth in world oil demand for the year is only marginally higher than that of last year, when it was 99.67 mb/d.
In a report released earlier this month, research outfit CLSA says the International Energy Agency has lowered its annual forecast for oil demand by almost one million barrels per day to 99.9 million, suggesting a contraction of 90,000.
CLSA says, "There has not been an annual drop in crude demand since the global financial crisis, when it declined by 839,000 barrels per day in 2009".
As a result of the bleak outlook, CLSA slashed its world oil demand growth forecast for this year and cut its base case 2020/2021/2022 Brent crude forecasts from US$60/62/64 to US$50/55/60 per barrel and lowered the US$65 real long-term assumption to US$60.
In line with the slump in oil prices, the FBM KLCI closed at 1,344.75 points last Friday, its lowest since September 2011, after hitting an intra-day low of 1,320.96.
The benchmark index has shed more than 15% since the beginning of the year.
Similarly, the Bursa Malaysia Energy Index, which tracks oil and gas and related stocks, shed 46% of its value since the beginning of the year to close at 708.61 points last Friday. It had hit a 52-week high of 1,303.21points on Jan 24.
Saudi Arabia versus Russia
Oil prices crumbled after talks between Opec and its allies, particularly Russia, fell through. This ended a four-year understanding between Saudi Arabia and the former Soviet Union nation.
Opec is made up of 13 oil-producing nations, including de facto leader Saudi Arabia, and accounts for as much as 45% of global oil production and controls more than 80% of proven reserves the world over.
Opec and its allies (Opec+) comprise 23 members, including Russia, Kazakhstan, Mexico, Oman and Malaysia, and account for 55% of global production and 90% of proven reserves.
Opec+ reduced production from January 2017 to combat a global crude oil glut that knocked prices down from over US$146 per barrel in July 2008 to under US$28 per barrel in January 2016.
Opec+'s management of oil prices is set to end this month.
In a nutshell, Saudi Arabia and Russia, two of the world's biggest oil producers, could not come to terms on whether to reduce the global supply of oil in the face of the Covid-19 outbreak.
While Saudi Arabia sought to cut production by about one million barrels per day, Russia was looking at a cut of around 500,000 barrels, which would keep oil prices higher, translating into more revenue. Saudi Arabia, meanwhile, opted to slash prices, which would increase demand.
While what exactly transpired is unclear, news reports say Saudi Arabia is offering discounts of US$6 to US$8 per barrel to consumers in Asia and northwestern Europe, both traditional markets for Russian oil exports.
Add to the mix the International Monetary Fund's numbers that indicated that Saudi Arabia needed US$83.6 per barrel to balance its budget last year versus US$42.2 a barrel for Russia.
Saudi Arabia's oil production cost is said to be low, considering that most of its oilfields are onshore. IHS Markit estimates the country's production cost at US$17 per barrel and Russia's at US$42 for onshore projects and US$44 for offshore jobs.
However, questions about national oil company Saudi Aramco's efficiency arose in news reports when its initial public offering (IPO) prospectus was released, showing the oil giant's weaker financial performance in 2016 when oil prices averaged US$45 per barrel. Its net income and free cash flow stood at US$13 billion and US$2 billion respectively in 2016 compared with US$111 billion and US$86 billion in 2018 when Brent crude averaged US$71.34 per barrel. It was then said that Saudi Aramco's break-even price was about US$40 per barrel.
Nevertheless, Saudi Aramco's share price was 29 riyals at press time, more than 9% below its IPO price of 32 riyals in December last year.
Low oil prices also translate into less money for social and other programmes conducted by the Saudi government.
Finish off shale?
Apart from its clash with Saudi Arabia, Russia also has oil and gas issues with the US.
In December last year, the US imposed sanctions on companies building an underwater gas pipeline, known as Nord Stream 2, between Germany and Russia's gas fields in Siberia because it was a security risk or a "tool of coercion".
Last month, the US also sanctioned a unit of Russia's largest oil producer, Rosneft PJSC, for having ties with Venezuela's state-run oil company PDVSA.
Both countries are also at loggerheads over many other issues.
Saudi Arabia, however, is a known ally of the US.
Still, it is not beneficial to either Saudi Arabia or Russia to push Brent crude to below US$35 per barrel, which has led to some to wonder if a more sinister motive is at play.
An oil and gas player, for instance, questions the way in which talks between the Opec+ members fell through recently, and wonders if there really is a feud. "To start slashing prices after just one meeting … that's not normal. There should have been a few more meetings to talk things through … at least a few meetings should take place before they throw in the towel and slash prices," he says.
He adds that this, while not good for either Saudi Arabia or Russia, would definitely kill a common enemy — shale oil.
A market observer explains that the problem with shale oil is that all the low hanging fruit has already been harvested, and that what is left requires high capital expenditure. This has resulted in many of the smaller players closing shop or selling to the oil majors.
"Some say Brent crude at around US$40 per barrel would render most shale production unfeasible … So, at current prices, it's worse for shale producers," he says.
News reports quoting Rystad Energy — an Oslo-based consultancy — say the wells of Exxon Mobil Corp, Occidental Petroleum Corp, Chevron Corp and Crownquest Operating LLC in the Permian Basin, stretching from West Texas to New Mexico, are viable at US$31 per barrel, but little else is.
So, can Saudi Arabia, an ally of the US, be seen to be getting into bed with Russia to kill American shale oil?
There has also been a change at Saudi Arabia's energy ministry. Since September last year, the country's energy minister has been Prince Abdulaziz Salman Al-Saud, the first royal to hold the position. He took over from Khalid al-Falih, who was appointed oil minister in May 2016 and played a key role in the pact forming Opec+.
So, will Opec be different from now on?
And how good is the relationship between Prince Abdulaziz and Russian Energy Minister Alexander Novak and President Vladimir Putin?
What the local players say
The billion-dollar question, of course, is how long the downturn will last. Many oil and gas players, fund managers and analysts did not want to be quoted as they were unsure about the direction of crude prices.
Sapura Energy Bhd president and CEO Tan Sri Shahril Shamsuddin, in a brief conversation with The Edge, says, "This kind of uncertainty can't last very long … maybe three to six weeks. But it's very hard to say; it's not healthy for the [oil and gas] industry and will even [adversely] impact other aspects of the economy … oil price is used as the basis for many assumptions."
In an exclusive interview with The Edge, Uzma Bhd managing director and CEO Datuk Kamarul Redzuan Muhamed says, "If this (low oil price) situation prolongs — and that is a big if — perhaps the stakeholders should be more prudent in terms of how to react … I am talking about financial institutions, regulators and operators.
"Our industry is a bit more prepared compared with those that completely stopped activities [in the recent past]. I think many people have learnt from the 2015/16 downturn. So, most are more ready."
Velesto Energy Bhd president and executive director Rohaizad Darus says via WhatsApp, "At present, it is difficult to forecast the duration of this downturn. Demand is significantly reduced due to the Covid-19 pandemic while supply is significantly increased due to the failure of Opec and Russia to agree on production cuts.
"The market will only start to improve when either one or both of these issues are resolved."
On the double whammy faced by oil and gas players, Hibiscus Petroleum Bhd managing director Kenneth Gerard Pereira says, "This is the only time you have a supply and demand problem at the same time. On the supply side, if you throttle less, produce less oil, demand is still not there."
When asked for his views, Daya Materials Bhd managing director Shamsul Saad says, "The companies' suffering has nothing to do with the sector's fundamentals. It is the external factors, it is the unpredictability. There was a lockdown in China (as a result of the Covid-19 outbreak), there are issues with Russia and Saudi Arabia … no one can predict how long this will go on. But if you ask me, I think our players have come to terms with low oil prices, so it's not a shock to the system.
"The management of a good company must have in place a strategy for such a low price environment."