This article first appeared in City & Country, The Edge Malaysia Weekly, on August 3, 2020 - August 09, 2020.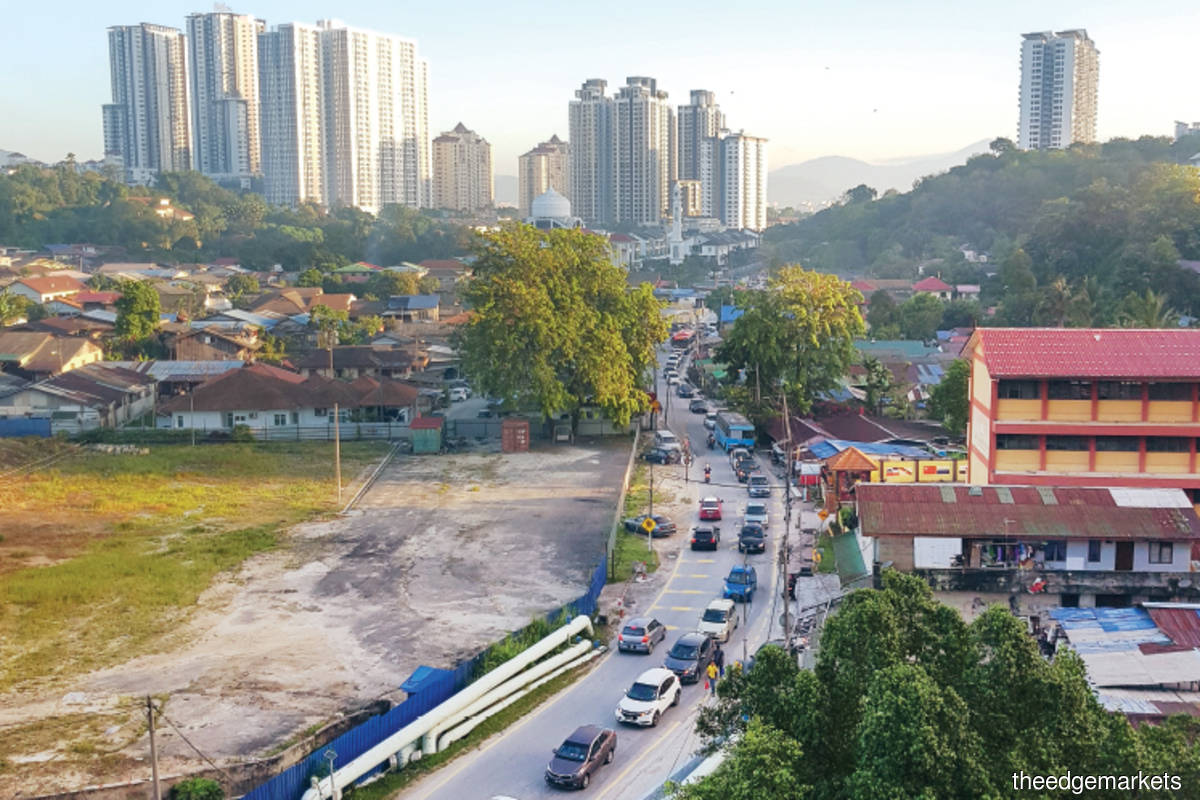 Michelle has been living in North ­Kiara for 12 years. "When I first moved here, the area was known as Kampung Segambut Dalam and the only high-rise building was in Bukit Prima ­Pelangi. The traffic was not too bad and there were many kampung houses." 
Through the years, many houses were demolished to make way for the many high-rise buildings that we see today. Traffic started to build up and the road conditions deteriorated, she said.
  Despite all that, Michelle enjoys living in North Kiara because of its excellent location and easy access to Petaling Jaya and Kuala Lumpur. "It is so close to Mont'Kiara, Desa ParkCity, Kepong and Dutamas. I get to enjoy the amenities in these areas while paying a significantly lower rental compared with Mont'Kiara and Desa ParkCity."
Property experts say North Kiara is not a geographical area that is officially named or defined by the authorities. According to PPC International Sdn Bhd managing director Datuk Siders Sittampalam, this area is part of Segambut and was popularly known as the south of Segambut before the name North Kiara was commercialised.
"It is a term used by property developers for marketing purposes to boost the image of their projects, which are located next to Mont'Kiara. North Kiara generally refers to the area immediately adjacent to Mont'Kiara," says Henry Butcher (M) Sdn Bhd chief operating officer Tang Chee Meng.
Siders concurs, adding that the name "North Kiara" was chosen to link it to Mont'Kiara, an established residential enclave.
The exact boundary of North Kiara is unknown, he adds. "Generally, it is known to be located north of Mont'Kiara, east of Desa ParkCity, south of Kepong and west of Dutamas."
Real estate agency Hartamas Research is of the opinion that North Kiara is an area bordered, among others, by Kampung Segambut Dalam, Bukit Prima Pelangi, Bukit Seri Bintang, the fringe of Taman Sri Bintang, Taman Sri Sinar, Taman Segambut Muda, Taman Desa Segambut and the north part of Dutamas.
Generally, the land here is slightly hillier than Mont'Kiara. ­Jalan Dutamas Raya, for example, is on a slope and both sides of the road are lined with many high-rise developments.
According to property experts, residential developments that can be considered within North Kiara include Kampung Segambut Dalam, Bukit Prima Pelangi, Bukit Seri Bintang, Duta Ria Condominium and Prima Duta Condominium.
High-end and low-density landed residential developments include Mesra Terrace, Villa Pines, Garden Villa and The Serai.
Newer completed residential developments include Verdana by BRDB Developments Sdn Bhd, Suria @ North Kiara and Scenaria @ North Kiara by UOA Development Bhd, Concerto North Kiara by BCB Bhd, and Anjali North Kiara by Tago (M) Sdn Bhd.
The most prominent landmark in North Kiara is the French School of Kuala Lumpur, an international school. Other amenities in the area include government schools, places of worship, eateries and government clinics.
"North Kiara has always shared amenities that are located in Mont'Kiara such as shopping malls, medical centres, international schools and high-rise office buildings because of its size and population. The focus in the area has generally been on the development of low-density residential schemes," Siders observes.
Owing to its proximity to Desa ParkCity, North ­Kiara also benefits from the amenities there, Hartamas Research says.
North Kiara is connected via the New Klang Valley Expressway, North-South Expressway, Duta-Ulu Klang Expressway (DUKE) and Sprint Expressway. It is accessible from Mont'Kiara via Jalan Kiara 3 while from Kepong and DUKE 2, the connecting road is Jalan Lang Emas. The access road to Kuala Lumpur is Jalan Segambut while to Dutamas, they are Jalan Duta and Jalan Kuching.
Transformation of North Kiara
North Kiara used to have many kampung houses and vacant agriculture plots, and its residents were mainly Malay, says Tang. The area's transformation is attributed largely to a spillover from Mont'Kiara as development land became scarce, explains Siders.
Tang concurs, adding that the area is immediately adjacent to Mont'Kiara and the cost of land is comparatively lower. "As the land cost is lower, it is supportive of more affordably priced projects."
Properties in North Kiara are a mix of low, middle and high-end housing schemes, with high-rises being the most recent trend, says Siders. "Landed properties in the area are mainly owner-occupied whereas non-landed properties see a good mix of owner-occupiers and investors."
The area, he adds, is considered as a mid-range residential market that attracts the bottom 40% (B40) and middle 40% (M40) groups.
Tang, meanwhile, observes that the profile of buyers in the area is mainly middle-income and Chinese, with some bumiputera buyers.
Challenges in the area
One of the major drawbacks of North Kiara is the traffic congestion. This is mainly because its only link to Mont'Kiara is Jalan Kiara 3, says Tang.
"In the future, there will be another access road, Jalan Kiara 4, between Mont'Kiara and North Kiara. It is being built by Kuala Lumpur City Hall (DBKL)," he adds.
Jalan Segambut is currently being upgraded from a two-lane to four-lane carriageway. Siders says, however, that the road-widening works have been rather slow. "The traffic diversion and narrowing of roads owing to construction has caused traffic congestion, especially during peak hours."
The upgrading work is divided into four phases. Tang says Phases 1 and 4 have been completed while Phase 2 is slated to start this year and be completed in 18 months. The start date for Phase 3 has not been announced.
Road-widening work is also being done at Jalan Segambut Dalam, which continues from Jalan Kiara 3 to the intersection of Jalan Segambut and Jalan Lang Emas, says Hartamas Research. The agency says the works will take some time as DBKL has to negotiate individually with the owners of the houses along the road to surrender their land.
Another challenge is floods, caused by overdevelopment and improper discharge plans. "DBKL and the Department of Irrigation and Drainage are looking into a solution to overcome this situation," says Siders.
Hartamas Research says there are limitations as to the density and number of units a developer can build because most of the land here is under residential titles.
"It may affect the final product being released to the market because developers need to find a balance between built-up and absolute selling price. Building big units can maximise the density but it would affect the take-up rate and the absolute selling price would be high. On the other hand, building small units with the intention to lower the absolute selling price can speed up the take-up rate but it may affect the developer's profit," the agency explains.
Property values
There have not been many launches in North ­Kiara over the past two years owing to the scarcity of development land, say property experts.
"The floods and traffic congestion may be contributing factors to North Kiara not being a 'most sought after' area as compared to Mont'Kiara," Siders says.
Tang believes resistance from current residents to more high-density development in the area is another reason. In addition, some owners are hanging on to their land, waiting for the right time to launch, observes Hartamas Research.
Nevertheless, the relatively lower pricing in North Kiara, paired with its accessibility and proximity to Mont'Kiara and Desa Parkcity, has attracted people to buy homes and live there, ­Hartamas Research says.
Other than the various highways, Siders says North Kiara has access to public transport networks via Segambut KTM station, Semantan mass rapid transit (MRT) station and the upcoming Jinjang MRT station.
Tang says older residential properties are fetching about RM550 psf compared with RM450 to RM700 psf in Mont'Kiara. The price of newer units range from RM500 to RM900 psf in North Kiara and RM700 to RM1,300 psf in Mont'Kiara.
"The potential price appreciation arising from further improvement and development of the area is another factor drawing house seekers to the area," he adds.
Transacted prices have increased conservatively on an average of 6% to 10% over the past five years, depending on unit size and furnishings, says Hartamas Research.
It adds that the current market price for newer residential properties in North Kiara is about RM600 to RM650 psf on average while the rental rate is between RM2 and RM2.80 psf, depending on the size and furnishings.
Alix Residences by TA Global Bhd is the most recently launched development there. Property developers such as Kerjaya Prospek Group Bhd, LLC Bhd and BT Homestead Development Sdn Bhd have land in the area.
Hartamas Research says Bon Estates Sdn Bhd and Symphony Life Bhd have upcoming projects along Jalan Segambut Dalam, where it continues to Jalan Kiara 3.
According to Siders, the average built-up of landed houses — superlink houses, semi-detached houses and bungalows — is between 3,100 and 4,900 sq ft while high-rise developments have an average built-up of 1,400 to 2,800 sq ft.
Prospects
While it has shortcomings, property experts believe North Kiara's future is promising.
Siders says most young adults and young families prefer to live in North Kiara as it is close to their workplace in the city centre. "They get to enjoy the facilities and amenities in Mont'Kiara while paying a lower price for a home in North Kiara."
Tang sees North Kiara becoming more attractive as developers run out of development land in Mont'Kiara.
"As North Kiara develops further, the living environment as well as the range of facilities and amenities will improve, making it a more conducive place to live in. Once the road widening and improvement works are done, the traffic congestion problem will be at least alleviated, if not eliminated," he says.
Hartamas Research believes there will be demand for houses in the area depending on the pricing of upcoming developments. "The future completion of the road widening of Jalan Segambut Dalam will definitely increase the appeal of North Kiara."