This article first appeared in City & Country, The Edge Malaysia Weekly, on February 21, 2022 - February 27, 2022.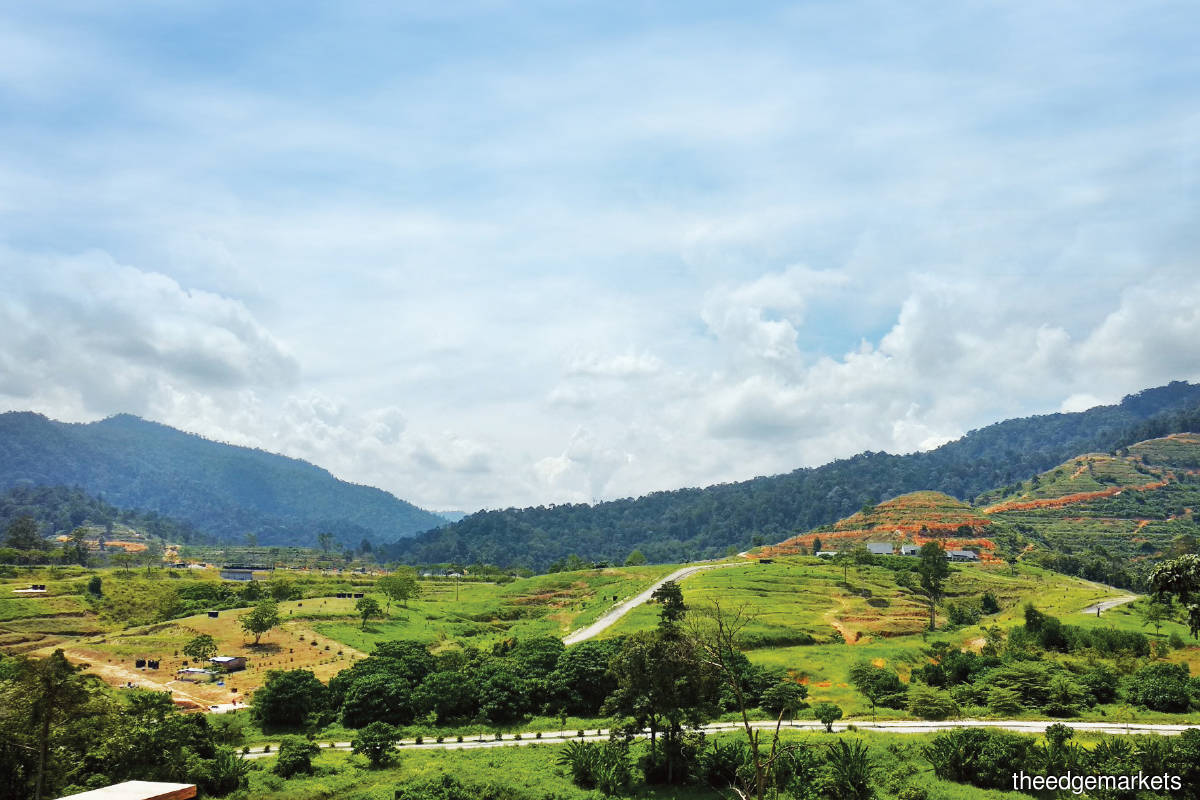 Homestead land or property is a niche product in Malaysia, and demand for such real estate is generally low here. Even so, homesteads are still an appealing form of alternative investment, especially for hobbyists and those looking to build their dream home, weekend abode or future retirement home.
"There is always demand for such properties and most purchasers would choose homesteads for two main reasons — to get away from the city and for the natural environment. It's the rolling terrain, lush greenery, fresh, cool air and crystal-clear streams that appeal to them. They want a change from city living. Many would use their homestead property either as a weekend or holiday home or a place to retire," says Landserve Sdn Bhd managing director Chen King Hoaw.
"Such properties can also become more popular because of the Covid-19 pandemic and other factors as more people prefer to live closer to nature and away from densely populated areas."
In addition to agricultural plots on the market, interested buyers can also look at homestead developments or schemes. Some homestead develop­ments in the market are Tanarimba in Janda Baik, Bentong, by Sitrac Corp Sdn Bhd; The [email protected] by Karak Land Sdn Bhd, a subsidiary of Bina Puri Holdings Bhd; as well as Planters' Haven in Nilai by Sime Darby Property Bhd.
According to CBRE | WTW managing director Foo Gee Jen, transacted and selling prices at Tanarimba range from RM13 to RM22 psf. Comprising 803 lots, Tanarimba has a visitor centre with a function hall that can accommodate up to 500 people, as well as walking and hiking trails.
According to EdgeProp.my, a 51,667 sq ft leasehold agricultural plot with a gentle terrain in Tanarimba was transacted in November 2020 for RM1 million, or RM19.35 psf. The website quotes Reapfield Properties real estate negotiator Jennifer Yap, who concluded the deal, as saying that the buyer was looking for a highland plot not too far away from Kuala Lumpur to build his vacation and future retirement home, and he liked the plot for the fresh mountain air and cool climate.
Meanwhile, The Valley has three phases comprising 158 lots, 138 lots and 171 lots respectively. Prices range from RM7.35 to RM13.20 psf and the development has facilities such as an event hall, a swimming pool, tennis courts, a gym and an exhibition space.
Planters' Haven is a gated and guarded development comprising 158 lots and a clubhouse with an infinity pool, tennis court, gym and multipurpose hall. Transacted and selling prices range from RM19 to RM26 psf, says Foo.
According to an EdgeProp.my listing, a 43,560 sq ft freehold agricultural land and bungalow lot in Planters' Haven has been listed for RM1 million, or RM22 psf.
Another homestead development in the market is [email protected] Cove in Pulau Carey, says Landserve's Chen. "It is also important to note that there are many resort developments, such as Song Yan Resort and The Acres Resort in Bukit Tinggi, Bentong, that offer a homestead living experience. So, those who want the experience may not necessarily [have to buy] a homestead property immediately.
"There are many factors to consider when buying a homestead property, which is a niche product catering to a specific segment of the market."
This segment of the market is unique, says Foo. "To me, homesteads have always been something that people look at as a form of alternative investment, and also as a hobby, when they have a bit of spare cash."
Foo says homesteads generally attract two market segments. "Developments such as Tanarimba and Planters' Haven are popular with the high-end market segment. Properties with a more temperate climate and higher land elevation also appear to be popular for getaway homes and weekend homes for the well-heeled. Of course, yuppies who made money during the bull run will be able to afford such properties.
"The second market segment that homesteads attract are hobbyists or those who want to build their retirement home. We're talking about the middle to upper-middle classes, or the M40 group." He adds that the homestead property market is little affected by an uncertain economic climate.
Meanwhile, Chen observes that buyers are predominantly business people or professionals aged 45 and above. "The buyer profile might change in the future to include more buyers below the age of 45."
In terms of outlook, Foo says the supply of homestead developments is likely to remain limited because of the niche demand for such properties. "There are few developers with sufficient and suitable land bank for such large developments, and most are likely to prefer to pursue other projects, which can yield better and faster profitability at this juncture, such as bungalow lots in townships in the Klang Valley," he explains.
"Nonetheless, locations most suitable for homestead developments in Malaysia are located farther away from the city centre, and have excellent connectivity and basic amenities. Areas with a natural scenic view or up in the highlands may also be appropriate.
"In the Klang Valley, suburbs such as Batang Kali, Semenyih and Hulu Langat are ideal locations for homestead developments."
Similarly, Zerin Properties managing director and CEO Previndran Singhe says such properties "offer unique investment opportunities for those who seek alternative assets as well as vacation and retirement homes.  [Homestead developments also benefit] from the spike in durian export demand and the discerning preference for a resort lifestyle.
"Moving forward, it is anticipated that more developers will offer products with unique concepts that incorporate market-driven elements, with sustainability, wellness and community living being the core aspect."
According to Previndran, Tanarimba performed fairly well, with 21 transactions recorded on brickz.my from January 2018 to January 2020.
Pros and cons of homestead developments
There are many advantages of buying homestead land and property within a homestead development, as opposed to a standalone agricultural land parcel.
"Within homestead developments, the developer provides the roads, street lighting, drainage, water, electricity, telephone mains and landscape. These are all ready for use and tapping," says Landserve's Chen.
"Also, when you choose your plot, you would already know its terrain and orientation. So, you can start planning the design of your home and where to plant your fruit trees beforehand.
"The developer will then deliver the plot to you as shown on the survey plan and, after taking possession, you can work straightaway towards building your home or planting your trees. It is unlikely that you will have such convenience when buying [standalone] agricultural land. In such a case, you need to first clear the site, do earthwork and build the infrastructure."
In addition to having properly developed residential infrastructure facilities, CBRE | WTW's Foo says homestead developments also offer a higher level of personal and family security.
The disadvantages of homestead developments would be the land price and maintenance fee.
"Homestead developments are more expensive, as the developer provides the infrastructure such as roads and drainage," says Chen.
As homesteads are usually located farther away from cities or town centres, Foo says, they are likely to have limited access to commercial developments and amenities.
Therefore, Chen believes that, ideally, homestead properties should be located within an hour's drive from the city. "Whether they use their homestead property as a weekend getaway, a holiday home or a place to retire, it would be ideal for such developments to be sited within an hour's drive from the city, where the natural environment is appealing and land prices are much more affordable. While they get to live in the property and enjoy what their homestead development has to offer, it is important that the city is not too far away," he says.
Things to consider when purchasing homestead property
•    Limitation on developments permissible within the lot — Each lot has a limitation of developing a house that can occupy a plinth of not more than 20% of the total land area. Depending on the terms and conditions set by the developer, some developments require the construction of homes to be completed within two to three years from the delivery of vacant possession or the issuance of final title to the purchaser.
•     Additional approval for house development — Although owners are allowed to have their house designed by their own architect, each development is still subject to the prior written approval of the developer.
•     Limitation on type of development — The purchaser may not be able to convert the lot into another category of land use.
•     Escalation of prices — The property may have limited resale value or potential. As the maturity of the entire development is highly dependent on the buyers of other plots, purchasers should also note the potential risk of the site being vacant, which could be due to slower take-up rates, especially for developments in less desirable settings or terrain, as well as slow development or low occupancy of the homes by other buyers.
•     Geographical characteristic of each plot — Each plot varies in terms of slope and terrain, and proximity to rivers and ponds, for example. Security issues may arise, owing to the vast land, which may not be easily placed under continuous surveillance. In addition, most homestead developments are in remote areas and may lack immediate healthcare and retail amenities.
Source: CBRE | WTW