This article first appeared in The Edge Malaysia Weekly, on July 29, 2019 - August 04, 2019.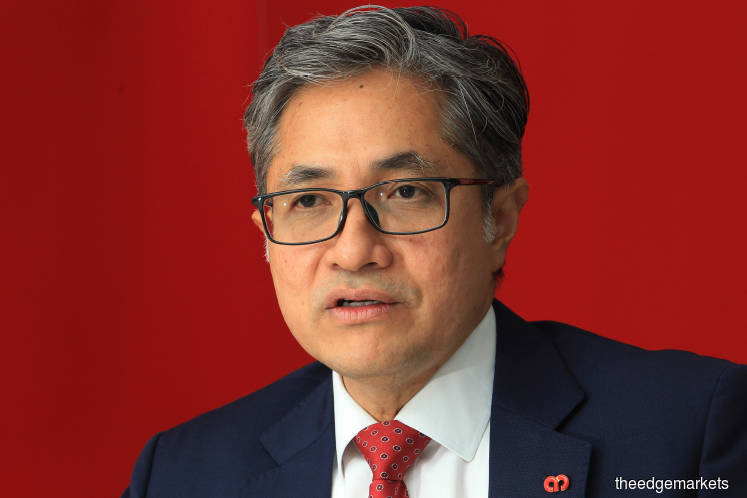 AFTER years of being a Malaysia-focused bank, the AmBank group is considering venturing into the regional markets via digital banking.
"It's something we certainly want to consider because it's 'lighter' [way of doing it] than through bricks and mortar. Increasingly, we're seeing countries in the region offering digital banking licences and we see this as an opportunity for us — it could be something we do as soon as this year. But there are many variables to consider, for instance, should we do it on our own or with a partner?" group CEO Datuk Sulaiman Mohd Tahir tells The Edge in an interview.
He declines to say if the group has already applied for a digital banking licence in any of the countries.
Of the regional markets, Sulaiman is particularly keen on Singapore and Indonesia because of the strong business volumes between Malaysia and the two countries.
"I think in Singapore, there are certain spaces that we can play in. In any market we enter, we need to have an angle on the businesses that we can play in and ensure that we can be more efficient than an incumbent unless it's an entirely new opportunity that we're looking at," he says.
A digital bank, sometimes known as a virtual bank, is one that does not have a physical presence but delivers products and services online or through mobile platforms. Examples of such banks include DBS Group's digibak and Tencent's WeBank.
Late last month, Monetary Authority of Singapore chairman Tharman Shanmugaratnam said the city state will issue as many as five new digital bank licences to non-bank firms.
Hong Kong has already granted eight virtual banking licences this year. It allows traditional banks to partner technology firms for such licences.
At home, Bank Negara Malaysia has said that it aims to come out with virtual bank licensing requirements by the end of the year.
The Edge reported in its June 24 issue that AmBank and at least three other banks — CIMB Group Holdings Bhd, Affin Bank Bhd and Hong Leong Bank Bhd — as well as tech firm Grab, had signalled their interest in pursuing such a licence in Malaysia.
That was the first indication that AmBank was keen on the possibility of setting up a digital bank. "Ultimately, the possibility of AmBank setting up a digital bank is not remote," Sulaiman was reported saying.
Unlike the bigger banks like CIMB Group and Malayan Banking Bhd (Maybank) that started going regional in the mid-to-late 2000s, mainly through acquisitions, AmBank has stayed predominantly domestic.
Going regional has helped CIMB Group and Maybank diversify and improve their earnings base, but it also makes them vulnerable to external volatilities, say analysts. Recall that both banking groups had to make heavy impairments for their Indonesian operations in the last few years.
"I don't think AmBank suffered any disadvantage by not going abroad when the others did. They were conscious about maintaining their asset quality then, so they did the right thing by just concentrating on the domestic market," says a banking analyst from Kenanga Research.
AmBank's gross impaired loan ratio has come down over the years, from 1.79% in the financial year ended March 31, 2015 (FY2015), to 1.59% in FY2019.
Going regional now may help the bank boost loans, and eventually earnings, but this will take time to build up, the analyst adds.
Bloomberg data shows that of 16 analysts who track AmBank, eight currently have a "hold" call on the stock, while seven have a "buy", and one, a "sell". The average 12-month target price is RM4.69, which suggests further upside from its closing price of RM4.24 last Friday.
The stock has gained 1.2% so far this year.
"We observed that AmBank has performed well despite some income weakness in FY2019. In addition, a writeback in FY2019 will not reappear at the same scale in FY2020. We expect that net interest income will be under slight pressure due to net interest margin (NIM) compression, which the group will have to compensate by growing its loans faster than the industry's rate. One of its initiatives, which is cementing CASA (current and savings accounts) growth, should moderate the NIM compression. However, we believe that most of its positives have been priced in. Therefore, we maintain our 'neutral' call on the stock," MIDF Research says in a June 3 report on the bank.
AmBank's biggest shareholders are Australia and New Zealand Banking Group Ltd (23.78%), founder and chairman Tan Sri Azman Hashim (12.97%) and the Employees Provident Fund (7.68%).