This article first appeared in City & Country, The Edge Malaysia Weekly, on December 9, 2019 - December 15, 2019.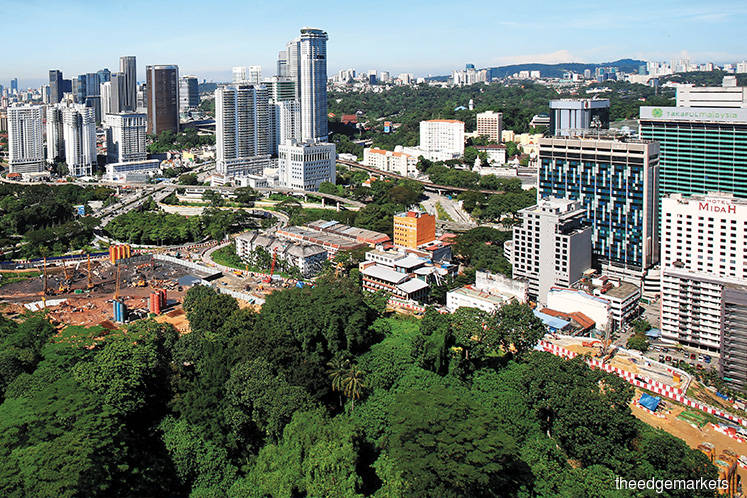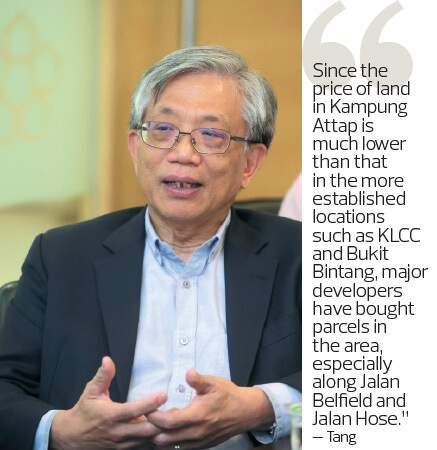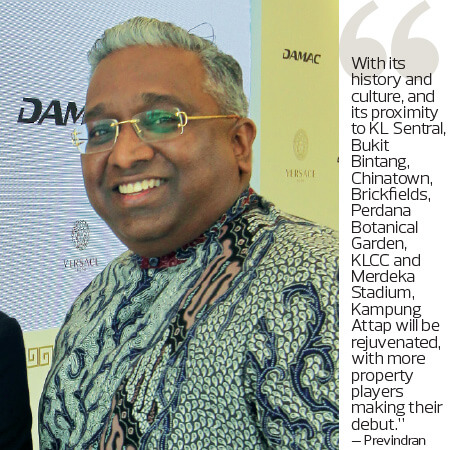 Click / Tap image to enlarge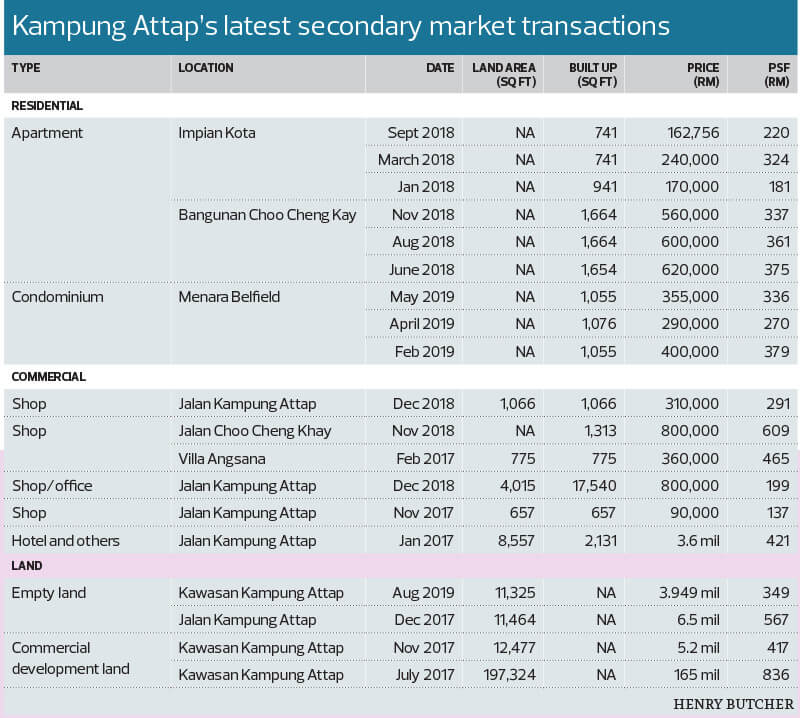 Despite its name, Kampung Attap is not a traditional village with wooden houses and muddy roads. In fact, the area is home to government quarters, colonial-era buildings as well as some of the oldest historical buildings in Kuala Lumpur — all set amid lush greenery.
It is ringed by Jalan Damansara, Jalan Istana, Jalan Maharajalela and Jalan Dewan Bahasa, with Klang River cutting through it in the west, near Jalan Damansara. There are more developments and empty land in the east.
To understand the history of the area, one should look at the road names, particularly Jalan Belfield, Jalan Hose and Jalan Talalla. Jalan Belfield, which snakes through most of Kampung Attap, was named after Sir Henry Conway Belfield, the British Resident of Negeri Sembilan in 1901. He was also the British Resident of Selangor and Perak.
Jalan Hose was named after Charles Hose, a British colonial administrator in the late 1880s, while Jalan Talalla was named after two Sri Lankan brothers — Henry Conard Benjamin Talalla and Cyril Lionel Francis Talalla — who served in Britain's Royal Air Force as Typhoon jetfighter pilots in World War II.
These roads were rarely used by motorists pre-
viously but thanks to GPS navigation software application Waze, many people are using them during evening rush hour to avoid traffic jams.
Refurbishment and redevelopment
Some of the older buildings in Kampung Attap have since been refurbished, including the Zhongshan Building, which has been transformed into an art hub, and the famed Loke Yew family home, which is now called Pentago House.
The pre-Merdeka Zhongshan Building comprises three shophouses, housing the Selangor Zhongshan Association, a frozen foods distributor and various merchants.
Boutique landscape and architecture firm Pentago refurbished the Loke Yew family home in 2015 to house its main office. Located in Jalan Rotan, the 2-storey, 100-year-old shophouse has a total built-up of 514.54 sq m.
Kampung Attap is also known for eateries such as Restoran ZK, TLB Bakery & Café and Tong Wah Confectionery.
The area boasts modern buildings such as apartments, walk-up shophouses, hotels and office buildings. The more prominent buildings include The Kuala Lumpur And Selangor Chinese Assembly Hall, Regalpark Hotel (formerly Midah Hotel), Rumah Gapena (The Federation of National Writer Associations of Malaysia), Wisma KWSG (Kumpulan Wang Simpanan Guru), SJK (C) Kuen Cheng, Wisma Tun Sambanthan and Menara Takaful Malaysia.
Connected via Maharajarela Monorail station and the Merdeka MRT station, the area is also accessible via Jalan Syed Putra, Jalan Wisma Putra and Jalan Loke Yew. Jalan Sultan Sulaiman cuts through the area and is linked to Jalan Maharajalela and Jalan Syed Putra, connecting Kuala Lumpur with Petaling Jaya.
The low-profile area is surrounded by various mega developments and it will steal some of the limelight once the projects are completed in the near future. It is a stone's throw from Petaling Street and the upcoming Merdeka 118 development, which is set to revitalise the former Merdeka Park area near Merdeka Stadium and Stadium Negara off Jalan Stadium.
Developed by Permodalan Nasional Bhd (PNB) unit, PNB Merdeka Ventures, the Merdeka 118 development will have three phases. Phase 1 — the iconic Merdeka 118 — is scheduled to hold its topping out by the middle of next year and is expected to be completed in 2021.
The tower will feature 83 floors of net lettable Grade-A office space at about 20,000 sq ft per floor, or a total of 1.65 million sq ft. It also will house Park Hyatt Hotel and Southeast Asia's highest observation deck, which will be more than 600m high.
Phase 2 will be a retail mall while Phase 3 will be a three-tower premium residential enclave.
Kampung Attap is also less than 3km from Tun Razak Exchange, an integrated 70-acre development that will be Kuala Lumpur's new central business district and Malaysia's first international financial district.
Zerin Properties founder and CEO Previndran Singhe says Kampung Attap's future seems bright. "It is near the transport hub, KL Sentral. It has a strategic location, being surrounded by major highways and is close to the Kuala Lumpur city centre, Chinatown, Bukit Bintang shopping belt and Perdana Botanical Gardens," he tells City & Country. "Kampung Attap, which used to be known as a 'sleepy village', is touted as the new growth area in Kuala Lumpur with the upcoming Merdeka 118 tower and the completion of the entire Merdeka 118 development in 2024."
Upcoming developments
Henry Butcher (M) Sdn Bhd chief operating officer Tang Chee Meng notes that developers are aware of Kampung Attap's prime location, due to the upcoming mega developments as well as how KL Sentral has successfully transformed and upgraded the nearby Brickfields area.
Since the price of land in Kampung Attap is much lower than that in the more established locations such as KLCC and Bukit Bintang, major developers have bought parcels in the area, especially along Jalan Belfield and Jalan Hose, adds Tang.
The developers include Tradewinds Corporation Bhd, Salcon Bhd, Sunway Bhd and Bina Puri Holdings Bhd.
"Tradewinds is planning a mammoth RM3.8 billion mixed-use development. With the completion of the Merdeka 118 development, coupled with the proposed developments by Tradewinds and Sunway, the profile of the area will be raised and it is bound to witness a major upgrade in terms of image and desirability," says Tang.
"Kampung Attap used to be a neglected part of the city centre with run-down buildings, old office buildings and offices of several non-governmental organisations. It was well-known mainly for the famous curry fish head restaurant there," he adds.
According to data from Henry Butcher, older apartments such as those in Bangunan Choo Cheng Kay and Impian Kota are being transacted at below RM400 psf while new launches such as Opus Kuala Lumpur are seeing the RM1,500 to RM2,000 psf mark.
Bina Puri recently completed Opus Kuala Lumpur, its maiden project, in Jalan Talalla. Chief operating officer Lee Tong Leong says the freehold Opus Kuala Lumpur features 357 serviced apartments (built-ups: 704 to 1,153 sq ft) in two towers on a 1.25-acre parcel. Launched three years ago from RM1,100 psf (unfurnished units) and from RM1,600 psf (furnished units), the RM466 million development received its certificate of completion and compliance in June.
"Some 93% of the units have been sold, with close to 28% of the buyers being foreigners. They are mainly from China, Hong Kong, Singapore and the UK," Lee tells City & Country. "The furnished units are now going for RM1,800 psf onwards. Amenities include swimming pools, a Jacuzzi, sauna, gymnasium, rock-climbing deck, barbecue area, children's playground and reading pods."
In July 2015, Tradewinds acquired a 12.2-acre parcel in Jalan Belfield for RM250 million. Its website says The Belfield, its maiden mixed-use development, will comprise five blocks of high-rise serviced apartments and a low-rise retail space.
Two years later, Sunway bought a 4.53-acre parcel in Jalan Belfield for RM165 million. Its serviced apartment project, scheduled to be launched next year, will feature units of 788 to 1,335 sq ft that are priced from RM660,000.
According to Salcon's website, its mixed-use development —Belfield Crest, Kuala Lumpur — will have retail, commercial, office and serviced apartment components.
Property consultants reckon that mixed-use developments with residential, hotel, office and retail components are suitable for Kampung Attap, as the target buyers will be individuals working in the city centre. The retail component, they add, should offer food and beverage, services and entertainment.
Improved accessibility
Separated by Jalan Maharajalela, there is currently no direct link between Kampung Attap and the Merdeka 118 development but when it is completed, the 2-storey Belfield Tunnel will connect the area directly to the basement of Merdeka 118, says Previndran.
"With its history and culture, and its proximity to KL Sentral, Bukit Bintang, Chinatown, Brickfields, Perdana Botanical Garden, KLCC and Merdeka Stadium, Kampung Attap will be rejuvenated, with more property players making their debut. This will result in conversion of vacant residential land to commercial or mixed-use purposes, thereby increasing the area's population, which is presently low."
With its location within the city centre, proximity to various mega development as well as its relatively lower land price, Kampung Attap is slated to become the next property hot spot.