This article first appeared in The Edge Malaysia Weekly, on February 11, 2019 - February 17, 2019.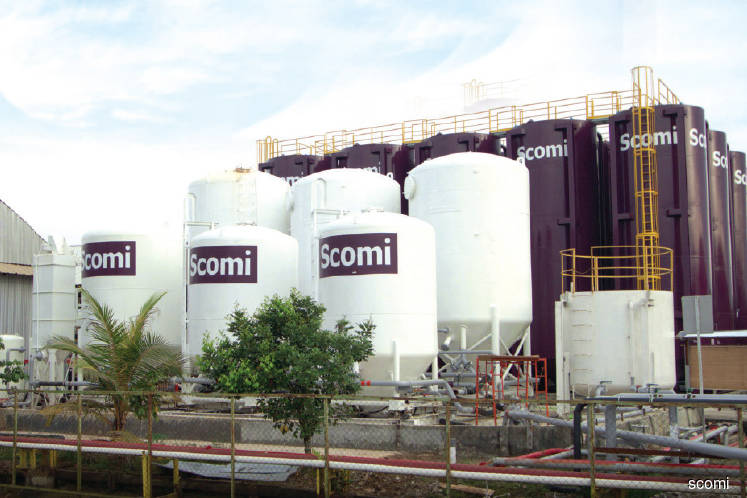 THE Edge sent Scomi Group Bhd (SGB) several questions in the hope of understanding why it is ailing. While some of the answers do not address the questions, they do provide some insight into what is going on at the group.
The Edge: In 2003, when SGB went for listing, there was a lot of hype about how well the company could do, as well as its good political connections and so on. But 15 years down the road, there seems to be a slew of problems and SGB is on very shaky ground. What went wrong?
SGB: After its listing, we had grown by leaps and bounds. The group diversified and listed separate entities for its businesses in oil and gas and transport solutions. Revenue increased over 10 years. The company expanded its market globally.
 
However, some investors say SGB never performed after its listing. Is this too harsh a statement?
SGB has held its own against established global players and won contracts in both sectors, which is evidence of the group's technological knowledge, capability and competence.
 
As for Scomi Engineering Bhd (SEB), what went wrong? There was so much hype about India and Brazil, and there was a lot of opportunity in many parts of the world, but even those jobs you secured have difficulties and have come under fire.
For the transport solutions business — namely the monorail — Scomi's wins in India, Malaysia and Brazil certainly prove its technological edge.
However, any urban transport development falls under the government's purview. There are many challenges that such a development would face, such as getting statutory approvals, authorities' approvals and land acquisition. These challenges are beyond our control as a contractor.
The government or the relevant government bodies play the main role. The support of these bodies to ensure the relevant deliverables and resources are available to a contractor is critical. Delays in contract resources provided by other parties would also adversely impact our contract delivery, and when timelines move, they come with cost escalation, which, compounded over time, adversely effects our financial performance.
The largest impacts on SCB were the delays in SEB's Mumbai and KL monorail projects. The group, as a whole, looked to support these projects as they are of national interest and we as a company are committed to completing the projects.
However, various factors that were beyond our control delayed the [Mumbai] project, putting the company in a difficult financial situation with [our] funding tied up with the project. The nature of the project and the delays required administration intervention to ensure continued progress. The company continued to commit the resources but when there was a lack of support and ongoing negotiation, eventually it led to disputes that affected the whole group.
It was a trying time for the organisation but we continued to seek recourse to revive some projects. Fortunately, with the change of government, there seems to be a focus on the public transport system, which is giving us the opportunity for better engagement and we anticipate it would lead to a potential resolution.
 
What about Scomi Energy Services Bhd (SESB)? What ails the company?
SESB was directly impacted by the drastic drop in oil prices. The services that we provide are for the upstream phase of the oil and gas production cycle — exploration and production.
With the drop in the price of oil and reduced demand, drilling activities in many countries almost came to a standstill. This meant we had contracts in hand that we could not execute as the oil majors and national oil companies were not carrying out drilling work.
Hence, such delays — as in any other industry — translate into a massive financial impact for the contractor. A contractor would have to carry inventory, manpower, financial services and such, which without a steady cash flow, would hit the bottom line.
 
SESB seems to be distancing itself from SGB. For instance, earlier this year, the move to merge SESB with SGB was shot down by SESB's shareholders. More recently, SESB's board commenced an investigation into the RM64.33 million lent to its parent company, SGB, as the advances were made without board approval, according to a filing with Bursa Malaysia. But the fact of the matter is that both companies have a few common directors and the auditors signed off the accounts. How does SGB, as the parent company, view this?
In recent times, the recovery and stabilisation of the price of oil over the last 18 months has seen exploration and production activities rise. This was a factor that made SESB's shareholders want to keep this entity separate as they believed in its potential growth.
SESB continues to remain a part of SGB. However, SESB is also a listed entity and it is governed by the Main Market's listing requirements. SESB had not told Bursa Malaysia about the advances to SGB. As these advances are considered related-party transactions (RPTs) in accordance with the Main Market's listing requirements, they need to be announced and therefore the company, SGB has disclosed the said RPT to Bursa Malaysia.
These advances, however, were duly reported in the audited financial statements of the company for the financial years ending 2017 and 2018. As there is an ongoing internal investigation, we are unable to comment further.
 
Last August, Sammy Tse Kwok Fai was appointed CEO of SGB. This was supposed to be the precursor to new shareholders coming in. Is this accurate? Market talk back then had it that there would be a placement at about 20 sen. Now with Scomi trading at 4.5 sen, what is the plan to salvage the company?
The negotiations to bring in new investors are still ongoing. There are several interested parties, but these negotiations take time. Any such investor or placement exercise would be to support business growth and any such plan will be appropriately disclosed, as required under applicable regulations.
 
In hindsight, if you could turn back the clock at SGB, would you do anything differently?
The focus for the group is to look forward to the opportunities ahead. Looking at existing projects and to realise the financial value of those projects alone are insufficient for the group. It is critical to bring in new projects and that is the focus of the management. We would still focus on the two industry sectors that we currently operate in, which is oil and gas and transport solutions.
However, we may consider different business models to rejuvenate the company. This is subject to global business opportunities. For the oil and gas industry, with the stabilisation of the price of oil, we are seeing an increase in exploration and production activities. This increase has started to benefit us. In most of the 21 countries that SESB operates in, new tenders are being floated. SESB is actively participating in the relevant tenders.
 
Anything else you would like to add?
For both industry segments, the company is looking at breaking into new profitable markets, especially China. China continues to be one of our focus markets, not only for our current product portfolio, but we are also looking at potential strategic business partners who may offer us new and differing business opportunities.
Save by subscribing to us for your print and/or digital copy.
P/S: The Edge is also available on Apple's AppStore and Androids' Google Play.