This article first appeared in City & Country, The Edge Malaysia Weekly, on October 1, 2018 - October 07, 2018.
Click / Tap image to enlarge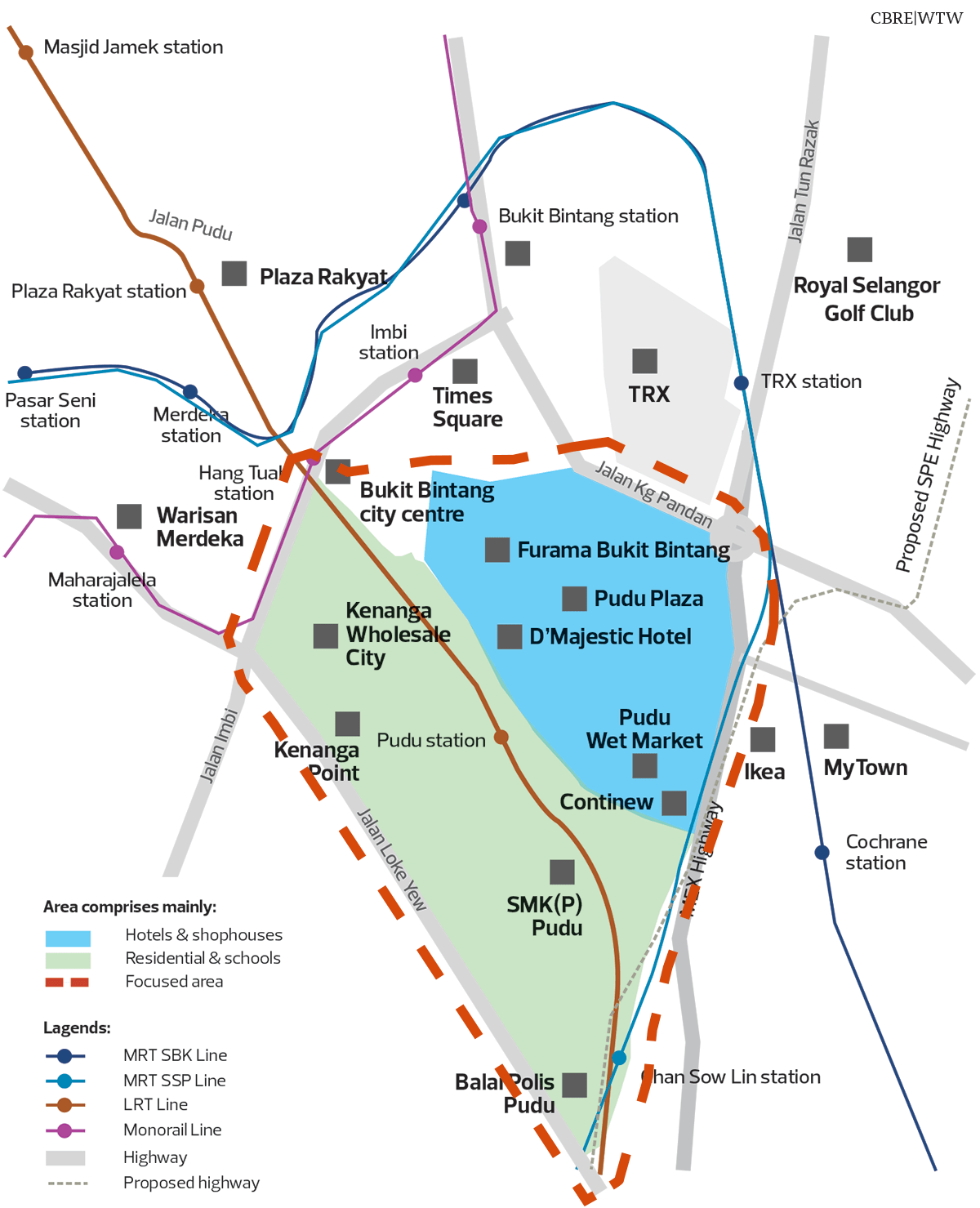 Shophouses in the Pudu area. Pictures by sam fong/The Edge
The popular Pudu wet market where locals get their necessities. Pictures by sam fong/The Edge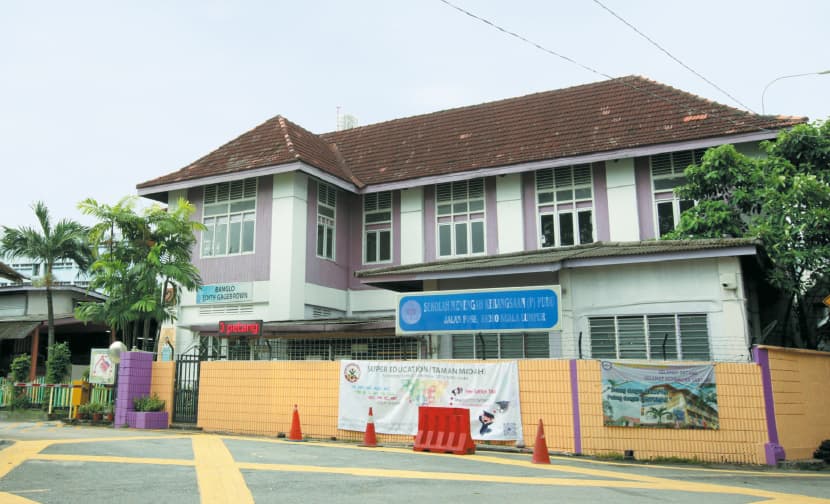 SMK (P) Pudu. Pictures by sam fong/The Edge
Clockwise from above: D'Majestic Serviced Apartments; Pudu Plaza; and Taragon Residences (on the left) and Furama Bukit Bintang hotel (on the right). Pictures by sam fong/The Edge
Left: Kenanga Point apartments. Right: Kenanga Wholesale City. Pictures by sam fong/The Edge
The former Pudu Jail (top) and the ongoing development of Bukit Bintang City Centre on the site
Businessman James Wong's fondest memory of the Pudu area is the night-time "gluttony lane" or "wai sek ghai" in Cantonese. "I liked its tongshui and charred radish cake especially. I am glad the lane is still there today," says the 51-year-old.
This foodie is among several people City & Country spoke to who lived or studied in and around the Pudu area. Retiree Wong Yoke Ming, 66, who lived in Jalan Imbi, which is close to the Pudu area, recalls eating his fill from the hawkers in the same street for only RM2 in his younger days.
Chris Lee, 47, who works in the oil and gas industry, remembers her school, SMK (P) Pudu, fondly. "During my time, it was known as Pudu English Secondary School. The school was started by
Anglican missionaries from the UK in 1914 and the building was used as an army camp during World War II," she says.
Lecturer Amanda Liew, 28, who studied in the same school as Lee, recalls how busy Pudu was, offering the people milling around so many types of food to choose from.
"I used to go to the stationery and arts and craft shops in Jalan Pudu a lot because I love pens, pencils, paper and so on. I guess that is what we like as a student," she reminisces with a smile.
Such fond memories aside, the Pudu area has metamorphosed over the years. Take the iconic Pudu Jail. Today, it has been demolished and coming up on its 19.4-acre site is the RM8.7 billion Bukit Bintang City Centre (BBCC), being developed by Eco World Development Group Bhd in partnership with the Employees Provident Fund and the Urban Development Authority.
When completed, the Tun Razak Exchange project that borders Pudu is also expected to add value to the area.
Home to myriad old shophouses, a maze of back lanes, new buildings popping up here and there and a growing population, Pudu has come a long way since the 1800s, when the area was a brick manufacturing district. In 1891, the British moved the industry away from the area  and built on the vacated land the now-defunct Pudu Jail.
The activities and properties highlighted in this area focus fall within the confines of Jalan Hang Tuah, Jalan Kampung Pandan, Jalan Tun Razak and Jalan Loke Yew. Jalan Pudu is the thoroughfare that cuts through the heart of the area, CBRE|WTW managing director Foo Gee Jen points out.
"The Pudu area consists mainly of low-rise prewar shophouses and post-World War II shophouses that are four to five storeys high. Today, the conventional activities in Pudu comprise wholesale of wet and dry food, textiles and electronics. Pudu also offers traditional everyday products and services, such as hardware items, printing, tailoring, bag repairs and much more.
"In terms of residential properties, there are the low and medium-cost apartments that were built in the 1990s. The shophouses and low-cost apartments are tenanted mostly by foreigners today," he says.
Foo also points out the many Chinese and Catholic schools in the area. "Most of them were established in the early 20th century as Pudu was an early settlement area and the CBD (central business district) of Kuala Lumpur. The better-known schools are Tsun Jin High School, SJKC Chung Kwo, SJKC Kung Min and SMK (P) Pudu.
"However, the student base of schools in Pudu has been narrowing as the second generation has moved out to surrounding areas such as Cheras. The growing traffic congestion has also affected the schools' enrolment. A case in point is the relocation of SJKC Jalan Imbi to Cheras."
Jalan Pudu brims with hotels, most of which have been converted from shophouses and are ranked two to three stars. The more popular ones are Furama Hotel, Eco Hotel, Hotel Sentral and D'Majestic Hotel.
"In recent times, the redevelopment of shophouses along the main road into contemporary budget hotels surrounded by established restaurants is very notable. At present, the hotels in this area target tourists from China who are drawn by Pudu's affordability, Chinese food and cultural offerings.
"There are no prominent office towers in Pudu but the smaller 'wisma' types that are mostly owner-occupied, like Wisma BH. It is worth noting that on the newer and posher stretches closer to Bukit Bintang and Berjaya Times Square, office suites, such as SoHos and SoVos, are emerging, some of which are operating co-working spaces," says Foo.
Property values
Commenting on the area's investment potential, Laurelcap Sdn Bhd executive director Stanley Toh says, "The rental rates are holding up in the area as Jalan Pudu is well known for its wholesale goods, from electronics to garments.
"In addition, the prewar shophouses are ready for redevelopment as the area is evolving into a high-density and modern ecosystem."
Landserve Sdn Bhd managing director Chen King Hoaw sees the Pudu area benefiting from its close proximity to Bukit Bintang and Imbi, where projects like the BBCC are coming up. However, there are some challenges too, he says.
"The main challenge is traffic congestion and the acute shortage of parking space, particularly along Jalan Pudu. There are also massive construction works going on in various parts of Pudu now. So, tourists and even Pudu residents would rather visit Bukit Bintang or other parts of the city that offer far better amenities and convenience.
"Many Pudu folk have also moved out of the area in the last decade, seeking new living environments that are more suitable for their families. Business activity at night is also not as vibrant, which probably explains why investor interest in Pudu is muted at the moment."
CBRE|WTW's Foo also lists some of the challenges faced by Pudu. "The area is filled with shophouses and it hosts a high-density population. Most of the buildings are old and the condition of the streets is unsatisfactory. The roads around Pudu are narrow with little room for expansion to resolve the current traffic congestion. If any new project is to be undertaken in Pudu, it is likely to require a major redevelopment of its immediate surroundings."
He adds that since most of the apartments and shophouses in the land-scarce Pudu area have multiple ownership, acquisitions will be complicated affairs. Also, the intrinsic value of the prewar buildings in the area will subject any redevelopment to public debate.
However, this could also be keeping property values at a good level.
The values of the 2-storey prewar shophouses range from RM2.3 million to RM2.8 million while those of the 4 to 5-storey shoplots are from
RM3.5 million to RM7 million, says Laurelcap's Toh.
As for apartments in the area, units in D'Majestic Serviced Apartment are valued at RM1,100 to RM1,400 psf while those in Ixora Apartment are going for RM300 to RM450 psf. Meanwhile, retail lots in the Kenanga Wholesale complex are valued at RM2,000 to RM3,500 psf.
Toh adds that rental rates for prewar shophouses are between RM2 and RM3 psf, retail lots between RM2,000 and RM3,500 psf and serviced apartments between RM1,000 and RM1,400 psf. The rental yields for all these properties is between 5% and 6%, he adds.
CBRE|WTW Foo's research reveals that mid-scale and older high-rise apartments completed before 2010 are going for RM500 to RM600 psf on Pudu's sub-sale market while newer serviced apartments are fetching RM700 to RM1,200 psf.
"For retail, the asking rent for older malls is about RM1.50 to RM3 psf while that at newer purpose-built malls, such as Plaza GM and Kenanga Wholesale City, is RM6 to RM10 psf. The monthly rent for ground floor shops has remained stable at RM7,000 to RM8,000 in the past three years, according to Napic data," Foo says.
Property experts agree that the development of BBCC, TRX and PNB118 will have a positive impact on prices in Pudu over time.
Overall, the property market in Pudu is growing steadily, thanks to the activities in and around it. However, some projects, especially those that are closer to Bukit Bintang and those that border TRX, will fare better than others.
Progress has not taken away the area's natural charm, for example the unique sights and smells offered by the wet market. Whatever becomes of Pudu in the future, it will continue to hold fond memories for those who grew up in the area and still live there.